Quick Questions with Kevin Menhinick: Software Developer

He goes by the name of 'Kev-bot', skateboards to the office and kinda looks like the 4th brother from the 90's band, Hanson. Meet SwipedOn Software Developer, Kev. He's a bit of an all-rounder our Kev. Initially a SwipedOn front-end developer, he has since been taking on whatever coding challenge comes his way.
What does a day in the life of you at SwipedOn look like?
Driving to a car park a few blocks away, then boosting to the office on my skateboard. After arriving, I'll listen to some music while I pick up where I left off last time and say 'hi' to my teammates as they roll in... They're all super cool so it's always interesting to hear what they've been up to!
I'll set one screen to a design mock-up from Scott, and the other to some code I'm working with to implement the design's functionality. Insert 'surfing' before or after work if theres a wave out there.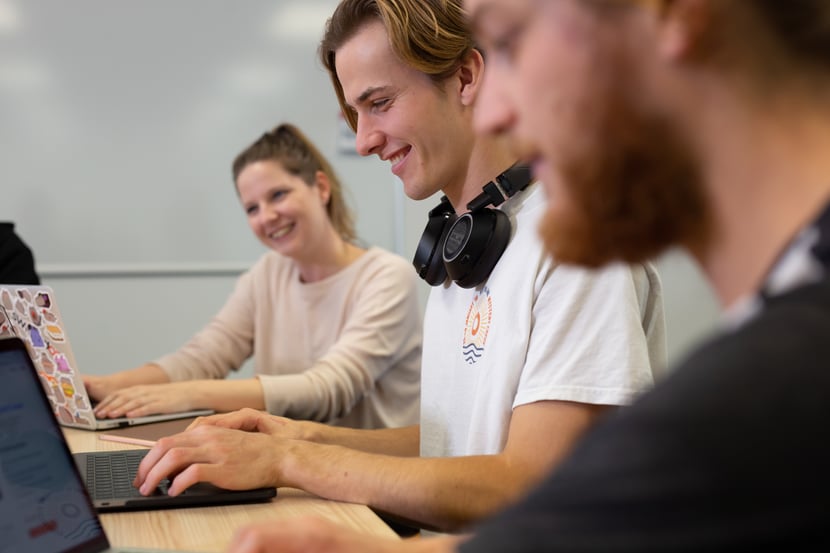 What do you like about working at SwipedOn?
The team. We have such a cool place to share some funny stories but at the same time be learning so much and so fast from people that are super experienced in their respective fields.
What do you particularly like about what we're doing with SwipedOn?
We're all working together on some pretty exciting features that have ultimately come from our customers' ideas and feedback. With everything that comes through, between our amazing support, product or tech teams, we come up with some epic ways of improving the SwipedOn experience.
What three words would you use to describe your role?
Designs into features.
What is your SwipedOn screensaver?
I think it's a rotation of photos of my favourite guitarists... Slash from G'n'R, for example!
What did you do in your previous working life?
Kiwifruit-related stuff! I'm from a small town in New Zealand called
KatiKati
, so I've done a bit of everything from being a lab technician to writing software for people who work on orchards.
What do you do in your free time?
Surf, skate and pat dogs that I walk past on the street.
What are three things still left on your bucket list?
Surfing a barrel, backflipping on a skateboard and owning a dog.
What's on your SwipedOn playlist?
Snarky Puppy, Switchfoot and Foo Fighters.
If you were stuck on a desert island and you could choose one person from the SwipedOn team to come with you, who would you take and why?
Probably Ben, so that we could just catch a barrel all the way back to New Zealand.