5 Steps For Safely Reopening Your Workplace During The Global Pandemic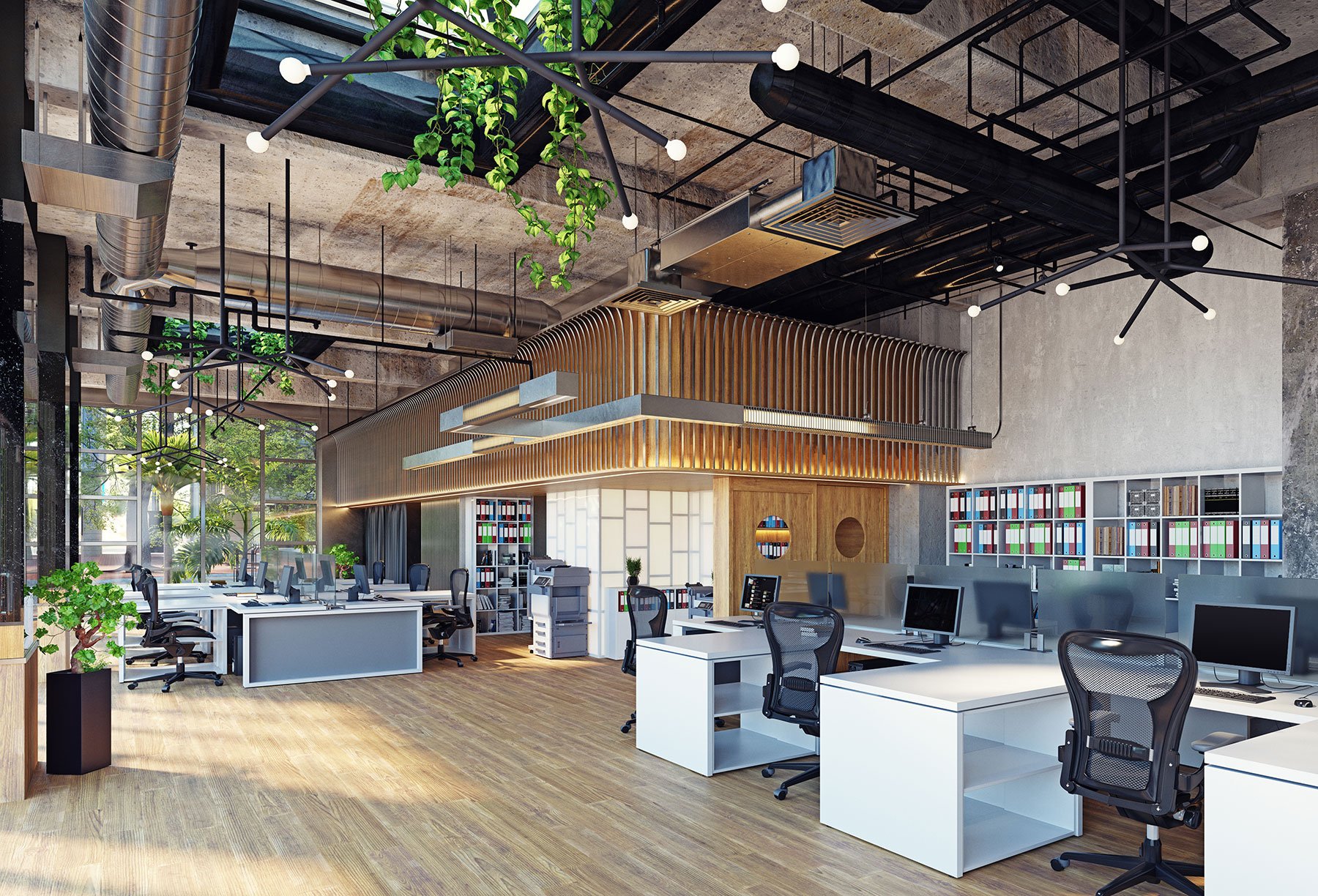 As countries, states, and cities begin reopening, it's time for all businesses to make plans to safely resume operations. Unfortunately, this process can be extremely difficult for business owners and managers. Employers simply have no experience restarting operations after a major global pandemic.

Businesses not only have to ramp up operations to generate additional revenue during a tough circumstance. They also need to comply with rapidly changing guidance from the Centers for Disease Control and Prevention (CDC) and the Occupational Safety and Health Administration (OSHA) to reduce employees' and customers' exposure to COVID-19.
Although each business has unique obstacles to overcome, many companies are facing common issues during the global pandemic. Below, we've put together a 5-step process for safely reopening your business during the COVID-19 crisis.
---
A visitor management system can help you run a safer sign-in process at your workplace, for both visitors and employees. Here's how:
---
1. Develop a Detailed Reopening Plan
Before you work on a reopening plan, you should take advantage of this situation to sit down and reflect on your business. Think about what you've managed to learn from your employees, customers, vendors, and partners, during this time. Are there any processes or products you're keen to introduce? Where did you struggle and how can you overcome these problems?

Taking the time to reflect is vital if you want to build a more resilient and efficient business as you open up. Once you've considered your learnings, think about the areas you want to focus on in your business. These can include your finances, customers, supply chain, regulatory changes, vendors, employees, etc. Create a reopening plan for each of these categories.

Let's look at finance as an example.

Many businesses have suffered significant cash-flow problems since the crisis hit. Regarding the financial aspect of your reopening plan, you should look at the assets you have today. Assess their liquidity, the amount of cash you have and could get access to, and how much you need to begin reopening. You can find ways to reduce reopening costs by opening only part of your business at first, reducing work hours, maintaining a smaller inventory, or even changing your business model.
2. Determine Who Comes Back to Work
Before you reopen, you need to know who is coming back to the workplace. Bringing everyone back at once may be dangerous since you won't be able to screen everyone and implement social distancing rules effectively.

According to Andrew Hewitt, a Forrester Analyst, you should only bring back the staff you need. "You bring people back in shifts, you stagger it. You certainly don't bring everybody together," he says.

Mayer Brown recommends you develop a detailed reopening plan with input from a cross-functional management team. This can include key operational managers and representatives from the human resources, communications, information technology, legal, and payroll teams. This way, you have a team member ready from each department to act fast in the face of changing circumstances.
3. Address Employee Concerns
It's common for employees to raise concerns about coming back to work. According to People HR, one of the biggest concerns is that they'll return to work only to quickly lose their job. These concerns are quite valid considering unemployment is expected to increase significantly. Other employees are worried they'll be expected to juggle a significantly heavier workload without any additional training, resources, or time, while many workers question how safe it will be to return back to work during a global pandemic. About 50% of US employees worry about workplace exposure to COVID-19.

It's important your employees are able to express their concerns to your organization's leaders. There will be questions you might not have the answer to right away. However, you should always inform your employees with plans for gradually increasing the business. Even if the progress is slow and may result in fewer hours of work, your employees will appreciate being informed and kept in the loop. If your employees are concerned about social distancing and close contact, you should let them know what precautions you're taking to protect staff members and customers from COVID-19.
4. Evaluate Testing and Screening Measures for Returning Employees
Before any employees enter your facilities, it's important you set up screening capacity to question everyone entering and exiting the building. Even before employees return to work, you can email questionnaires to see whether the employee is a high-risk individual. In your questionnaire, you should ask your employees whether they're experiencing symptoms of COVID-19, if they've come into close contact with anyone with COVID-19 symptoms, or whether they've traveled to a known COVID-19 hotspot.

Make sure your questionnaires are brief and designed to produce only yes or no responses. If your employees answer 'yes' to any of the questions, human resources should follow up to ensure the employee does not pose a direct threat to health or safety in the workplace.

We also recommend installing a contactless visitor management system (VMS) in your workplace. This way, when an employee, visitor, contractor, or any other individual enters the workplace, you can assess their risk levels by asking about their current state of health or recent travel. The VMS can also function as a contact tracing tool, giving you accurate visitor records, which includes key information like date, name, and time-stamping.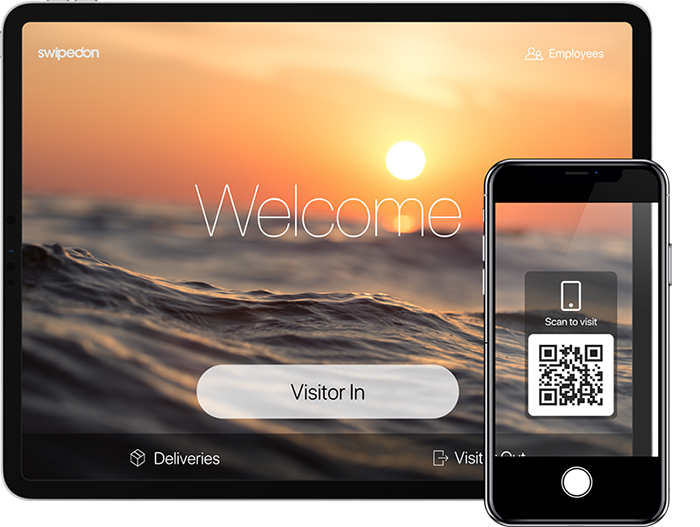 5. Implement Additional Safety Precautions
According to the EHS, to ensure a safe workplace, you can implement simple activities to prevent the spread of COVID-19. Examples include ensuring that your workplace stays hygienic by regularly disinfecting surfaces (desks and tables) and frequently used objects (telephones, keyboards, doorknobs, door handles, etc.).

You should also promote regular and thorough hand-washing and place hand sanitizer in prominent places around your workplace. We also recommend posting hand-washing signs around your workplace to remind employees to regularly wash their hands. Practicing good hygiene should also be a topic thoroughly discussed during company meetings.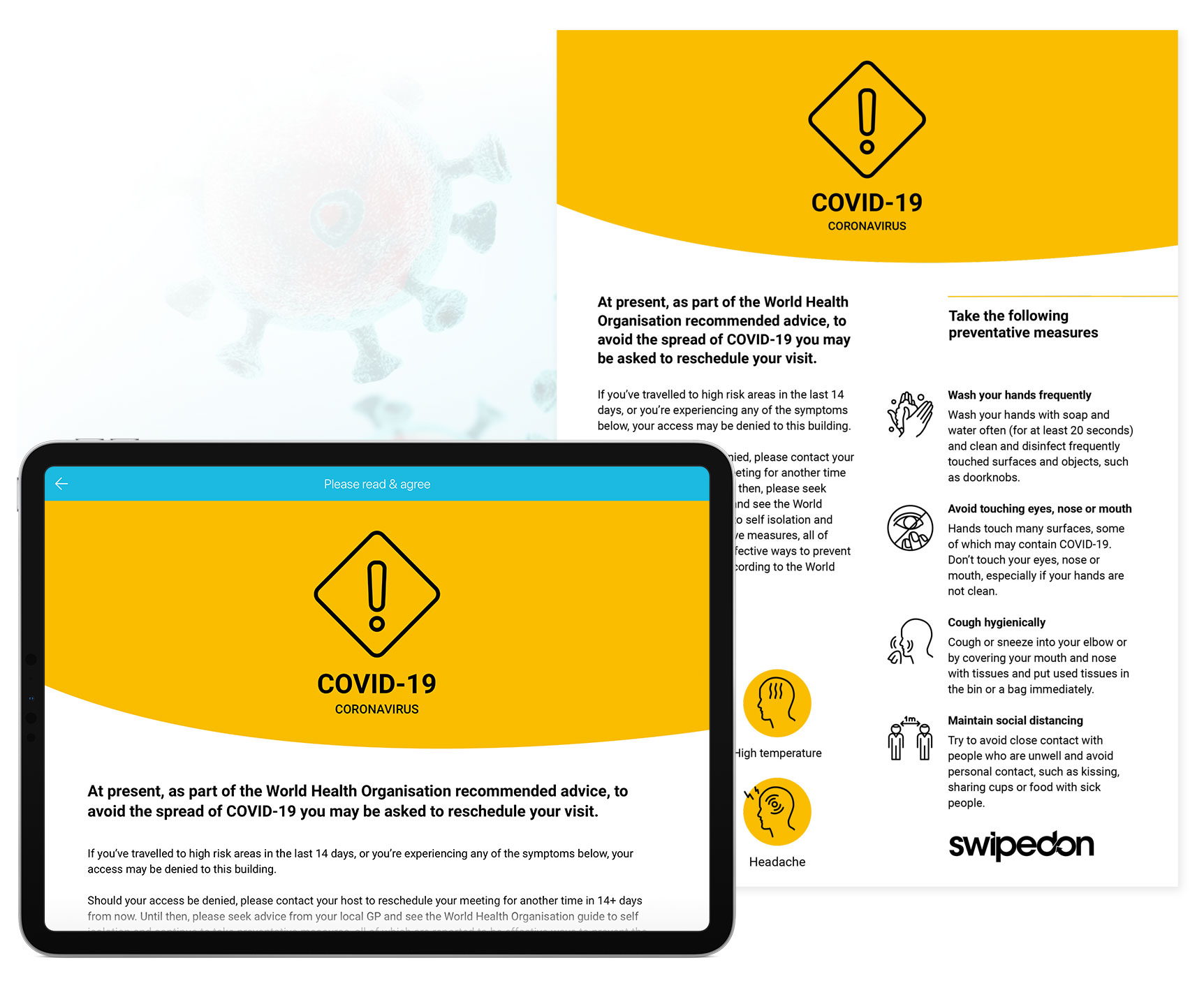 Practicing good hygiene should also include good respiratory hygiene. Your organization's policy should also make face masks mandatory for entering the facility. When it comes to business travel, all employees and contractors should consult national travel advice before scheduling any trips. As for social distancing, in areas where employees may queue up (restroom), you can place stickers on the floor showing your employees where to stand to remain 6 feet apart.
Safely reopening your workplace can be a challenging feat, especially as COVID-19 cases surge. It's even tougher on employers who have to juggle their financial assets, poor cash-flow, and potentially reduced demand, all while ensuring their workplace is a safe and healthy environment.
Despite these tough times, many businesses are showing resilience and strength as they continue to provide for their communities. If you're keen to reopen, we recommend following these 5 steps to reopen in a safe and controlled manner. First, come up with a robust reopening plan, bring back essential workers in shifts, talk to your employees about their concerns, and ensure you have the right tools and equipment to screen, test, and protect your employees.
To learn more about how our online tools can help you get started with your screening process, contact us. Our team at SwipedOn can equip you with the right tools.
More from the blog
How to Reopen Your Office Effectively After COVID-19 Lockdown
5 Ways to Create Safe Visitor Experiences When Your Business Reopens
Back to Business: How a VMS Can Help You Resume Business Risk-Free