Applying your company brand to SwipedOn, customize SwipedOn to use your company logo and color.
It's easy to make SwipedOn fit with your company brand. Upload company logos and set your brand color on the 'Settings' > 'Branding' page.
Company Logos
You can upload a company logo by clicking on the upload button. Once a logo has been uploaded, it will display as part of your library of logos. Upload as many as you like. Once your logos are uploaded, you can assign them to different applications.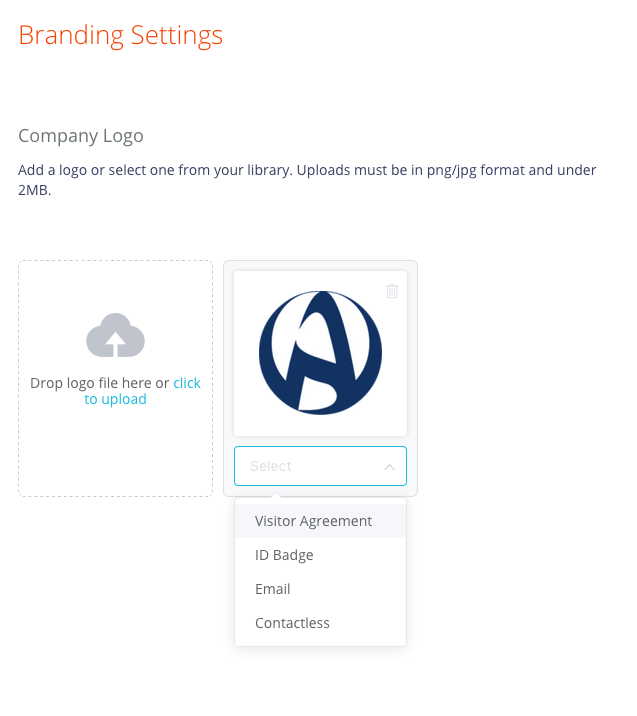 Visitor Agreement
Assign a logo to the Visitor Agreement and it will display on the top right of a Text visitor agreement within the SwipedOn iPad app. PDF agreements and any agreements displayed in the contactless visitor flow won't include this logo.
ID Badge
Assign a logo to the ID Badge and it will display on ID badges printed for visitors.
Email
Assign a logo to Email and the logo will display on all notification emails sent by SwipedOn, including visitor notifications sent to hosts and approval emails to admins.
Contactless
Assign a logo to Contactless and the logo will replace your company name on the loading screen for the contactless visitor experience. It will also display on the sign-in confirmation and sign out screens.
Using different logos for different locations and location groups
If you have a multi-location SwipedOn account, you can assign logos differently at your different locations or location groups. Adding or deleting a logo works across your account (so be careful deleting), and assigning logos works just for the location or location group you have selected in the page header. If you change logo assignment for a location that is already within a group, that location will become its own separate location and be removed from the group.
Brand Color
Your chosen brand color displays in the header bar of both the iPad app and the contactless visitor experience, and as the color for buttons and other highlights. This color must be dark enough to clearly contrast with white. To select your color, click on the color picker, and then on the palette to choose a color. You can also enter a hex code. If your chosen color is not dark enough you won't be able to save it.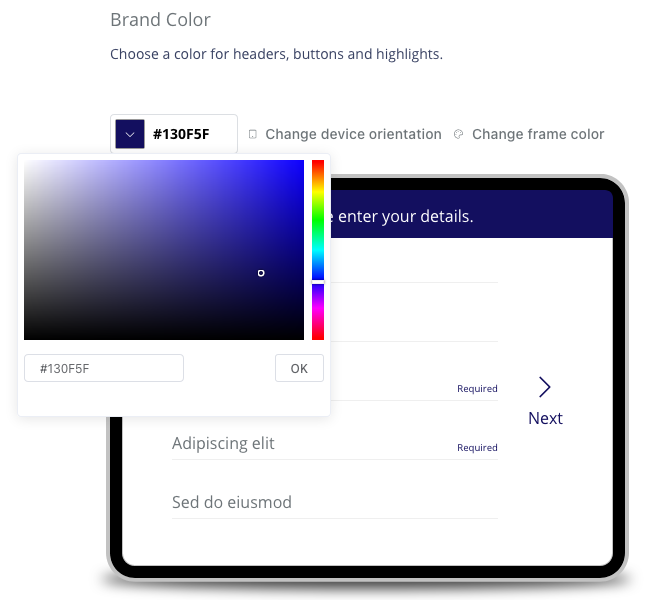 *Please note, if subscribed to a multi-location SwipedOn account, a different brand color can be set for different locations or location groups.