Find out how to set up an external device to display the Employee In/Out Board
Are you looking for accurate visibility of your entire organization? A digital in and out board helps you combat common safety and security challenges in the workplace around staff management with a real-time employee dashboard.

The In/Out board can be presented on a screen in a communal area of your workspace, giving a quick and clear way for staff to see important information about their peers at any time. In/Out board access can also be provided to staff who need insight into employees' whereabouts during the day on their own device but do not need access to the full suite of features as an administrator in the SwipedOn Dashboard.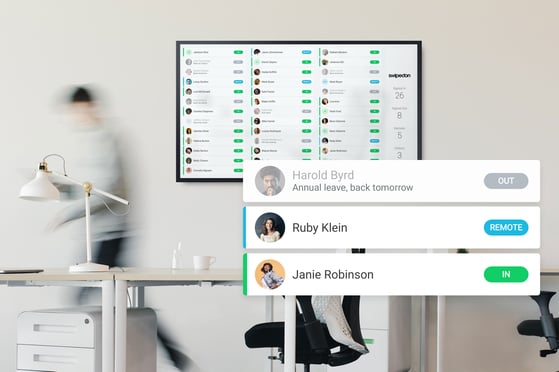 To efficiently run the In/Out board on an external display, we recommend using a dedicated device that has a high-resolution screen. While we aim to support as many SmartTV browsers as possible we can't guarantee that each and every manufacturer's proprietary browser will be able to display the In/Out board.
Setting up the Employee In/Out Board
On the device, open a web browser and input the URL https://io.swipedon.com/login
The page will display space to enter the six-character device ID. This can be located in the SwipedOn web dashboard within the 'Locations & Devices' > 'Devices' view. Please note that device IDs can only be used in one place at a time. Any subsequent use of a device ID will log out of the previous session.


Once the ID has been entered, the Employee In/Out Board will display a list of employees. If this list is larger than the screen, it will scroll up and down automatically.