How to enable and set up email notifications
Keeping employees up to date with expected and, sometimes, unexpected visitors, is something that SwipedOn understands. We've included two ways for which employees can receive notifications of their guests: via email and SMS.
One of the benefits of receiving notification through your email is the 'free' factor! This system leverages your existing email address to deliver visitor notifications straight to your inbox. SMS, on the other hand, despite having costs involved, also provides an additional layer to the notification experience.
Configuring Email Notifications
Log into the SwipedOn web dashboard.

Navigate to the 'Settings' > 'Visitors' view.

Enable host selection and then the 'Send visitor notifications to host by' will appear and email and/or SMS can then be selected as the method of notification.
Central Email Notifications
This feature is useful when more than one person requires an email notification that a visitor has arrived.
Send visitor notifications to central recipient(s)
Sends visitor notifications to the recipient(s) listed here. When host notifications are disabled, only the listed recipient(s) here will receive the visitor sign-in notification. When host notifications are enabled, the listed recipient(s) will receive the notification, as well as the selected host.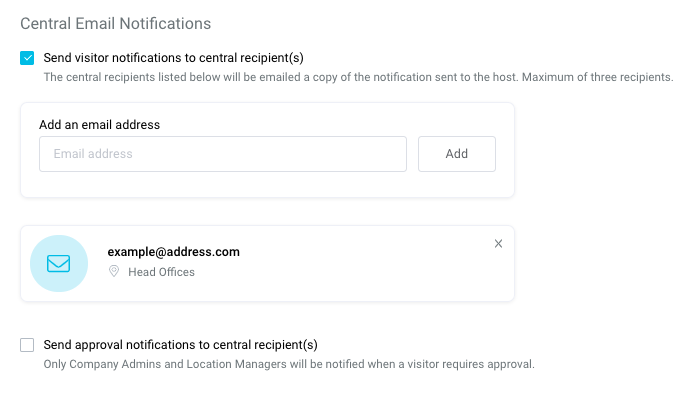 Send approval notifications to central recipient(s)

Alert notifications are linked to the yes/no visitor fields, if a yes/no visitor field is in use, a recipient can be added here to receive an email and/or SMS to alert them that approval is required by an admin.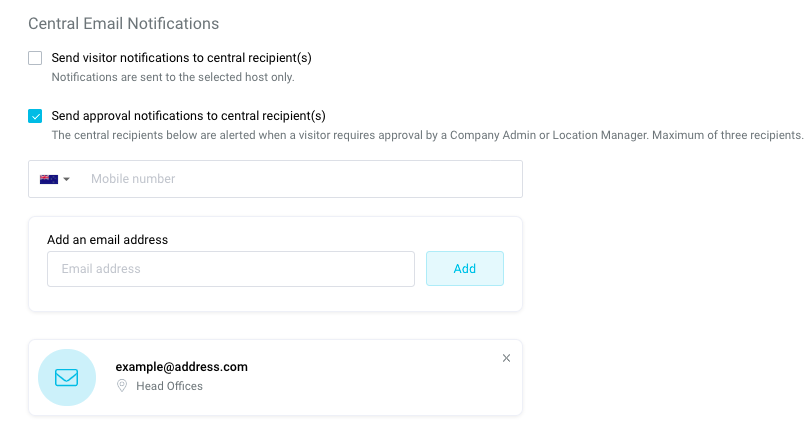 *Please note: SwipedOn in no way integrates or requires any configuration with your mail system. The email address specified upon employee account creation in the dashboard is the only reference point that is used to send the notification to your employee. The rest is left up to email routing protocols.