The different permissions for Location Managers and Company Admins
What are the Admin Roles?
The admin roles are assigned to employees that require access to the SwipedOn web dashboard. These roles are comprised of company admins, location managers and employees.
The Company Admin role elevates the privileges of a user and allows them to configure company-wide changes. A company admin has access to all tabs within the SwipedOn web dashboard.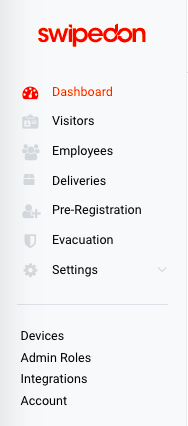 *Please note: the 'Devices' tab will display as 'Locations' for those with a multi-location account.
The Location Manager allows for lower-level privileges, meaning a location manager can only perform basic functions and does not have access to any of the 'Settings' or 'Account' tabs. A location manager can create and assign additional Location Manager roles only for other employees at the location that they have been assigned.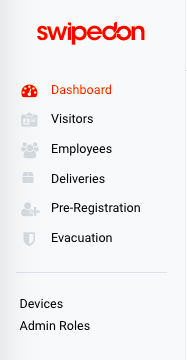 Where can I configure admin roles?
Navigate to the 'Admin Roles' tab on the left of the screen.

Create a role by selecting the 'Add from Employees' button located towards the top right corner.

Search for the employee name and assign their admin role, selecting from Company Admin or Location Manager, then click on the 'Add from employees' button.

If the employee does not exist against the employees' list within the SwipedOn account, click on the 'Create a new employee' button and this will direct you to the Employees page where their profile can be created to then select from when setting the admin roles.

Once the admin role has been created, the employee will receive an email to the address set up against the employee profile to set up a secure password and gain access as an admin.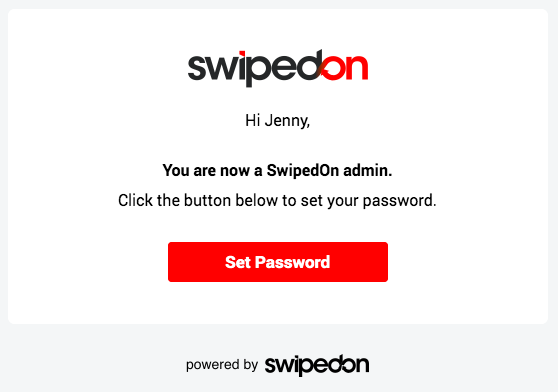 Additional considerations:
When an account is created with SwipedOn, the email address used to register the company is automatically elevated to a 'Company Admin'. There must be at least one Company Admin associated with the SwipedOn account.

The Location Manager cannot create or assign a Company Admin role, they can only assign another Location Manager to their assigned location.

If using an Enterprise plan, and a Location Manager uses the roaming employee feature to sign in at another location, they will then become a location manager for the location they have signed into.

Location managers will only see information for the location they have been assigned to when they were created as an employee. To change their location, first, do so against their employee profile in the Employee view of the SwipedOn web dashboard.