How to enable and set up deliveries.
Receiving deliveries just became as easy as signing visitors in. We've removed the manual processes so you can simply scan the label on any parcel, and SwipedOn will instantly notify the recipient.

You'll be able to keep track of delivered items effortlessly with a simple web-based log on your SwipedOn dashboard and instantly send reminders for employees to collect items.
Get Deliveries
If you are on a Premium or Enterprise plan then deliveries is available to you already bundled into your current plan, if you are on Lite or Standard you can add Deliveries to your account either by taking a free trial or by adding it to your subscription from the AddOns view.
Ensure the SwipedOn iPad or Android tablet app is running version 2.13.0 or later
To check the version of your SwipedOn app, open the app on the iPad or Android tablet. On the home screen, triple tap the SwipedOn logo in the top left-hand corner. Here, the version number can be viewed at the bottom of the menu. If the app version is less than 2.13.0, please apply the latest update via the app store.
Enable Deliveries on the relevant devices
Navigate to the 'Settings' > 'Devices' tab of the SwipedOn web Dashboard.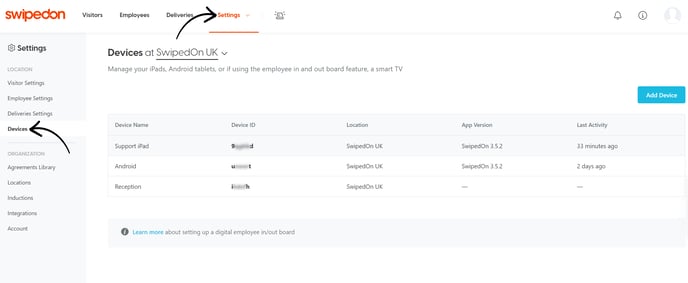 Click on the device you want to enable deliveries on to open up the drawer.
Click on the 'Scan Deliveries' checkbox and then click 'Save' This button should now show on the bottom of the device's screen.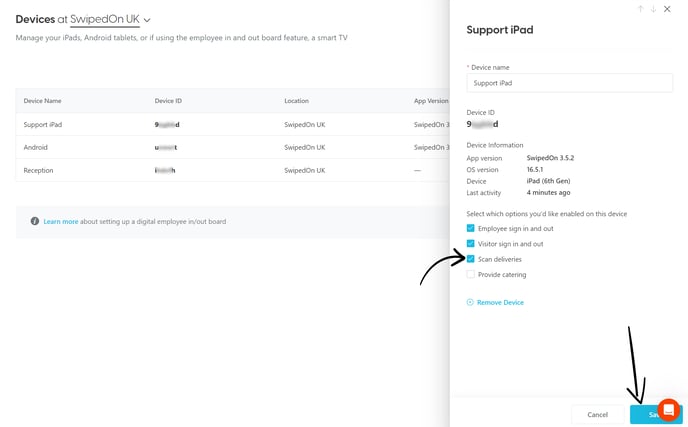 Once deliveries are enabled, navigate to the 'Settings' > 'Deliveries' view within the SwipedOn web dashboard. Within this view, settings and delivery instructions can be configured. For more information, check out our support article here.
Already have a SwipedOn subscription but want to start a Deliveries free trial?
Navigate to the 'Deliveries' view of your SwipedOn web dashboard, and a pop-up will show with options to start a trial or skip and subscribe now.

Click on the 'Get Started' button to activate your 14-day free trial.