Learn more about the set-up process to enable visitor approvals, giving admins the ability to approve or reject a visit.
The SwipedOn visitor management system has a screening feature that can help during a medical crisis, such as COVID-19 Coronavirus, from avoiding unnecessary contact with staff and allowing self-serve sign-in for visitors to providing the option of asking visitors about their recent travel or current state of health.

So you and your staff can be alerted if a high-risk person might be entering your workplace and plan for that accordingly.
Install the SwipedOn app
To enable this feature, please ensure you have installed or updated your SwipedOn app version to 2.17.0 or later.
Set up the approval fields
Visitor approval fields are set up within the Settings > 'Visitor Fields' view of the SwipedOn web dashboard.
For example, if using a yes/no visitor field, when 'Require approval if:' has 'Yes' or 'No' enabled, the admins at that location will receive an email notification allowing for approval or rejection of the visit.
iPad view
Once the fields have been set up, the iPad will now display the questions, as shown below with the yes/no field as an example.
If the visitor selects a response that then requires approval, they will see the below screen.
Email Notification
The admins at this location will then receive the email (and if enabled an SMS) notification asking they approve or reject the visitor.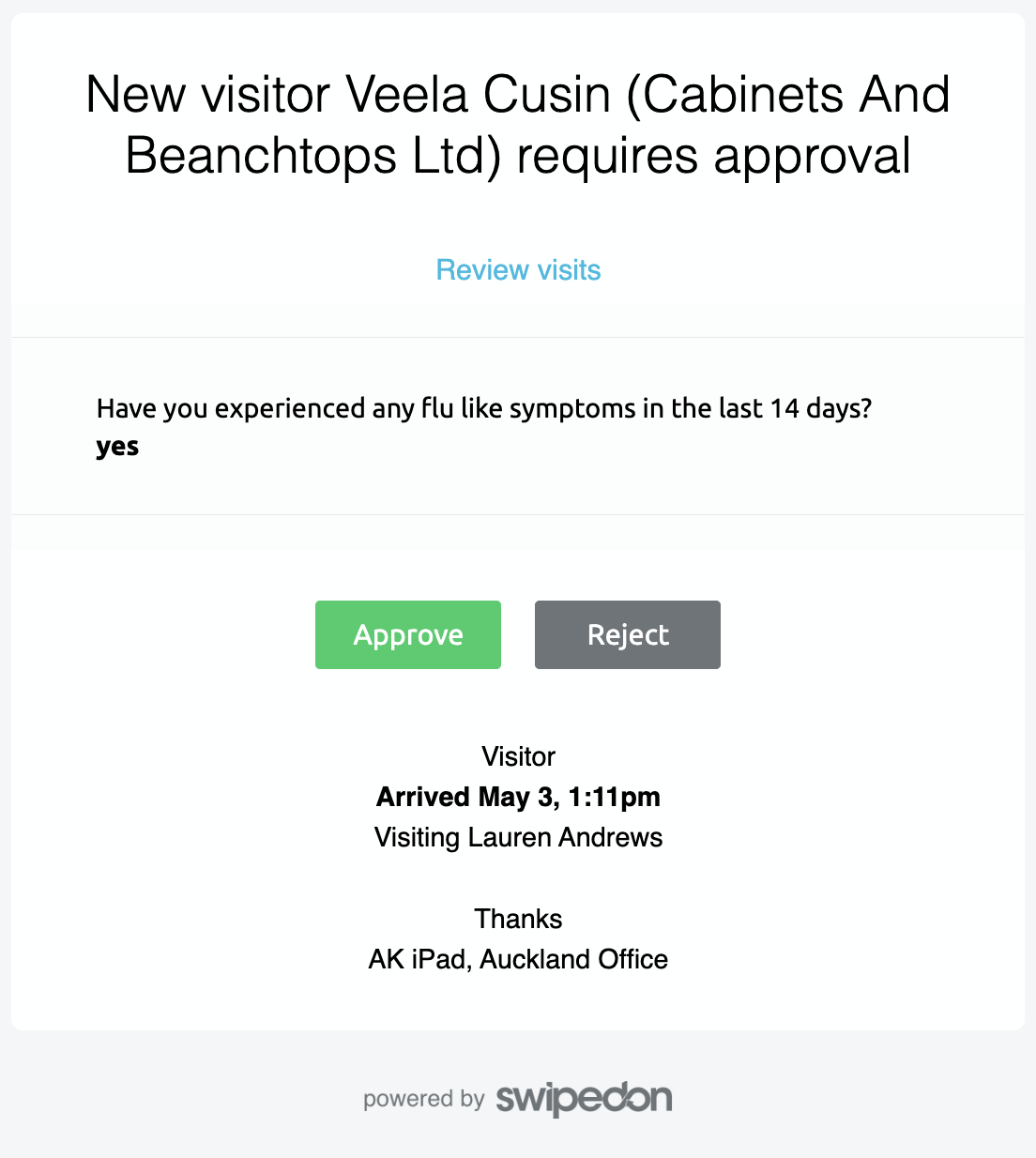 The admin can then approve or reject the visit by selecting one of the above options. Once approve or reject has been selected, this will redirect the admin to the web dashboard, displaying the visitor's movement within the visitor timeline.
If approved, the host (if selected) will then receive the usual email notification of their visitors' arrival and if enabled an ID label will then print. If rejected, an admin will need to notify the visitor that they have not been approved entry.
If 'Review visits' is selected before the visit has been 'Approved' or 'Rejected', this will navigate the user to sign into the SwipedOn web dashboard and display any Pending visits where the admin can then approve or reject this visitor.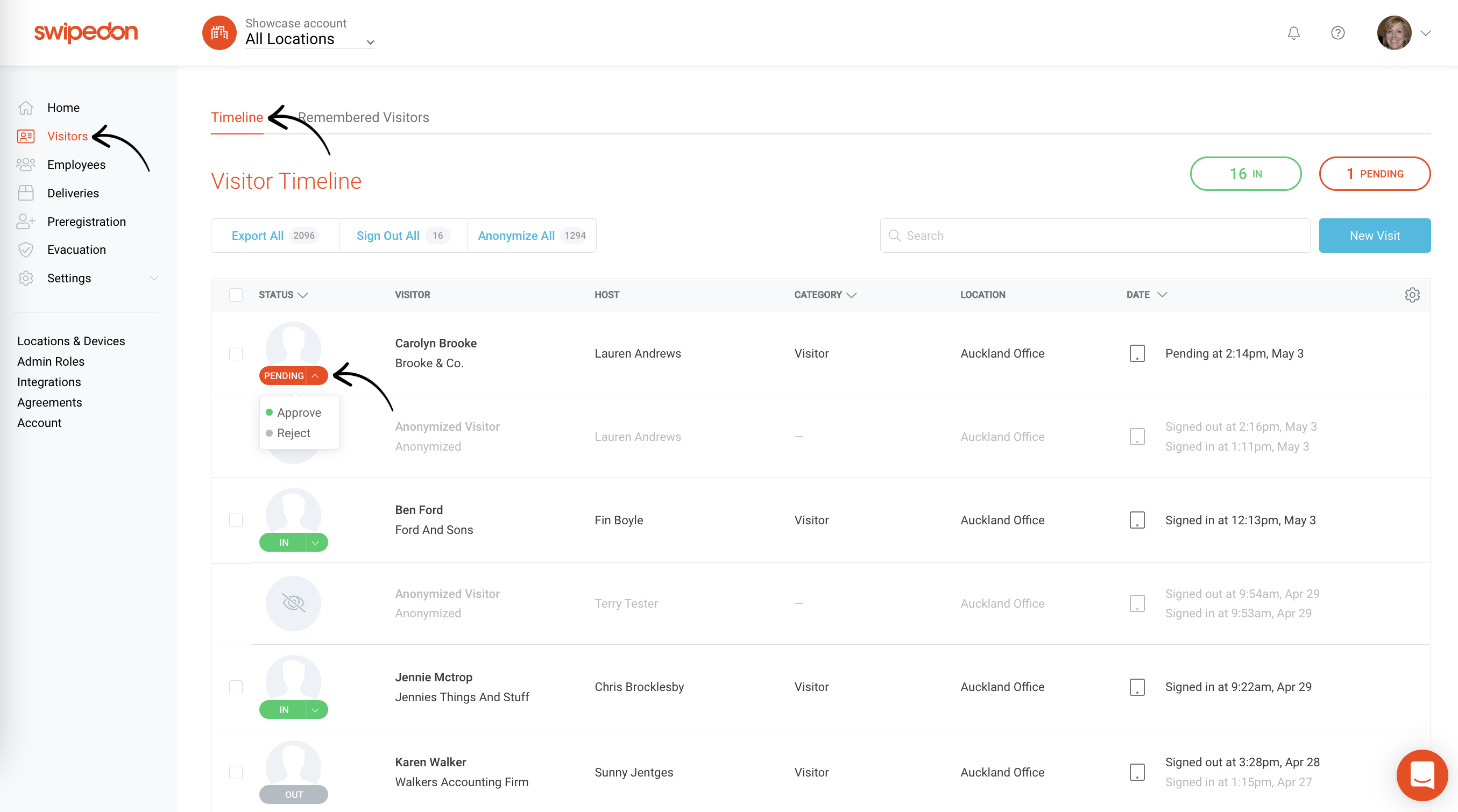 Notification Alerts
If an approval visitor field is in use, an additional recipient's email or phone number can be entered within the 'Settings' > 'Visitors' view of the SwipedOn web dashboard.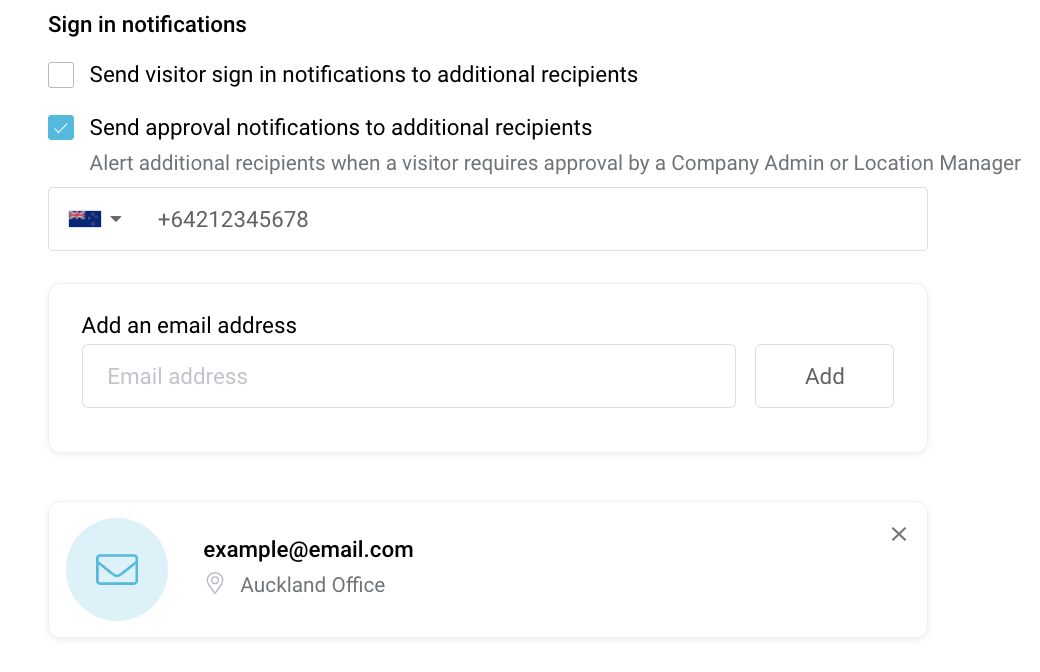 This feature sends an alert notification to those recipients listed here. This alert notification, as shown below, will send a copy of the question and answer that triggered the approval alert.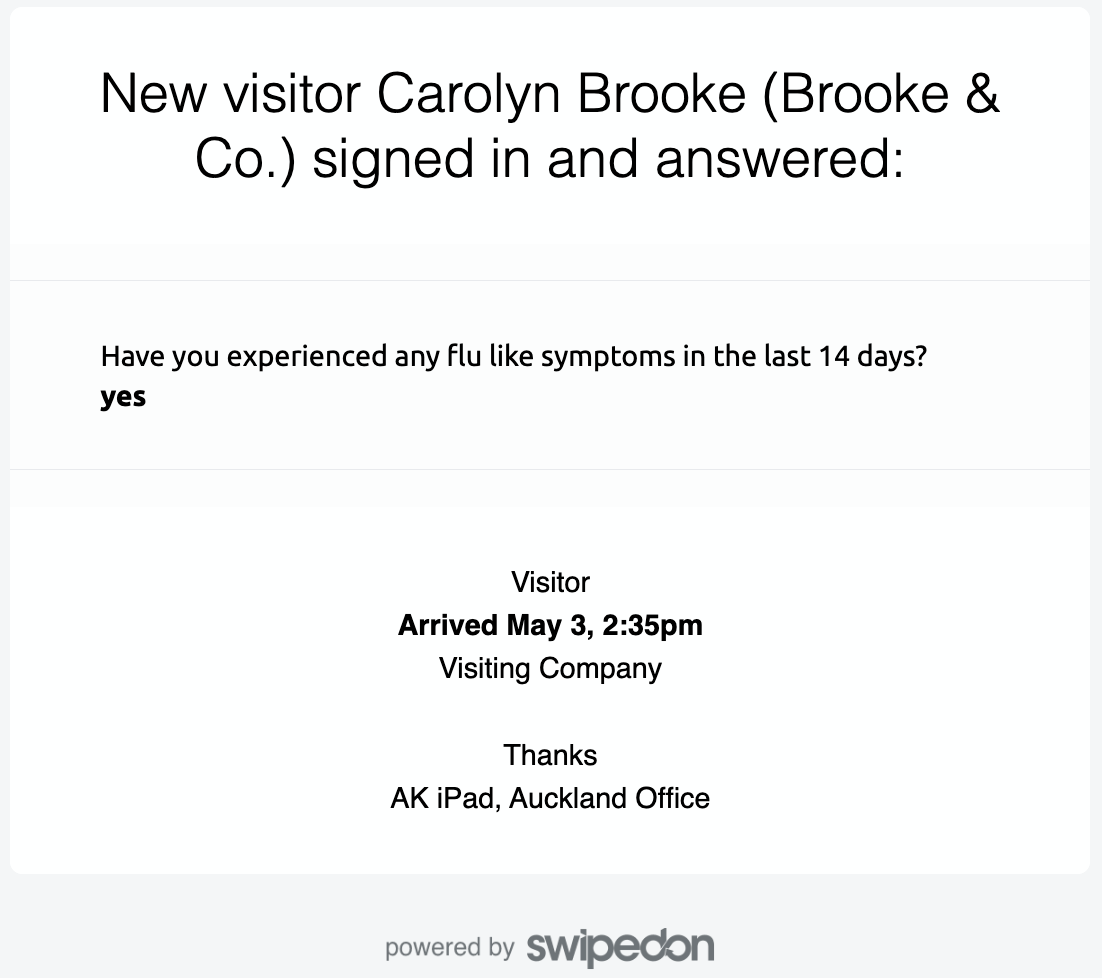 *Please note: the alert notification recipient does not have the ability to approve or reject the visitor. This is to alert the recipient of the pending visitor.