Find out more about additional subscription based features you can AddOn to your SwipedOn subscription to further streamline your office!
🏳️ Available for all SwipedOn plans. Deliveries, Catering and Unlimited SMS AddOns are included in the Enterprise and Premium subscriptions. Catering AddOn is included in a Standard subscription.
AddOns are an additional feature that you can choose to add to your SwipedOn subscription for an additional fee. Currently, these include Deliveries, Catering, Unlimited SMS notifications, and Inductions.
Head to the 'Settings' > 'Account' tab of your SwipedOn web dashboard, and then click on the blue 'Add' next to AddOns, as shown below.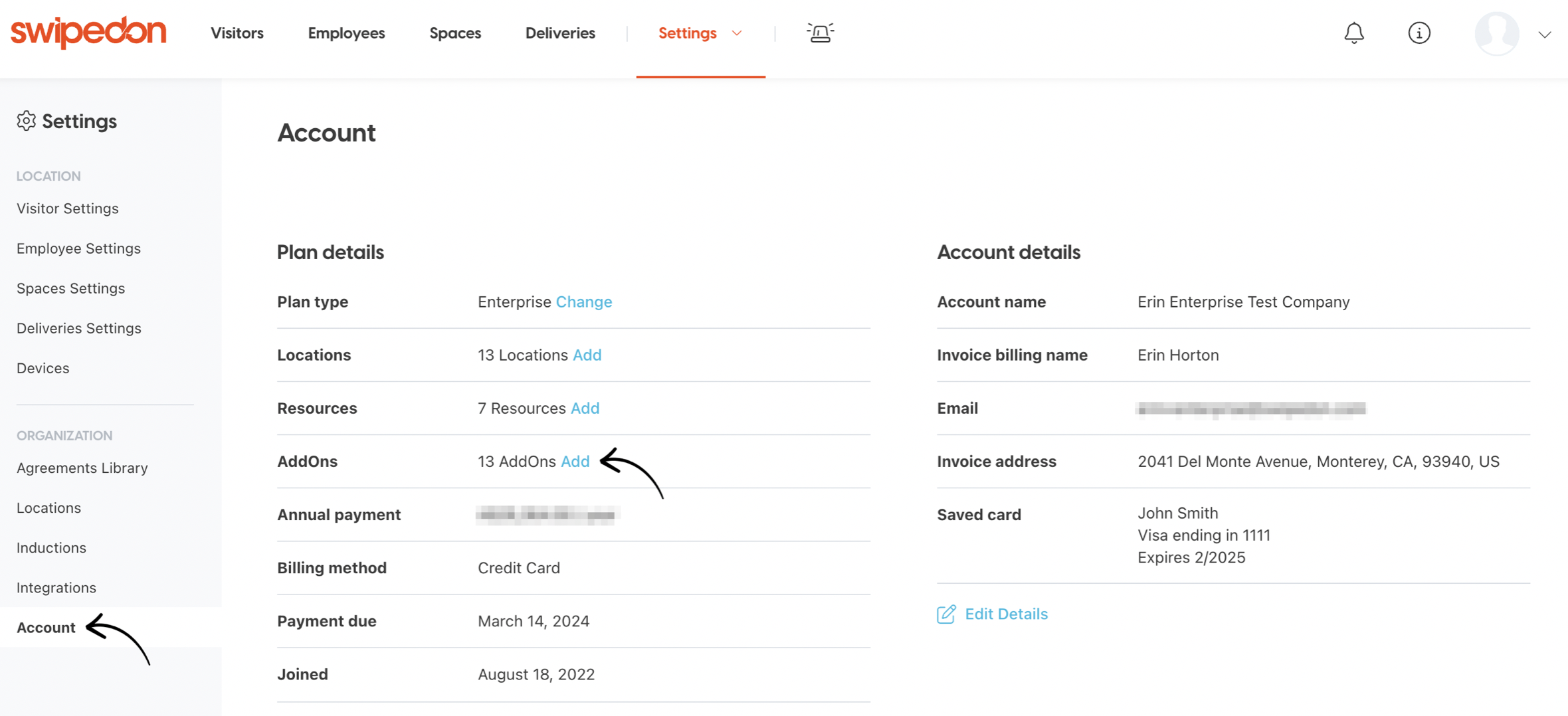 From here, you will be taken to your account's Location tab where you can click on the location you would like to select an AddOn to and tick the one/ones you would like to add. Click 'Save'.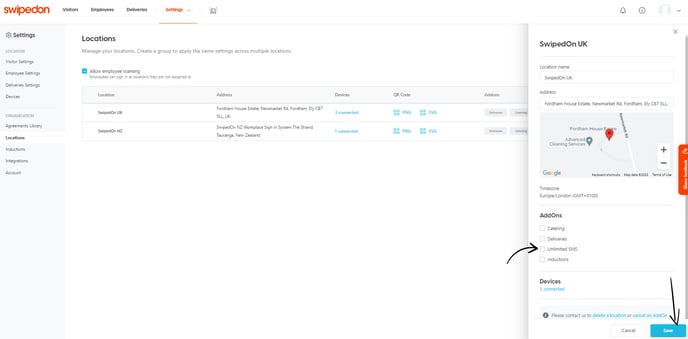 The simple way to manage deliveries of parcels, food, or just about anything to your reception. Scan the label, and the recipient is instantly notified! Automatic reminders ensure deliveries are promptly picked up, saving time and effort.
Label scanning makes the drop-off process fast

Delivery log available in our web dashboard

Employees can confirm the collection of delivery from the SwipedOn app
Note: The Deliveries AddOn is bundled with the Premium and Enterprise plans
What better way to surprise and delight your visitors than by offering a beverage or food - or both - upon arrival? Introducing SwipedOn Catering, aimed at making your guests feel truly welcome, and allowing you to deliver the best visitor experience in the world.
You can easily turn these options on and off, and they are completely customizable. So you can choose to include different types of coffee, tea, milk and even a biscuit or marshmallows! Whether you have a coffee machine where your admin staff prepare beverages for visitors, have a cafe or barista on-site, or you can partner with the local coffee shop next door, it's easy to get Catering working for your visitors.
A customizable menu allows you to personalize Catering options

Make guests feel welcome by offering them food and drink

Your order contacts will receive an instant notification with the visitor's order

Partner with the local coffee shop next door for seamless Catering requests
Note: The Catering AddOn is bundled with the Standard, Premium and Enterprise plans
SMS notifications are the best way to get the attention of your employees when a visitor or delivery arrives. Now, it's easier than ever to use SMS notifications, with the SwipedOn Unlimited SMS plan.

Add it to your monthly or annual SwipedOn subscription, and send all the messages you need without having to manage a balance of credits.
Best value for high-volume users

Easy to use, just set and forget

Flexibly assign Unlimited SMS for different locations
Note: The Unlimited SMS Notifications AddOn is bundled with the Standard, Premium and Enterprise plans
Create custom inductions tailored to your unique compliance needs. Upon completion, records are securely stored for future reference. Visitors who have already completed their induction will skip this part of the sign in flow, and anyone who hasn't will be required to do so before entering your premises.
Include a video, image or document and ask questions to ensure visitors understand the processes, hazards and risks for your location
Inductions can be completed in advance via email or on arrival
Set expiry dates and record induction status
Easily manage inductions across all locations with a central induction library
If you are interested in adding this to your SwipedOn subscription and need some help, please contact our support team via sales@swipedon.com, and we can get that sorted for you!