Contactless Sign In: A Hygienic Way to Register Employees & Visitors in the Workplace
The COVID-19 pandemic has reshaped our global standards for workplace hygiene. As a result, businesses need safe, effective tools to protect their employees and guests moving forward should anything like this happen again.
In the U.S., 54% of employees have shared their concerns about exposure to COVID-19 at their workplace. According to a survey conducted by LinkedIn, more than two-thirds of offices are either reopening now or never closed down. With that much of the workforce returning to in-person work, employees need to know the steps their employers are taking to manage risks and maintain safety.
In addition to creating a robust reopening plan, organizations can instill confidence in employees and create a safer working environment to minimize exposure to high touch areas. Below we'll look at how the right visitor check in software can help you achieve this, providing a more hygienic way to register employees and visitors at your workplace.
---
In the 20 second video below, see how your visitors can sign in using their smartphone, using a dynamic QR code displayed on the iPad hosted at your welcome desk.
In the 20 second video below, see how your visitors can sign in using their smartphone, using a static QR code displayed in a prominent position at your welcome desk.
---
1. What is Contactless Sign In?
Odds are, you interact with a handful of contactless solutions daily. We've seen contactless options manifest themselves in automatic doors, touchless faucets and soap dispensers, clap-on lights, and even voice command phones. Why do we embrace automating our processes?
In its truest form, it simplifies our lives. Beyond that, contactless solutions are more hygienic and create frictionless experiences.
Businesses often struggle with how to establish healthy distances and minimize queuing at the reception area. Although you can conduct contact tracing or sign-ins with traditional visitor management solutions, they are less efficient and require tedious sanitization between each use. Businesses looking to automate and transform their workplace safety should consider a contactless visitor sign in solution.
Contactless sign in replaces log-books and touch screens with a touch-free method for registering employees and visitors in your workplace. Now your visitors and contractors can easily sign in by scanning a QR code on their smart phone and following the instructions in the browser. This removes the need to sanitize a paper logbook (which isn't really possible anyway) or tablet.
Contactless sign in for employees is easier than ever with the SwipedOn Pocket App, as one prominent example. Employees can download the app on their smartphone via Google Play or the Apple App Store. When an employee arrives at the office, they simply open the app, swipe the arrow, and they're done.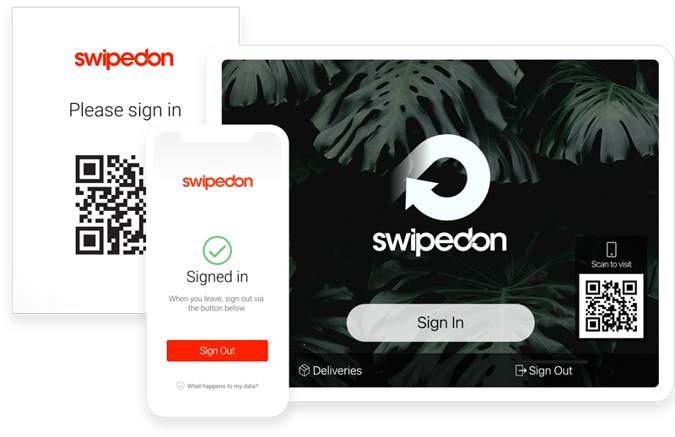 Contactless reception sign in software not only protects your employees and guests, but it also creates a frictionless and enjoyable experience for visitors. Going contactless communicates that you are safety conscious, and provides peace of mind for employees and visitors during the global health crisis.
2. Reduce the Need for Physical Interaction and Help Staff Maintain Social Distancing at Work
Contactless sign in solutions are useful beyond the initial sign-in process. Businesses have a responsibility to monitor who is in their building at any given time. In addition to enforcing CDC capacity guidelines for safe distancing at work, employers should leverage contactless sign in to promote healthy distances in the building.
With a contactless solution, you can monitor a web dashboard for a quick snapshot of which employees, guests, contractors, or vendors are in your building at any time. Use the data to implement staggered shift times for employees to minimize people onsite. If there are too many concurrent meetings being scheduled and it results in busy reception areas, the data can be used to rearrange meeting times.
Additionally, employees can create custom sign out messages via the SwipedOn Pocket app. Custom messages allow your employees to notify their visitors if they will be momentarily out of the office. The custom message can provide an update status or leave instructions for a guest upon arrival.
All of these methods allow businesses to have visibility over their space. They also reduce the need for in-person interactions. By equipping employees with tools that allow them to manage their sign in and guest registration digitally, opportunities for potential virus spread are minimized.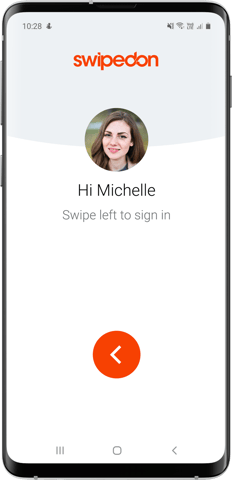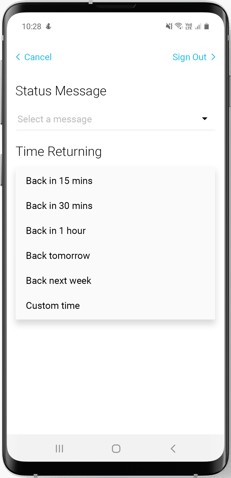 3. Quick and Efficient
Contactless sign in apps are easy to install. With a quick download and authentication, your employees are ready to begin.
With SwipedOn's solution, employees have a simple swipe sign in. They can add a status or away message and even indicate a return time when they leave the office. All of their movements are logged and time-stamped so employers have easy visibility as well.
4. Optional Health Screening Questions for Added Security
Maintaining a healthy workplace requires vigilance. As an added precaution, include screening questions during the contactless sign in process. Screening questions help ensure that your employees don't pose a risk to your business and can be used as a contact tracing tool.
From SwipedOn's web dashboard, you can enable screening questions and note if they are required before your staff can complete their sign-in. You can then see if your staff are experiencing any illness symptoms or have traveled internationally recently, for example. Screening questions add an extra layer of security and reinforce proper hygiene as employees sign in.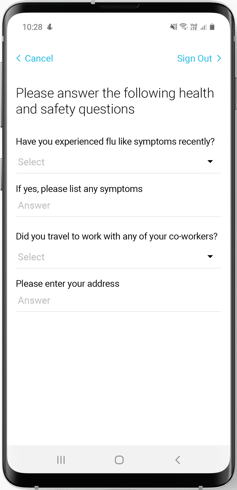 As an added security measure, consider adding screening questions for your visitors as well. Visitor screening questions can trigger an alert to the host or health manager if a guest poses a potential health risk.
Contactless sign in helps employees conduct a more hygienic and safer visitor experience from start to finish. Once a visitor arrives in your reception, they simply scan a QR code available on an iPad or printed handout. They may then be prompted to complete a short screening questionnaire.
Once completed, the host employee is notified that their guest has arrived and passed the screening. The visitor might receive a pre-set notification from the employee with waiting instructions or how to find the conference room.
This entire process is hands-free and allows both the employees and visitors to safely and securely conduct business.
Contactless sign in communicates to employees and visitors that you prioritize safety at every touchpoint. When creating a frictionless check-in experience in a post-COVID-19 world, businesses should look to replace high-touch areas with automated, contactless options.
TLDR
Organizations that want to create a more hygienic way for employees and guests to sign in should strongly consider using a workplace sign in solution.