Contactless sign in is now available with SwipedOn iOS 2.18.0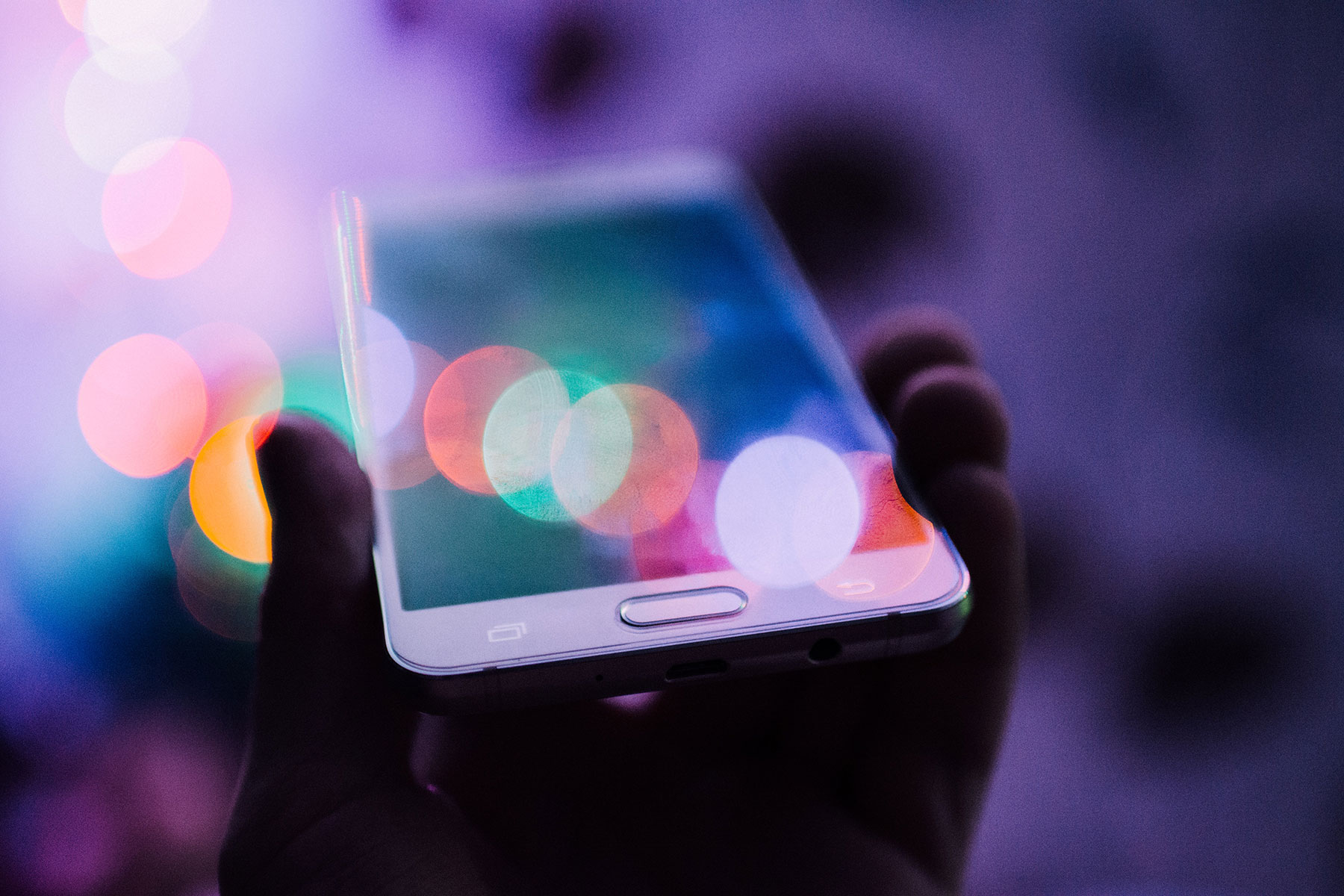 In our latest update, we bring you exactly what you've been asking for when it comes to visitor sign in. Introducing Contactless, the latest feature from SwipedOn.
In reaction to the global pandemic, we've already brought you visitor screening with approvals and contact tracing, now it's time to go one step further in ensuring your employees remain safe at work - contactless sign in. In this article, we'll guide you through the new feature and how it's set to transform your business as we approach a new normal, and businesses look to operate in a way that's productive yet preventative, in a world post-COVID-19.
---
In this video, Jas guides you through how to use contactless sign in.
Want to see more? Subscribe to the SwipedOn YouTube channel: here
---
No need to touch
When it comes to business, a hand shake is likely to be off the cards for some time. And while you can easily carry out contact tracing using a visitor management app, the necessity to sanitize after every use could become a little laborious. Which is why we've developed contactless. Visitors, contractors or customers are able to easily sign in by scanning a QR code and following the instructions on their own mobile device.
Here's everything you need to know about the new contactless feature, including where you can find the settings in the web dashboard, how your visitor or customer can interact with the system along with all of the essential information that ensures this contactless solution work for users in your workplace along with safety and security regulations.
Be sure to update your iPad with the latest iOS update of SwipedOn to access the Contactless settings.
1. Contactless Settings in the web dashboard
After updating your iPad with the latest iOS update, navigate to the web dashboard to Settings > Contactless. In here, you will find the option to enable a QR code for contactless sign in.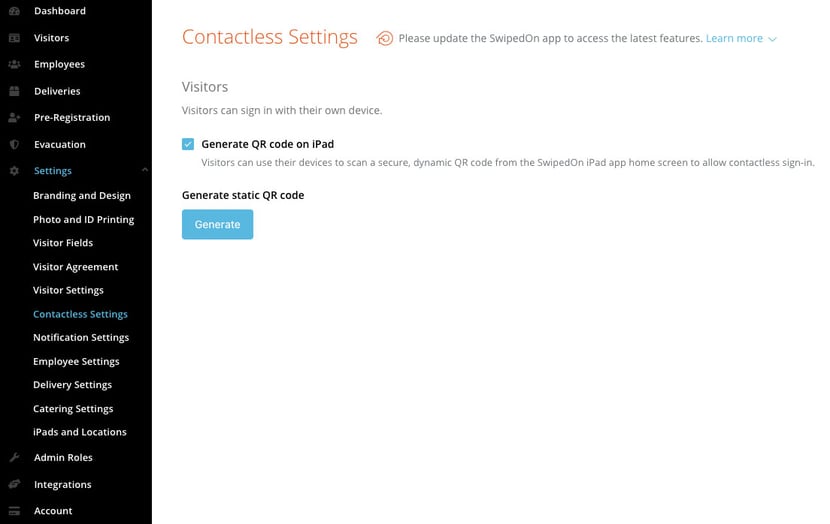 2. Contactless on your visitor's smartphone
When a visitor arrives, they simply need to open the camera on their mobile device to scan the QR code on the iPad. This will prompt them to open the sign in form on their default web browser where they can enter their details and complete the contactless sign in process.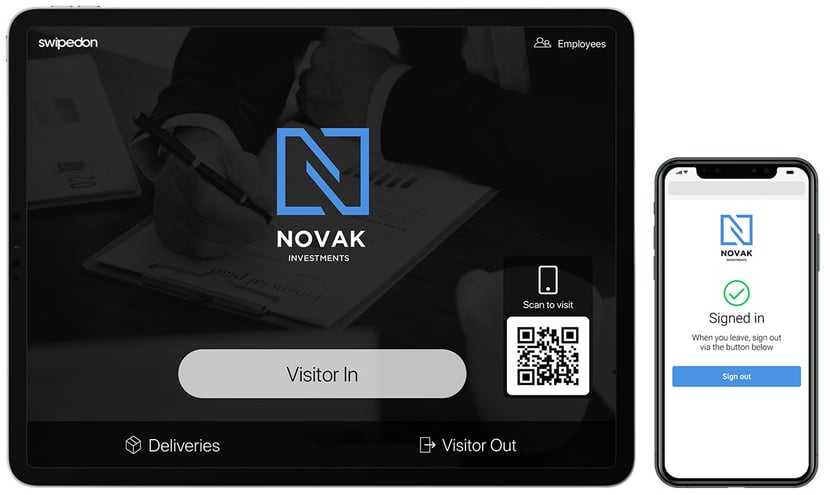 3. Additional Safety & Security with a dynamic QR code
The QR code generated on the iPad is a dynamic code, meaning that every time the iPad is refreshed, a new code is generated. If the iPad is not refreshed, each QR code expires after 30 minutes. This is an additional safety and security measure for the contactless feature to prevent misuse of the QR code at your workplace.
4. Do it all without an iPad
You don't need an iPad (said no visitor management system ever, but we're going there!) If you don't need an iPad, why should the need for contactless sign in drive you to get one? For some facilities, bars, restaurants and event venues, an iPad might be an unnecessary tool for performing contactless sign in. For this reason, we've designed our Contactless feature with a variety of workplace's needs in mind. Simply print out the QR Code if you don't have an iPad and display it somewhere visible at your entrance to check in visitors.
Learn more about how to set up & use Contactless