Quick Questions with Mia: Product Marketing Lead

When she's not wrangling the product team for feature release dates, you'll find her busting out PBs at CrossFit, flexing her TikTok expertise on the socials or enjoying a cheeky wine and platter with her mates.
🚨 Y'all ready for this? It's time to meet Mia, Product Marketing Lead here at SwipedOn.

In a nutshell, what do you do at SwipedOn?
Aside from my unofficial responsibilities as the office DJ and TikTok expert, I spend the majority of my time working with the Product and UX teams to ensure all our communications are consistent, easy to understand, and engaging for our customers.
What does a day in the life of you at SwipedOn look like?
Arrive early, catch up on any overnight Slack action, after that, it's into the kitchen for some bean juice ☕️
Then I get stuck into my Trello board and decide what takes priority for the day. This usually involves working closely with the UX and Product teams to try and strike a balance of fun and facts for any communications Marketing is working on.
The rest of the time I'm just trying to keep up with all the office banter and finding the best GIFs to send on Slack.
What do you like about working at SwipedOn?
There is a real get-stuck-in attitude, everyone jumps in when needed and is happy to help. PLUS the culture is up there with the best I've experienced, the leadership team has really embraced flexible work and building out what they are offering to the team here and you can see the effect it has.
I LOVE being able to come to work in activewear if I want to (I don't know if I'll ever be able to go back to a "smart-casual" dress code 😰), The workplace banter is great - there is never really a dull day with this team and everyone loves to have a laugh (and a beer) 🍻
What do you particularly like about what we're doing with SwipedOn?
Solving real problems for real people and taking the complexity out of everyday tasks. Our customers really are at the core of everything we do and everyone here is passionate about the mission to make work-life easier ✅
What three words would you use to describe your role?
When. When. When. (Forever pestering the product team for timelines and dates for new features, they love it though really)
Do you have a favorite motto or mantra that you live by

?
"You can catch flies with honey, but you'll catch more honeys being fly" 🍯
What did you do in your previous working life?
I've been in marketing-related roles since I left uni, but have been lucky enough to work across a broad range of industries. I started in FMCG (fast-moving consumer goods) where I worked at a chocolate factory - literally - and got to develop and market new chocolate products 🍫

From there, I moved into the Agriculture industry with Gallagher (based in the Waikato), and after that I headed off to the UK for my OE where I was lucky enough to land a contract role with Google (yes, it was as cool as you'd think) and I got to travel and work which was epic.
The OE was cut short (due to a pesky global pandemic), but once I was back in NZ I landed a marketing specialist contract with Tui Garden Products, and once that finished the role at SwipedOn came up 🧡
Initially, I was a maternity cover for the lovely
Lou,
but for some reason, the powers that be have chosen to keep me on permanently which I am stoked about!
What do you do in your free time?
After work, you'll either find me at the gym (currently extremely into CrossFit) or up the Mount 💪🏻🏔

On the wholesome weekends, I'll try to get out for a hike somewhere, do some reading, and maybe some baking. For the less wholesome weekends one of my favourite past times is getting together with my friends for a cheeky wine and platter 🥂🧀 and a few lols.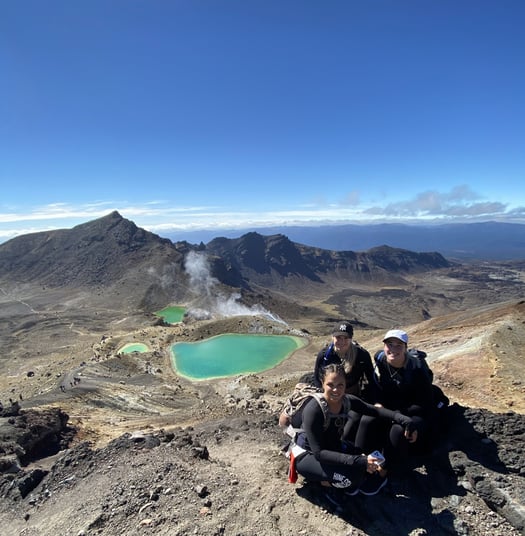 What are three things still left on your bucket list?
1. Get back to Europe and finish my O.E
2. Would love to get a couple of the Great Walks done 🥾
3. Figure out what I'm doing with my life
What's on your SwipedOn playlist?
Well according to my Spotify stats, my top three genres are EDM, Dancefloor DNB and Drum & Bass (which sounds about right) 🎵
If you were stuck on a desert island and you could choose one person from the SwipedOn team to come with you, who would you take and why?
It would have to be Ashlyn because as long as there was wifi on the island we could just watch Tik Tok all day. Plus, we both meal prep so our ration-game would be strong.
Let's end this with a weird fact about you...
When I was born, I didn't breathe for 6 minutes... and I'm sure my parents would agree that I probably haven't been that quiet since. I also used to do competitive trampolining, I've got the medals and everything 😆🥇