4 Industries That Can Benefit Most From Visitor Management Systems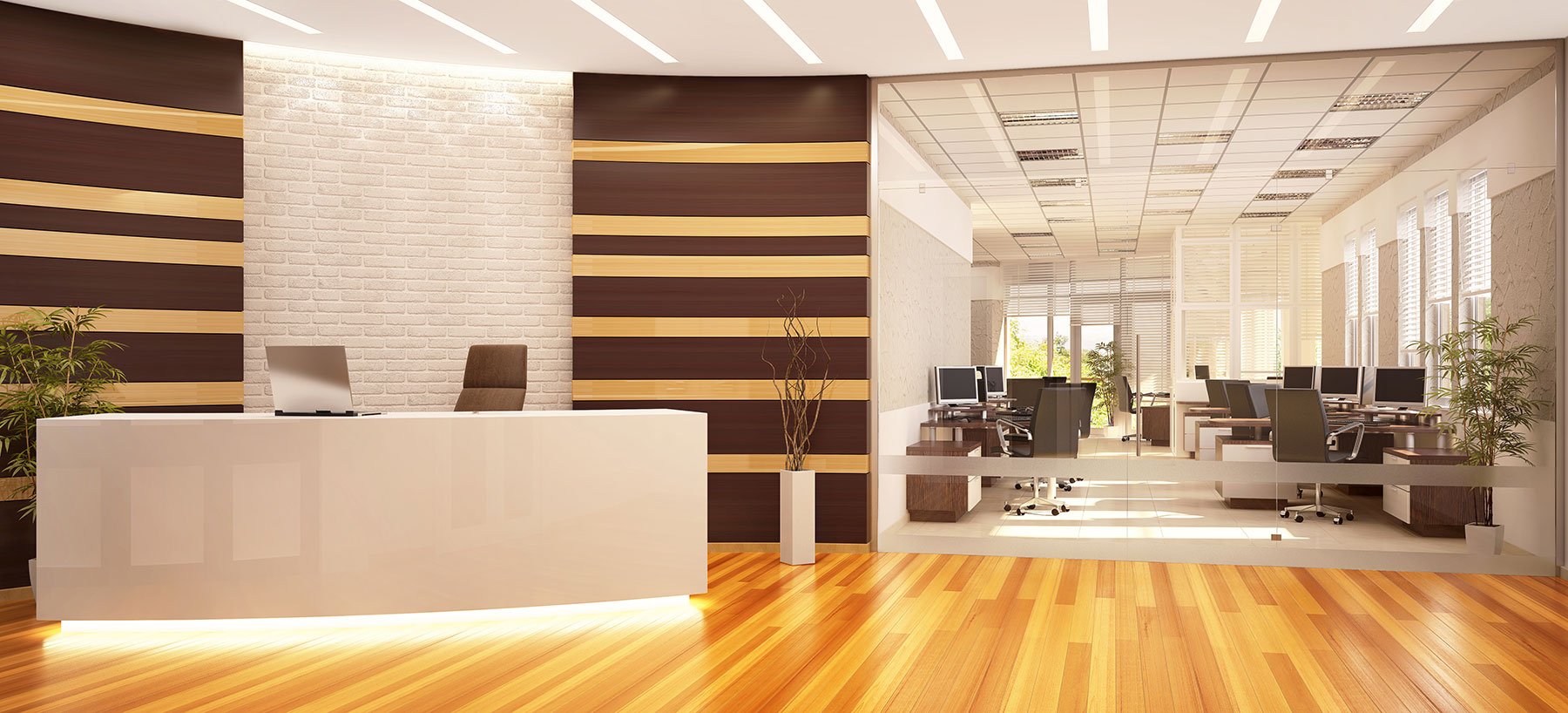 Visitor management systems (VMS) can bring multiple benefits to a business, from ensuring the security of the workplace, streamlining front-desk operations, to providing guests with a positive first impression of your organization. With the current COVID-19 global pandemic, VMSs play an even more vital role as they can also help screen visitors and double as a contact tracing tool, which are vital for organizations in the healthcare industry.
Below, we'll go through four industries that can benefit most from a VMS and how they can help improve, secure, and protect your organization from any external threats.
1. Education: Schools & Universities
Visitor management systems are a necessity in the education sector. For schools and universities, a VMS assists your receptionist in tracking visitors, resulting in students and staff members remaining safe and protected. We recommend using a VMS that offers ID badge printing so staff and students can easily identify visitors on-site and can spot guests or trespassers entering restricted areas.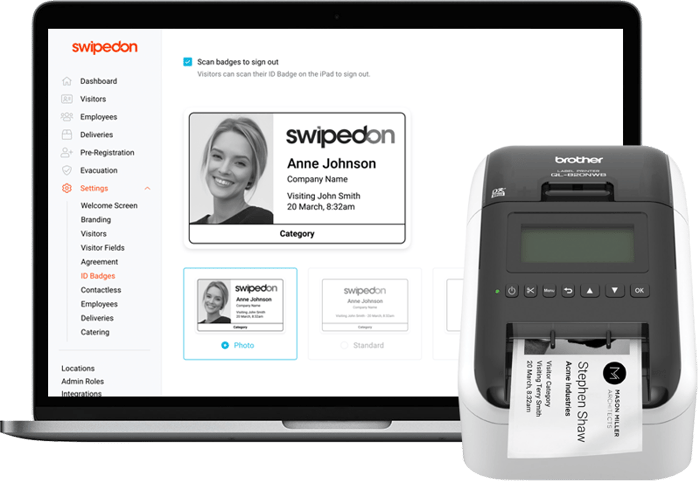 Furthermore, a digital system also makes the sign-in process more user-friendly, allowing a range of visitors, from parents and grandparents to contractors, to easily enter their details into the system.
According to Evan Starkey, from Campus Security & Life Safety, "An easy-to-use kiosk is a great way to quicken the sign-in process for your visitors while also allowing for you to provide a welcoming experience."
2. Corporate Office Buildings
Making the switch from a paper logbook to a digital VMS can help protect your organization from intruders. The visitor management system acts as the first line of defence, guarding staff members, confidential documents, and intellectual property from unauthorized guests.
If your business needs to remain open during the COVID-19 global pandemic, the visitor management system can also be used as a screening tool to find out about a visitor's recent travel, current state of health, or even regarding social distancing. The system allows you to specify the required information to determine if a visitor is a health risk to your organization, thereby triggering an alert to your office manager, security personnel, and even health and safety contact(s). Your staff members can be alerted if a high-risk individual is entering your workplace and make alternative arrangements.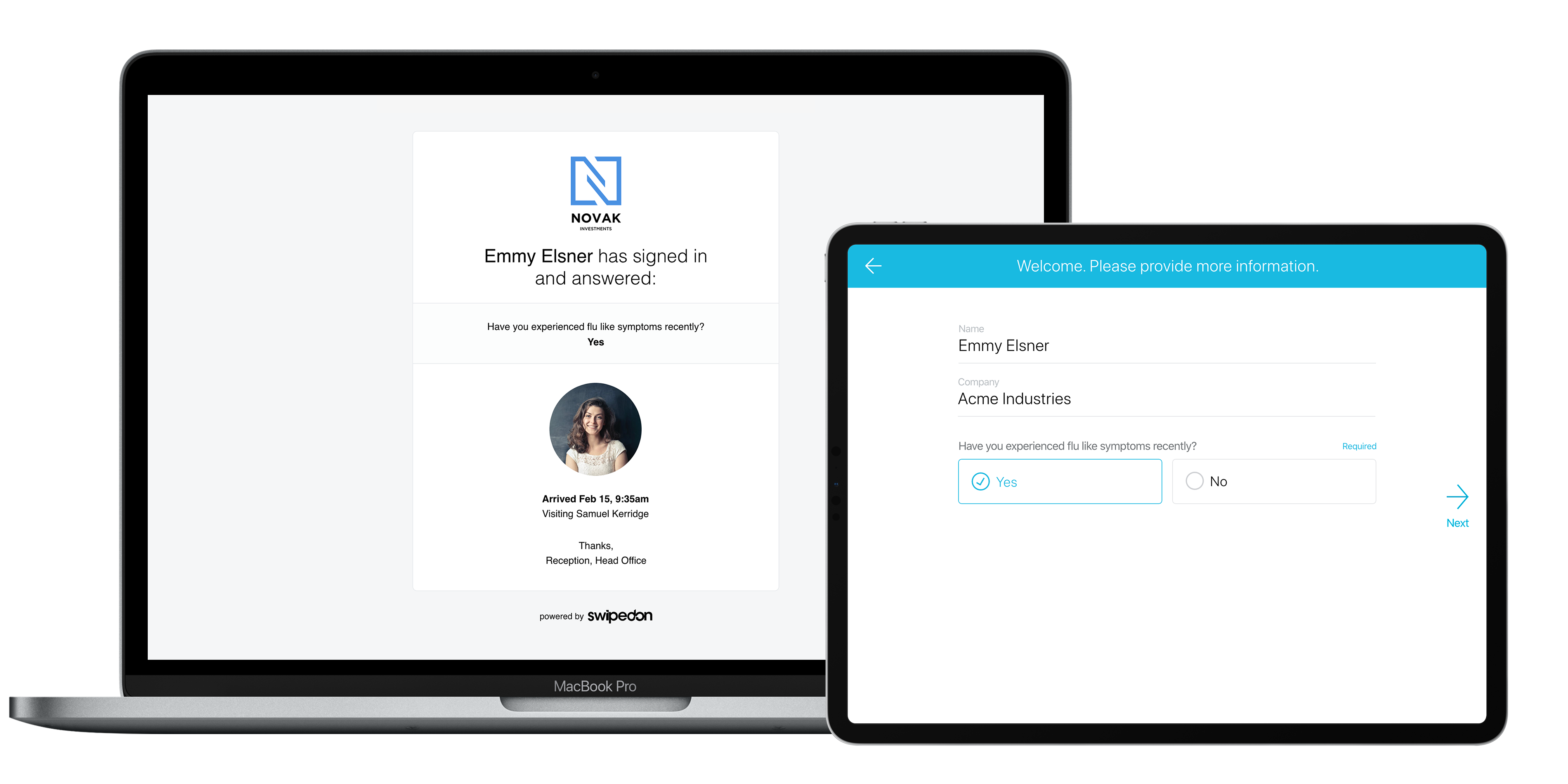 Did you know it only takes seven seconds for your guests to form a first-impression of your organization? With a visitor management system, not only can you simplify the sign-in process, but there are significantly shorter wait times for guests. Front desk staff are also notified immediately when guests sign in.
If you're worried about new data privacy regulations, you'd be happy to know that all the data that visitors enter into the system is saved digitally, so you don't have to manage and store paper records. It's also easy to export data, which helps with the reporting process.
3. Medical: Doctor Offices & Hospitals
Institutions in the healthcare industry like hospitals and medical practices have a lot of guests that visit every day. While a large majority of visitors are patients, family and friends, vendors with supplies and temporary workers or contractors must also be accounted for.
Although your healthcare organization has security protocols in place, it can be difficult to keep track of all of your visitors. Unfortunately, many health-related institutions still rely on paper sign-in sheets. This manual and laborious approach to visitor management can lead to data privacy issues and even put your institution in danger of security breaches.
An automated visitor management system can mitigate these problems by verifying the identity of all visitors and streamlining the visitor check-in process. The VMS can check-in all visitors, issue badges with specific check-in and check-out times, and allow guests to sign various legal documents like NDAs or health questionnaires.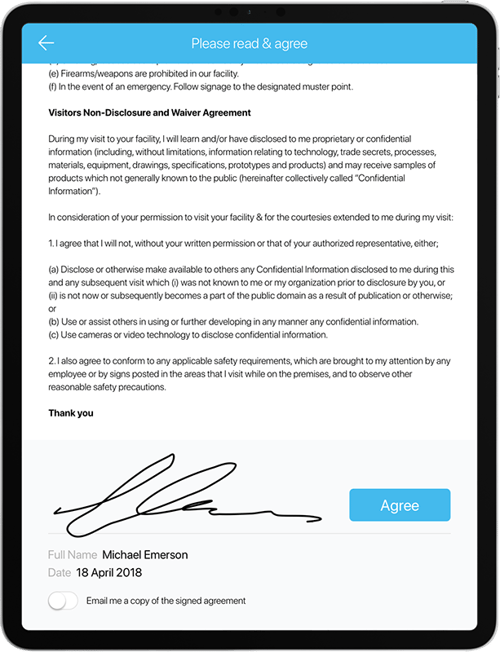 As a facility that must remain open during the COVID-19 global pandemic, preventative measures also need to be taken, as much as possible, to minimize potential spread of the virus in the workplace.
Your medical clinic and hospital will most likely experience an influx of patients seeking help. To protect staff members and other patients in your hospital or medical practice, use a VMS to screen for individuals who have recently travelled or display the coronavirus symptoms. Any staff member that interacts with individuals suspected with COVID-19 can be alerted so they take the proper precautionary measures required.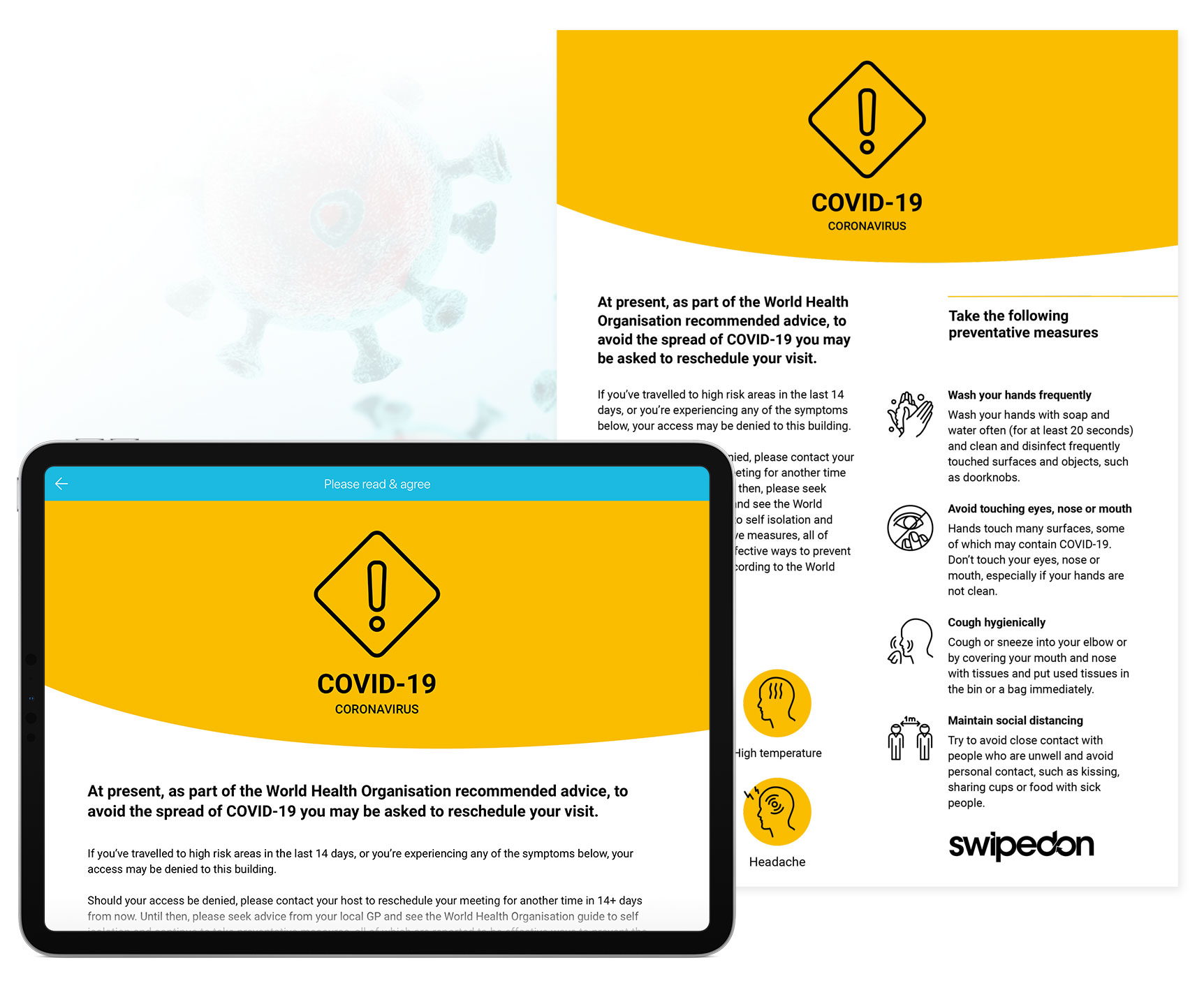 4. Hospitality: Hotels & Restaurants
The front desk of hotels can be an extremely busy place. There's always a steady flow of customers, vendors, and employees, making it difficult for receptionists to service customers while maintaining the security of your hotel.
Thankfully, a robust VMS can help with both activities. SwipedOn's VMS can double as an employee-in-out board. This way, employees and contractors can quickly check themselves in-and-out of the building, allowing receptionists to focus on giving customers the best experience. A hotel VMS can also allow guests to self-check-in. According to Technology 4 Hotels, self-checking in not only streamlines the process for both the visitor and receptionist, but it can also create a better user experience, as more consumers want to interact with companies on their own terms. A new survey by SOTI shows that 66% of customers prefer self-service over traditional interaction with retail sales associates.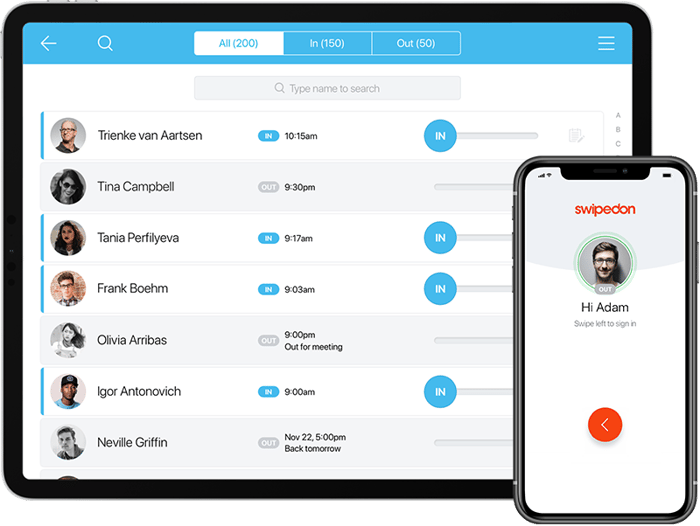 If your hotel is active during the COVID-19 global pandemic—serving as a quarantine center for travelers abroad, housing stranded tourists and expats, sheltering the vulnerable, or accepting requests from front-line workers—it's vital you screen all visitors coming through since these visitors, like medical front-line workers, are high-risk individuals. A failure to screen your visitors and have a contact tracing tool ready, can result in an outbreak in your hotel and further possible spread of the virus once they leave. It's times like these when implementing additional procedures and check-in activities are necessary to protect your organization, your staff members, and other clients in the building.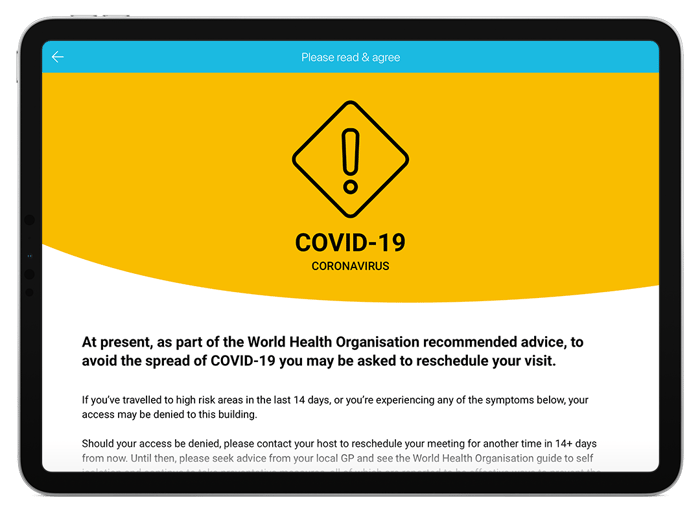 As for restaurants, restaurant receptionists often need to deal with an influx of guests during peak hours. Instead of juggling vendors and guests, restaurants can have a self-check-in kiosk. Not only does this eliminate long queues, but it allows the receptionist to focus on greeting and attending to customers instead of recording booking times.
A digital VMS can help boost your organization's front-line defences, improve front-desk staff efficiency, double as an employee in-out board, and leave positive first-impressions for all guests. More importantly, during the COVID-19 global pandemic a VMS can also function as a visitor screening and contact tracing tool.