Quick Questions with Rory Drysdale: Senior Developer

He loves the outdoors, says "eh" a lot, and is never afraid to tackle a challenge head on. It's time to meet our resident Canadian and super talented Senior Developer, Rory!

What does a day in the life of you at SwipedOn look like?
Most of the time I'm working with the team to build new features for our customers. This includes writing code, solving problems, peer reviewing, and quality assurance checks. Throw a few cups of green tea (okay 5) and a game or two of table tennis in there and thats my day.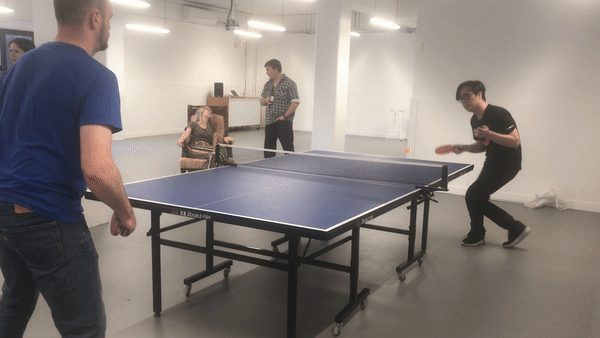 What do you like about working at SwipedOn?
The people for sure! It's an honour to be part of such a great team with a common goal of making an amazing product for our customers. The quote of the day (usually Jason) is pretty entertaining as well.
What do you particularly like about what we're doing with SwipedOn?
Continuous improvement is at the core of everything we do. Be it for our customers and the product, the team, or the individuals in it we are always looking at how to advance to the next level.
What three words would you use to describe your role?
Collaborating, improving, and testing.
What is your SwipedOn screensaver?
Mountains all the way.
What did you do in your previous working life?
In my current capacity as a developer I've worked on projects ranging from environmental monitoring tools to an ecommerce platform. My gap decade journey to finding a career in software took me from working at golf courses to being a bicycle mechanic and a number of places in between.
What do you do in your free time?
The goal is to be camping, walking, golfing, and cycling as much as time allows. Since moving into our first house in April it's more likely to be painting or renovating the guest bedroom.
What are three things still left on your bucket list?
See Iceland, get a hole in one golfing, and stay in one of those over the water bungalows in Bora Bora.
What's on your SwipedOn playlist?
My recent played list says Chris Cornell, Queen, Muse, NOFX, The Strumbellas, Kings of Leon, The Rural Alberta Advantage, Queens of the Stone Age and Against Me!
If you were stuck on a desert island and you could choose one person from the SwipedOn team to come with you, who would you take and why?
Hads (Hadleigh) or Ben would be the logical choice considering their nautical expertise, but I'm going to go with Kev. I figure his relentlessly positive attitude would make the day to day a much improved experience.
Let's end this with a weird fact about you…
I grew up outside of a small town (~1500 people) in the middle of Canada where the temperatures ranges from -50°C to 40°C, and my high school principal was my father.