5 Simple Ways to Improve Your Visitor Management Experience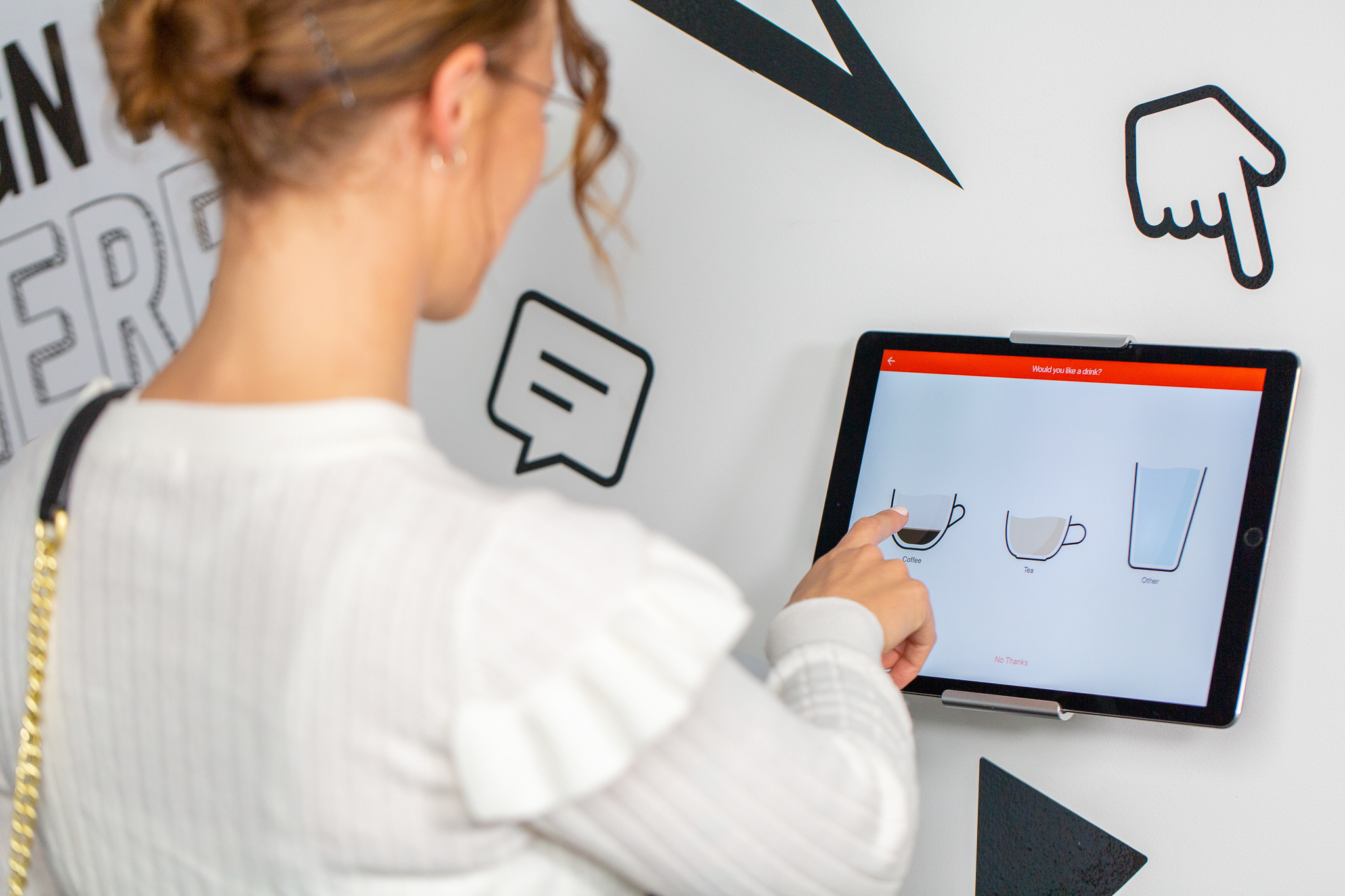 Creating a seamless visitor experience should be a goal of all businesses that care about their reputations. The experience your visitors have when arriving in your workplace can directly affect their perception of your business. Therefore, it's important to start things off on the right foot.
Managing visitors seems easy on the surface, but it goes beyond just welcoming and sending guests where they need to go. As visitors enter your workplace, they are expected to provide information such as an I.D. and the name of the person they're scheduled to see. In some cases, they're even asked to complete an NDA or other paperwork and wait for a name tag. This potentially tedious process often takes valuable time away from your front desk staff, leads to congestion in the reception area, and can create an overall unpleasant visitor experience.
Here are steps all businesses can take to minimize the complexities of visitor management and improve the process for a seamless visitor experience.
1. Leverage a State-of-the-Art Visitor Management System
Reception areas are typically the first introduction a visitor has to your space and an area of congestion for many workplaces. On a given day, your reception area may see rotating foot traffic from employees, vendors, customers, clients, partners, and other internal and external personnel.
With this constant flow of traffic, reception areas need a way to effectively track who is in their building and create a safe experience from end-to-end. A top of the line visitor management system allows businesses to do this while customizing their sign-in process and engaging with visitors for a seamless experience.
With complete customization, SwipedOn's visitor management system, for one, can be tailored to any industry. Guests are prompted to sign-in with an iPad and all information is streamlined in a universal dashboard.
Visitor management systems can help businesses improve their guest check-in experience in several ways, including:
Increasing safety measures with a contactless sign in solution that creates a touch-free, hygienic way for visitors to sign in using a QR code scan on their mobile device.
Minimizing the risk of exposure to your staff and visitors by incorporating visitor screening questions to determine their safety risk.
Replacing paperwork with digital agreements that capture and storey key visitor records to assist with regulatory compliance and ensure security for your business.
Receiving instant notifications when visitors arrive for meetings (equipped with visitor photos and discrete instant messaging).
Replace manually created badges with automatic and wireless ID badge printing.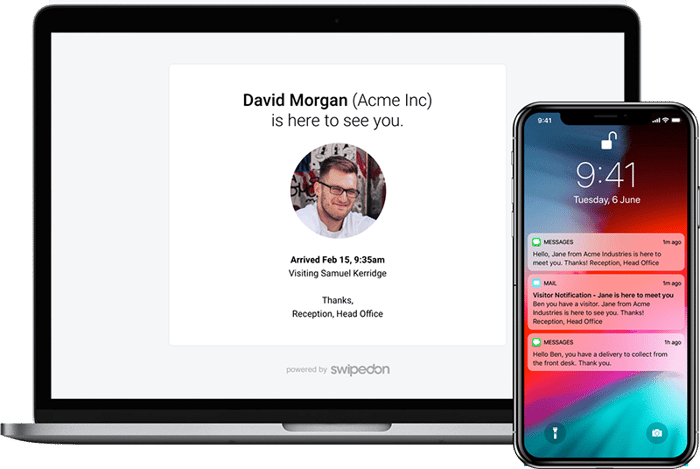 With a state-of-the-art visitor management system, businesses can improve speed and efficiency in their reception area. According to a study in 2017, the average tolerance for guest wait times is 10 minutes. Digital solutions like SwipedOn can significantly reduce the amount of time guests spend in reception areas, while also reducing their risk of exposure to COVID-19.
2. Provide Five-Star First Impressions
Visitors often frown upon waiting a long time in reception areas. Businesses can benefit from taking a five-star hotel approach to immediately meet guests' needs, comfort, and exceed their expectations.
As guests enter your workplace, incorporate practices that enhance their experience to create a great first impression. Reception staff should be encouraged to be warm and welcoming as the first introduction to the company. Even if time is sparse, reception staff can inform guests of any amenities they can utilize. Ensure your reception area is inviting and comfortable as well — seating, reading materials, and refreshments.
Visitor management systems can help promote a positive first impression by ensuring the entire sign in process is quickly and securely taken care of upon a guest's arrival. For businesses with limited or no reception staff, a digital visitor sign in system helps welcome visitors while keeping them informed regarding their appointment.
Employees can be instantly notified of a visitor's arrival and details, and then provided waiting instructions. Since 80% of U.S. respondents said that being told a wait-time in advance would reduce their reception frustration, having wait instructions on-hand can significantly improve the visitor experience.
All of these combined efforts streamline the sign in process, ensure guests are comfortable and alleviate long wait times, which ensure a positive first impression for visitors.
3. WOW Your Visitors with Your Lobby
Many businesses miss the opportunity to enhance their guest experience when visitors enter their reception or lobby area. An effective way to provide an authentic experience is through a combination of thoughtful design and branding.
Businesses can reinforce their brand and communicate thought-leadership through small enhancements to their lobby. For example, consider offering wired and wireless charging stations to communicate tech-forward thinking. Businesses can communicate their commitment to safety protocols in common areas by including a visitor agreement at reception. Colorful decor, warm lighting, live plants, and comfortable furniture also contribute to making a good impression.
4. Ensure Visitors Have Something Active To Do
A study conducted on the psychology of waiting lines found that "occupied time feels shorter than unoccupied time".
One of the biggest ways to combat wait time boredom is to alter the perception of time. Restaurants often do this by offering menus to guests waiting to be seated. It gives them something to do while waiting, often shortens service time at the table, and shows that the restaurant is being attentive to guests.
The same logic can be applied to business lobbies and reception areas. In instances where waiting time is unavoidable, consider adding some of the following practices:
As mentioned previously, offer refreshments and snacks.
Provide access to a temporary wi-fi password while guests wait.
Include magazines or digital tablets that guests can use at their leisure.
Include your organization's marketing and reading materials (e.g., marketing brochure, newsletter, company articles, etc).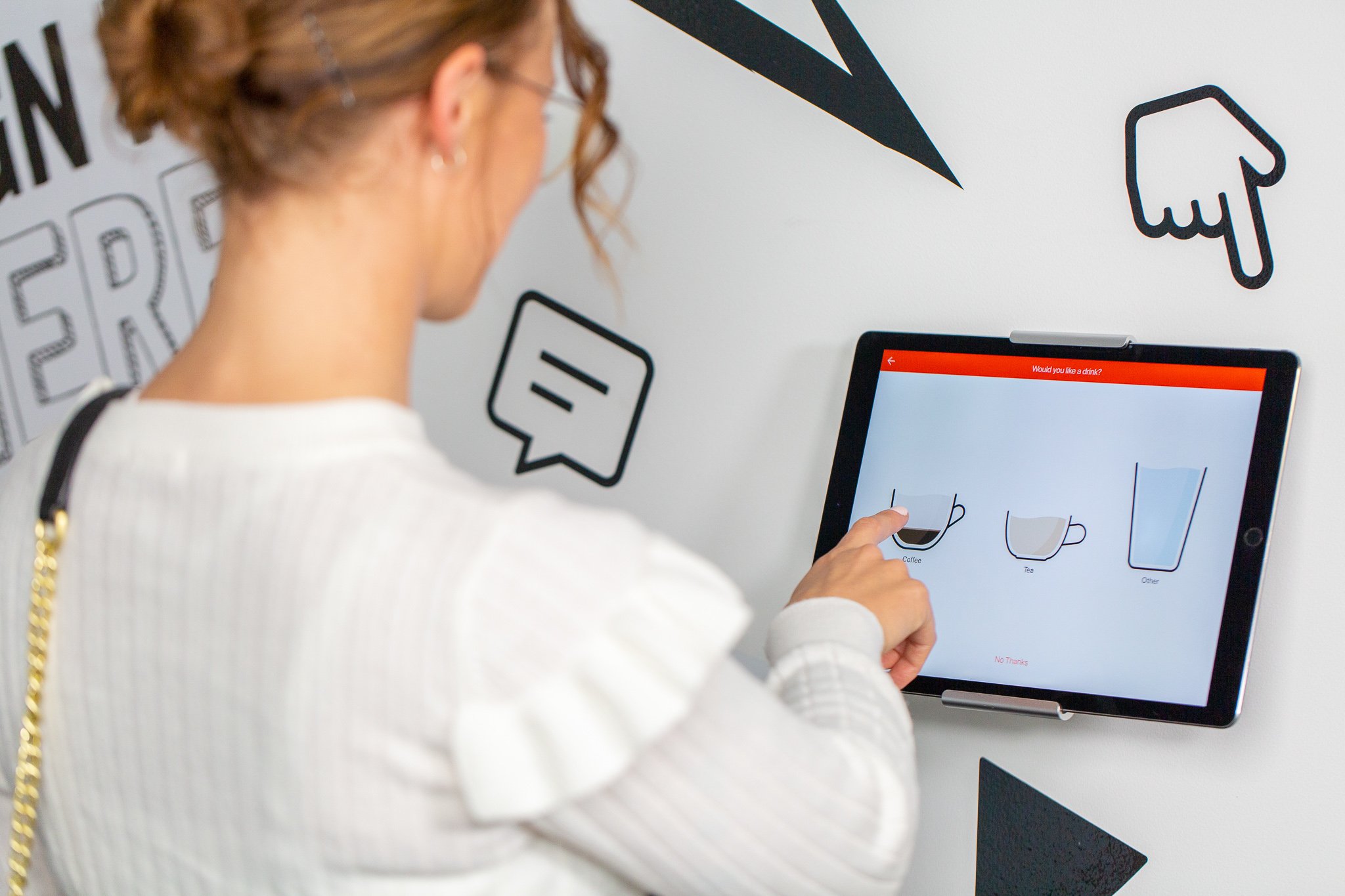 5. Extend the Experience to Employees
To further improve the reception area experience, take into account that your employees are also part of making that happen. Implementing a staff in out board streamlines employee sign-in processes and minimizes congestion in key waiting areas. A digital in out board is easy to use. It also combats safety and security challenges in the reception area by easily screening employees, including screening questions, and provides a full snapshot of who is in the building.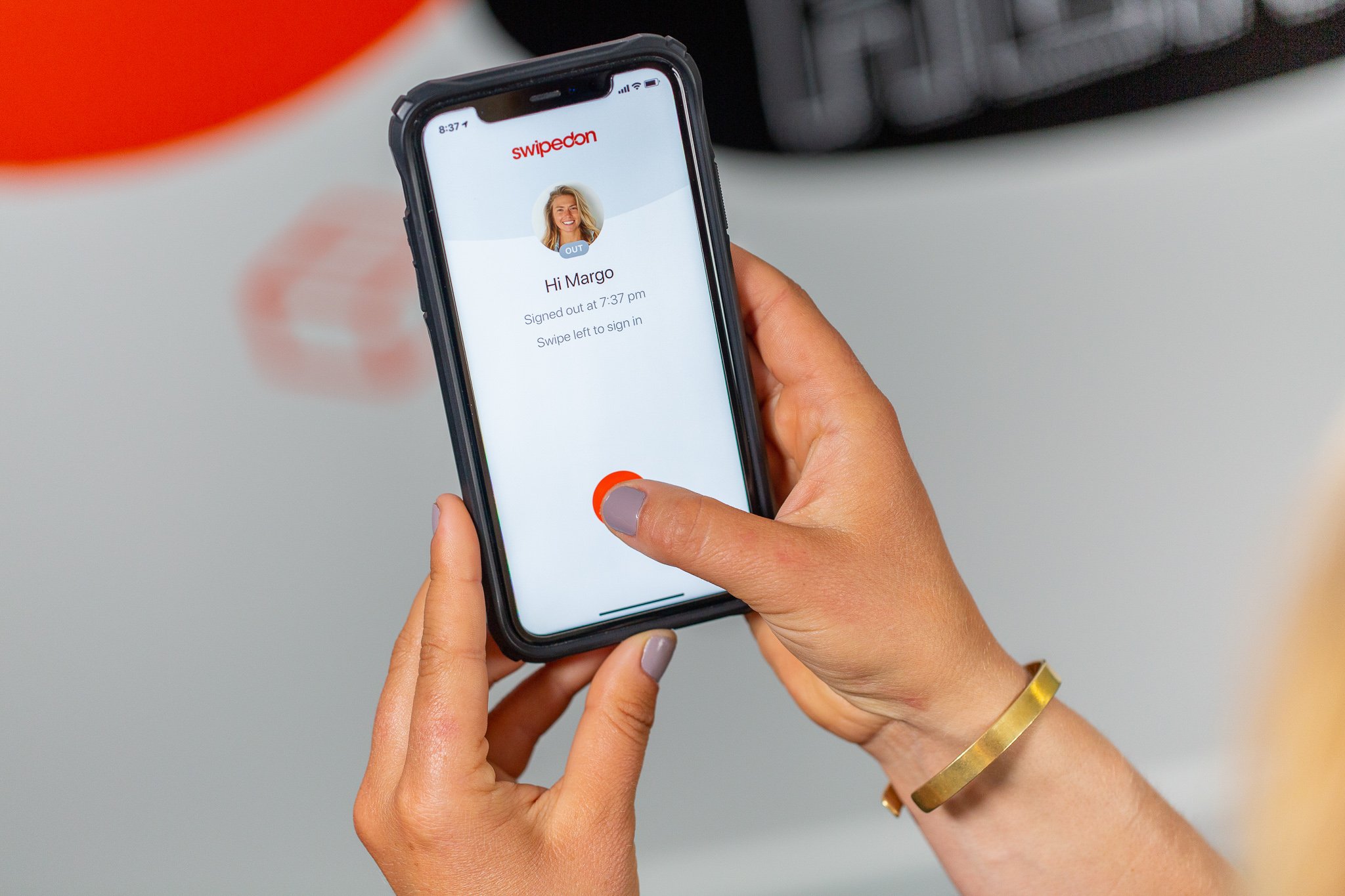 Streamline Your Visitor Management Experience
Ensuring a positive guest experience is vital for industry-leading businesses. Thinking critically about how your visitors and employees sign in, your lobby design, and implementing a digital visitor management solution to bring it all together is the best way businesses can ensure a positive and seamless visitor experience.
If you're looking to better manage your visitor experience, protect visitors and staff, and make a great impression, sign up for SwipedOn's 14-day free trial today to see how it can help.