5 Technologies That Improve Flexible Workplace Management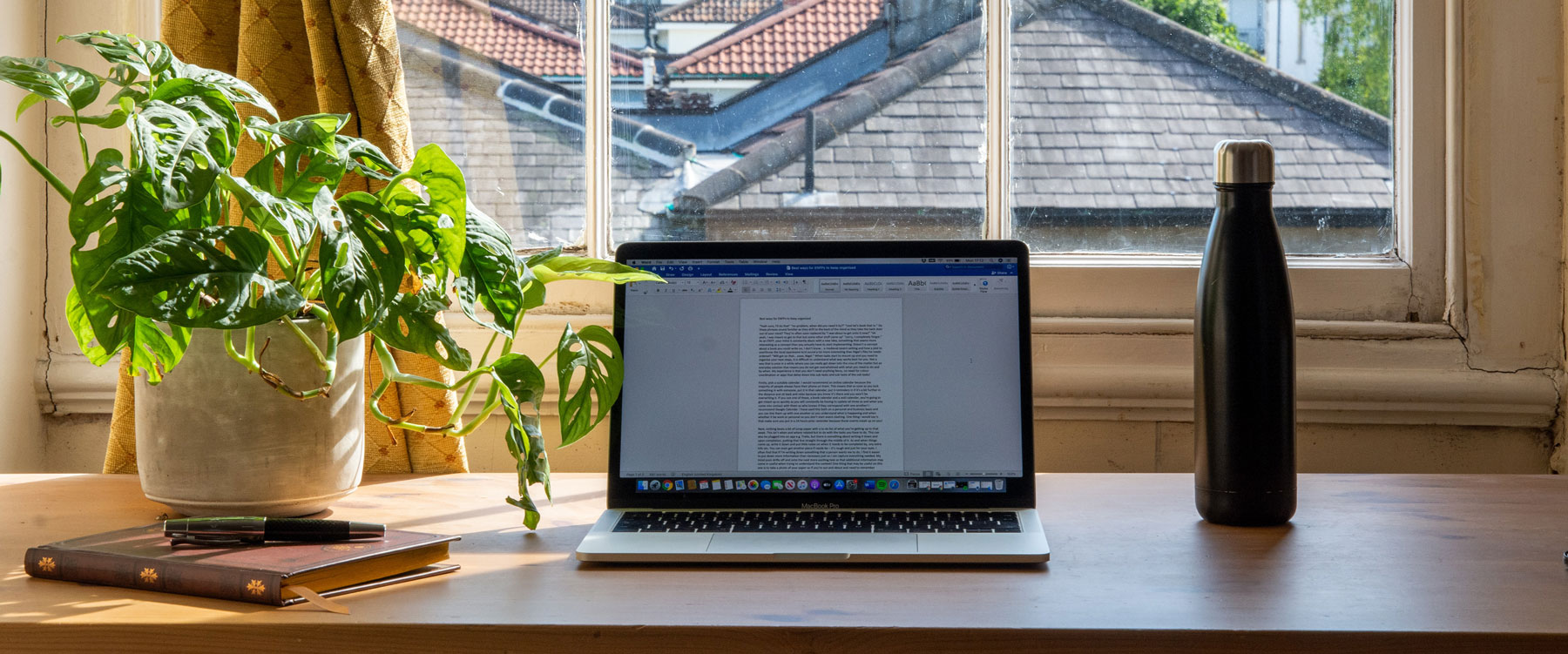 The notion of the "flexible workplace" has been rising in popularity since the pandemic began, and who could be surprised? Employees got a taste of the benefits that working from home can offer and are hesitant to return a 40 hour week in the office.
It's become such a popular preference that almost 40% of job candidates worldwide say schedule flexibility is one of their top three career considerations. About 91% of workers strongly favor flexible schedules and working hours, and 61% of remote workers believe they'll continue working in hybrid arrangements over the next years.
When done right, giving your employees a flexible work option in terms of work time and place can increase productivity and retention rates. Employers who actively cultivate a flexible work environment are more likely to be able to attract valuable candidates and retain top talent.
However, implementing a successful hybrid workplace can be challenging. The good news is that there are technologies available to help make the transition and management as smooth as possible.
Let's take a look at the ways you can streamline and simplify your processes and reap the benefits that a flexible workplace can offer.
What is "Flexible Workplace Management"?
A flexible work arrangement can be defined as any alteration of work structure involving scheduling and location flexibility, such as:
Flexitime (or flex time), when employees work a full day but the working hours are variable
Compressed work weeks, with longer working periods per day or shift and a day off
Part-time, with fewer than the standard 37.5 or 40 working hours per week
Remote work, when at least part of the regular work is done from home or in a different location
Job sharing, with at least two workers sharing a position
Flexible workspace management refers to all the strategies and techniques employed to accomplish the goals of a hybrid work environment. The main goal is to make efficient and effective use of available resources and the adoption of open and transparent processes.
The successful implementation of a hybrid workplace also means some extra planning to ensure proper employee coverage and organization during the workweek.
Therefore, new working models call for dedicated technology designed to streamline hybrid office management and operations.
The Challenges of a Flexible Workplace
Although a flexible workspace has many benefits, there are various challenges managers face daily. The main concerns of 67% of managers are to do with effective communication and collaboration. There are other potential challenges that managers should keep in mind:
Ensuring physical safety and cybersecurity
Managing employee productivity and accountability
Preventing employee overwork and burnout
Knowing whether employees are working or not
Ensuring employee availability for urgent tasks
Monitoring task progress and completion
Inconsistent communication between managers, employees, and colleagues
Employees' misconception of flexitime
These are the main challenges managers need to address to make time and location flexibility work. However, with the right technology at your fingertips, there is an easy answer, read on to find out.
Systems that Help Manage a Flexible Workplace:
Flexible work arrangements can enhance employee engagement, increase productivity, and fuel business growth. The right technology can drive management improvements and accelerate digital transformation at your workplace. So what tech solutions are there to help you face daily flexible workplace management challenges?
Workplace Sign In Software
Implementing a digital check-in solution allows you to maximize the benefits of a hybrid workspace model by ensuring transparency and accountability. This fosters workplace equitability, builds unified company policies, and prevents instances of flexitime misuse and employee burnout. SwipedOn's flexible workplace sign in system provides an innovative tech solution specifically designed to streamline office management operations.
SwipedOn Pocket is an employee sign in app that allows staff to sign in contactlessly and also indicate whether they're working in the office, remotely, or from an office in another location. You can keep track of the people in your building in real-time and know who is currently working off-site.
With the office roaming functionality, you can manage employees working from a satellite office for the day, giving you visibility and clarity of your team's whereabouts.
Your employees enjoy contactless sign in, ensuring a safe and seamless start to the working day, which contributes to an overall positive employee experience, which means better performance and productivity.
Communications Software
Innovation and modern technology have enabled effective team communication and collaboration irrespective of spatial distances, which is an essential condition for flexible workplace arrangements. Ensuring visual contact through regular video conference meetings is important for maintaining team culture.
Platforms like Skype, Microsoft Teams, Google Hangouts, and Slack, can help establish good company and team meeting practices. Instant messaging is another popular form of communication and the three leading apps—WhatsApp, Facebook Messenger, and WeChat—have 2 billion, 1.3 billion, and 1.2 billion active users respectively.
SMS notifications are also an effective way to let your employees know of the arrival of their visitor or delivery. These notifications can be used with your workplace sign in software and can help you keep the team tuned in at all times.
Cloud-based Security
Ensuring security is a top priority for leaders, managers, and employees. Cloud-based systems require security measures designed to guarantee that data, applications, and cloud infrastructure are protected. It ensures regulatory data compliance and provides data privacy protection, user and device authentication, and access control.
A good digital check in system can help you achieve all these security goals and enables you to:
Replace insecure traditional paper logbooks with accurate digital logs
Ensure secure GDPR-compliant data processing
Easily archive and anonymize employee and visitor data
Ensure data and resources access control
Support workplace health and safety through touchless sign-ins and health screening and evaluations
A multifaceted workplace sign in solution can help you maximize the benefits of cloud computing security and streamline hybrid working while ensuring a safe and productive environment.
Desk Booking Software
Desk booking software is a powerful tool designed to streamline and automate manual desk scheduling and reservation processes. With handy information like workplace location, available equipment, and availability status, employees can schedule a space that meets their needs at any time.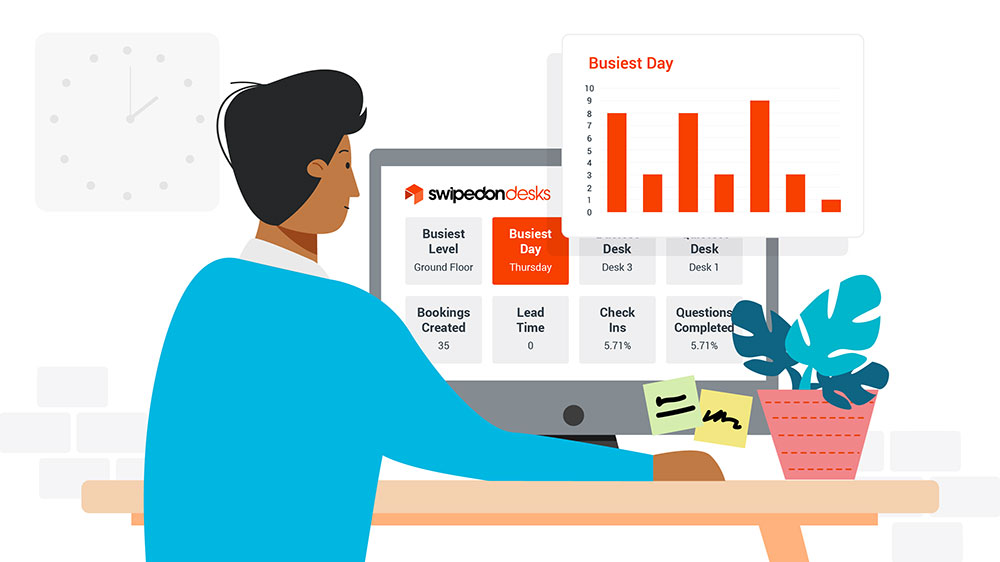 SwipedOn Desks is a dedicated, cloud-based solution designed to empower you with valuable insights into current and historical bookings, office density, agile availability, the busiest and most used workplaces, booking duration, and more.
This transparency enables you to manage shared desk spaces more effectively, better allocate resources, and enhance employee engagement and satisfaction.
Project Management Solutions
Project management software is designed to support project task scheduling, assigning, and monitoring. Any team member working on a project can log in and see the tasks they need to do and the timing they need to follow. Project management solutions provide the option to log employee progress on the tasks assigned and insert relevant notes about any changes.
With a project management app, you can track and manage a great variety of projects - from new product development to website development, to setting up a sales campaign. Teams working on multiple projects can use the software to help them schedule their next tasks.
You can choose from a wide selection of project management apps, such as TeamGantt, Trello, Basecamp, Airtable, Zoho Projects, and ProofHub. By adopting a reliable solution, you can be sure that your employees collaborate effectively. Plus, you can gain insights into the progress of the project work and respond to any potential slips.
The concept of workplace flexibility may have been around for quite a long time, but its implementation and management still involve challenges and concerns. With the right technology, you can address all potential issues before they arise and enhance your employee engagement, productivity, and satisfaction.