Is a Hybrid Workplace the Future of HR?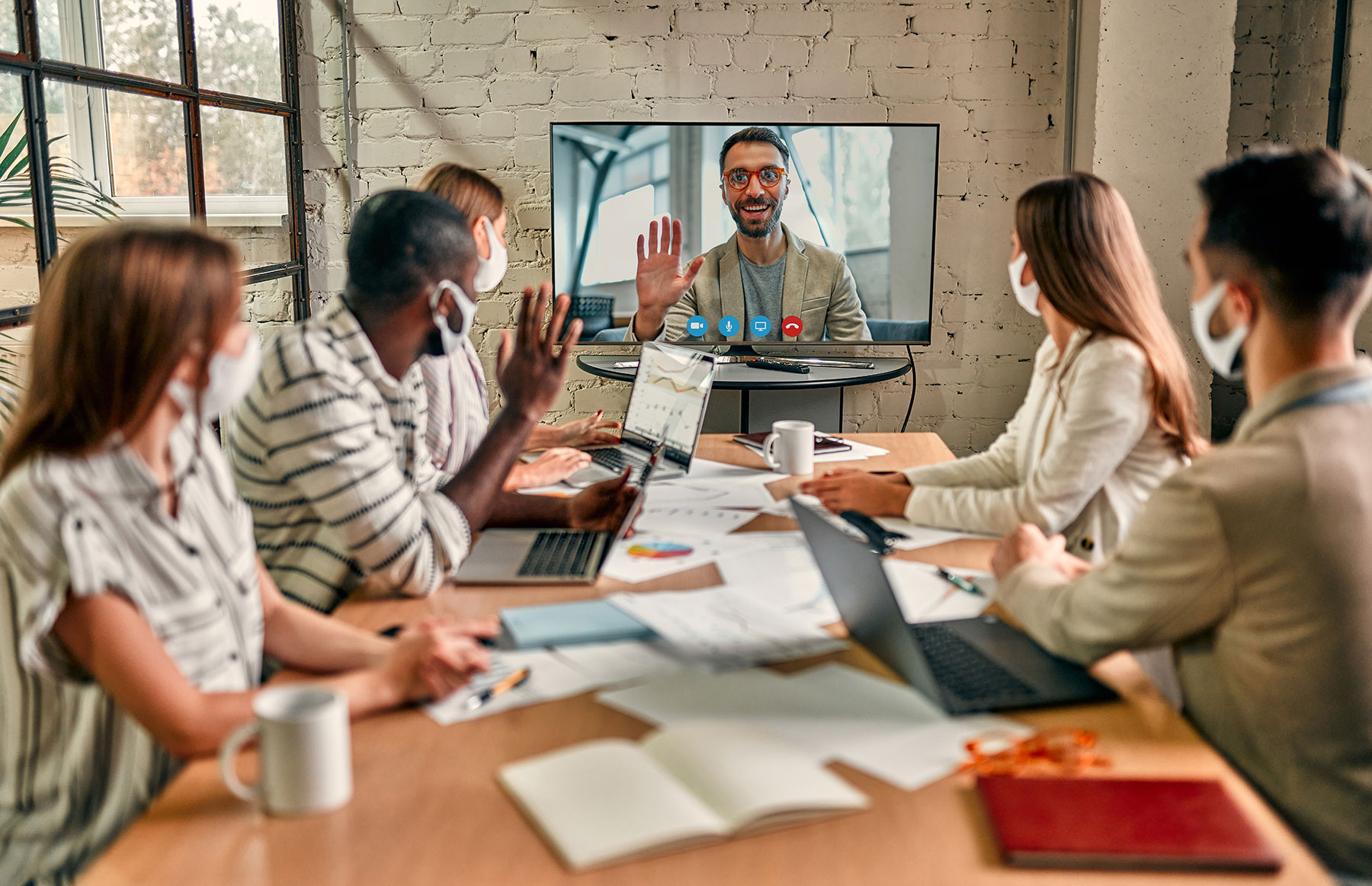 With the emergence of COVID-19, many companies had to shift to a remote working model overnight. Fast forward, as vaccinations roll out worldwide, businesses must answer questions related to how they'll approach work in the new normal.
One popular concept that has emerged is the idea of the hybrid workplace. This model accommodates those who can or want to work remotely, as well as those who don't. What exactly does hybrid working mean? And is it set to become the future of employee management as businesses reopen? This article will answer both questions.
---
Understanding the hybrid workplace
---
1. What is a Hybrid Workplace?
In its simplest form, a hybrid workplace is where a company's employees split their time between the office and working remotely. Hybrid working agreements might involve working from home when out of the office, but employees may choose other environments - such as a co-working space.
Several surveys have shown that most employees want a flexible working agreement when the pandemic is over.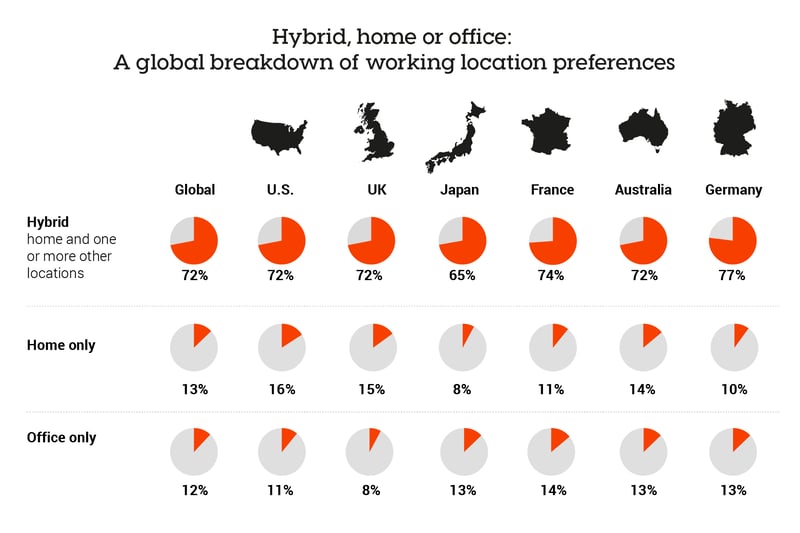 Many of the world's biggest businesses already have a hybrid working model in place. One of those is Microsoft, while fellow tech giant, Google, also allows employees to split their time between the office and elsewhere.
Companies might introduce hybrid working agreements for various reasons. For example, to retain top talent if an employee chooses to relocate. Improving productivity and employee satisfaction are two other reasons. In some cases, companies might introduce hybrid work so they can reduce their operational costs.
2. What are the Benefits of Adopting a Hybrid Work Model?
Cost Effectiveness
Hybrid work can help companies to lower their costs by enabling them to require less office space, so they can downsize and spend less on equipment. They may also choose to relocate to a less expensive location if centrality is no longer essential.
Businesses may also need to consider that rejecting hybrid work will cost them more when it comes to employees. In April 2021, Stanford University Professor of Economics Nicholas Bloom said:
"If firms really hate working from home (WFH), they can pay their employees 8% more to keep them. But if they don't, they can expect to see rising quit rates."
Increased Productivity
Giving employees the freedom to work from wherever suits them best can drastically increase their output. For example, a November 2020 Avaya survey of 1,000 professionals in 11 countries found that 46% of participants reported a productivity increase when not tied to the office.
With hybrid working models, employees get the best of both worlds. Employees can connect and brainstorm with other team members in the office and then work independently with greater efficiency while at the location of choice.
Better Employee Management
The pandemic gave workers a lot of time to think about their careers. According to research commissioned by Microsoft, 41% of employees are thinking about moving to another company in 2021. Of these, 46% are considering it because they no longer need to work from one location.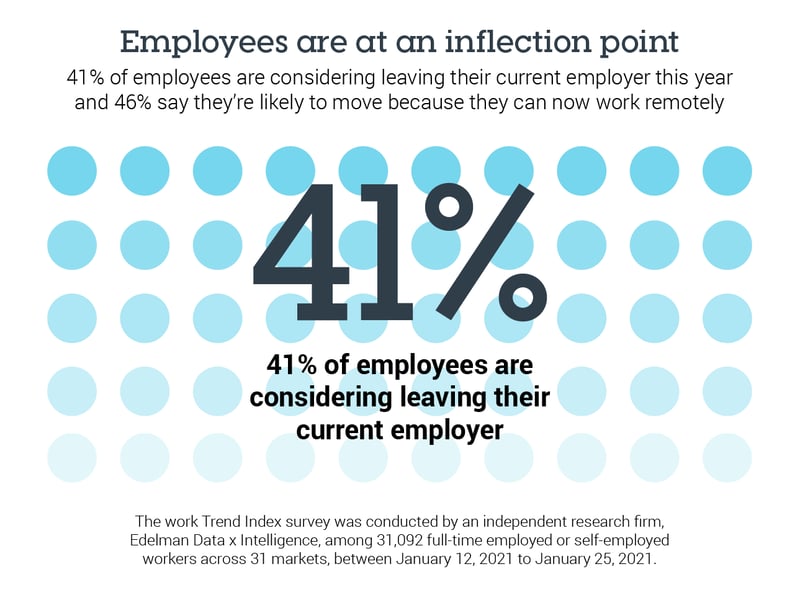 Companies that choose not to embrace hybrid work risk losing their best talent. Conversely, flexible working agreements allow businesses to enjoy the benefits of more engaged employees. Employees who feel trusted and supported may feel more comfortable sharing information with their colleagues and HR teams, allowing for greater transparency within the company.
3. What Challenges Does a Hybrid Workplace Bring to Organizations?
Despite the benefits of hybrid working agreements, businesses need to consider the many challenges of this model.
First, communication becomes more difficult when team members are spread across different locations. If employees don't know where or how to talk to their colleagues, companies can suffer project delays and breakdowns in team morale.
Another difficulty with hybrid working agreements is making sure that schedules remain effective. Knowing who is on the premises will become more critical than ever in a post-COVID world, especially in the case of an emergency.
When determining the days that individuals are in and out of the office, companies must consider how this will affect meetings, deadlines, and other tangible factors. As such, proper planning and regular reviews are essential.
One more possible roadblock to adopting a hybrid workplace is that some employees may not want this kind of agreement. Some will want to continue working in the office permanently, while others may wish for a fully remote arrangement. Flexibility is important in tackling this issue.
4. How to Shift to a Hybrid Workplace
Identify the Main Goals
Before companies start putting together a hybrid working strategy, understanding their goals is pivotal. For some, reducing costs will be the main priority. For others, hybrid work will be about increasing employee satisfaction and productivity.
Once companies have identified their goals, knowing what they need to plan for will become much easier.
Communicate Plans with Stakeholders
Some companies, particularly large enterprises, might have communication gaps between middle managers and C-level executives. Transparency and clarity of intention are critical to successfully implementing hybrid workplaces.
Once departments have put together their hybrid working plans, communicating with stakeholders will ensure that everyone is in the loop.
Practice
COVID-19 gave businesses much practice for incorporating fully remote models. Moreover, a more significant challenge will be seeing how employees adapt to working from more than one location.
Easing teams into hybrid work will help to maximize its effectiveness. When it's safe to do so, businesses should look at starting in-office. During that time, all the fine details can be ironed out to prepare for a is dispersed workforce.
Once they feel ready, slowly increasing the number of days that team members work remotely will make the jump less daunting.
Invest in Technology
Suitable systems are a fundamental need for successfully implementing hybrid work models. Technology is one of the best ways to make sure everything runs smoothly.
Having workplace in and out boards allow businesses to get an overview of where everyone is. Even when not at total capacity, offices should still have a workplace check in system in place for seamless employee sign in.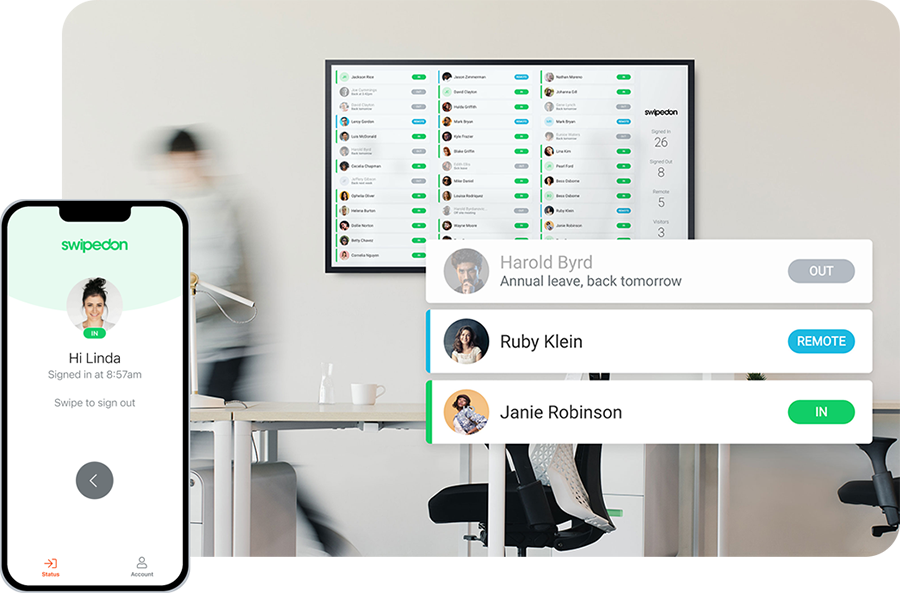 Communication technology, such as an instant messaging solution, is also essential for making hybrid models work. Companies should also look at investing in cloud security to ensure that they are not vulnerable to breaches.
5. Hybrid Work is Here to Stay for Many Companies
In more advanced economies, hybrid working agreements will become popular where job roles allow for it. More employees want the freedom to work from wherever they feel most productive, at times that suit them best; and want their employers to trust them.
That said, hybrid work comes with its fair share of challenges. Knowing these challenges beforehand will help businesses to operate more seamlessly from multiple locations.