4 Common Front Desk Issues That Can Be Solved With a Digital VMS
Visitor management starts at the front desk, which is why if you want to improve the overall visitor experience, this is where your efforts need to begin as well.

Unfortunately, there are issues plaguing front desks across different types of facilities in all industries. These problems don't only affect your visitors. They also burden your front desk staff and put a damper on your employees' morale.
The good news is most of these issues can be solved with the right visitor management technology.
Below are 4 of the most common front desk issues that can be solved with a digital VMS.
1. Slow Visitor Login Process
With everyone so busy nowadays, it's understandable why people are averse to queues and tedious processes. While your visitors might have blocked off time to go to your office or visit your facility, they still won't appreciate a long line and a cumbersome login process.
One of the first things you should do is perform a walkthrough of your visitor registration process. We suggest you do this on a day that you're expecting a high volume of visitors. This will reveal bottlenecks and inefficiencies in your system.
How a visitor management system solves this issue: If you're using a traditional visitor check-in method, don't be surprised if your paper logbook and your printed visitor agreements are causing the majority of the slowdown. The pen-and-paper system is not only time consuming for your visitors, but it also bogs down your receptionist with unnecessary work.
Upgrading to a digital visitor management system is the easiest and most effective way to expedite your visitor registration process. Why?
Digital forms are faster to fill out versus paper forms
Digital agreements are easier to distribute, organize, and file
With their permission, some personal information of your frequent visitors can be stored to reduce visitor login time
Employees can pre-register visitors with confirmed appointments
2. Poor "Visitor Experience"
Almost all companies are obsessed with improving the quality of their customer experience. It has become a new battleground for businesses, playing an important role in both customer acquisition and retention.
In fact, in a recent survey, customer experience improvement was the #1 ranked most exciting business opportunity.
Customer experience has become one of the biggest business differentiators in the last few years. For many businesses, it's closely related to visitor experience (Data Source).
For many businesses, the way they manage their visitors is closely related to customer service, a term we would like to coin as "visitor service experience." This is true for client-servicing related industries. For example, advertising agencies usually do their new business pitches in their offices. Medical service providers such as doctors, dentists, and chiropractors conduct 100% of their business in their clinics. Architecture firms do most of their consultations and presentations in their workplaces.
In cases like these, your office/facility doubles as your storefront. Thus, your visitor service experience is an integral part of the total customer experience.
How a visitor management system solves this issue: Overall, a VMS streamlines your visitor registration process, which means your receptionist and other members of your front desk staff can focus on delivering an exceptional experience to your guests.
A digital VMS can also increase the quality of the customer experience. "By using automation to facilitate certain routine or repetitive interactions so human agents can focus on delivering high value-add services," as automation expert Ashish Deshpande explains.

That's right, your front desk is an untapped opportunity to deliver high value-added services to your visitors.
Here's a concrete example of automation: With SwipedOn's visitor management system, your employees can receive a notification on their desktop computers and mobile devices when their visitors arrive. This eliminates the need for your receptionist to call employees and track their whereabouts when they're not at their desks. This allows your front desk team to focus on the visitor and their needs, giving your visitors a more positive experience.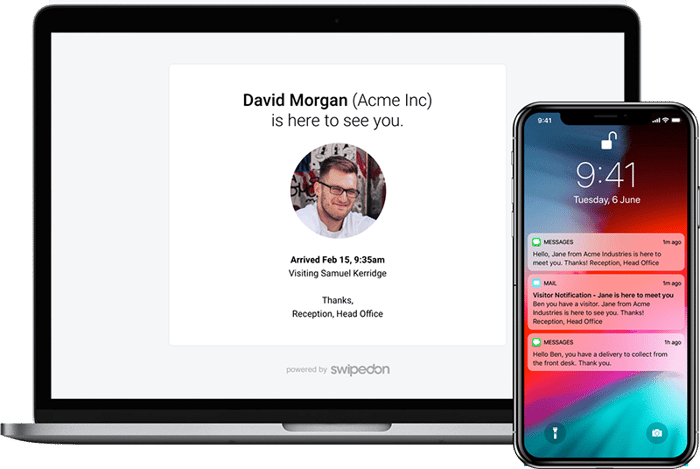 3. Loose Security
Paper visitor logbooks create two major security loopholes:
First, they limit the amount of information that can easily be collected from visitors, which helps verify their identities.
Secondly, they lack data privacy. Typically, one sheet of a paper visitor logbook contains the information of several individuals, exposing potentially sensitive information to prying eyes. Additionally, paper logbooks are often misplaced, as well as the other paper forms your visitors are asked to to fill out.
Overall, paper visitor logbooks and forms offer very little to no data privacy protection.
How a visitor management system solves this issue: A digital VMS provides greater security and data privacy than paper visitor logbooks by leaps and bounds. A digital VMS provides security features such as:
Visitor pre-registration to ensure all external parties have confirmed appointments
Visitor badges that need to be worn at all times to restrict access
Security-related digital agreements to make visitors accountable and liable for any security breaches
Information from previous visitors is hidden and encrypted, so subsequent visitors can not access it
Given the recent coronavirus outbreak, inadvertently allowing potentially infected visitors in the building has become a concern among many businesses. This is the inspiration behind SwipedOn's recently launched feature for visitor screening of potential COVID-19 carriers. By adding a couple of pages that will contain COVID-19-related questions, offices and other facilities can prevent entry of high-risk visitors.
As for data privacy, reliable digital VMS solutions store visitor information on secure cloud-based servers. VMS providers are also up-to-date with data privacy law requirements such as the GDPR. Therefore, you can rest assured that you're getting the guidance you need when it comes to compliance.
4. Negative First Impressions
If you've ever found yourself in a beautifully decorated office lobby being asked to scribble your personal information on an unsightly paper logbook, you'll agree that this took away from the experience.
It's about more than just a visitor logbook, however. Branding gurus and workplace psychology experts will tell you that your office reception area has the most impact on the first impression of clients, business partners, patients, customers, and the general public.
"Your waiting room is the first thing people see when they enter your office space, and it has a bigger impact than you may realize. Studies show that first impressions are made within 7 seconds of meeting someone, and the same could be said of your work place. When guests, stakeholders, and employees enter the front doors, their first focal point is the reception desk. You want your best foot forward when greeting new and existing clients," explains office design expert Jeff Pochepan.
The key takeaway: a bad first impression is bad for business.
How a visitor management system solves this issue: The mere use of visitor registration technology already sends a strong branding message to your clients and customers. It communicates that you are at the forefront of new technology. It conveys that you value efficiency. It can even give the impression that you are environmentally-conscious by switching to paperless solutions.
You can also execute specific branding tactics within the VMS system itself. This includes custom logo and reinforcement of your company values in the verbiage and design of your digital forms and agreements. And if there is any need for your receptionist to leave the desk to perform other tasks, visitors can easily follow the instruction on the iPad standing in a prominent position at the front desk.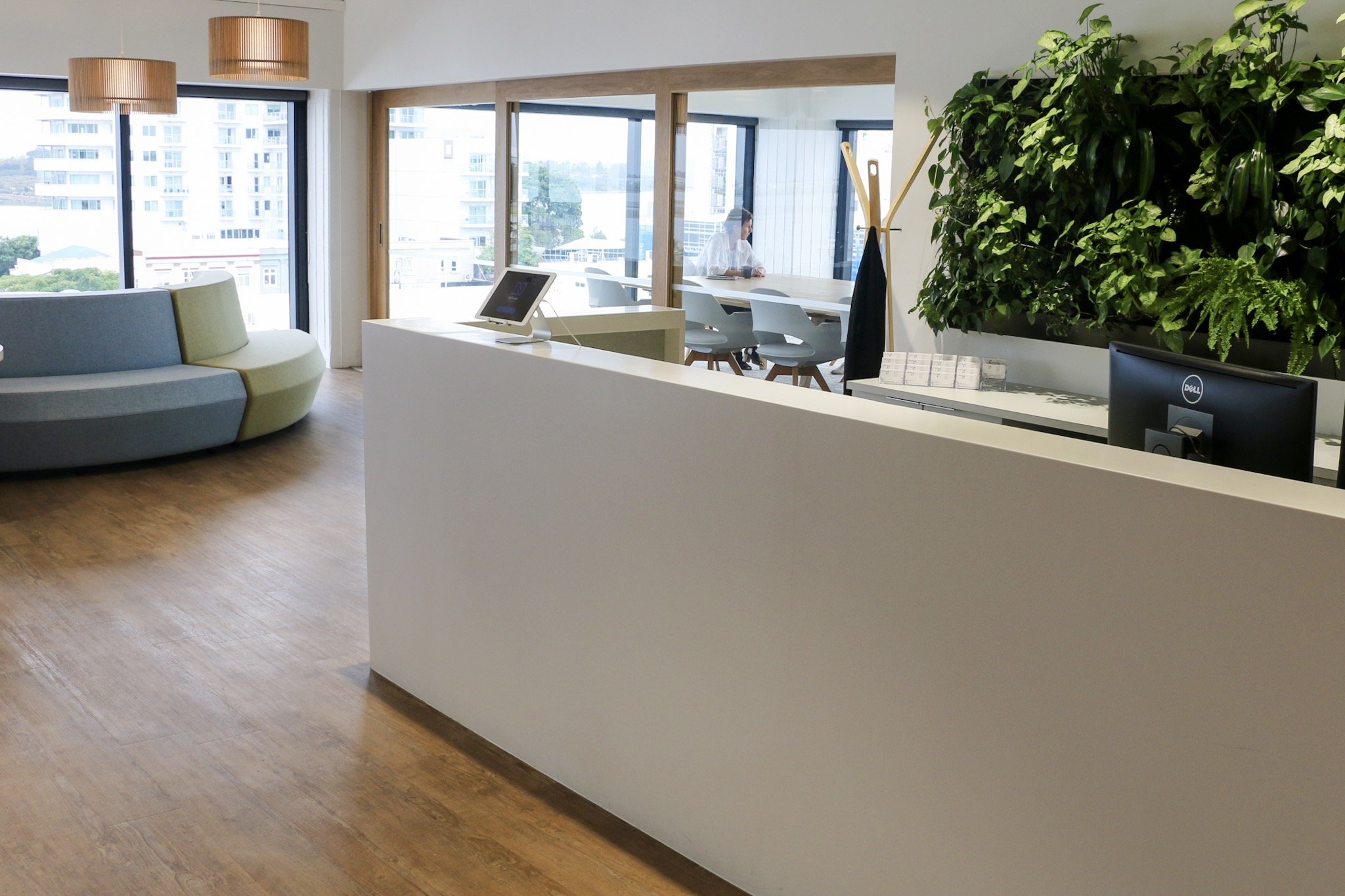 A Simple Solution to Front Desk Issues
Front desk issues may seem less of a priority compared to the problems related to your core business. However, given the impact that these issues can have on your organization if left unresolved, they shouldn't be taken lightly.
Fortunately, investing in a digital VMS presents a simple solution that can solve an array of issues that might be plaguing your front desk. If you've been experiencing any of the front desk issues listed above or any other problems with your visitor registration process, connect with us today and take SwipedOn for a 14-day free trial.