6 Best Practices to Ensure Office Visitor Privacy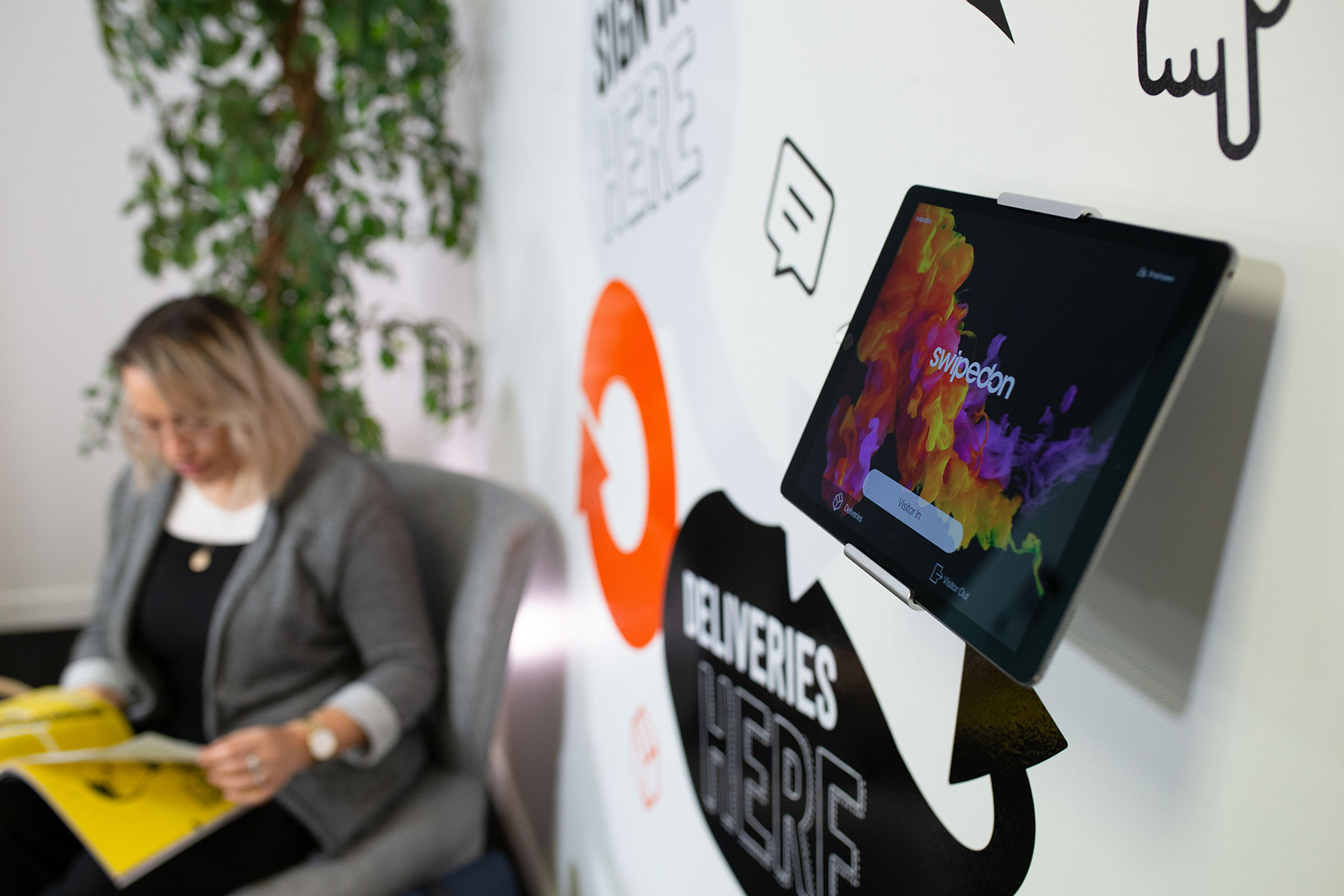 People who do business with your organization trust that any information they give you will be kept safe and private. It doesn't matter if it's a high-level business deal between stakeholders, paying customers providing financial details, or a guest in your office handing in their visitor data—it's your responsibility to protect their information and privacy.
Ensuring all these goes beyond protecting your business from cyberattacks. As a business, you have to go out of your way to implement the right tools and procedures that will allow everyone your business interacts with to build trust with your company. To that end, here are some best practices that will help ensure you keep the privacy of your office visitors: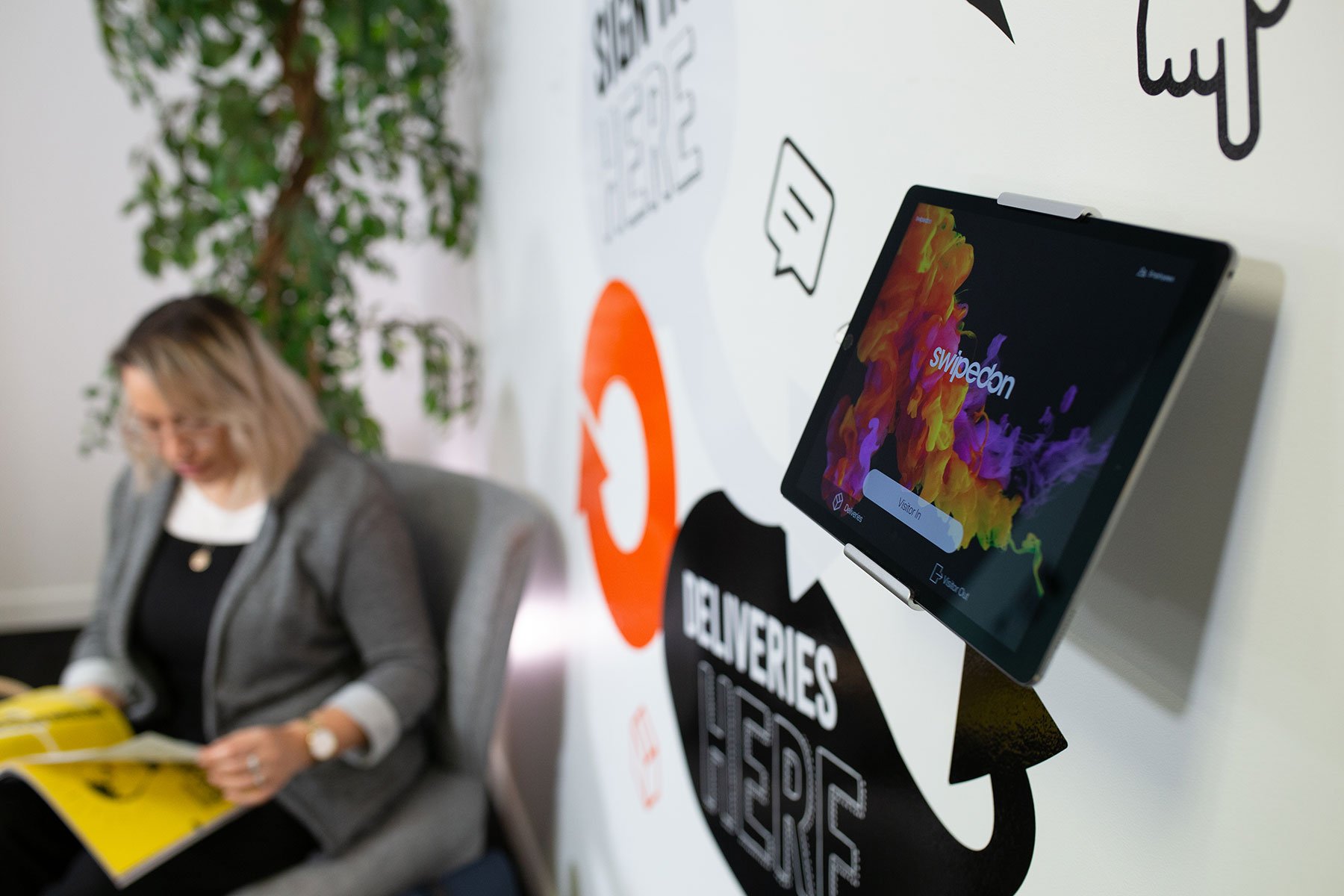 1. Collect Only Data You Actually Need
There is a lot of possible information that you could collect from visitors who want to enter your premises. There are, however, very few things that are actually relevant and necessary to your guest's security and safety within your office. This would usually include their name, primary contact details, and purpose of the visit.
As much as you may like to collect extra information about your guest's identities before granting them access to your facility, from a privacy standpoint, it makes sense to minimize collected data. Not only does this shorten the guest check-in process at your front desk, it also minimizes possible damages should there be a hack or security breach in your office.
2. Ensure Government Compliance
GDPR (General Data Protection Regulation) has recently been implemented for businesses with an EU presence to provide standard regulations that ensure visitor privacy. The rules of the GDPR apply to any business that collects personal information within the EU, which includes offices with reception desks that require guests to sign in before entering.

Even though 92% of US multinationals surveyed said GDPR compliance is a high priority, only about 15% of organizations were fully compliant with GDPR as of May 2018. This is remarkable given that GDPR noncompliance can cost organizations up to $22.3 million (20 million euros) in fines, or 4% of their annual turnover (whichever is higher).
While GDPR is being enforced only in the EU, it does present a lot of good guidelines that can highlight a company's efforts to protect visitor privacy. It therefore wouldn't hurt to incorporate some of their rules into your own processes regardless of whether your office is in the EU.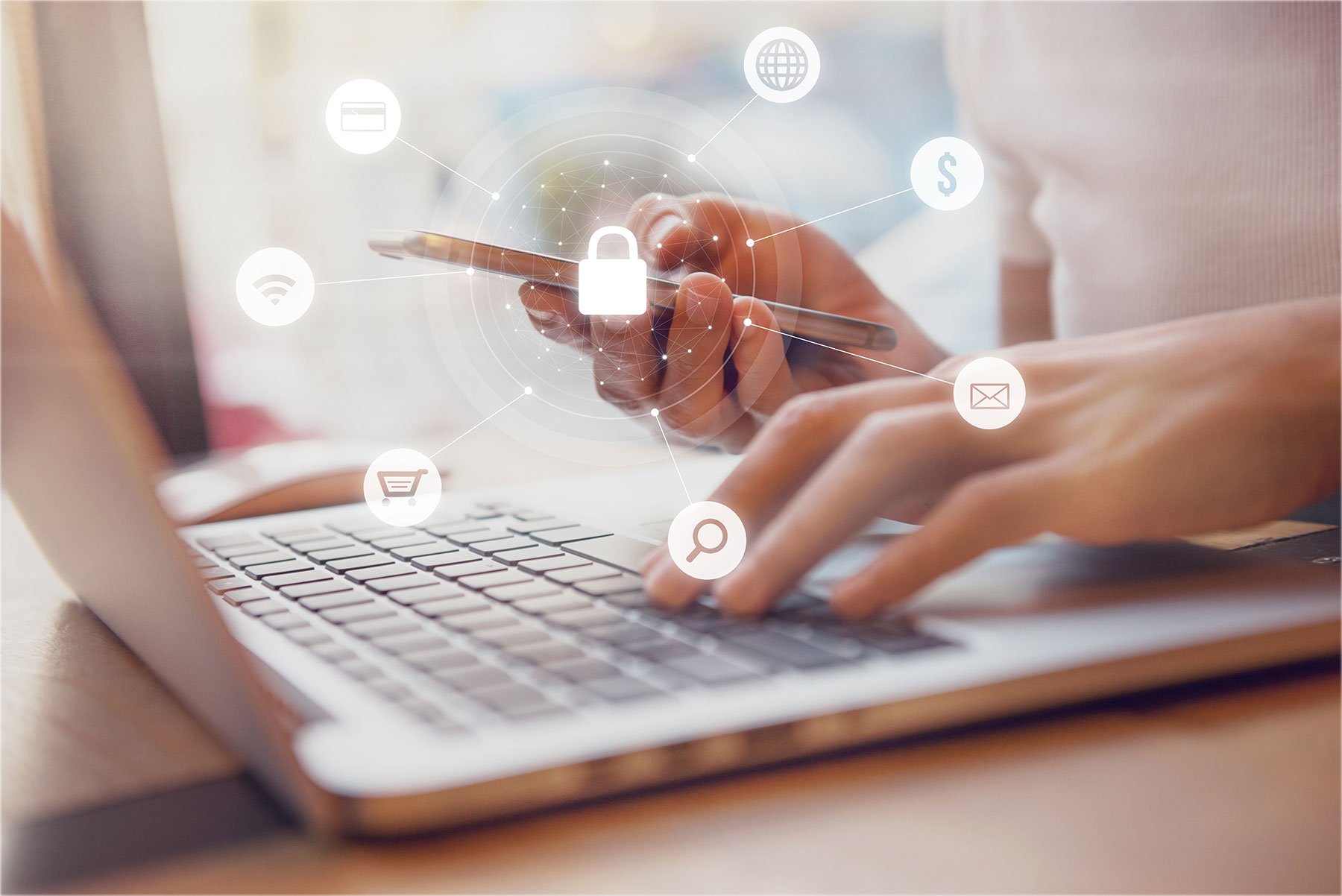 How A Visitor Management System Can Improve Business Security and Safety
3. Create Effective Data Management Policies
Even the simple process of collecting visitor data needs to be managed in order to protect the information you gather. At the end of the day, your business is responsible for all the data it collects. Should your guest's name or contact details get leaked, your business will ultimately be responsible for it.
Preventing this requires consistent security efforts, including the use of a firewall, and regulating access to areas where data is stored (both digital and paper documents). If your business is using visitor management software, be sure to look into the platform's security features to get a clear idea on how the tools you're using comply with regulations and ensure security.
4. Properly Dispose of Data
Once you no longer have a need for a visitor's data, what do you do with it? Simply throwing it out is not enough. Best practices dictate that you need to implement procedures to ensure information is discarded safely. If you use manual processes for visitor sign-in, this means you're probably using a pen and paper to log your guests in and require a shredder to properly dispose of the documents.
A visitor management system in the workplace makes the whole process a lot easier. As an administrator, you can manually anonymize visitors so they are removed from the dashboard and app side, or archive them so they remain in the archive section of the dashboard but the app forgets them. SwipedOn enterprise customers can easily automatically anonymize visitors after a determined time period to ensure data privacy compliance.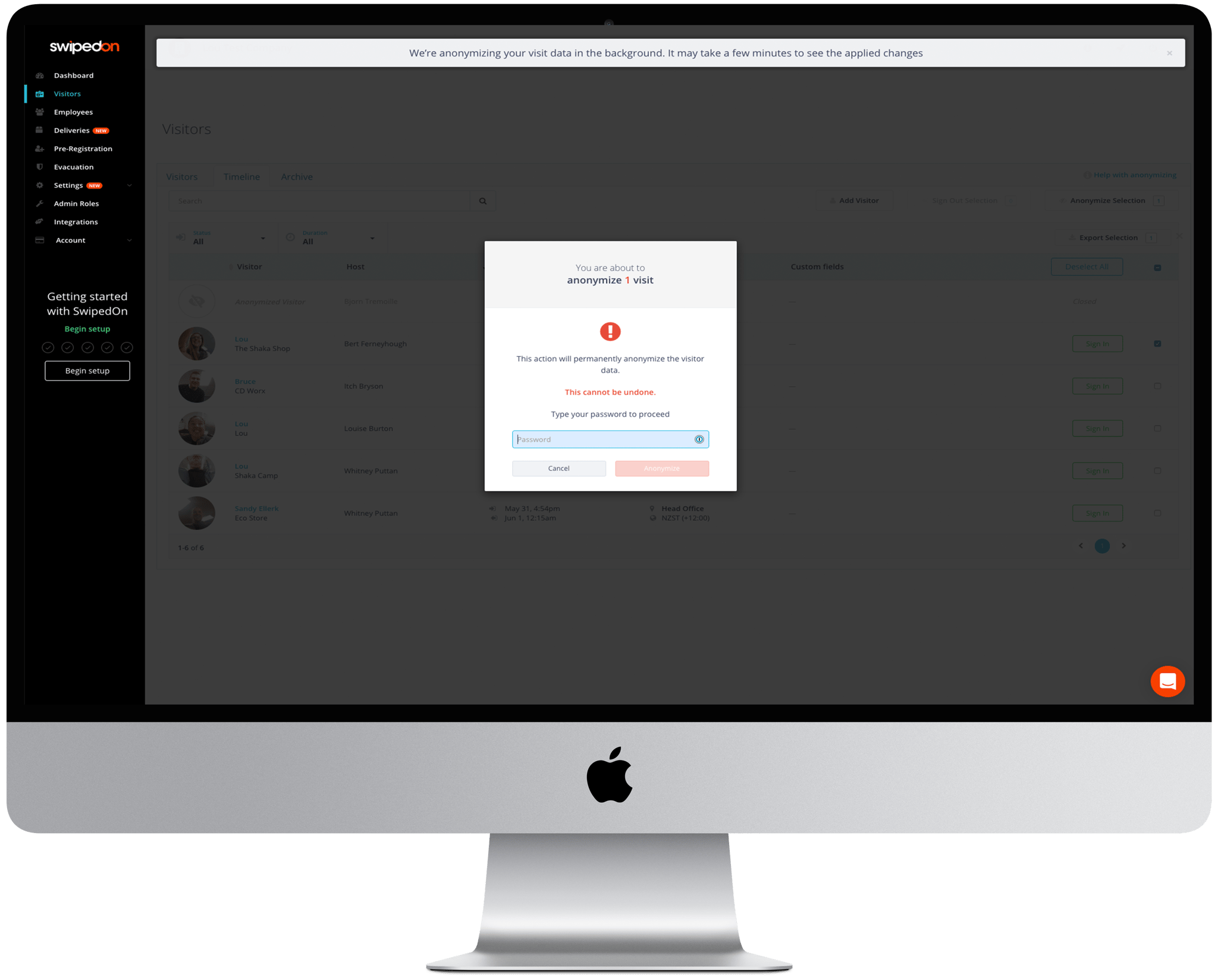 5. Keep Personal Information Away from Public Spaces
Privacy isn't just about keeping your computers and electronic devices containing sensitive business data behind a firewall or a password. It's also about physically protecting personal details and making sure personal data isn't out there for all incoming guests to see.
This is especially difficult if you're still using pen and paper sign in methods. To ensure the whole process is efficient and speedy, you normally have to keep the clipboard and sign-up sheet out on display, with information of previous guests easily readable by the next person in line.
However, if you have visitor management software that uses tablet-based sign in processes, data can be easily concealed after each person logs in, even if the system is displayed in the reception area. You should also avoid verbally confirming personal details out loud, especially if your reception area happens to be very busy.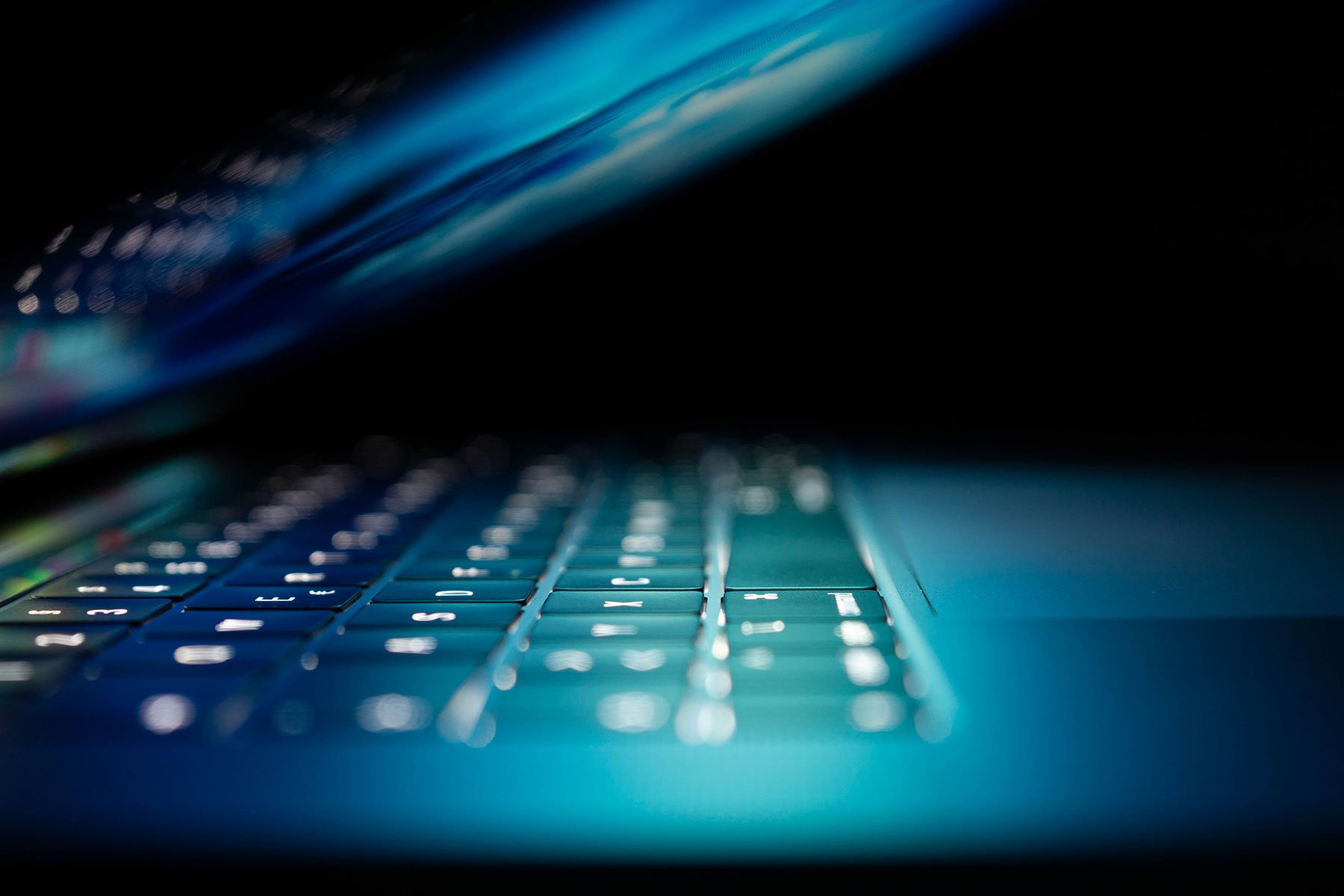 7 Tips for Writing an Exceptional Visitor Policy
6. Invest in the Right Tools
Visitor privacy is one important but often overlooked aspect of your business. Too many offices neglect the importance of protecting the data that guests provide and take its security for granted. True, it does take additional time and energy to safely gather and store visitor data. However, it's an extra step that can secure your premises, provide proper documentation and reporting, boost front of house efficiency, and offer an accurate log of employees and guests for emergencies.
To simplify the whole process, it pays to invest in the right tools. Streamlining your visitor check in process using a visitor management platform not only minimizes tedious, manual work, it also automates data gathering and storage, reduces errors, ensures visitor information is protected, and that security processes are compliant with government guidelines.
Remember, respecting visitors' privacy isn't just about avoiding data hacks or fines. It's your moral responsibility to protect your visitors' privacy to ensure their safety. So, start by following the above best practices, and keep learning as new privacy regulations and concerns evolve.