How to Streamline Desk Booking at Your Workplace
There's no question, the pandemic has dramatically and irreversibly changed the idea of the "traditional" workplace. Pre pandemic, US workers had an average of 2.4 remote workdays per month, in the fall of 2020, that increased to 5.8.
We've also seen a shift in recruitment practices towards hiring more non-permanent staff as well as offering hybrid working arrangements. As a result, shared spaces are quickly becoming a part of the norm, and the need for simple desk booking processes has grown even more important.
These statistics show a significant rise in the number of people using shared workspaces in the U.S. The period between 2015 and 2021 saw a threefold increase from 331,000 to 993,000, and the forecast predicts about 1.08 million coworking space users in 2022.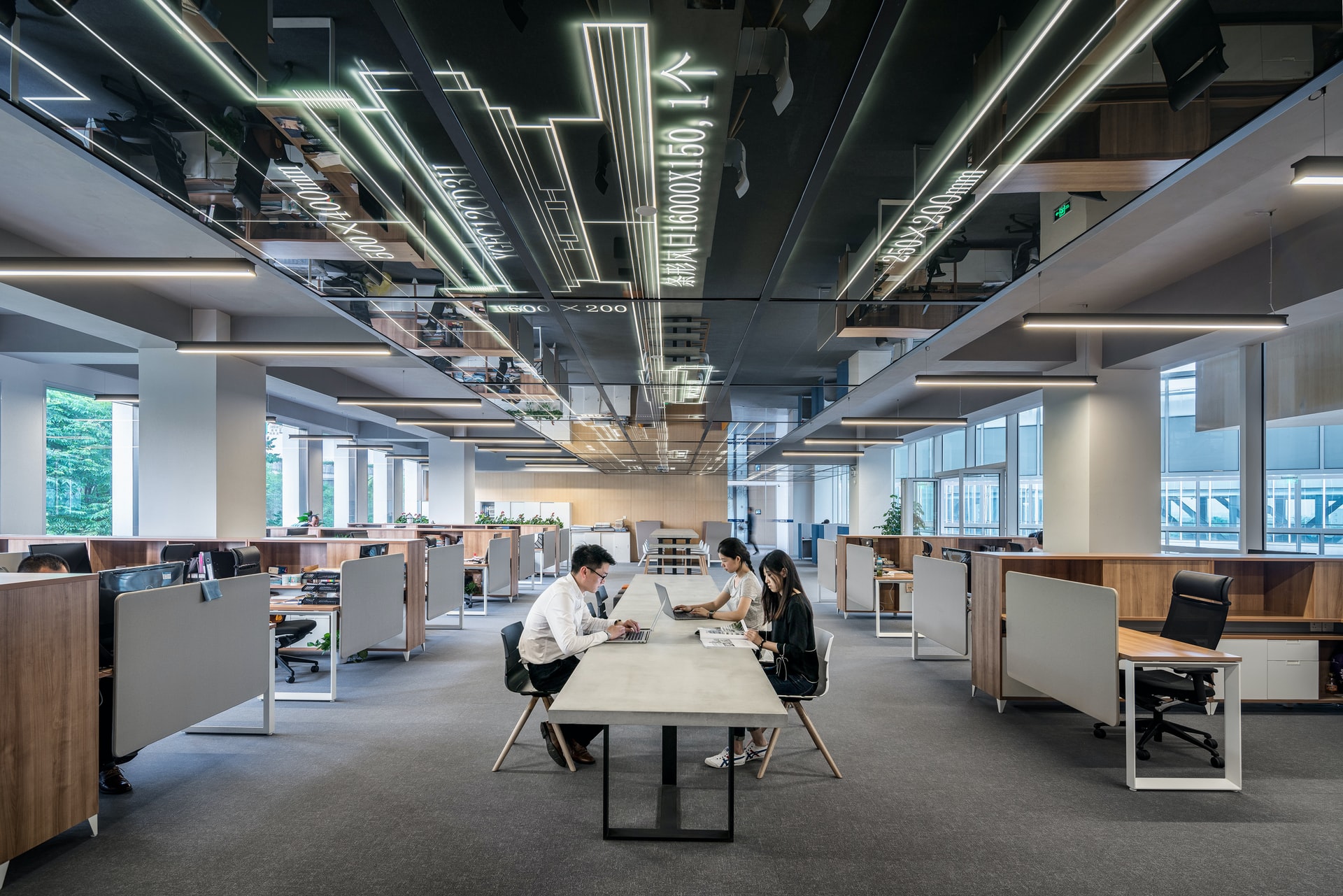 Image Source
This global trend has resulted in the corresponding growth in the number of coworking spaces worldwide. The figures for 2021 indicate the U.S., India, and the U.K. as the fastest-growing regions.
Successfully operating a hybrid or flexible workplace requires a dedicated solution for managing coworking spaces. While the benefits of such a flexible option are obvious, there are some common pitfalls to look out for.
Take a few minutes to read through the most frequent mistakes and how you can create a simple, streamlined desk booking process for your team, which will help you enhance your employee satisfaction, company culture, and operations.
What do we mean by "desk booking"?
Desk booking is the process of leveraging workplace management software to maximize the use of business spaces and assets like meeting and conference rooms, coworking spaces, private offices, workstations, and cubicles.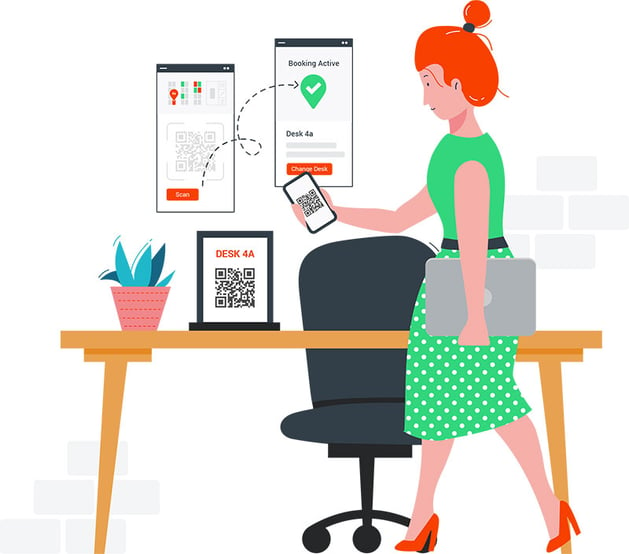 Common desk booking mistakes
Despite the many advantages the flexibility of a desk booking strategy offers, some businesses are falling into common traps while implementing their solutions. Here are the most common mistakes to watch for:
Not using technology
One of the most common desk booking mistakes is trying to manage your coworking spaces manually. This means using valuable employee time and increases the possibility of human error, reducing the cost-effectiveness of your operations. Manual desk management also provides poor visibility for both you and your team, making it difficult to optimize the process and fully capitalize on flexibility.
In addition, manual processes often follow the "first come, first served" principle. The first employees to get to work take the desks they want, while those who arrive later will have fewer options. Such occurrences tend to cause workplace conflicts, dissatisfaction and stress out your team and instead of optimizing company operations, this can considerably impair productivity.
Not knowing how many people are going to be in your office
A crucial aspect of effective workplace management is allocating the right amount of space for your employees. The average office density depends on the location, the particular workplace arrangement, and the industry.
The commonly accepted optimal footage per worker has increased by almost 50% compared to the pre-pandemic norm of 75–150 square feet per person. Due to anti-pandemic social distancing requirements in many countries, you now need an average of 150–250 square feet per person.
Not knowing the exact number of people in your workspace at any given time means you can't ensure uniform and optimum density across the different areas and workplaces. Too little space means you fail to ensure adequate social distancing and safety, while too much means ineffective use of your company resources.
Not factoring in noise
A British Journal of Psychology study found that background sounds of speech and other noise impede people's memory for what they've read, and their ability to do mental math. Exposure to just one nearby conversation can result in a substantial productivity drop. This can become a problem considering many U.S. offices are following the open-space concept.
Failing to address noise problems means you risk facing lowered productivity and growing employee dissatisfaction. Noise should be a major consideration while managing the desk booking process in your organization.
Ignoring chemistry
Interest-based management strategies have been recognized as a way to boost employees' engagement and productivity. These strategies place emphasis on understanding the personal factors underlying behavior and performance and viewing the organization as a community of individuals with various interpersonal relationships.
In the context of the workplace environment, tribes are a group of employees feeling emotionally connected and sharing common interests or goals. Failing to understand and accept group formation within your organization and implement a tribal approach in desk management can be a serious obstruction to establishing a friendly and productive atmosphere.
Ignoring interpersonal chemistry can translate into unnecessary tension and stress, and impair communication and collaboration in your office.
How to create a streamlined experience
To avoid these major pitfalls in desk booking, an effective strategy is key. Here are some tips to help optimize your employee experience and maximize the productivity of your hybrid workspace.
Use desk booking software
It sounds obvious, but desk booking software is a tool that enables your employees to schedule the use of workplaces that best match their needs. Businesses can significantly benefit from a dedicated solution that features:
Full automation of the process, meaning employees can self-serve based on their needs, and admin staff are free for more important tasks.
Enhanced visibility. Employees are shown the most important details like accurate workplace location, available equipment, and vacancy status.
Key metrics and analytics. You can gain valuable insights into current and historical bookings and office density, agile availability, the busiest and most used workplaces, booking duration, and more. This transparency enables you to make more accurate predictions of your office occupancy and better allocate resources.
Cost-efficiency. Avoid unnecessary spending on extra space and resources with manual desk booking.
Reliability. Desk booking software eliminates the occurrence of human errors and ensures 24/7 availability and up-to-date data.
Flexibility. Self-service desk booking promotes a flexible workplace, where employees are empowered to manage their own time and working preferences.
Customizability, for example, admin staff can set rules and assign essential workers a fixed desk.
Enhanced safety. Users can easily locate key contacts such as the fire warden or a paramedic.

Implementing a desk booking platform is the first crucial step toward streamlining your employee experience and maximizing the advantages a hybrid workspace offers. Dedicated software allows you to set up bookable desks and resources to easily manage your working environment.
Integrate other forms of technology
Modern desk booking software comes with enhanced mobile capabilities so your employees can use any device—desktop, smartphone, or tablet. Customizable, interactive, real-time maps and floor plans enable easy visualization of your space and identification of the most suitable workplace. You can also manage permissions and create restrictions based on office policies, roles, and other criteria.
Along with the primary desk booking functionality, you can also leverage other tools to further optimize your operations. For example, with SwipedOn, you can make use of features like a status in out board for employees, and use a staff sign in app to provide contactless employee sign in and sign out. Combining different features empowers you with a unified multifunctional platform streamlining a range of operations in your company.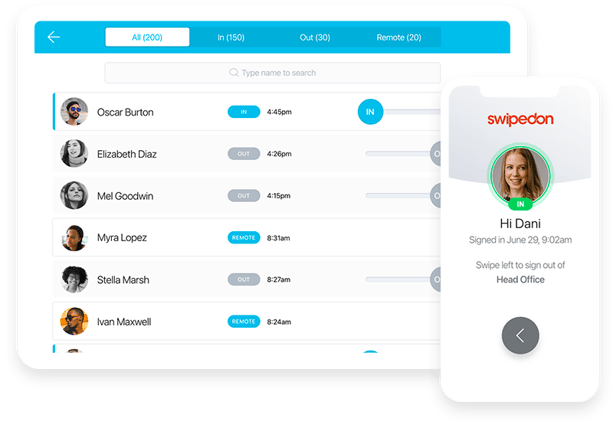 Set designated areas
According to research, distractions in open-plan offices can result in workplace stress and undermine collaboration. Creating dedicated quiet places for work promotes a better working environment. A comfortable and calm atmosphere free of distractions and noise increases productivity and boosts the quality of the work performed by employees.
Some ways to encourage a productive environment in your hybrid office include:
Creating workspaces where your employees can change their positions from sitting to standing
Organizing your workspace into distinct areas
Reducing the noise in your open-space office by establishing designated quiet zones
Setting up breakout areas and meeting spaces where collaboration is encouraged and employees can communicate, exchange ideas, and brainstorm
With your workspace arranged to encourage creativity, productivity, and collaboration, you'll be positioned to benefit from hot-desking and increase employee retention.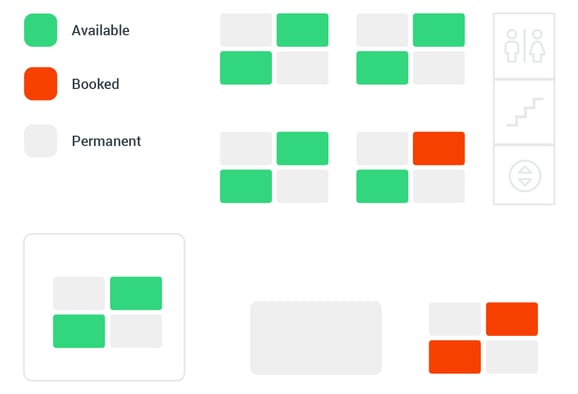 Consider dividing desk spaces by interests
Referring back to tribes, a deep sense of affiliation with other coworkers encourages actions that benefit the business.
Thinking "tribal" can be a great way to enhance employee engagement and retention. Dividing your workspace by common interests and taking into account interpersonal chemistry can promote an atmosphere of camaraderie in your office.
Smooth and effective desk booking gives your employees flexibility and increases satisfaction and engagement. Implementing a dedicated software solution provides convenience and simplicity for employees and admin staff. It can help you control and optimize your office capacity and ensure effective social distancing, thus contributing to workplace safety.