Quick Questions with Micah: Product Owner

When he's not scouting the best dumpling hangouts, listening to his eclectic Spotify playlist or watching The Sopranos, Micah is product owner here at SwipedOn HQ. We caught up with him to find out what a day in the life is like at SwipedOn HQ in Tauranga, New Zealand.
In a nutshell, what do you do at SwipedOn?
I work in the product team, so I spend most of my time thinking of ways we can expand on our product and wrangling the right work into the right team.
What does a day in the life of you at SwipedOn look like?
Wake up early, make my way to the office from Te Puke and ingest as much coffee as possible on my drive. Once I'm in the office I check emails/slack and figure out what I'm doing for the day. Usually, some combo of feature planning, competitor analysis, and user acceptance testing is in between meetings.
What are some of your favourite things about being part of the team here?
I really enjoy working with our group of passionate, kind, hardworking people. We also have some really good lunch options near the office. Shout out Chidori/Dumpling Delight.
What do you particularly like about what we're doing with SwipedOn?
We're actively trying to improve people's day-to-day in the workplace. We react quickly to customer feedback, and everyone at SwipedOn is working towards that common goal.
What three words would you use to describe your role?
1. Analyse
2. Communicate
3. Wrangle
Do you have a favourite motto or mantra you live by?
In the words of Ricky LaFleur - One man's garbage is another man person's good ungarbage.

What did you do in your previous working life?
My last couple of jobs were working with audio software & hardware companies like Serato, Denon, Roland, Rane & Pioneer creating products for DJs & music producers. One of my favourite memories from that time was helping Lil Jon with his DJ setup. Before I got into the world of software I was working as a chef and had dreams of opening my own restaurant (that seems pretty hectic though so I'm glad I made the pivot).
What do you do in your free time?
My wife & I try to get out into nature with our dog, Pickle, most weekends. We love taking her to the Redwoods in Rotorua. We also enjoy going out to local kickboxing shows, swimming at Blue lake and eating good food. At home I like to spend my time cooking, playing video games and watching The Sopranos.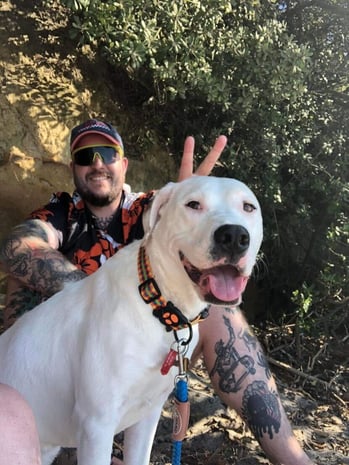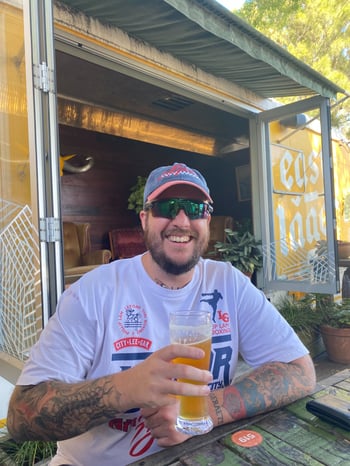 What are three things still left on your bucket list?
1. Start a family. 👨‍👩‍👧
2. Go to a Muay Thai event in Lumpinee Stadium, Thailand. 🥊 🇹🇭
3. Go to France and eat the stinkiest cheese I can find. 🧀 🇫🇷
What's on your SwipedOn playlist?
I try to keep it fairly eclectic. Right now I'm listening to heaps of Orville Peck, Popcaan, King Gizzard & the Lizard Wizard, Ice Spice, Elvis, and Nick Shoulders.

If you were stuck on a desert island and you could choose one person from the SwipedOn team to come with you, who would you take and why?
I'm still quite new to the SwipedOn team, so I haven't fully sussed everyone out yet, but I think I'd choose Reece. He has a general 'I can catch a fish & build a shelter' vibe about him that I reckon would be handy in that kinda situation.
Let's end this with a random fact about you… or a random fact you love!
During the first COVID lockdown, I got my Fast Castle time in Age of Empires 2 to the speed of some pro players lol.

*Fast Castle is a strategy to get to the castle age as quickly as possible.
Join us on social media