Back to Business: How a VMS Can Help You Resume Business Risk-Free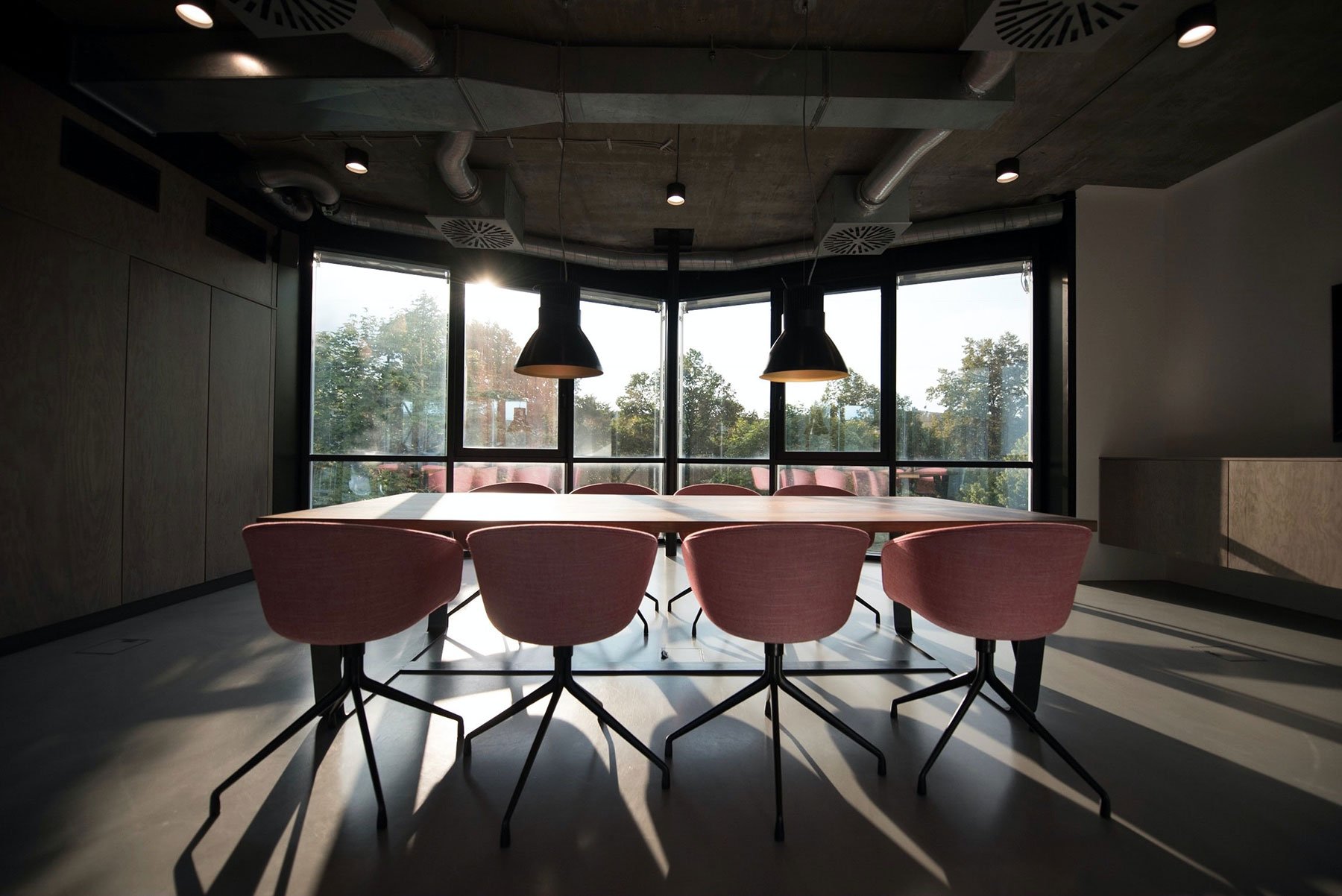 During the first two quarters of 2020, we've all had to adapt as businesses, with new challenges collectively arising; from entire teams required to work remotely to resuming business amidst a new normal.
While many countries are still up against the pandemic, others are beginning to ease regulations and businesses are able to resume. However a new business as usual awaits, and there are considerations for welcome desk processes that have not been widely addressed until now, such as the need for contact tracing, visitor screening questions and ensuring that the sign in experience has a touch free option. A visitor management system is crucial for any business with compliance and safety at the core of its operations.
Here are five essential ways that a VMS (visitor management system) can help you resume business risk-free post pandemic.
1. Avoid touching a communal device with contactless sign in
A communal device such as a paper visitor book and communally used pen can become a cross-contamination risk in your workplace. And at a time when a business' highest priority is to prevent the widespread outbreak of a pandemic, while operating as 'normally' as possible, it's best to eliminate that risk immediately.
A visitor management system is hosted on an iPad. And on that iPad home screen is a QR code which can be easily scanned by any visitors using the camera on their mobile device - no matter the operating system. Also known as contactless or touch free sign in, this method eliminates the risk of multiple people touching the same device. Instead, they touch only their own mobile device.
For anyone who does not have a mobile device, we'd recommend to take the appropriate preventative measures and sanitizing the iPad between uses should someone need to tap in using the device.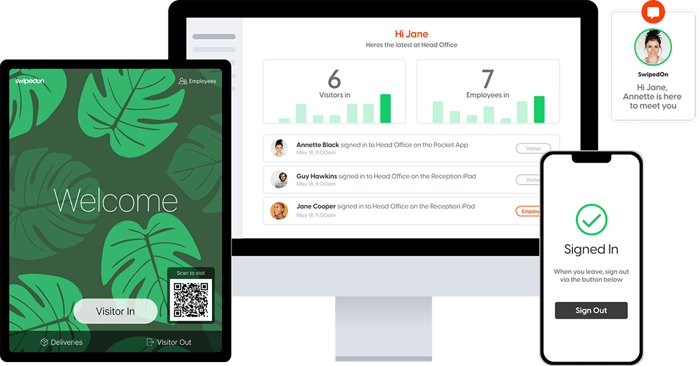 2. Recognise when a visitor poses a threat to your business
When visitors are entering your business, it's more important than ever to understand about their previous travel or current health. Using visitor screening questions you can ask one or more questions that require a yes or no answer.
Depending on how you phrase the question, you can trigger an alert to go to the host or a specified contact (such as the health and safety manager), at which point you can act according to company policy in your workplace.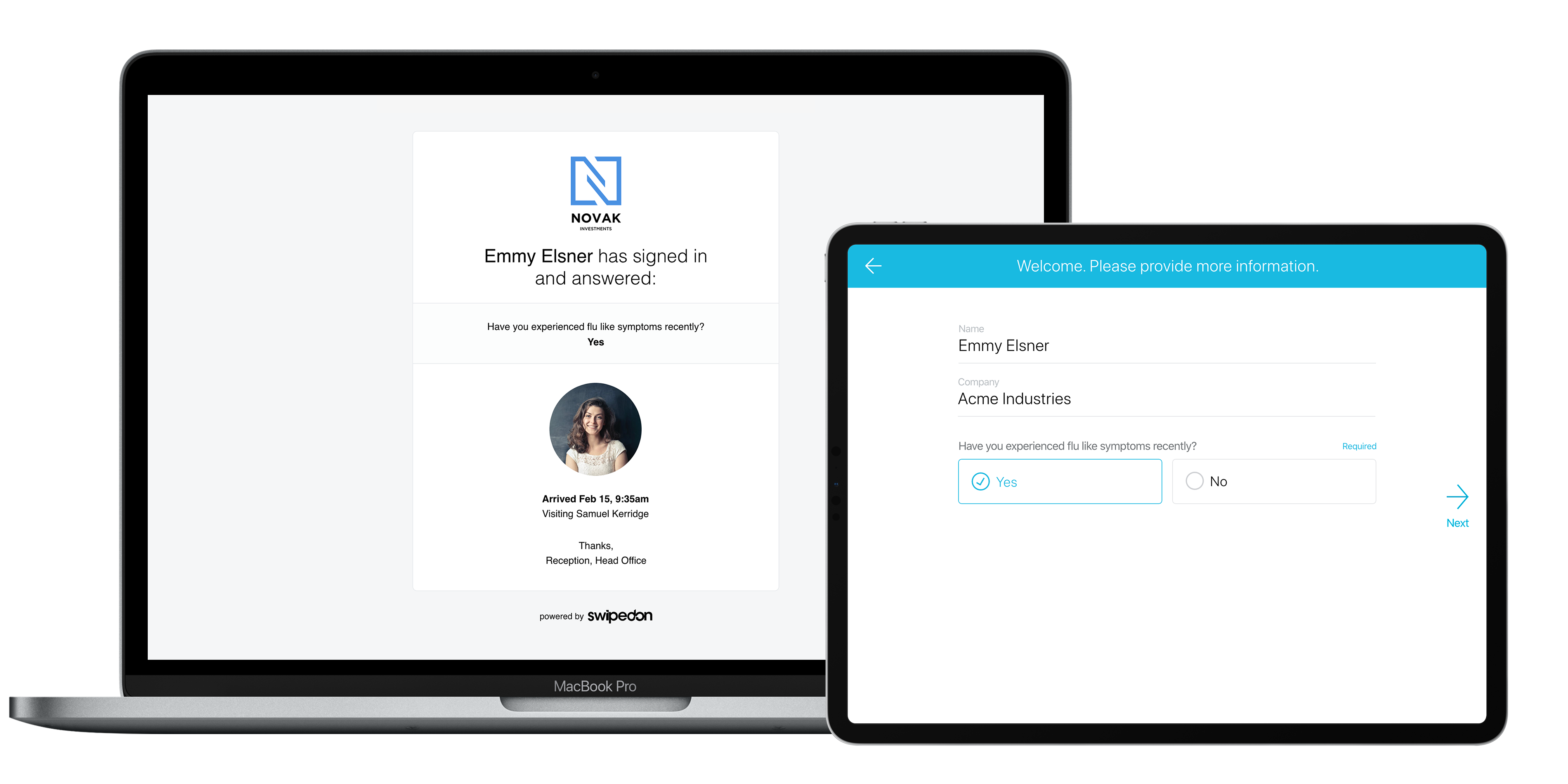 3. Keep all visitor data private
Paper based methods of contact tracing do not account for individual data privacy and protection. Think about the times you've recently entered communal areas such as cafes and shops who are actively contact tracing. When you sign into those, not only are you using a communal pen in most cases, but you are also giving your data away to potential data thieves. You also have instant access to name, email address and telephone number of all those who have written on the document prior to yourself. Do you want just anyone to have access to your data afterwards?
With a cloud based visitor management system, all visitor data is stored securely in the cloud. Depending on data privacy legislation in your region, you have the ability to anonymise this data after a certain amount of time. For example, in New Zealand, businesses must keep a record of visitor data for contact tracing purposes for a minimum period of 3 months. After this time, your administrator will be able to anonymise this information at the click of a button using the web dashboard tool of a visitor management system. SwipedOn Enterprise customers are able to make use of the Automatic Anonymization feature.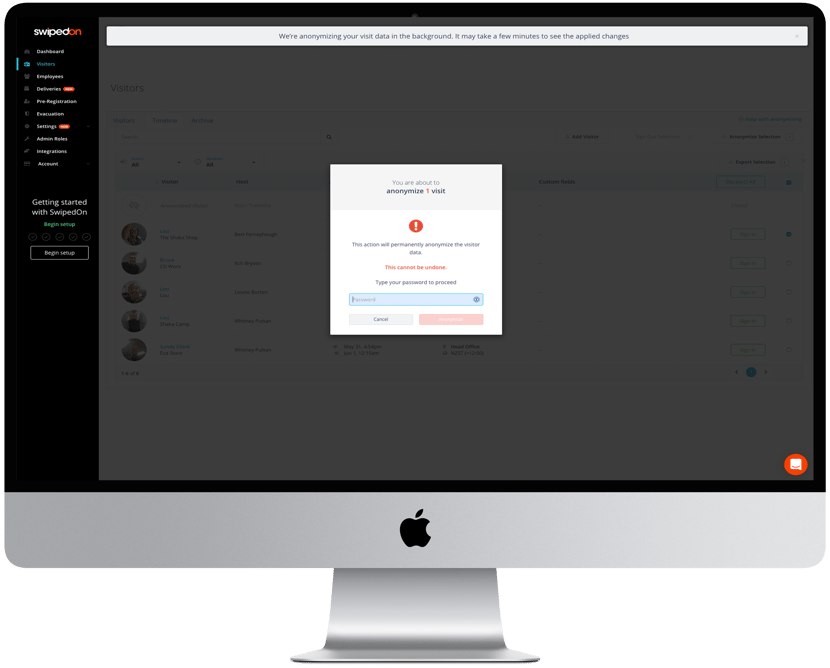 4. Empower employees to sign in remotely using their mobile device
With an employee sign in app, you can now empower your employees to sign in remotely using their own mobile device. They can leave out messages should they need to leave the building and messages for visitors should they be expecting anyone while they are out. At this stage of the employee check in, you'll also have the ability to ask screening questions similar to your visitor screening questions - these might be about where they have recently travelled or if they are experiencing any flu like symptoms.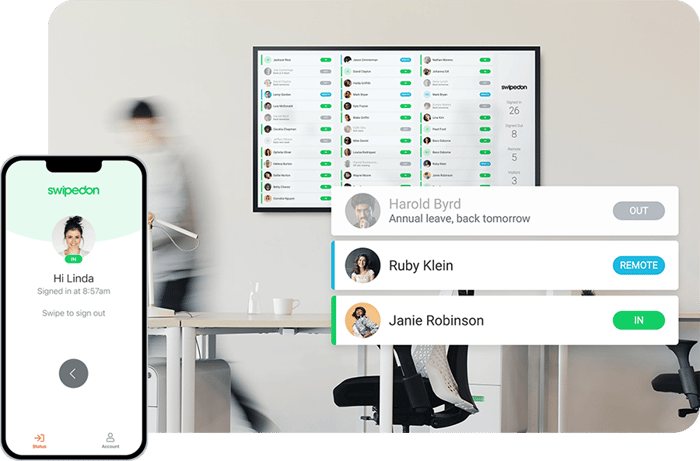 As well as being a comprehensive visitor management system, SwipedOn also can be used as a digital in out board for employees, meaning you have full oversight of who is in your building at all times, using just one tool.
5. Ensure visitors know - and adhere to - your business' health & safety policy
Using the non disclosure agreements feature, you can load a PDF of your visitor agreement into the visitor management system and impose that all guests are required to sign digitally prior to entering the business. In this PDF you can also house information about preventative measures that are in place in your business to help your visitors feel welcome and safe, and also to ensure compliance with health and safety policy in your business.

Hero Photo by Nastuh Abootalebi on Unsplash