SwipedOn Desks: For the Flexible Workplace

One of the most important elements of a successful flexible work model is creating an office environment where your employees actually want to be. Making staff feel safe to return to the office and giving them the tools to choose where and how they work on-site are critical parts of a flexible or hybrid model.
A recent survey found that 37% of employees in the US were actively looking for roles that offered greater flexibility. Of the 63% of employees who were not currently looking for a new job, 43% of them said "having a flexible work schedule" was among the key reasons keeping them at their current job.
The humble desk has been a cornerstone of the traditional office environment since the early 1900s and although there may have been changes to ergonomics and design, the fundamental principle has remained the same: employees have a designated desk where they sit every day. However, the global shift to flexible working arrangements has meant that even the trusty desk isn't safe from a technological transformation…
Enter: Desk Booking Software.
SwipedOn Desks gives you complete control and real-time visibility over which desks and spaces are available for employees to book and use when they are on-site.
Our solution gives businesses of any size the ability to implement a desk booking strategy and manage shared desk spaces from a central application.

SwipedOn Desks for Office Administrators:
Effortless Office Management:
Say goodbye to manual spreadsheets to keep track of what desks are available or booked and who has been in the office.
The easy to use portal gives admin staff the ability to upload and edit floor plans, export QR codes for desks and spaces, view real-time data on who has been sitting where (critical for contact tracing mandates), and define what spaces are available - ensuring compliance with local capacity and social distancing regulations.
You can also add your meeting rooms to the floor plan and have these bookable through SwipedOn Desks.
Utilize Spaces Effectively:
With many businesses implementing a hybrid work model for the first time, knowing what days and times employees are planning on being in the office is critical information and means you can ensure your office layout meets demand.
Understanding how your office space is being used means you can optimize operational costs by reducing unused floor space or potentially downsizing your commercial office space.
Actionable Insights:
Implementing a successful desk management system for now and the future depends on being able to access clear detailed data. Your desk booking system should provide rich usage data, reporting, and analysis.
SwipedOn Desks offers easy to interpret insights like what is the busiest floor, the most and least popular desks, and how many check ins or bookings are made in a certain time period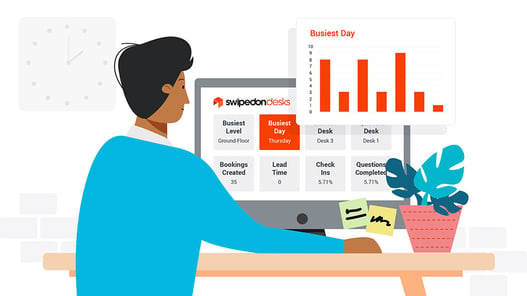 SwipedOn Desks for Employees:
Easily locate and book desks:
Employees can book desks on the go either in person by scanning a physical QR code (hot desking) or ahead of time through the web portal, meaning they know there will be a desk reserved for them when they choose to work in the office.
Implementing flexible desks also creates opportunities for collaboration between teams and departments as employees can sit next to a wide variety of team members with who they may not usually interact.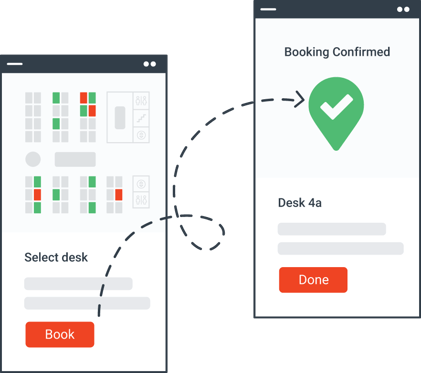 Block Bookings:
Ensure there is always a desk waiting for you when you're heading into the office by creating a block booking. This allows you to book a specific desk for an extended period of time (a couple of days or weeks). This is perfect for when you and the team need to get together in the office and work on something collaboratively.
Locate Key Contacts:
Interactive mapping and real-life floor plans mean that key contacts like fire wardens or first aiders can be easily located in the event of an emergency.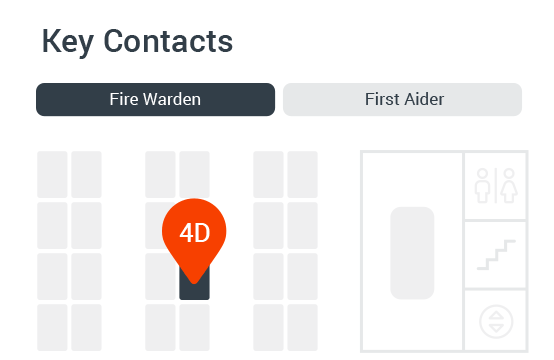 Common Phrases:
Desk Booking System (or desk management system): Refers to the software or platform that is used to manage bookable office spaces
.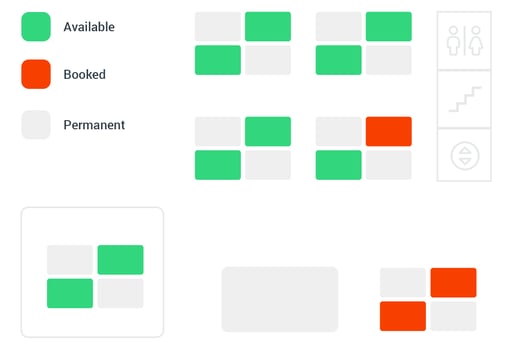 Hot Desking: Desks that are available for anyone to use are commonly referred to as hot desks. Hot desking is a model of desk management where employees can book whatever desk is available on the day they need it on ad-hoc basis.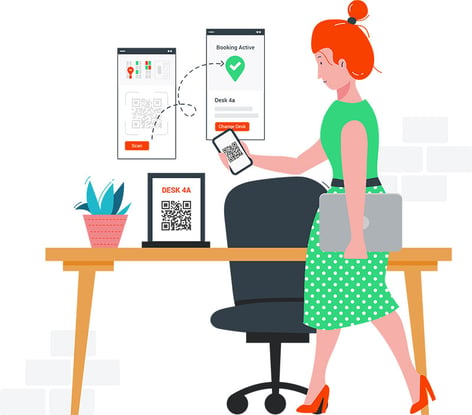 Desk Hoteling: This is a booking practice where employees book their chosen desk for a longer period of time (maybe days or weeks). The same way you would pre-book a hotel ahead of your stay.
Find out more about how implementing a desk booking system can help your business in this blog post.
Interested in hearing more or ready to get started?