8 Reasons to Switch to a Cloud-Based Visitor Management System in 2022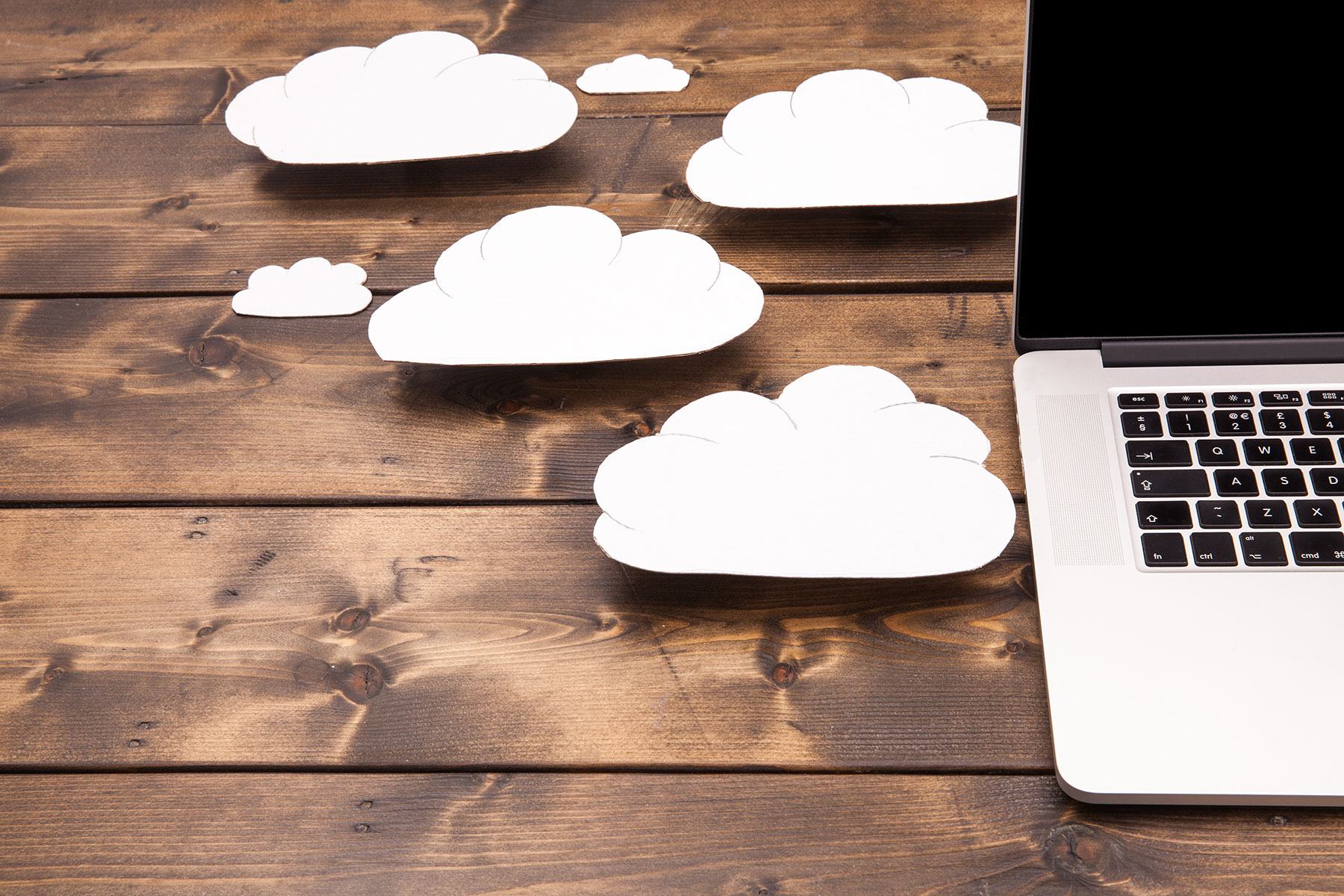 Is your business or organisation still using a paper based or legacy IT system methods to sign in visitors? If the answer is yes, you might want to consider reviewing and updating your visitor management processes by introducing a cloud-based visitor management system.
Cloud-based visitor management systems have many advantages that your organization can't afford to ignore. These smart tools eliminate concerns around security, privacy, excess costs, outdated technologies, inefficiencies, and accuracy. In this article, we'll explore 8 reasons why you should take the leap and switch to a cloud-based visitor management system in 2021.
What does the term 'cloud-based' mean?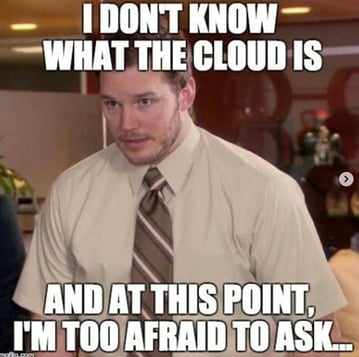 According to Eric Griffith, Features Editor at PCMag, "Cloud computing means storing and accessing data and programs over the Internet instead of your computer's hard drive."

So, when it comes to your visitor management system, instead of being hosted on local internet servers, your visitor management app is hosted on the cloud. Why is this beneficial? It means that the application is run from, and data is saved and stored, on the internet. Powerful, specialized computers run in data centres with high capacity connections, offer both trustworthy connectivity and safe and secure data storage, which is often compliant with data privacy regulations.
1. Cloud-based software allows you to access free trials
With SaaS solutions, you can easily access free trials to see if the product works well for you. At SwipedOn, you can try a 14-day free plan to see if the visitor management system is a fit for your organization. During this time, you can learn how the sign-in flow works, customize the home screen and accent colours with your branding and try out the Deliveries management AddOn (also for free).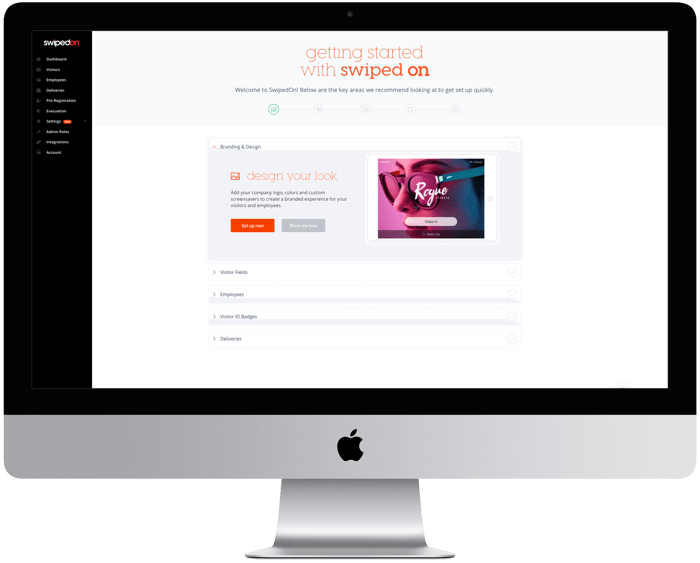 The SwipedOn setup is easy to implement and is intended to take no more than 10 minutes.
2. Never lose your data with the cloud
Since everything is stored on the cloud, front-desk staff and upper management can simply log in and access visitor data. Unlike paper logbooks, you're not dependent on that one original copy. With a cloud-based visitor management system, you can access visitor data on all types of devices, including desktop computers, laptops, tablets, and even mobile phones.
Your visitor also has the right to anonymize their data, at which point you are able to go into the system and anonymize their data immediately. At regular intervals over the year, dependent on your own policy and regional legislation, you can bulk anonymize data in the web dashboard of the visitor management system. With a paper visitor book, the only way to really get this level of privacy is to shred the pages daily - not forgetting that clients and interviewees have access to highly confidential information of those who may have entered the premises prior to them.
3. Cloud-based software is more cost-effective
It's significantly cheaper to set up a cloud-based visitor management system than an on-site solution. You'll avoid the minimum fixed costs because you don't need to install additional servers, storage, and antivirus programs. You won't have to make extra space to house these local servers. You also don't need to buy additional hardware maintenance plans, software support, or worry about future software or hardware upgrades.
With a traditional IT setup, you need to consider both the fixed and variable expenses. With a cloud-based visitor management program, however, you only have one variable cost that increases only as you scale. You can see how SwipedOn has helped reduced costs for a school in the United Kingdom here: Grace Academy Solihull Case Study.
4. The cloud is always up to date
At SwipedOn, we regularly update our software to ensure that our products continue to improve and serve your business needs, and that any potential vulnerabilities are identified and fixed.
Last year we improved the user experience by creating a new home screen layout. We made the sign-in and out process more simple and straightforward for users by offering one sign-in button instead of having the sign-in and out buttons side by side. Plus we added new AddOns that customers had been asking us for including Deliveries, Catering and Unlimited SMS.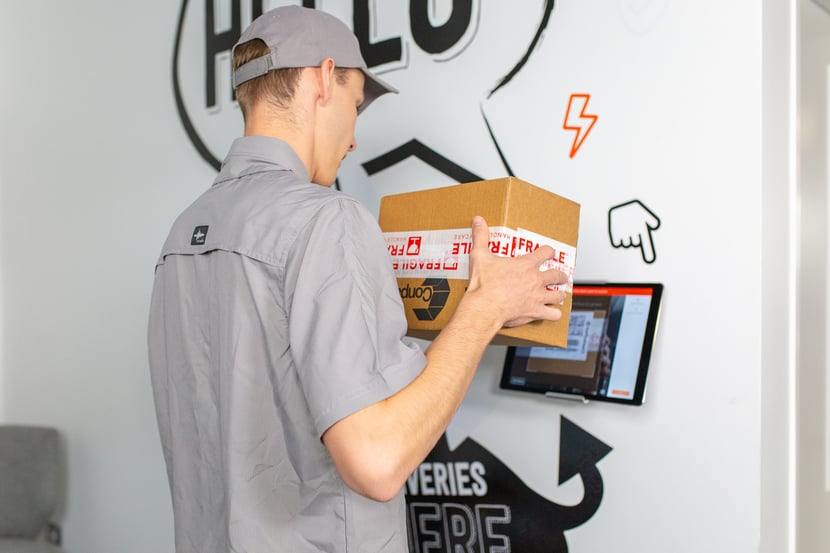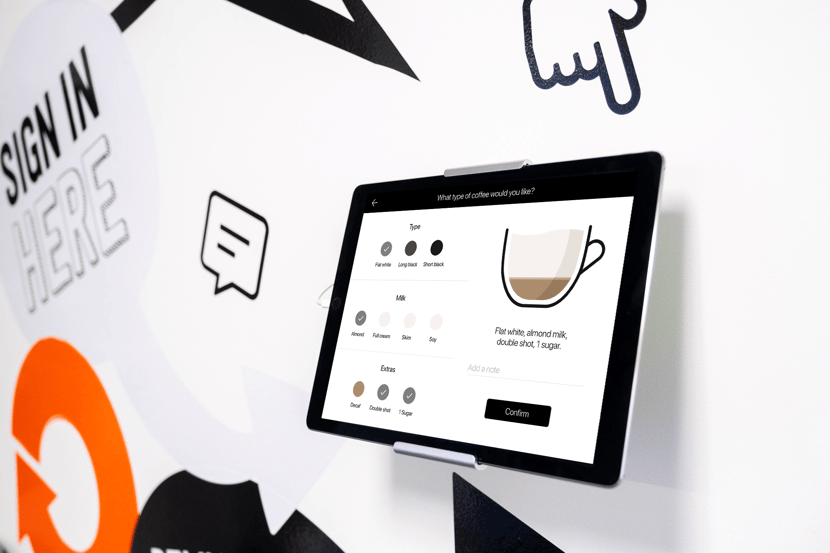 The SwipedOn iOS App update 2.14.1 saw the release of SwipedOn Catering AddOn which allows you to surprise and delight your visitors by offering them a beverage or food during the sign-in process.
We also take customer feedback constructively and regularly implement new features to assist with creating a product that is completely customer-centric. For example, the 'roaming employee' feature; we understand that employees don't always work from the same place so if you have multiple locations, employees are able to login at whichever location is applicable to them.
If you want to update your existing visitor management system to take advantage of new features, all you need to do is update the SwipedOn app in the App Store. If you have auto-updates on, the new update will automatically download.
5. Data is easily accessible using the cloud
Unlike paper logs or cumbersome legacy systems, storing your visitor data on the cloud makes retrieving information easy. Anyone with permission can access the data on any device by simply logging in and doing a search. This way, you have the option to access information remotely, and at the touch of a button, if an audit or report is requested.
6. Cloud-based software increases data security
Did you know that cyber crimes like data theft account for trillions of dollars in losses each year? According to Juniper Research, companies will lose about $2 trillion to cybercrime in 2019 alone.
Cloud-based visitor management systems are significantly more secure than existing legacy systems. With SwipedOn, your SaaS visitor management system is always kept up to date with the latest security patches and major upgrades. We constantly monitor our system for any potential security issues or vulnerabilities.
Overall, not only do you have a more secure system protecting your visitor data, but it also places less of a strain on your IT staff. This will help them focus on other, more pressing systems like those in finance.
7. Cloud-based apps are usually easy to set up
Unlike traditional IT systems, cloud-based systems are easy to set up. We made SwipedOn simple and easy to start because the easier it is, the higher the chance your staff members will use the system.
With SwipedOn, all you need to do is register online for your free trial, install the SwipedOn app, and follow the simple step-by-step guide. Front-office staff can complete set up in 10 minutes instead of a few days or weeks (like with legacy systems).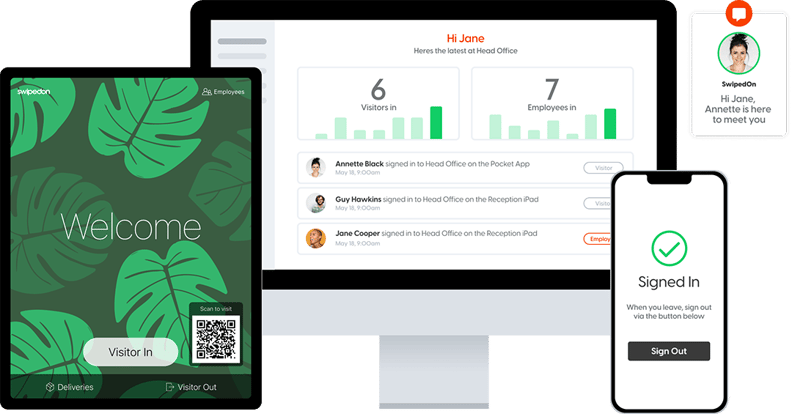 No matter how many devices, cloud-based software is easy to set up.
8. Cloud-based software is highly scalable
A SaaS (Software as a Service) visitor management system has the ability to grow as your business expands. So, if your business is currently scaling, there's no need to feel concerned about your business outgrowing your visitor management system.
Since you're storing your data in the cloud, you can increase the number of people that visit a location without it having any effect on the system. You can also open up multiple locations and offices. The process of setting it up will be as easy as with the first location.
With 94% of companies currently on the cloud, it's important you take advantage of the above benefits and make the switch to remain ahead of the curve. With a cloud-based system, you can access free trials, increase data security, and enjoy a more cost-effective, long-term, scalable solution with constant updates, easy access and a simple setup.