As part of our efforts to keep the SwipedOn system as streamlined and as easy to use as possible, we've been working on some hefty improvements to the SwipedOn Web Dashboard. A slick interface update means everything is a little more intuitive to make your experience in the software as simple as possible.
We've focussed on ensuring you have more of what you need at your fingertips & giving you the power to use SwipedOn how you want to.
We may be biased, but we think you're going to like it. Find out all the details below.
The information you need, at your fingertips:
The new "home" tab (previously dashboard) is the hub of all your visitor and employee activity. From here, you can see at a glance how many visitors are signed in and expected, whose working remotely or on-site, and if you've had any deliveries arrive.
Visitor and employee trends for the past 7 days are also shown here, giving you a sense of how busy the office is this week.
Don't keep your guests waiting, pending visitors are top of mind in the new home tab, easily identifiable at the top of the screen.
The activity stream is where you'll find a consolidated view of your 50 most recent employee and visitor activities, just click any activity to view more information about it.
In the event of an emergency, you'll be able to easily identify who a visitors host was from the evacuation screen.


More control to use SwipedOn how you want to.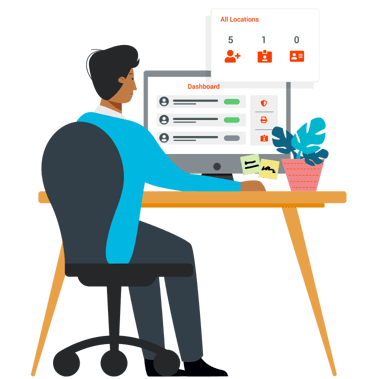 Business and Enterprise customers can now see information (like trends and the activity stream) based on location groups.
Have visitors that require special assistance or dietary requirements? Add notes to specific visits for other admin staff to see.
We get it, sometimes work can feel like information overload. You can now customize the "Visitor" tab to only show the visitor fields you need to see (and remember the settings for the next time you log in). If you've got multiple admins on an account, don't worry - your view is specific to you.
The ability to show or hide your custom visitor fields is also in the works and will be shipping soon.
During an emergency evacuation, people can be checked off as "safe" without automatically signing them out, streamlining the process for when you return to the building.
Forgetful employees? No problem. Admins can now toggle employee status between "in", "out" and "remote" from the employee directory.

We hope you're excited about this update as we are, If you've got any further questions don't hesitate to reach out.
If you found this article interesting, share it on social media.