How To Use A Visitor Management Solution as an Employee In-Out Board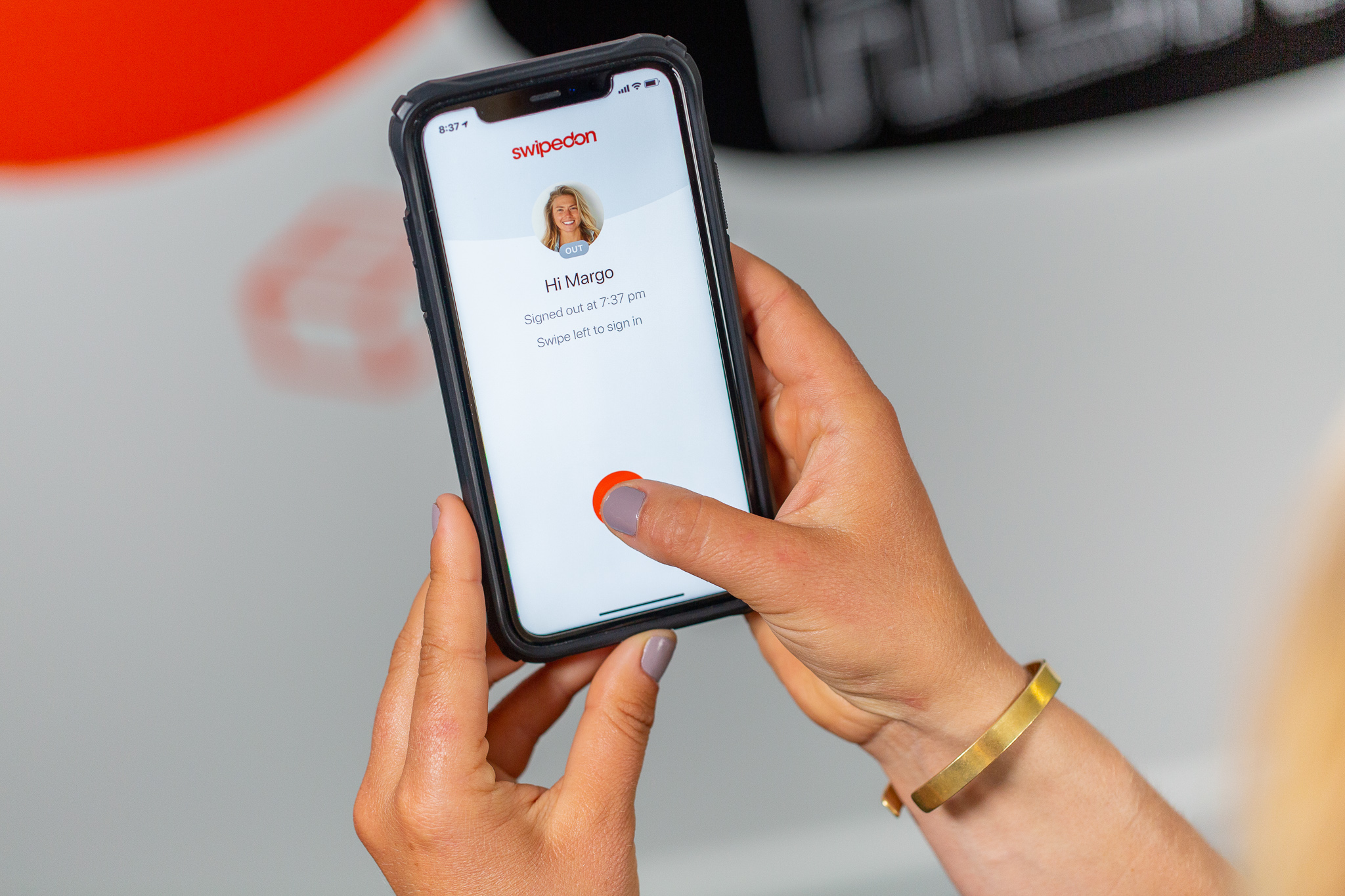 Looking for a digital renovation for your workplace? 95% of organisations agree that a digital workplace is important and the good news is, the transformation starts here with a digital employee in-out board. And it's easy to implement. A visitor management system will not only help propel your business into a smarter, streamlined future by reinventing your business' welcome - with the goal of replacing a paper visitor book - but it has invaluable benefits around employee management too.
The digitisation of this process goes beyond keeping tabs on your employees; boosting productivity by enhancing the employee experience, streamlining health and safety procedures and digitising the all-important employee in-out process are all part of the deal. In this post we'll outline the six main benefits of a digital in-out board. If you already use SwipedOn, and want to know how to enable employee in-out in your SwipedOn dashboard, click here.
---
Did you know that with the SwipedOn platform, your employees can leave a message when they are about to leave the building so you'll know where they are at any time? Find out more in this 30 second video:
Want to see more? Subscribe to the SwipedOn YouTube channel: here
---
Discover how visitors can enable employees to sign into the workplace, and complete wellness checks via a contactless experience. Find out more in this 60 second video presented by SwipedOn iOS developer Jason:
Want to see more? Subscribe to the SwipedOn YouTube channel: here
---
1. Encourage your employees to clock in and out using the digital in-out board
Clocking in and out for contractors is covered in the visitor management process, but clocking in and out for employees is a feature you'll need to enable to really get the most from your visitor management system. With SwipedOn, it's all part of the package; you won't be paying extra for enabling employee in and out. And with a funky interface and button with a slide or tap option, it's quick and easy for your employees to action as they enter and leave the building... Substantially easier than old-school manual in-out boards.
2. Utilise your VMS for health and safety purposes
Knowing which employees are in or out of the building allows you to have a holistic view over those who are in and those who are out. Why is it so important to know who is in or out of the building? For many businesses, it's essential to know for health and safety purposes. So, when it comes to a routine evacuation drill or an actual emergency evacuation, you have a safety record of exactly who is in the building and needs to be accounted for.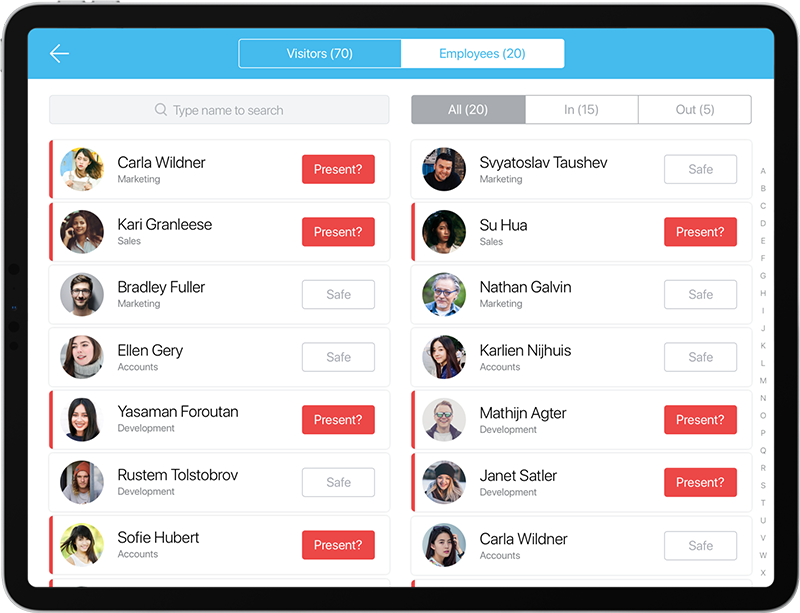 3. Invest in instant notifications
If you've got visitors, you've got hosts. Know which hosts are in the building and send them instant notifications via e-mail and SMS text message to alert them that their visitor has arrived in reception. If the host that a visitor selects is signed out, visitors will automatically be notified that their host is not on the premises with visibility to messages and return time if necessary, and will be prompted to stay and wait for their host to return or reschedule for another time.
4. Enjoy full transparency & visibility
Think of a visitor management system - and subsequent digital in-out board - as a pair of X-Ray specs. Not only are you fully equipped in the case of an emergency evacuation, with full transparency on who is in the building (both employees and visitors) but you also have visibility in the case of a visitor arriving for specific people at an unscheduled time with transparency on whether that employee is in the building or not. Should the need arise, you can carry out contact tracing at the touch of a button in the admin dashboard.
5. Cover all legal bases with customizable NDAs
Workplace laws and regulations continue to change and digital workplaces are more equipped to cope with these changes. For example, the recently implemented GDPR had everyone scrambling for compliance. A digital in-out board makes it easier to uphold data privacy law for your employees and visitors as electronically stored data is easier to store, protect, recover and delete.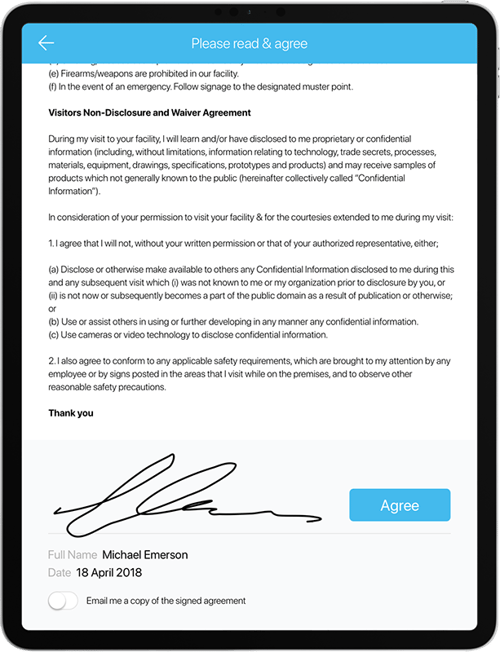 6. Empower a more positive employee experience
The digital workplace is already helping reshape the employee experience in businesses all over the world. Routine tasks can be automated and completed faster, such as the simple sign in and sign out process. At the touch of a button, employees can enter into the entire visitor management system and enjoy instant notifications when visitors arrive, helping them feel more engaged and part of the bigger picture. Encouraging your employees to use SwipedOn Pocket helps empower the experience further, with the ability to sign in and out with a swipe on their smartphones.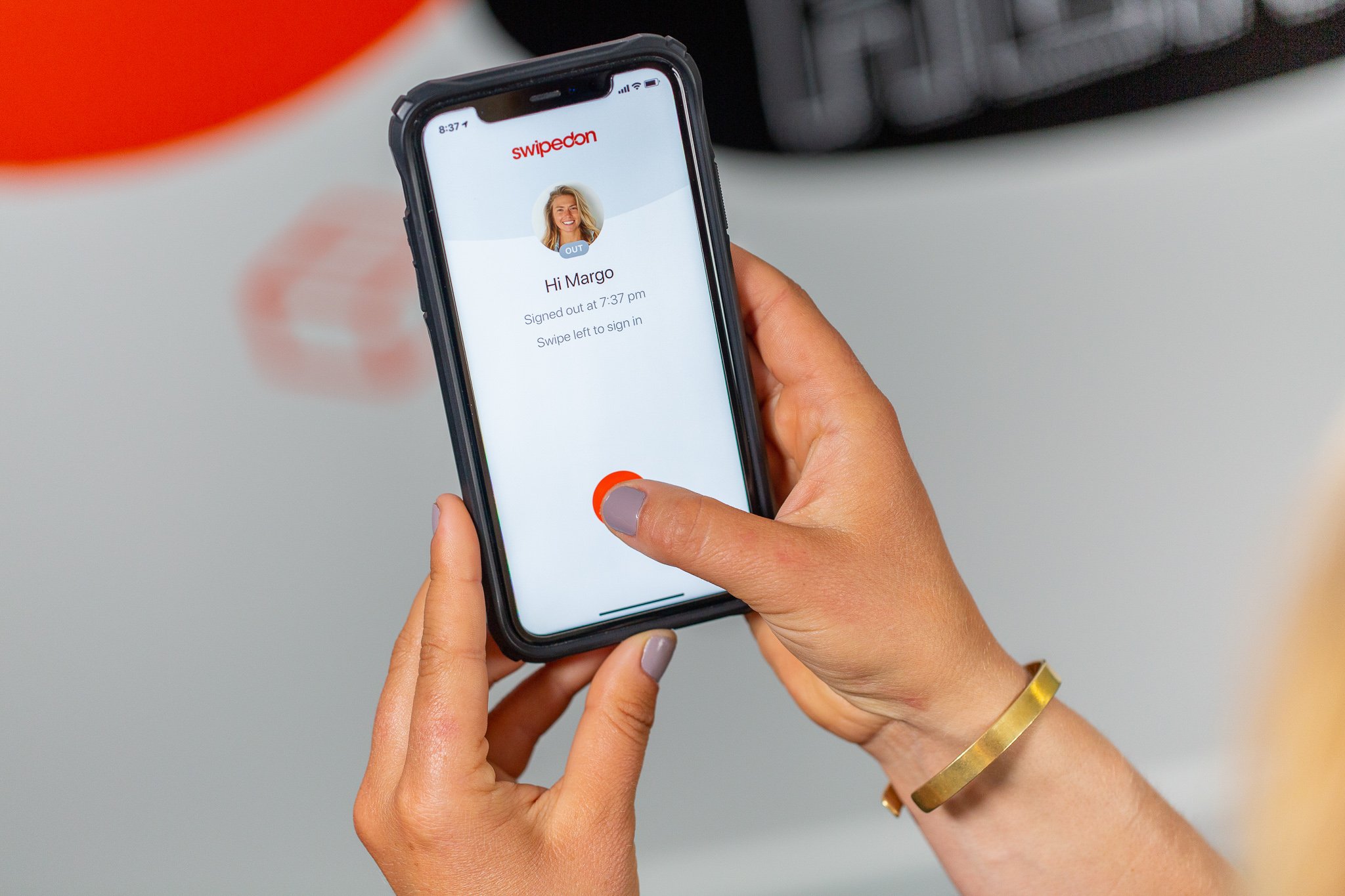 Learn more about employee in-out in our exclusive SwipedOn guide: In With The New, Out With The Old. Get the guide by clicking the download link below.