How QR Codes Are Changing the Workplace

As many businesses consider what the future might hold (as impossible as that sounds these days) a lot are looking at how technology can help them adapt to the ever-changing demands they face. One key piece of technology that had a major increase in popularity during the pandemic is QR codes. Although QR codes have been around for a long time, their usefulness in limiting physical touch during the COVID pandemic made them an essential component of everyday life - being used for everything from location tracing to ordering a drink at the pub.
QR codes also have extra additional benefits over simply providing a web link, the main one being the speed and ease of which information can be accessed and actioned (did you know QR actually stands for "quick response"?). And while using traditional website links is relatively straightforward, QR codes can bridge the gap between the physical and technological worlds seamlessly.
But how exactly can QR codes help shape the future of the workplace? Read on to see our take.
Why Are QR Codes So Widely Used?
Physical Safety
As COVID-19 began to spread, one of the earliest steps taken to slow it was minimizing physical contact where possible and QR codes offer a completely contactless method of carrying out a whole host of activities.
For example, you can now make payments via QR code, with financial services giant PayPal stating "Widely popular for years in Japan and China, QR codes are finally getting a second look in the US and Europe as businesses investigate ways to accept payments in an era of social distancing. When using QR codes to accept payments, there's no need to handle cash or cards and no need for customers to interact with a point-of-sale (POS) device to enter a PIN or sign a receipt. Instead, accepting payments is as simple as aiming a smartphone camera at a displayed QR code."
Convenience
Although in the early days QR codes could lead to a pretty poor user experience, visionaries could see the potential to make things more convenient with a little development.
QR codes can be generated for free using a number of online tools and can be printed anywhere at almost any size (like Adidas printing a QR link to a Spotify running playlist on their shoes). By requiring minimal resources to create and distribute, QR codes are a cost-effective and convenient option for businesses of all sizes.
Using the technology requires minimal effort, all you need to do is open your smartphone's camera, and point it at the code, where it will scan it and provide a link to click for the information. QR codes allow you to conveniently do what you need to and are an easy way to enhance your companies efficiency.
How Can QR Codes Be Used in the Workplace?
1. Simplify Your Sign Ins
One of the easiest ways your businesses can use QR codes in the workplace is for the sign in process for visitors and employees.
With many offices allowing employees to return to work, guaranteeing safety is paramount. QR codes can offer a simple, contactless method to grant access to your premises. Individuals can use their smartphones to scan a code shown on the front desk iPad or a printed (static) QR code at any location.
Investing in workspace management software to implement QR code sign in makes the entry process more straightforward. With SwipedOn, the feature is included in your subscription, so you won't need to take time to set it up.
SwipedOn offers a QR-only plan, which gives you verified, contactless sign in with a single scan. It's simple and secure and requires no additional hardware, which makes it perfect for those businesses with sites and locations where using an iPad is impractical.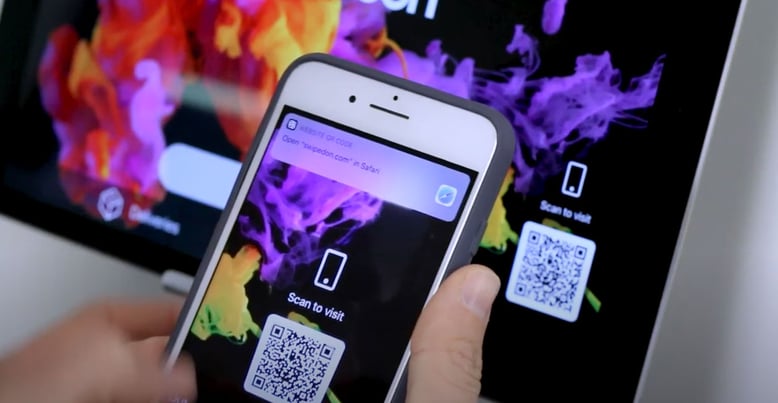 2. File Sharing
It's highly likely that almost every team in your office needs to share files and documents each week. And while you can send emails or store them in a shared drive, both of these methods are time-consuming—and things can get lost.
Files can be shared with your coworkers via QR codes through a number of platforms like Send Anywhere. The other person can scan the generated code with their phone and receive the document without searching through countless folders.
By reducing the friction of sharing files, teams can complete projects faster.
3. Enhance Marketing Materials
Competition is ever-increasing in the world of business, and it has become more important than ever to stand out ahead of other businesses in your field. Offering marketing materials and behind-the-scenes content is one way to do this and QR codes offer a space-saving option to get this information to your audience.
A recent example of this is Samsung, who used QR codes to show iPhone users what their experience would be like if they switched. Doing so was a good campaign idea because it gave users an interactive demonstration of a product in action, rather than a generic campaign.
Consider including similar ideas in your advertising campaigns to easily become more memorable to your audience. As a result, your sales will increase over time.
4. Verifying Staff Movements
Health and safety is a crucial consideration in any workplace, and being able to have an instant view of where staff are across your premises and locations is critical.
In some instances, having an iPad at every location to facilitate staff check in might not be the most practical solution. This is where QR codes (and SwipedOn) can help.
With the SwipedOn sign in solution, employee movements can be logged via printed QR codes and an employee app to verify a sign in. Once completed, this can be seen in the SwipedOn web dashboard – meaning you'll have a better idea of who is where throughout the course of the day.

QR Codes Are Here to Stay in the Modern Workplace
While it may have taken a global pandemic to give them a chance to take off, it's clear that QR codes are set to be a feature in our lives for the foreseeable future.
Many service industry businesses are using them for customers, and companies can use them to improve the employee experience. QR codes are crucial for physical safety, but they're also convenient for signing in employees and visitors. There are plenty of unique ways to use them, all of which will help move your company forward. If you are looking for a QR-only option, reach out to discuss your requirements with the team.