How SwipedOn can help you manage the risk of COVID-19 Coronavirus in the workplace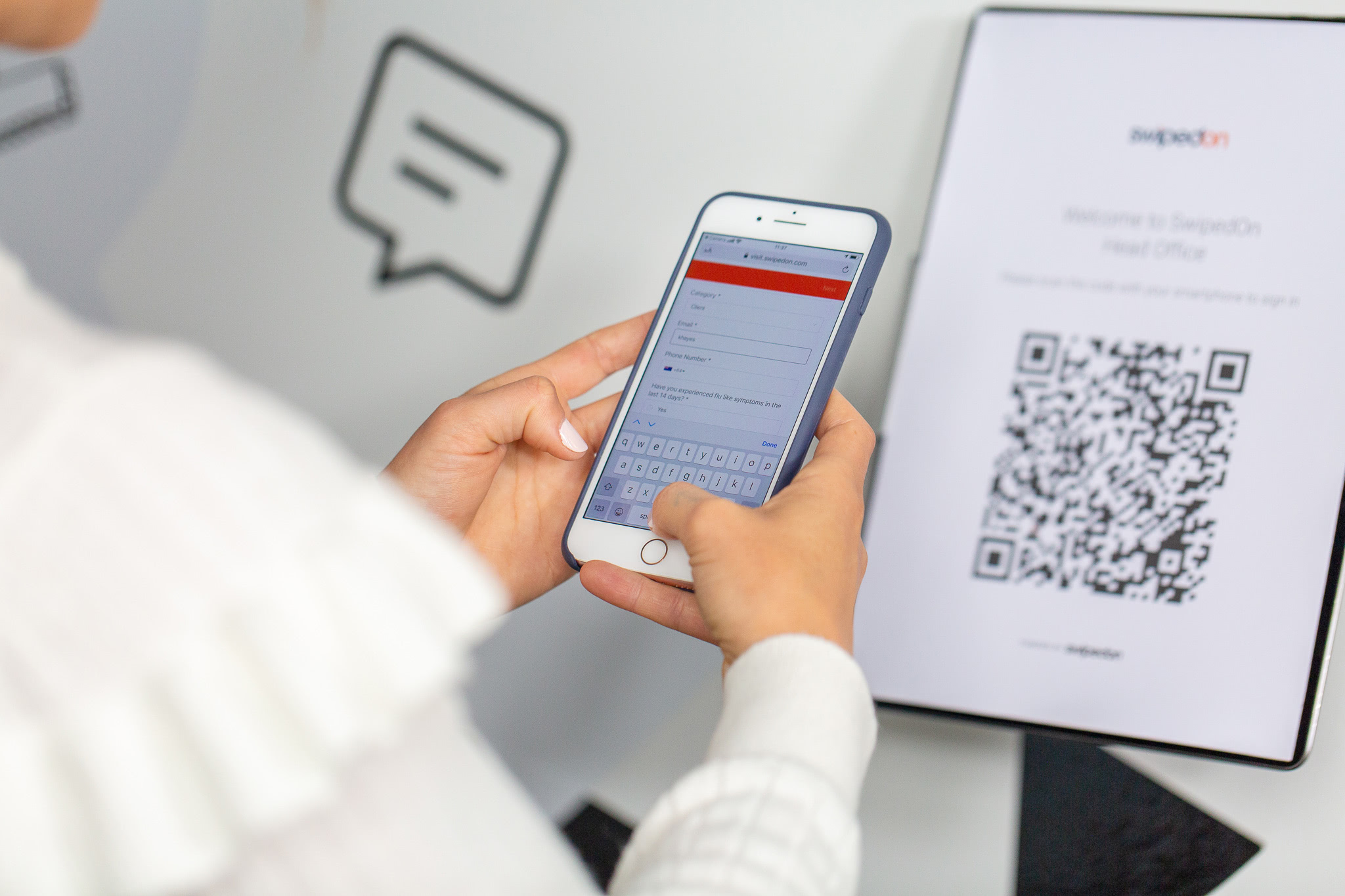 COVID-19 Coronavirus is a hot topic right now. And it's not just media hype, it's very real. With governments putting isolation plans and travel restrictions in place to prevent the spread of the virus, it's more important than ever that you have your own way of screening visitors coming into your building to protect your employees and prevent the further spread of the virus.
Of course there are preventative measures people can (and are) taking. While you can manage this in the workplace, among staff, it's not so easy with visitors you're looking to host. If someone who may be a risk to the health and safety of staff in your business enters your premises, you need to be able to identify them and take action. Whether that's to allow them entry or to ask them to kindly reschedule and return at a later date - whatever your own company protocol is for denying entry of high-risk individuals.
If your staff become unwell or contract the virus, inevitably your business will suffer. Preventative measures need to be put in place for any visitors entering the building. In this article, we'll brief you through the brand new SwipedOn product update; a solution for screening guests using your visitor management system to ensure this process runs as smoothly as possible in line with your health and safety requirements for COVID19.
---
In this video, SwipedOn sales associate Judea guides you through how the visitor screening tool works.
---
How the SwipedOn visitor screening feature works
To access the visitor screening feature, first you must update your iPad with the latest version of the SwipedOn iOS app. If you haven't already done so, navigate to the iOS App Store on your iPad and update now. If you're unsure how to update, see our support article here.
Now that you've updated your iPad, you'll see the 'visitor fields' page is available to you in the web dashboard by navigating to settings > visitor fields. In here, you can specify which visitor fields are required before the visitor can proceed such as email address and phone number.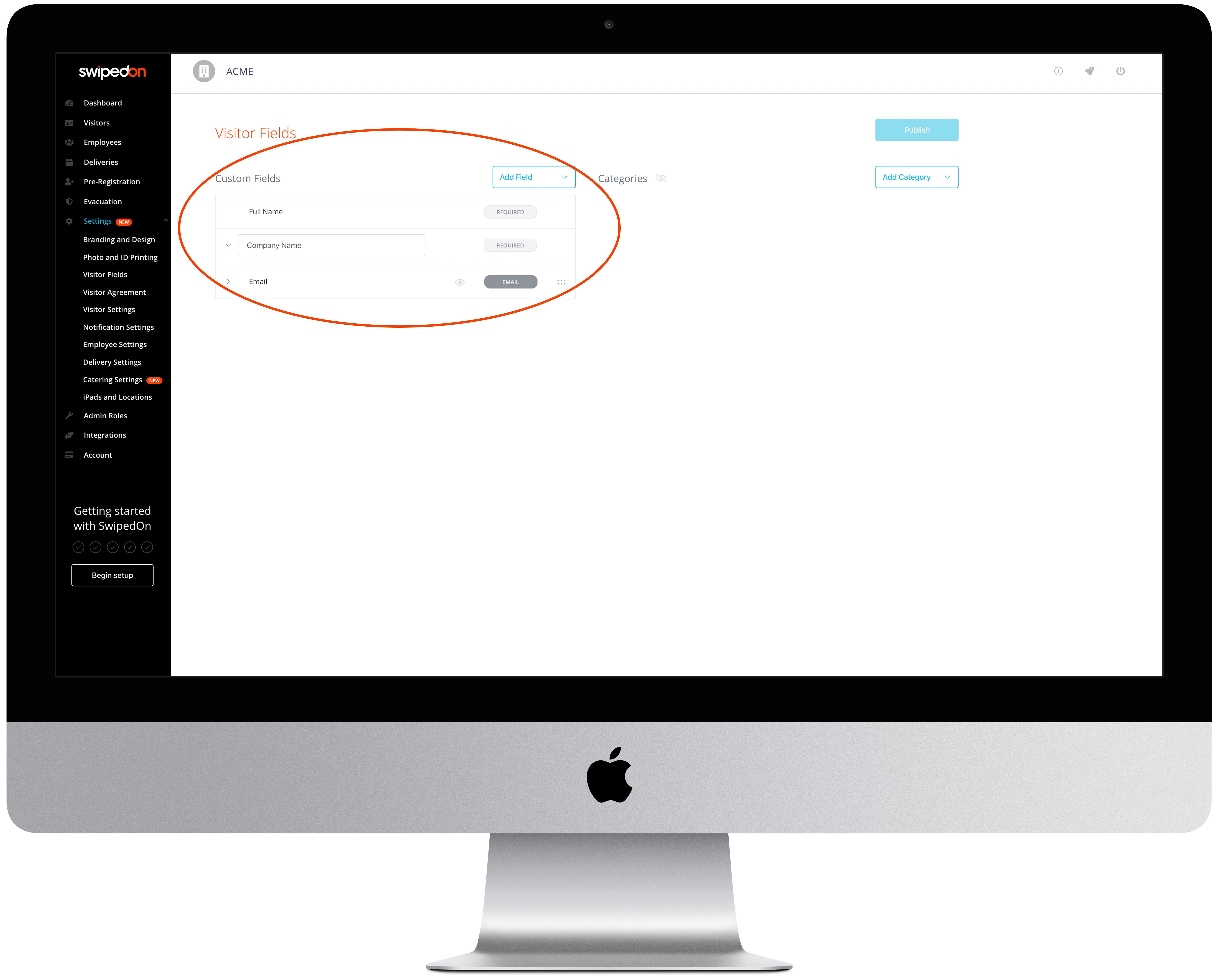 Create a yes-no question up to 100 characters in length. Here you could ask if visitors have been to any specific countries recently or have experienced any flu-like symptoms. You can now select which answer triggers the alert. If you want both answers to trigger an alert, this is also possible.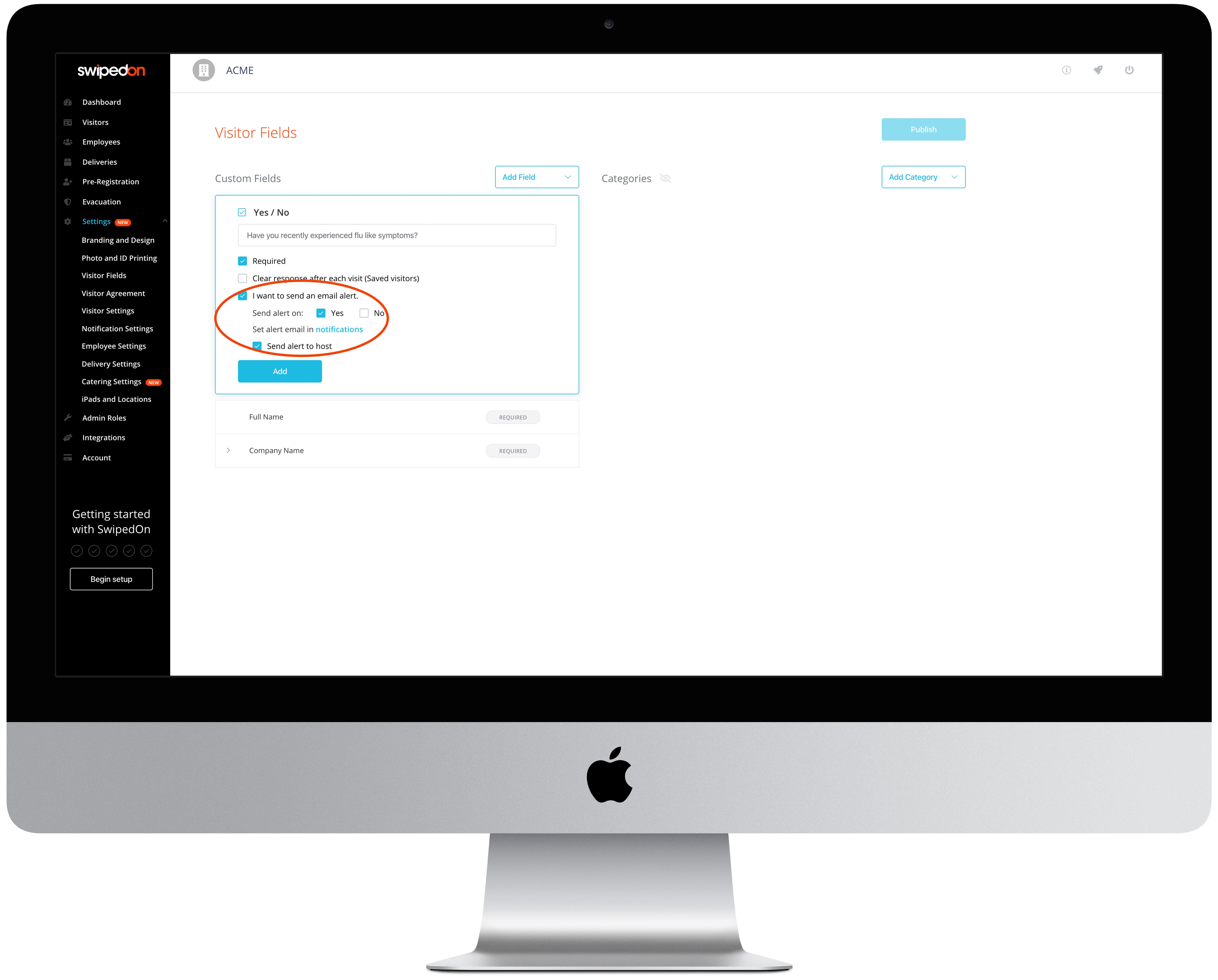 This alert can be sent to up to three chosen e-mail addresses such as your health and safety officer, office manager, security team or school nurse and you can also add the option of setting up the alert to go to the visitors host. If you have SMS notifications enabled, a text message alert will also be sent to these contacts, providing you've added a contact telephone number.
This is how it will appear for the user on the iPad.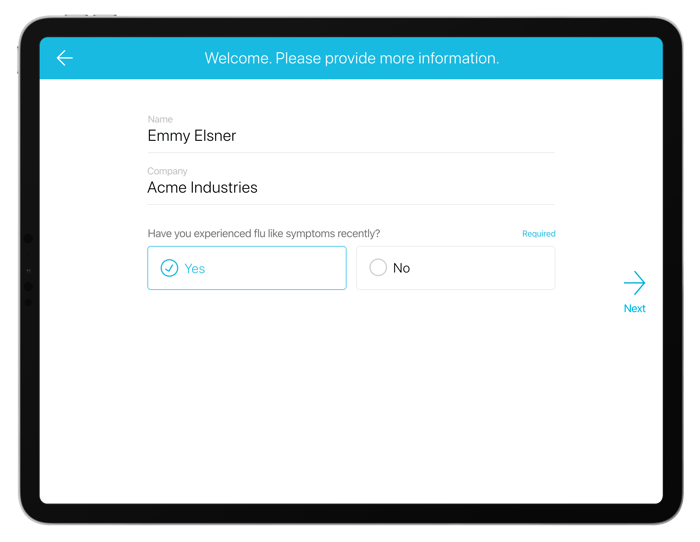 Your alert contact (and host, if specified) will then receive an alert and you can proceed to take action according to your company policy.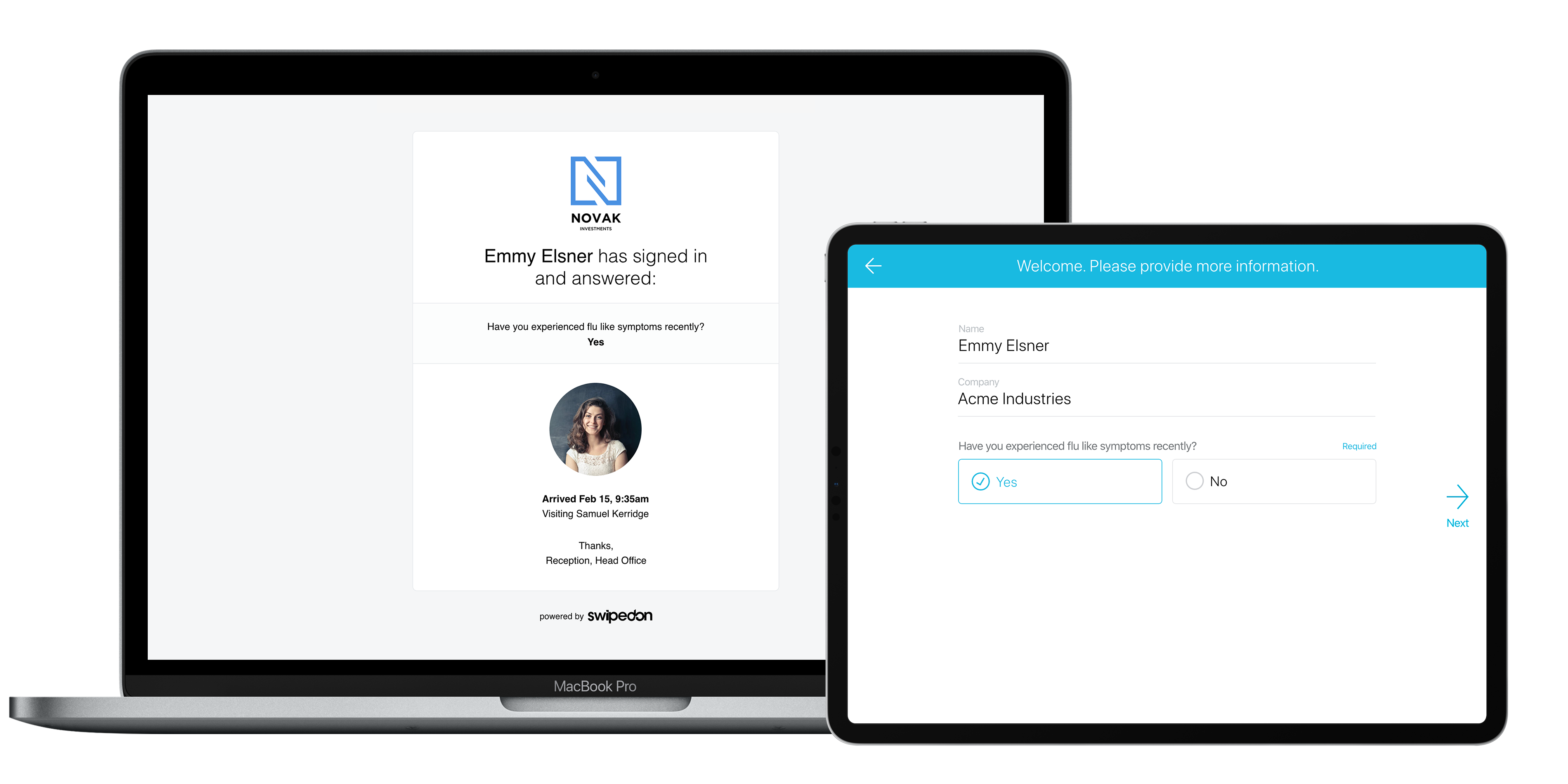 Amend your digital agreement
With the advice of the World Health Organisation in mind, it would also be beneficial to update your digital agreement to cover COVID-19 Coronavirus preventative measures. In our latest iOS update, we've increased the number of PDF pages you can add to your digital agreement from 5 to 10. You can easily add this one-page PDF to your digital agreement provided by SwipedOn, available for download below.
Add this one-page PDF to your digital agreement.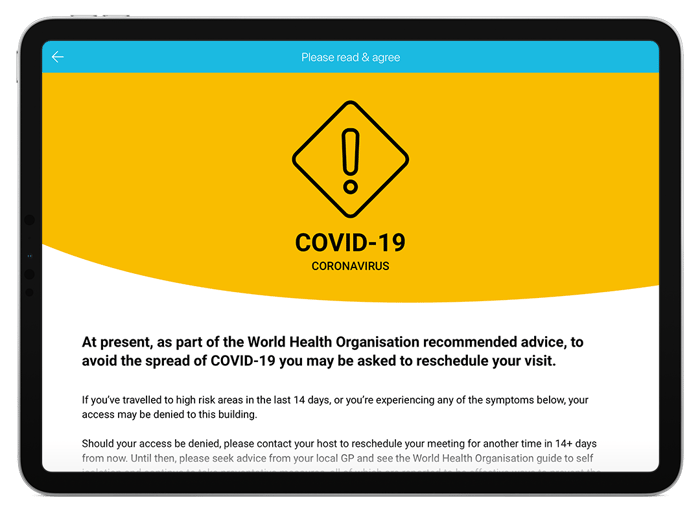 We've also created a printable version for you to put up on the wall in your reception area, which you can download here.
Workplace advice for holding meetings during COVID-19 Coronavirus pandemic
While it's advised to cancel any gatherings or large meetings that cannot be coordinated online, there might be business critical meetings that you need to facilitate. SwipedOn allows you to monitor who is entering and exiting your building and the web dashboard allows you easy and full visibility on names of those people and time and date of when they visited.
If there is any concern around a particular name, the correct action can be taken quickly and effectively. The World Health Organisation advises the following for for visitors participating in meetings, but can be applied to any visitor coming into your business:
1. Retain names & contact details
Retain the names and contact details of all participants for at least one month. This will help public health authorities trace people who may have been exposed to COVID-19 if one or more participants become ill shortly after the event.
2. Contact tracing and communication
If someone at the meeting or event was isolated as a suspected COVID-19 case, the organizer should let all participants know this. They should be advised to monitor themselves for symptoms for 14 days and take their temperature twice a day.

If they develop even a mild cough or low-grade fever (i.e. a temperature of 37.3 C or more) they should stay at home and self-isolate. This means avoiding close contact (1 meter or nearer) with other people, including family members. They should also telephone their healthcare provider or the local public health department, giving them details of their recent travel and symptoms.
3. Say thanks
Thank all the participants for their cooperation with the provisions in place.
Frequently Asked Questions on COVID-19 visitor screening using the SwipedOn App
Here are a few questions we've been asked in regards to managing the risk of COVID-19 in the workplace.
Q: With the recent outbreak of COVID-19, how do I add the questionnaire to the tablet so visitors can disclose the information?
A: Using the new visitor screening feature, you can easily add a yes/no question to the visitor flow and base an outcome
Q: How to sanitise the iPad?
A: As with all surfaces where viral infections can lie dormant, the iPad is no exception. You can easily disinfect your iPad using an alcohol based screen wipe. Learn more about preventative measures to take in the workplace in this blog post:
Q: I need to figure out who was on the premises at a specific time as a way of contact tracing should someone enter the building and later test positive for COVID-19. How do I do this?
A: You can easily find this in the web dashboard of the SwipedOn App. If someone has attended your building and tests positive for COVID-19 Coronavirus at a later date, you'll be able to easily trace when they were in your building, along with all other visitors to the premises, using accurate visitor records and time-stamping in the web dashboard.
Q: How do I add another page to the visitor agreement to warn visitors they may not be permitted entry into the building if they answer unfavourably to the questions?
A: We've created a document which you can add into your digital agreements page. Previously the maximum amount of pages you could use was five. However in our recent update, we've increased this to 10 in order to accommodate additional pages to your agreements that will cover COVID-19 Coronavirus policy in your workplace.
You can download the PDF to add to your digital visitor agreement hosted on the iPad here: DOWNLOAD
You can download a PDF for the wall of your reception area here: DOWNLOAD
---
Learn more about COVID-19 in the workplace
Learn more about getting your workplace ready for preventative measures against COVID-19 in this PDF from the World Health Organisation: HERE
The 10 best remote working tips during a time of medical uncertainty
COVID-19: Preventative measures to sanitise surfaces in the workplace