What is Visitor Management? Everything you need to know.
Visitor management is the process of welcoming visitors on to your premises. The sign-in part is only a small percentage of the process. There are other elements to consider as well; visitor safety and security, evacuation management, notifying employees that a visitor has arrived to see them and ensuring your visitor is willing to comply with non-disclosure agreements - which are unique to your company or facility.
While a visitor management system address all areas of welcoming visitors into your workplace, many visitor management systems also facilitate contactless sign in, employee sign in and out and smart workspace management. These features offer a progressive way to approach people management in the workplace, particularly with the adoption of a hybrid workplace model where you'll need to know who is working on site, who is working remotely and have easy access to all records for quick contact tracing.
---
What is visitor management?
---
While visitor management has predominantly been handled via manual processes in the past - including a paper visitor book and the need for the reception staff informing the employee a guest has arrived in person - it's now easy to manage all of these parts of the process in one place. And it's called a visitor management system.
Also referred to as a visitor management solution or visitor management software, all you're required to do is download an app and install it into an iPad or Android tablet to keep at your front desk. Smart, simple and professional.
In this blog post we provide an introduction to visitor management and the results you can expect to see by transforming your sign-in processes from a paper-based system to a digital solution.
1. Why should I use a visitor management system?
There are a multitude of benefits you can expect by implementing a smart visitor management system in place of a paper guest book. Not only does it present a modern and professional look for your business, but you can notify staff quickly via email or SMS text message when a visitor has arrived for them, manage health and safety procedures for your staff and visitors alike, ensure all data remains private and enjoy customization settings to showcase your branding right from the first encounter guests have with your business. And the best part? All these beneficial features are hosted in one app on a smart looking iPad or tablet (usually purchased separately, or in a bundle package, with your visitor management software).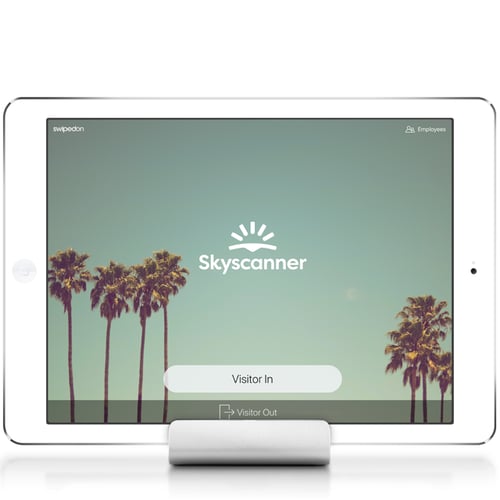 2. How can a visitor management system help me create the best first impression in the world?
The visitor experience is important; it's crucial to make a good first impression to clients, potential customers and visitors. Your reception area is the first port of entry, so it makes sense to ensure you use all the tools at your disposal to create a warm and welcoming space in your reception area. Digital sign-in using a visitor management system can help with this. While you communicate your branding and design, you can also show your visitors that you truly care about their safety and security using a data privacy compliant system. Leave guests feeling impressed right from the beginning as they journey into your world.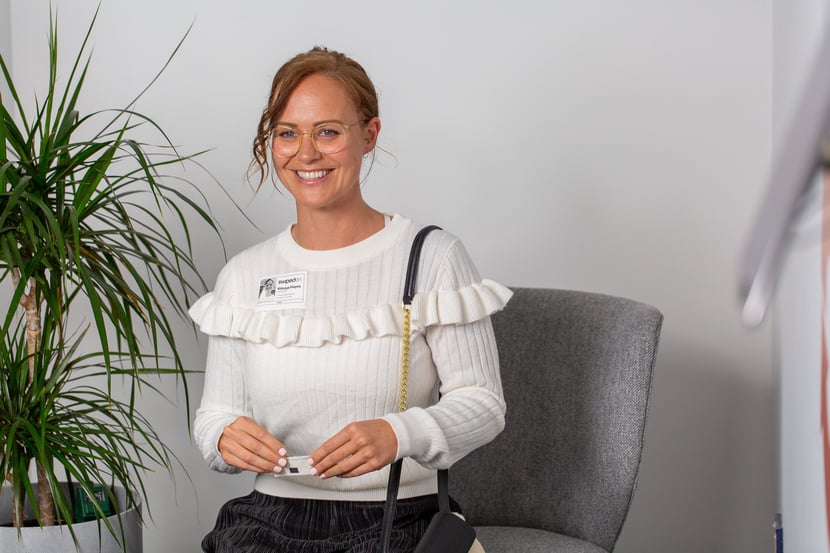 3. How does a visitor management system contribute to visitor safety and security?
Let's expand on the subject of safety & security. According to the Occupational Safety and Health Administration (OSHA) "of the 5,147 fatal workplace injuries that occurred in the United States in 2017, 458 were cases of intentional injury by another person." The lobby or reception serves as the first line of defence for site security and all of the features of a visitor management software can help to identify when undesirable situations might occur including instant notifications, the ability to monitor multiple entry and exit points, digital agreement compliance, evacuation management and ID badge printing.
Then there's the subject of data privacy, CT-PAT and GDPR. Whichever country your business operates in, it's highly likely that you need to abide by some serious data privacy laws. A visitor management system will help you comply with these data privacy laws, meaning that your business is at no risk of accusation or lawsuits regarding misuse of visitor data. It is important to understand what compliance requirements your business has to determine if a VMS can support them.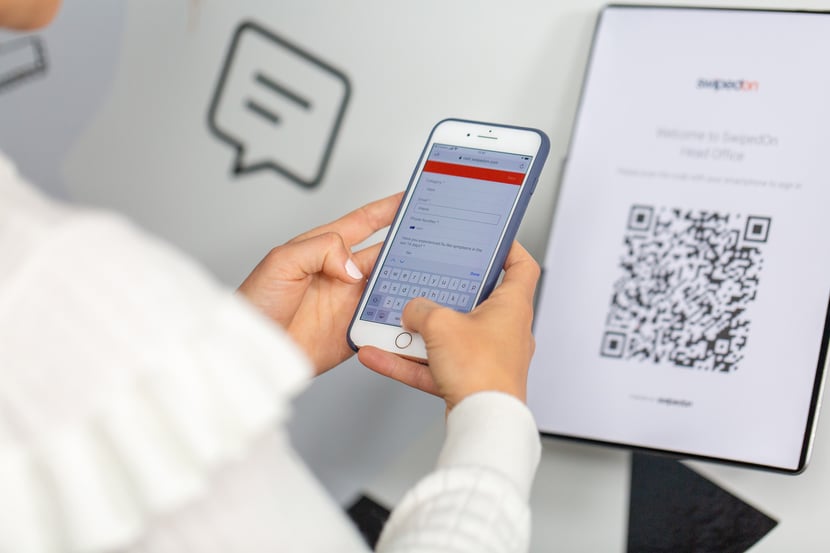 4. How can a visitor management system help manage employee movements?
95% of organisations agree that a digital workplace is important and, the good news is, the transformation starts here with a staff in-out board. A visitor management system will not only help propel your business into a smarter, streamlined future by reinventing your business' welcome but it has invaluable benefits around employee management too. Encourage employees to clock in and out, enjoy full transparency and visibility and empower a more positive employee experience using the employee in out board. Or even better, by issuing staff with an employee sign in app.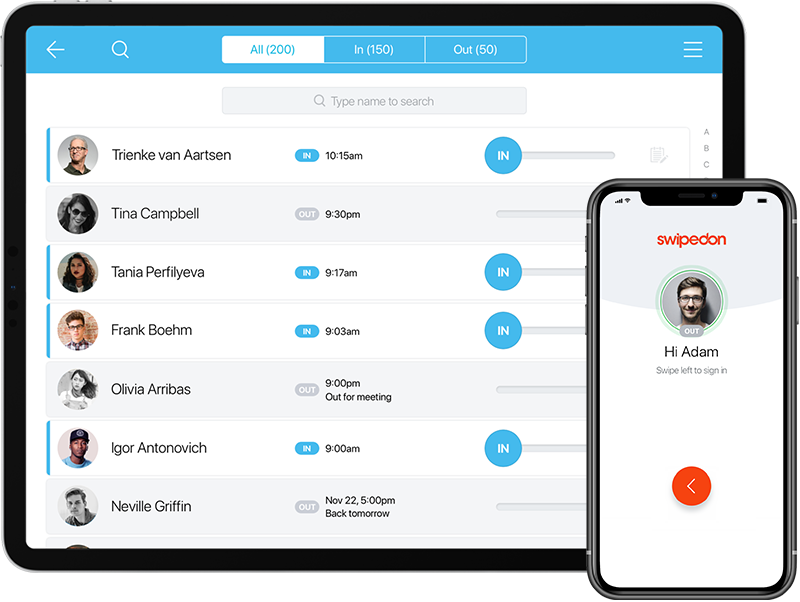 5. What should I consider when choosing a visitor management system?
Choosing the right visitor management system for your business or facility can be daunting. But here are the essentials:
Choose features that help streamline the guest management process.
Choose features that guarantee better security, safety & privacy for your organization.
Ensure the visitor management software has features that comply with government regulations & requirements.
Look for features that gather data and generate useful reports.
Be sure to choose a VMS with features that are easily scalable to support growing business needs.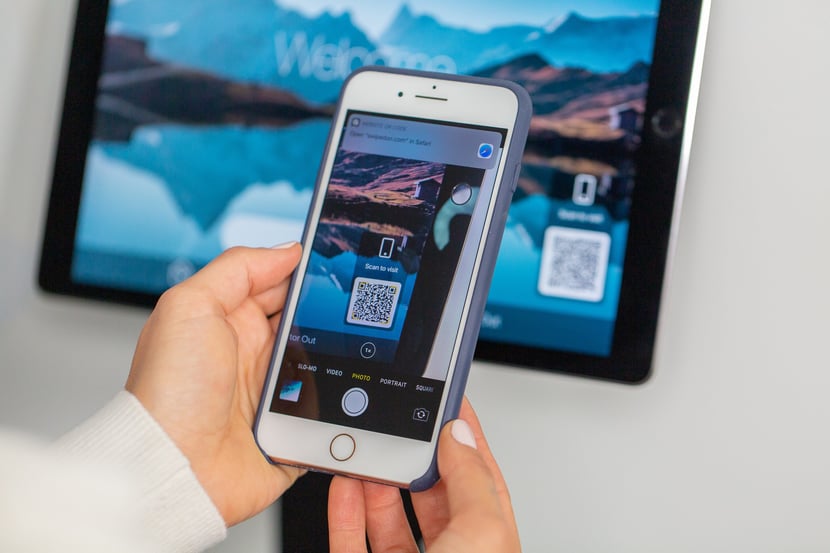 6. Download your FREE SwipedOn guide to visitor management
We hope you found this blog post helpful. If you'd like to learn more on the subject of visitor management, download our free, handy guide: Tap In, Tap Out: SwipedOn's In Depth Guide To Visitor Management