5 Ways to Streamline Your Transition to a Hybrid Workplace
Before the COVID-19 pandemic, most people probably would have associated the notion of "remote work'' with independent contractors and freelancers.
However, many of us "regular" employees had a taste of working from home and the benefits it provides over the past 18 months, and as a result, we have seen a global shift to permanent hybrid and flexible work models.
In a recent study, McKinsey & Co. found that 52% of surveyed employees wanted a more flexible working agreement after the pandemic. A hybrid workplace model can help employees stay productive by enabling them to work when and where they're at their best.
Implementing a hybrid model does require careful planning to be successful, here are five ways to streamline the transition to a hybrid workplace for your business.
3. Consider Contactless Check In
4. Invest in the Right Technology
1. Introduce Safe Practices for Everyone
Despite the continued rollout of vaccines in many countries, the pandemic is not yet over. Now that many workplaces have begun allowing employees back into the office, it's not uncommon for workers to have safety concerns.
According to the National Institute for Health Care Management (NIHCM) Foundation, 50% of employees in the US are worried about how returning to the workplace will affect their health.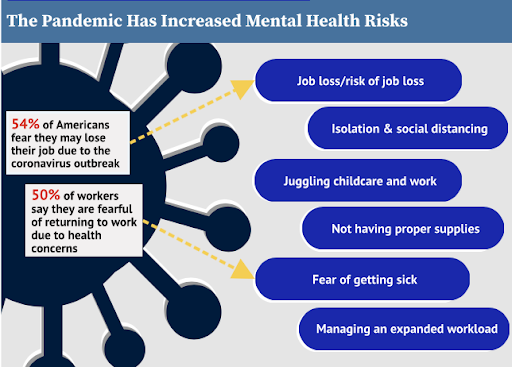 Image Source
The solution for many companies has been to give employees a choice.
To successfully implement a hybrid workplace model, your business must have the necessary safety measures in place. This can include encouraging proper hygiene, social distancing, and contact tracing.
When creating a safer workplace, it's also important to consider remote staff. Consider discouraging travel if they live in a high-risk area, and use technology to screen hybrid workers for potential illnesses. Workplace sign-in software can help track information that may be needed for contact tracing purposes. You can also use your sign in system to request documentation from visitors to your premises, an example of this is requesting vaccination certificates. This adds another layer of protection for your business and employees.
By introducing safe practices, you can streamline the transition to a hybrid workplace as everyone knows what's expected of them whenever they arrive in the office.
2. Plan Your Office Layout
When implementing a hybrid workplace, reconsider your office layout and allow room for social distancing. Thoughtful adjustments can help address many safety-related worries about returning to the office.
This study by Adecco showed that 77% of participants with anxiety around returning to the office said a redesigned space that considers safety and efficiency were important.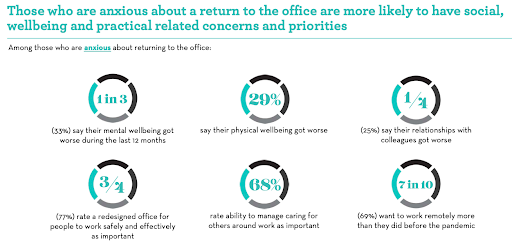 Image Source
Redesigning your office layout may mean reducing the overall space and implementing desk-sharing arrangements.
In this case, it is important to be able to track who is and isn't in the office. Desk booking software can help to give you an overview of availability and manage employees more efficiently.
When redesigning an office for hybrid work, a degree of flexibility is essential. For example, you can add a space for open desks and a quiet area for those who prefer not to socialize as much. By redesigning your office, you'll ensure that everyone's needs are met while managing the day-to-day fluctuations of your office capacity.
3. Consider Contactless Check In for Visitors and Employees
For hybrid models, manual check processes waste time and can result in potential security threats. if you let team members sign in using key cards, these can also easily lose these.
One solution is to use a contactless check-in system. With the SwipedOn sign in system, employees and visitors can sign in completely touch-free via QR codes.
For employees, the SwipedOn Pocket app lets you specify where you are signing in from for that day, the office, home or a new office location. This saves the employee time and gives admin staff oversight of where everyone is from a central portal.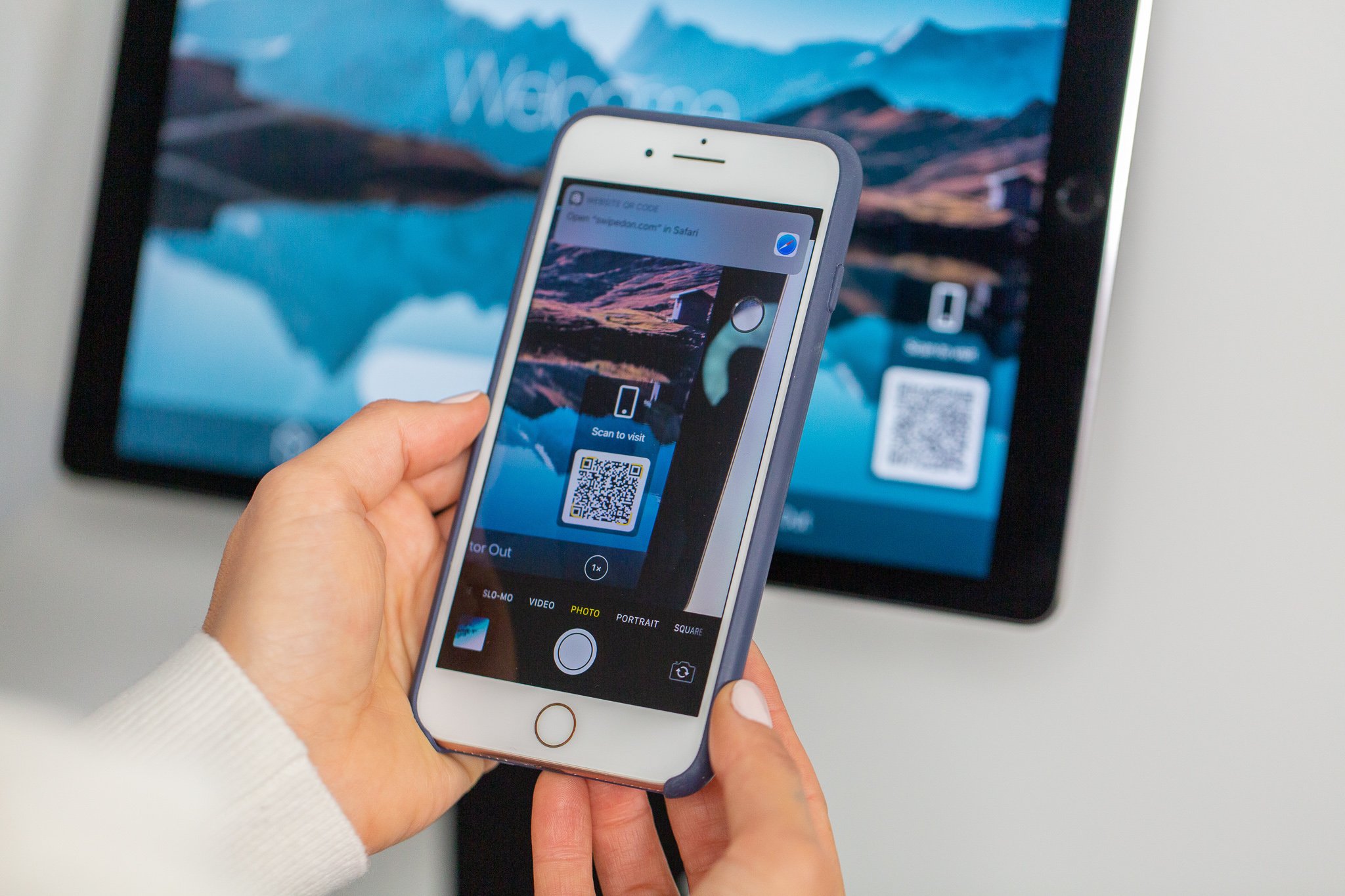 4. Invest in the Right Technology
Once you've developed your hybrid workplace strategy, consider the tools you can use to help achieve your goals. Automating as much as possible will help to improve workflows and avoid common problems.
Hybrid working requires transparency and effective access management. Doing so will enable you to keep closer control of who is and isn't on your premises. You can do this using workplace sign-in software with these features:
Investing in technology also means ensuring that your team has the tools they need to succeed in a hybrid workplace. Define which channels you'll use for communication, subscribe to project management software, and pick tools that will ensure compliance across multiple jurisdictions. This way, you'll run more efficiently and improve productivity.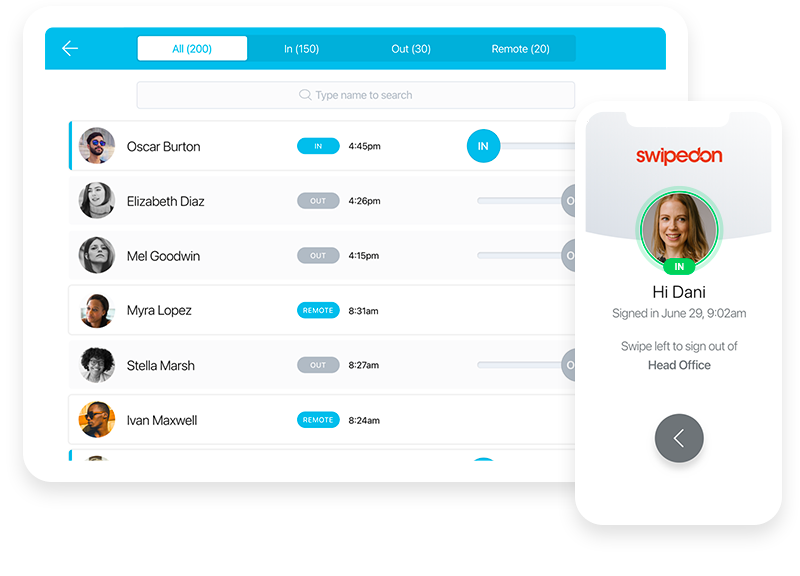 5. Maintain Proper Scheduling
Before the pandemic, your front desk staff probably kept everything ticking by maintaining tight schedules. With a hybrid work model, it can be easy to let standards slip. Flexible working can lead to a lack of structure, which might explain why many remote employees find themselves working longer hours than was previously the case.
Successful hybrid workplaces still require proper scheduling. A workplace sign-in solution or desk booking software helps ensure that the company streamlines workplace management by providing a full overview of everyone who's expected to be on that day, and easily allocating them places to work.
The Impact of Implementing a Hybrid Workplace
Transitioning to a hybrid workplace is not as simple as letting people work from wherever they want. In reality, it takes strategy and prep work to succeed. Before you begin making the move, consider the impact of a hybrid workplace on your business.
Yes, your team members can enjoy higher levels of productivity—but only if you know how to streamline your processes. By investing in the right technology and introducing safe practices, you can make transitioning to a hybrid working agreement much easier.