How Visitor Management Systems Aid Emergency Evacuations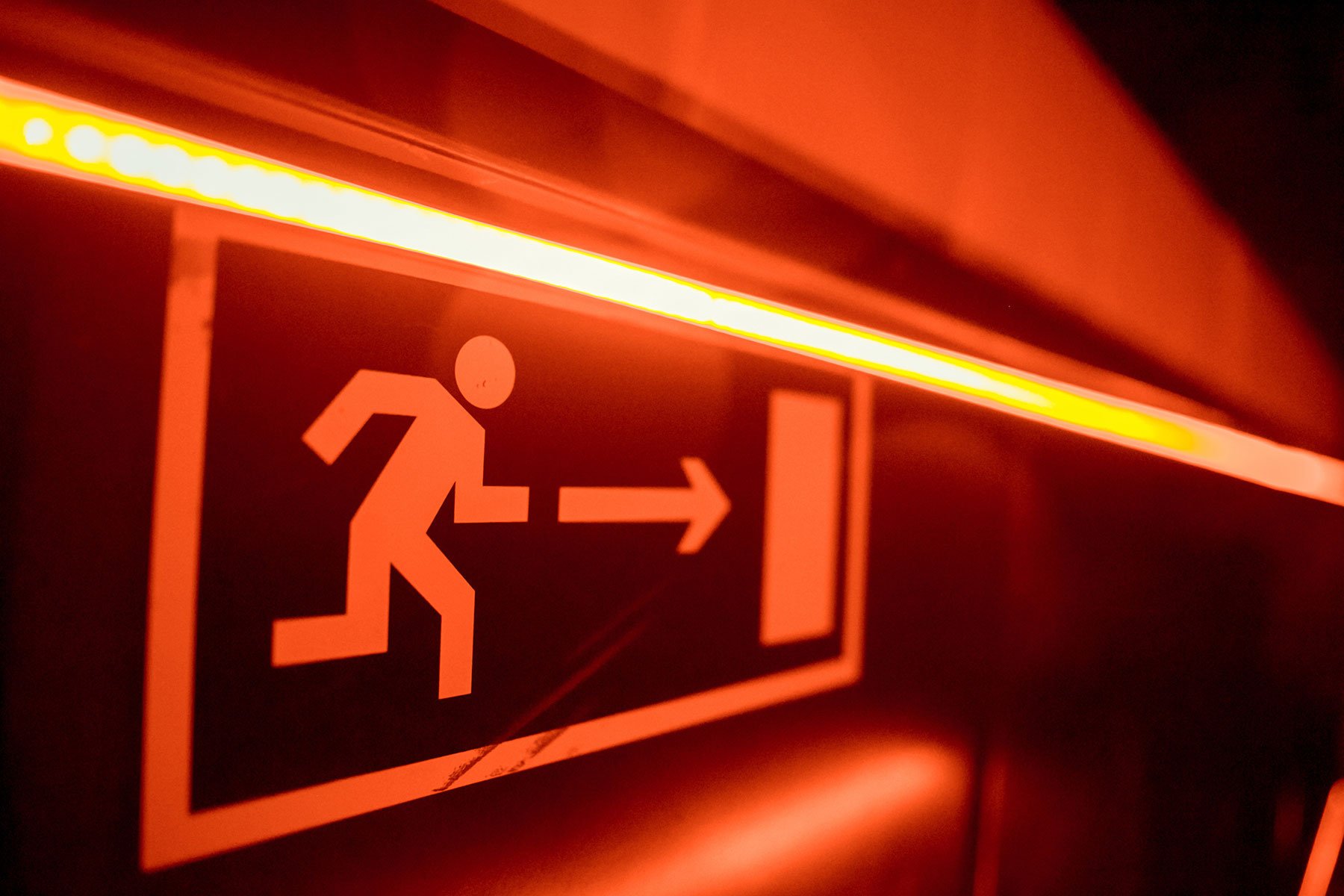 A visitor management system (VMS) is not only useful for signing in guests. It can also be a powerful tool in case of an emergency evacuation.
Acting quickly is critical during an emergency, and using the right technology will allow you to respond effectively and ensure the safety of people on your premises. A VMS helps to identify where everyone is - especially essential in this new world of hybrid working models - and if necessary, you can use that information to help emergency crews.
In this article, you'll discover how a VMS can help in the case of an emergency on your premises.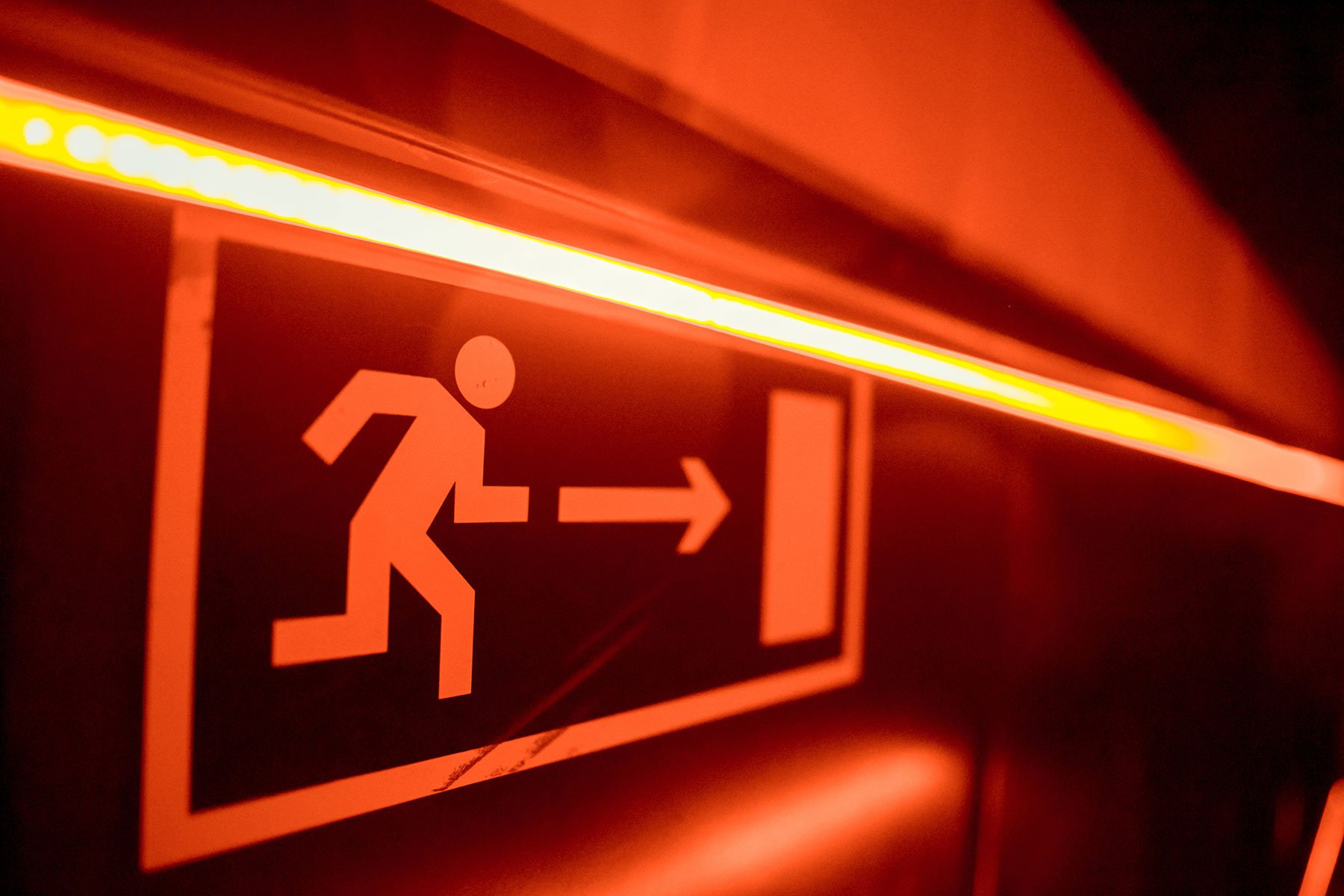 Perform Roll Calls Easily with an Employee In Out Board
For many businesses, hybrid working agreements will be common in the future. Although great for productivity, having a mix of people in the office and working elsewhere can cause complications in an emergency.
If you're still using a paper book to sign employees and visitors in and out, chances are, not everyone's name will be on the list. This cumbersome and ineffective system also eats away at the valuable time reception staff could use to manage other tasks.
Using an employee in out board is the easiest way to solve this problem. This technology allows you to:
See who is - or is not - present in a single interface
Mark employees and visitors as safe with minimal effort
Sync your employee in out board across multiple devices
Thanks to the above, performing accurate roll calls is streamlined without wasting time.
Prompt Evacuation Mode with a Shake or Triple Tap
Since time is of the essence in emergencies, carrying out your procedures as fast as possible is essential. This means your technology must be responsive.
Using traditional visitor services cause the following problems and more:
When utilizing a physical visitor book, there is no backup copy. Should that be lost, it will be difficult to promptly, accurately, and safely account for all individuals on the premises and evacuate during an emergency.
The system is static and does not offer flexibility in the case of an emerging situation.
Paper sign-in books are time consuming and cumbersome.
When picking a VMS, it's a good idea to go for agile technology that works in all situations. For example, the SwipedOn VMS allows you to trigger evacuation mode by shaking or triple tapping your device.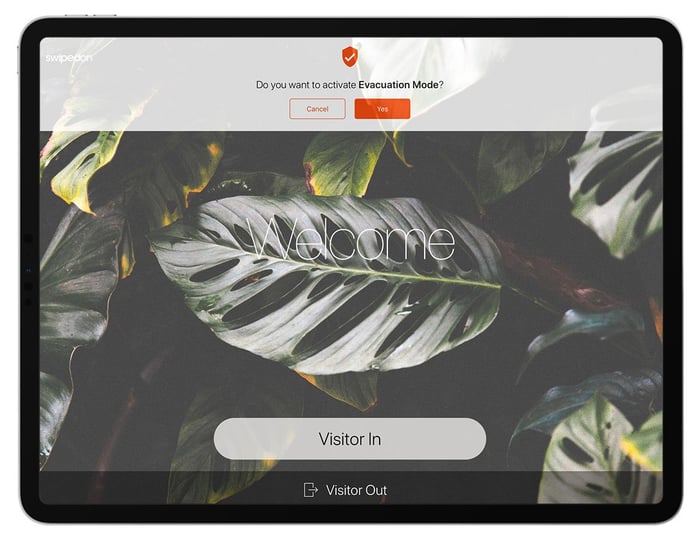 Evacuation mode gives you a detailed view of who is in the building to efficiently and quickly carry out your duties. In a severe catastrophe, this means more lives are saved.
Access Important Data in the Cloud
Storing data online instead of in a paper book is a good start. However, if your system is outdated, serious problems could arise.
In 2020, IBM's annual Cost of a Data Breach report found that the average cost of data breaches worldwide amounted to $3.86 million. In the US, that figure was even higher: $8.64 million.
Beyond revenue, there are other safety issues. Using older IT systems makes it difficult to access data when you're offline. During an evacuation, the last thing you want to worry about is looking for an internet connection.
A VMS allows you to access data stored in your cloud, even when you're offline. Gather information including:
Who has (or has not) signed into your premises
What each employee and visitor looks like
If someone has gone off-site for a meeting or lunch, where they are, and when they will return
Quickly Provide Information to First Responders
Knowledge is power to emergency services in dangerous situations. A lack of information, or the gathering thereof, in determining who is safe makes it more difficult for first responders to respond.
And the more time wasted means more lives are possibly in danger.
First responders need to know:
Who has and has not been evacuated
Where people are in the building
How to get to the places where those in danger are likely to be
When using outdated visitor management methods, the amount of information you can provide is limited. In comparison, a VMS will provide a clear overview of who needs to be rescued utilizing a user-friendly dashboard.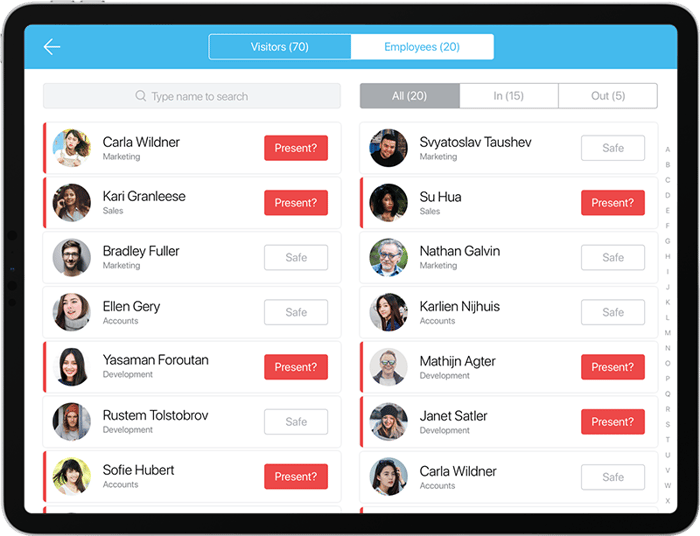 The ability to quickly provide the necessary information to emergency services makes search and rescue easier for them.
Streamline Your Evacuation via Different Routes
Having multiple emergency exits is vital for keeping order during a disaster situation. Even so, employees and visitors can panic when fear sets in, further increasing the risk of other dangerous situations (e.g., trampling, overcrowding, blocking exits).
Since a VMS shows you exactly who is on-site, you can evenly allocate people to different exits and routes. Beyond evacuating your premises faster, you will also ensure that everyone safely adheres to protocols.
Improve Your Building Evacuation Procedures with a VMS
Businesses must be prepared if the worst happens in the event of an emergency. A fast and calm response is critical to ensure everyone's safety.
A VMS makes the sign in process efficient while ensuring compliance and ensuring a safer evacuation from the premises if necessary.
It's important to note that your VMS should complement your existing safety procedures, rather than replace them outright. By integrating this technology with your broader strategy can ensure your employees and visitors stay safe in an evacuation.