How to Keep Your Employees Safe with Contactless Workplace Management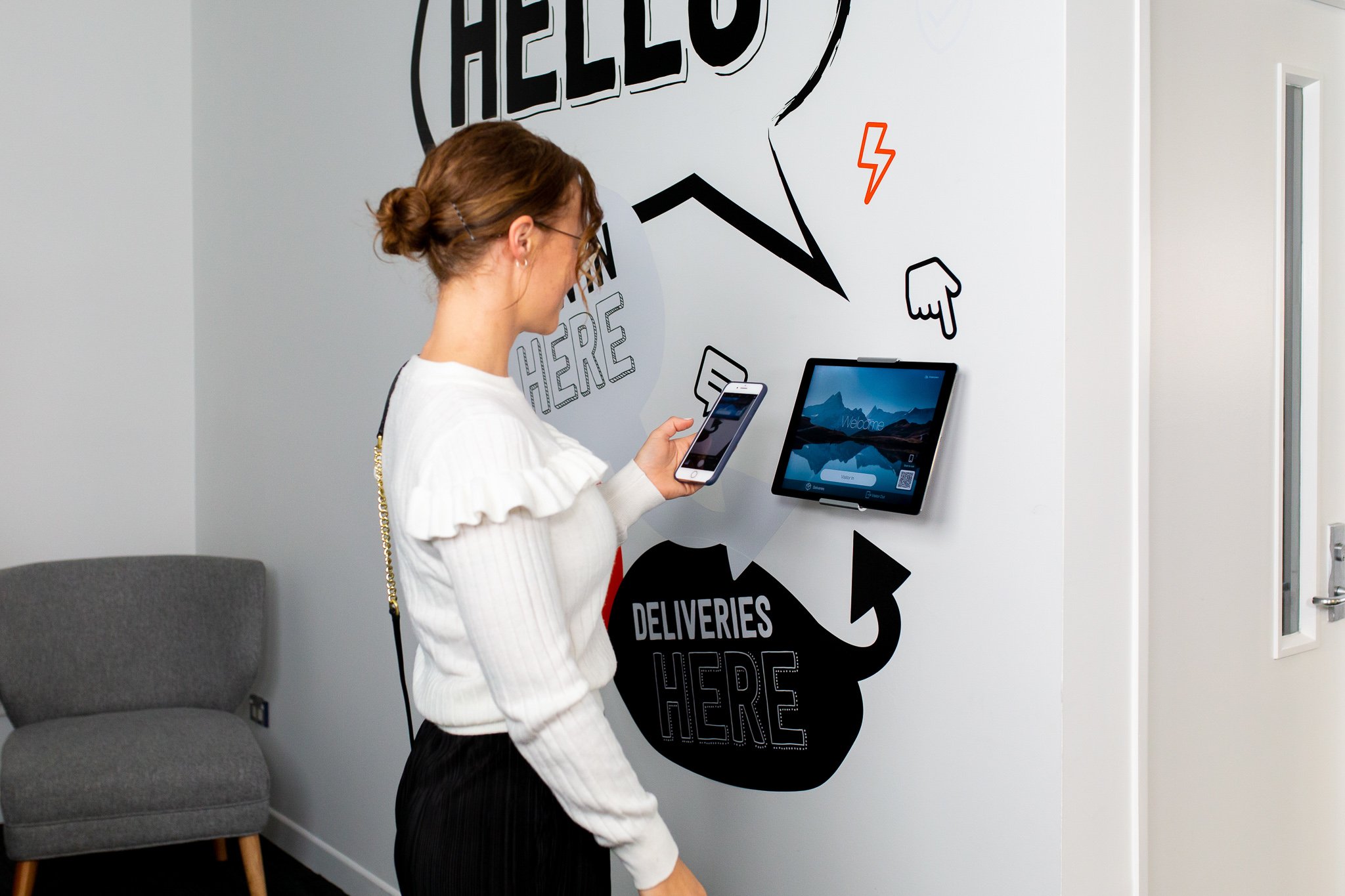 With offices around the globe slowly beginning to reopen, concerns about workplace safety and security remain at the forefront of many employees' minds. Many haven't worked from a shared space in well over a year, meaning they're entering what feels like unfamiliar territory. For employers, addressing these concerns needs to be a priority.
Read on to discover five ways businesses can do their part to keep employees safe with contactless workspace management.
As businesses adjust to the effects of the pandemic, they must think carefully about how they organize their offices in terms of both spaces and people.
Social distancing and ease of cleaning must be considered, and it's likely that not every employee will occupy these spaces every day of the week.
According to research by McKinsey & Company, 40% of respondents said they expect to spend just 21%–50% of their working hours in the office, while another 40% said they felt like they would be in the office for 51%–80% of the time.
Data Source
1. Say Hello to Hybrid
In hybrid working agreements, one of the best ways you can help to keep employees safe is by maintaining an open office layout. Fewer doors mean fewer high-touch surfaces, and it is easier to maintain social distancing requirements and ventilate an office space that is not segmented into cubicles.
If you're looking to shift to a hybrid or flexible work model, it's worth considering implementing a desk booking software system; these platforms can integrate with visitor management systems and means employers can manage office capacity simply and securely from a central location, giving both employers and staff peace of mind.
2. Implement Visitor Screening Protocols
Despite COVID-19 vaccines rolling out across much of the world, protection is not guaranteed — and not everyone will choose to be vaccinated. The pandemic has shown how fast viruses can spread if they aren't stopped. One of the best ways to help slow the spread of infection is by ensuring you have a robust contact tracing strategy in place.
Contact tracing is a simple theory, if someone is diagnosed with a virus, those who came into close contact with them are notified. These individuals then take a test and isolate if they also test positive. The graph below shows the process from start to finish.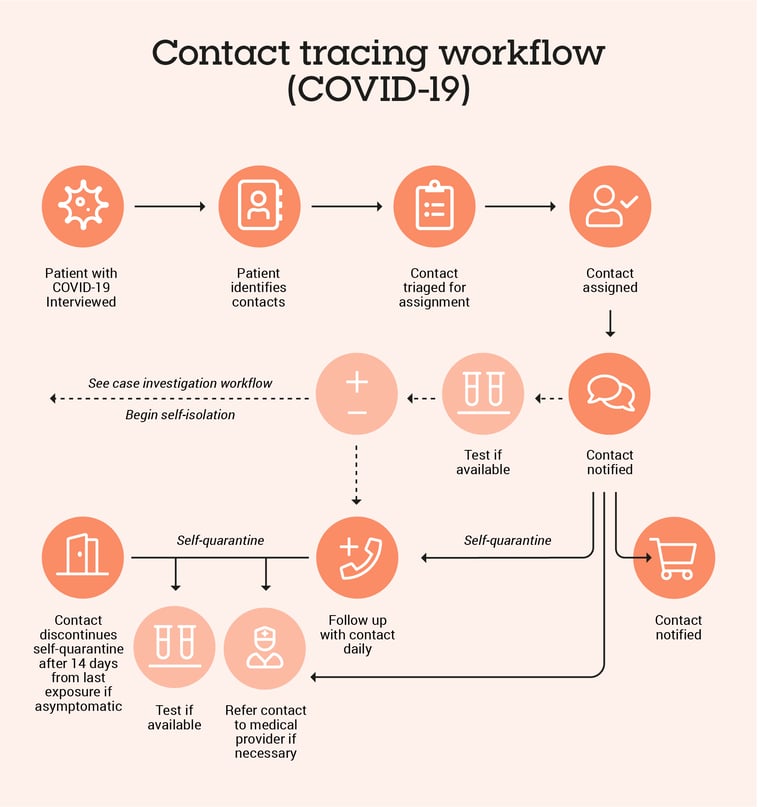 Your front desk staff must ask visitors if they have traveled or been present at any known exposure sites and whether they are experiencing any symptoms. A visitor management system (VMS) offers a contactless method of collecting and recording the necessary information. Screening visitors helps keep employees safe because it provides a clearer picture of who has been where and who could spread germs.
Find out more about adding screening questions to your SwipedOn sign in.
3. Streamline Security Touchpoints
Security touchpoints are an essential element to successfully implementing a contactless workspace management strategy. The first point of security should be the front desk, where visitors and employees can be signed in digitally using a contactless sign in solution.
Instead of focusing on point solutions for visitor management systems, businesses should instead consider platforms. Platforms are broader, more flexible, integrated solutions that allow businesses to develop novel strategies. They contain tools that help your organization improve processes company-wide. Platforms are critical for creating effective security touchpoints for multiple reasons:
They're easy to integrate across various offices and not just throughout the business's headquarters.

They allow companies to declutter their workflows and lower operating costs.

They enable businesses to remain compliant with data protection laws.
Identifying key touchpoints and improving them will help to keep employees safe, the more robust your security touchpoints are, the less likely it will be that they can be breached.
4. Leverage QR Codes
In contactless workspace management, QR codes offer the ability to carry out a whole host of activities without the need to touch common surfaces or come into contact with another human at all. You can make use of QR codes to help streamline your visitor sign in flow.
Once front desk staff have verified visitors, those individuals can then scan a QR code from their smartphone to complete their check in - once they've done that, they're good to go.
To find out more about contactless sign in using SwipedOn, take a look at this blog post.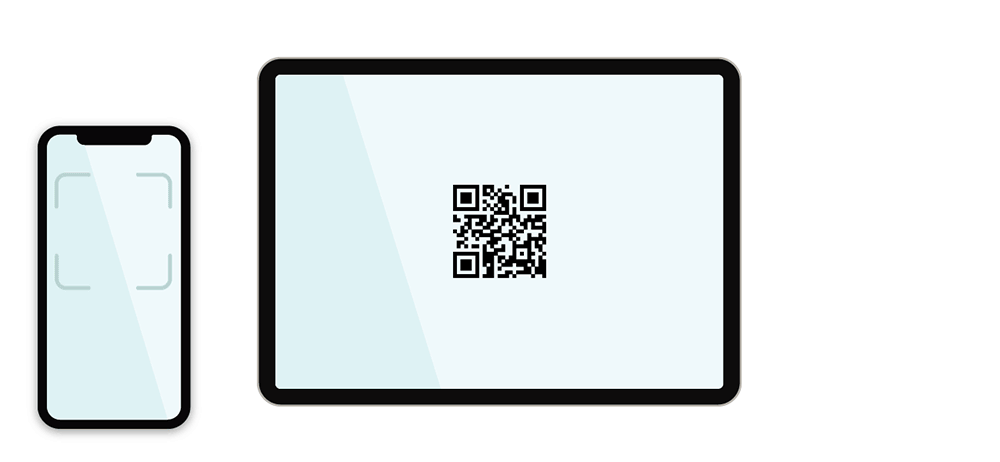 5. Invest in Security
Companies should also think about potential security risks that could arise when visitors are on their premises. Investing in your security systems by using a VMS that lets you easily develop and update digital visitor agreements can pay off in the long run.
It's also worth considering upskilling staff so they can deal with potential concerns, or purchasing software that enables businesses to securely share visitor information when they enter the premises.
Investing in security is a plus towards improving employee safety as technological adoptions can help prevent human error. It also ensures you cover all potential threat areas, whether regarding physical safety or data.
Contactless Workspace Management is the Future of Employee Security
COVID-19 is continuing to change how businesses manage their office spaces, visitor flows, and employee movements - it's clear digital systems are the only way to go.
By investing in a robust workplace management system, employers can assure their staff that they are doing everything in their power to keep them safe while at work as well as reaping the other benefits of these platforms.
Businesses that embrace the inevitable changes spurred by the pandemic and adopt the right technology to help support them can look forward to a workplace in which employees work safer and smarter while leveraging contactless strategies to minimize potential risks.