COVID-19: Preventative measures to sanitise surfaces in the workplace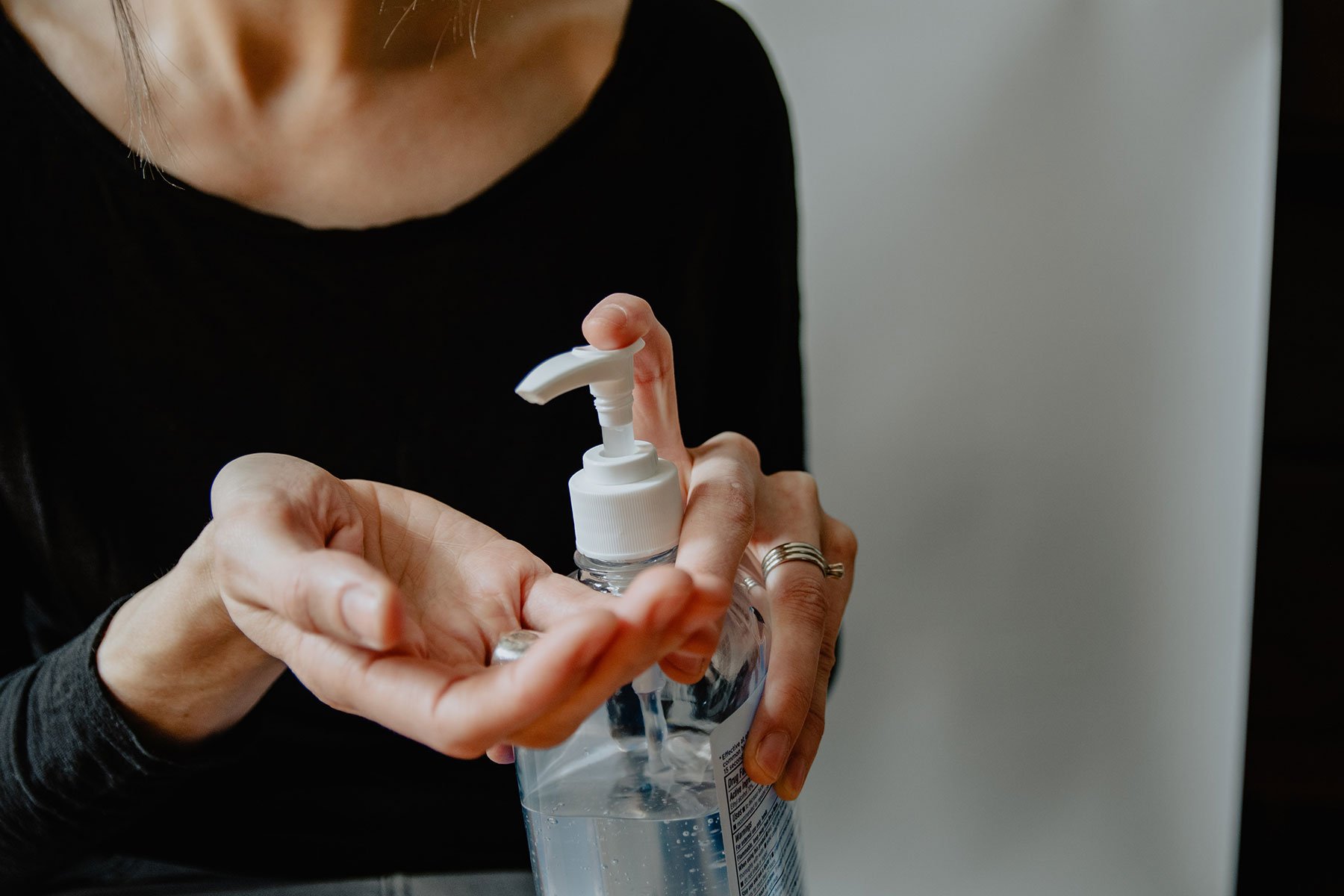 While offices might lockdown and ask employees to work from home, there are facilities and businesses that will remain open. And even after isolation and getting back to business, we need to take preventative measures to ensure COVID-19 Coronavirus does not become a risk to employees.
Using research and guidelines from the World Health organisation, we've put together this blog post to help you understand how to take preventative measures against the spread of viral infections in your workplace including disinfecting your iPad regularly. A
recent study
shows COVID-19 Coronavirus can last for up to 24 hours on cardboard, and 2-3 days on plastic and stainless steel. How long the COVID-19 Coronavirus lasts on the glass-based iPad screen is still an unknown entity.
If you do not yet have an iPad for visitors to sign in at your front desk, and you're still using a visitor log book, you might be considering updating your processes to include a digital visitor management system, which features a visitor screening option as part of the sign-in flow. You'll be able to disinfect an iPad using alcohol based screen wipes. Easily disinfecting a paper logbook and pen could prove more challenging.
With that in mind, it's more important than ever to be aware of the surfaces we use, particularly the iPad where visitors sign in. In this article you'll learn how to take preventative measures to disinfect your iPad and smart devices to help manage the potential spread of COVID-19 in the workplace.
1. Keep a hand sanitiser next to the iPad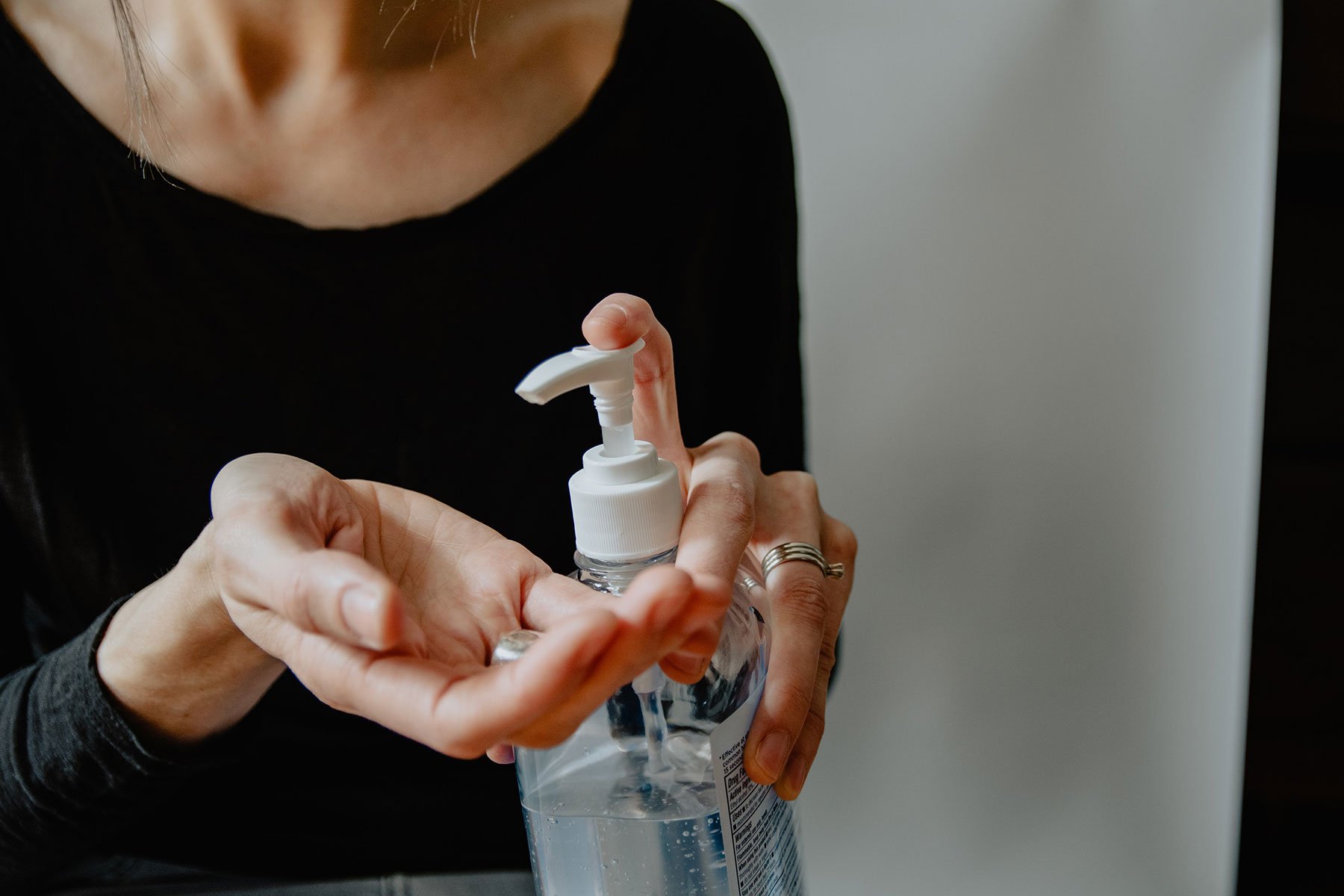 Ask visitors to sanitise their hands as a preventative measure before using the iPad to sign in. If they wish to, ensure they also know they can use the sanitiser afterwards. Keep a hand sanitiser next to the iPad via a push-down dispenser to make this as easy to use as possible for your visitors.
2. Encourage frequent hand washing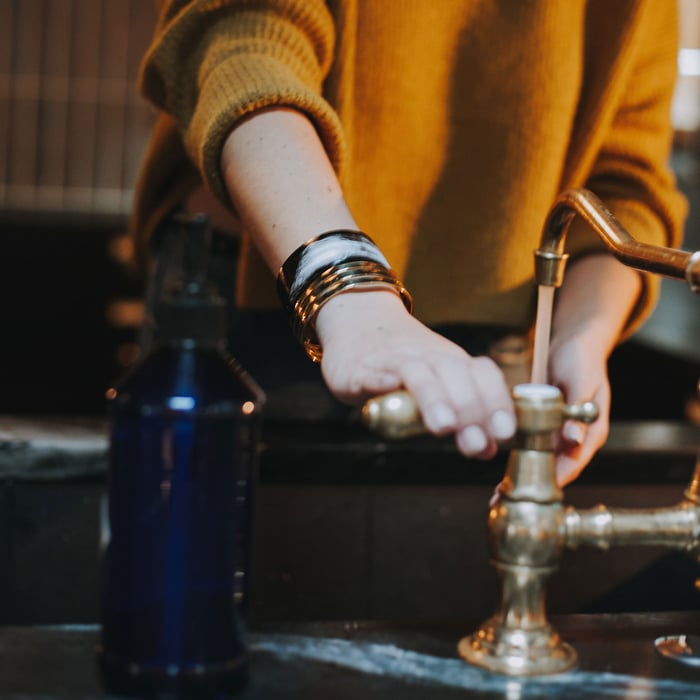 Encourage all employees and visitors to regularly wash their hands for at least 20 seconds. While COVID-19 Coronavirus is highly contagious, the World Health Organisation advises to use an alcohol-based hand rub or wash your hands with soap and water for at least 20 seconds. This kills viruses that may be on your hands and helps prevent the spread of the viral infection.
3. Wipe down the surface of the iPad between all uses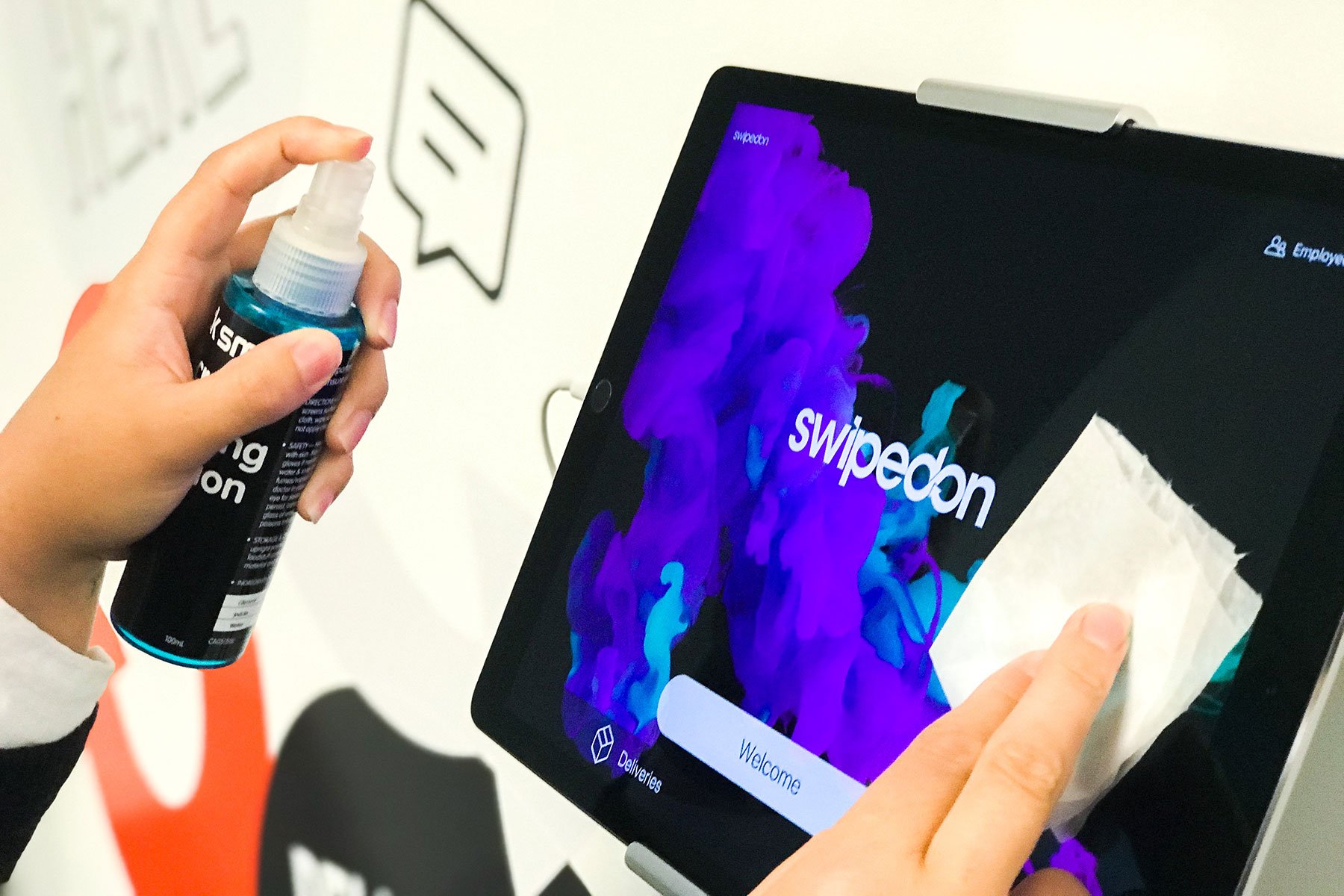 How long the COVID-19 Coronavirus lasts on the glass-based iPad screen is still an unknown entity. To be safe, it's recommended to wipe down the iPad screen between all uses with an alcohol-based sanitiser. As per Apple guidelines:
Using a 70 percent isopropyl alcohol wipe or Clorox Disinfecting Wipes, you may gently wipe the hard, nonporous surfaces of your Apple product, such as the display, keyboard, or other exterior surfaces. Don't use bleach. Avoid getting moisture in any opening, and don't submerge your Apple product in any cleaning agents. Don't use on fabric or leather surfaces.
4. Wipe down other surfaces regularly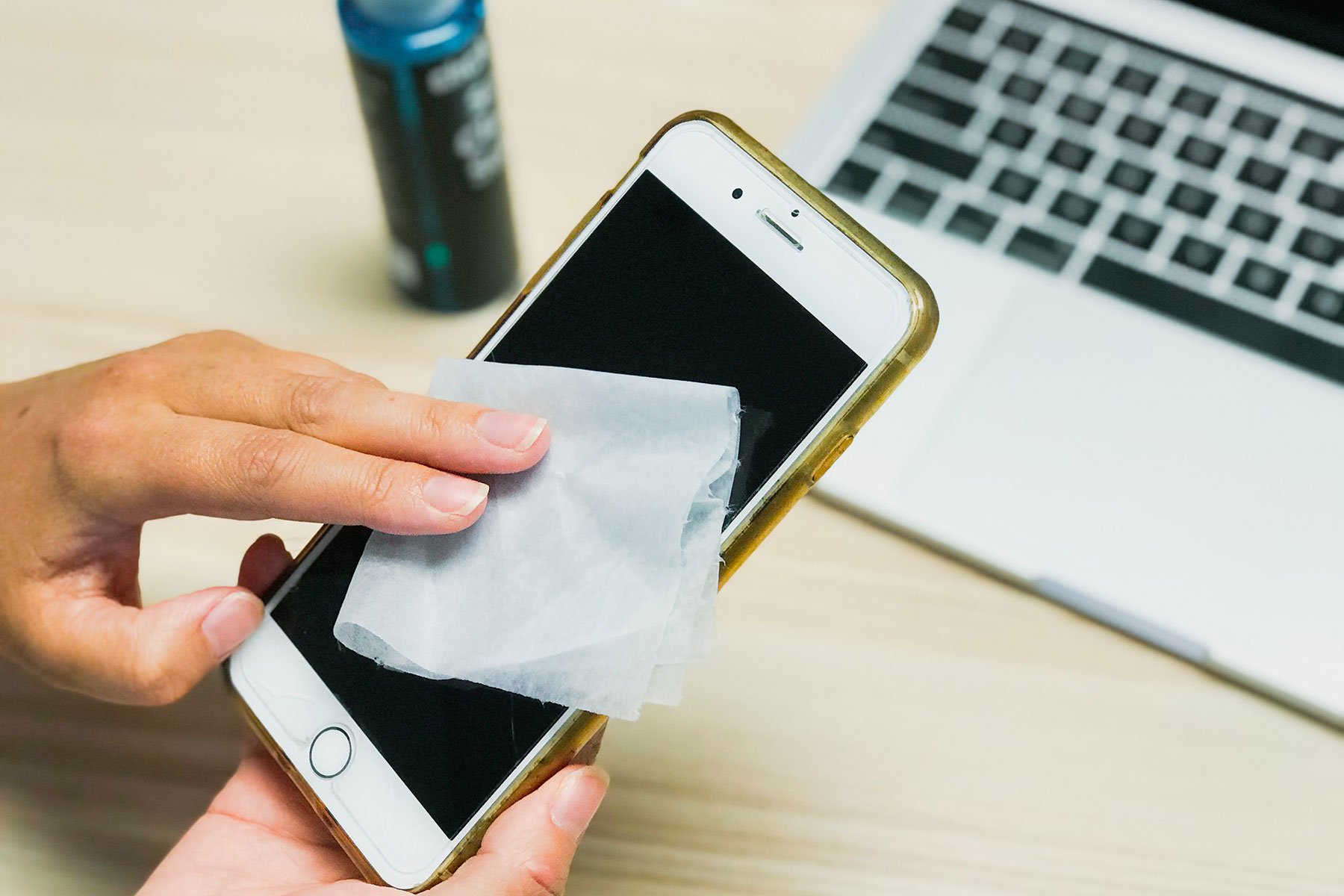 Encourage people to wipe down the surface of cellphones and other devices regularly. Your smartphone is a breeding ground for bacteria.
"Studies have shown that smartphones surfaces are covered in bacteria, including bacteria that can cause serious infections like Staphylococcus species," says Judy Guzman-Cottrill, an infectious disease expert at Oregon Health & Science University.
While you might be adhering to best practice of washing your hands regularly, all that work unravels when you then pick up your smartphone. You're also encourage to wipe down door handles and elevator buttons and your front desk and around the office.
5. Prominently display COVID-19 Coronavirus prevention best practice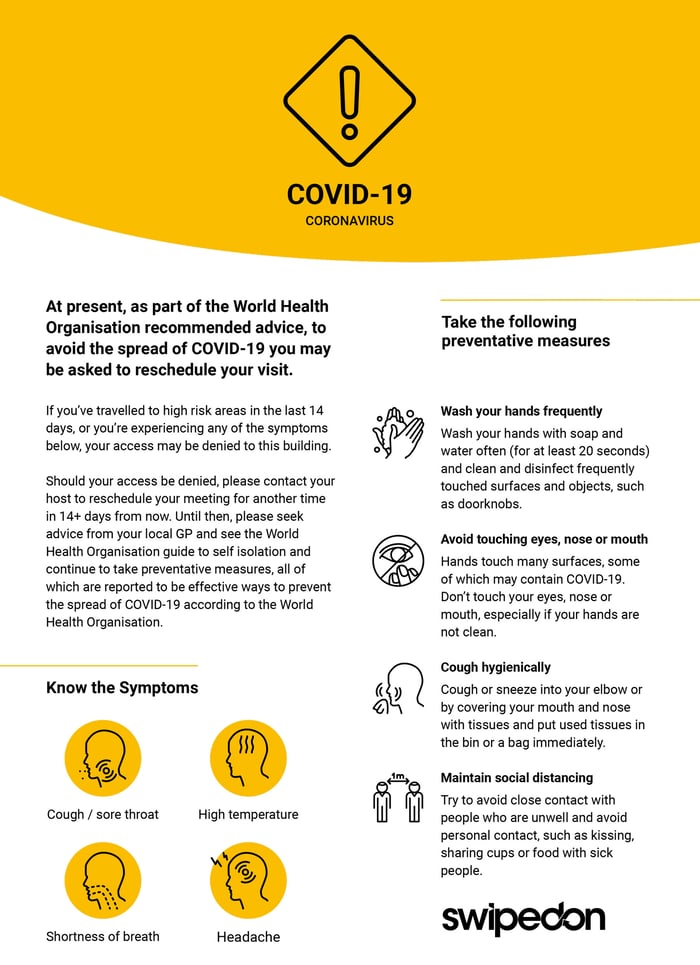 Prominently display information regarding COVID-19 Coronavirus prevention for visitors at your reception desk. You can download the SwipedOn PDF which kindly advises visitors they might be denied entry to the building should they be considered a risk to the business. DOWNLOAD HERE
You might also want to display this information internally for employees. The World Health Organisation offer a wealth of printable resources that you can use internally within your workplace, which you can find here.
6. Use a contactless sign in solution
For additional safety and security, use a contactless sign in solution which allows for visitor and employee sign in. This way your data is stored securely in one central place. SwipedOn offers a dedicated employee sign in app, contactless visitor sign in, health screening checks and contact tracing at the touch of a button.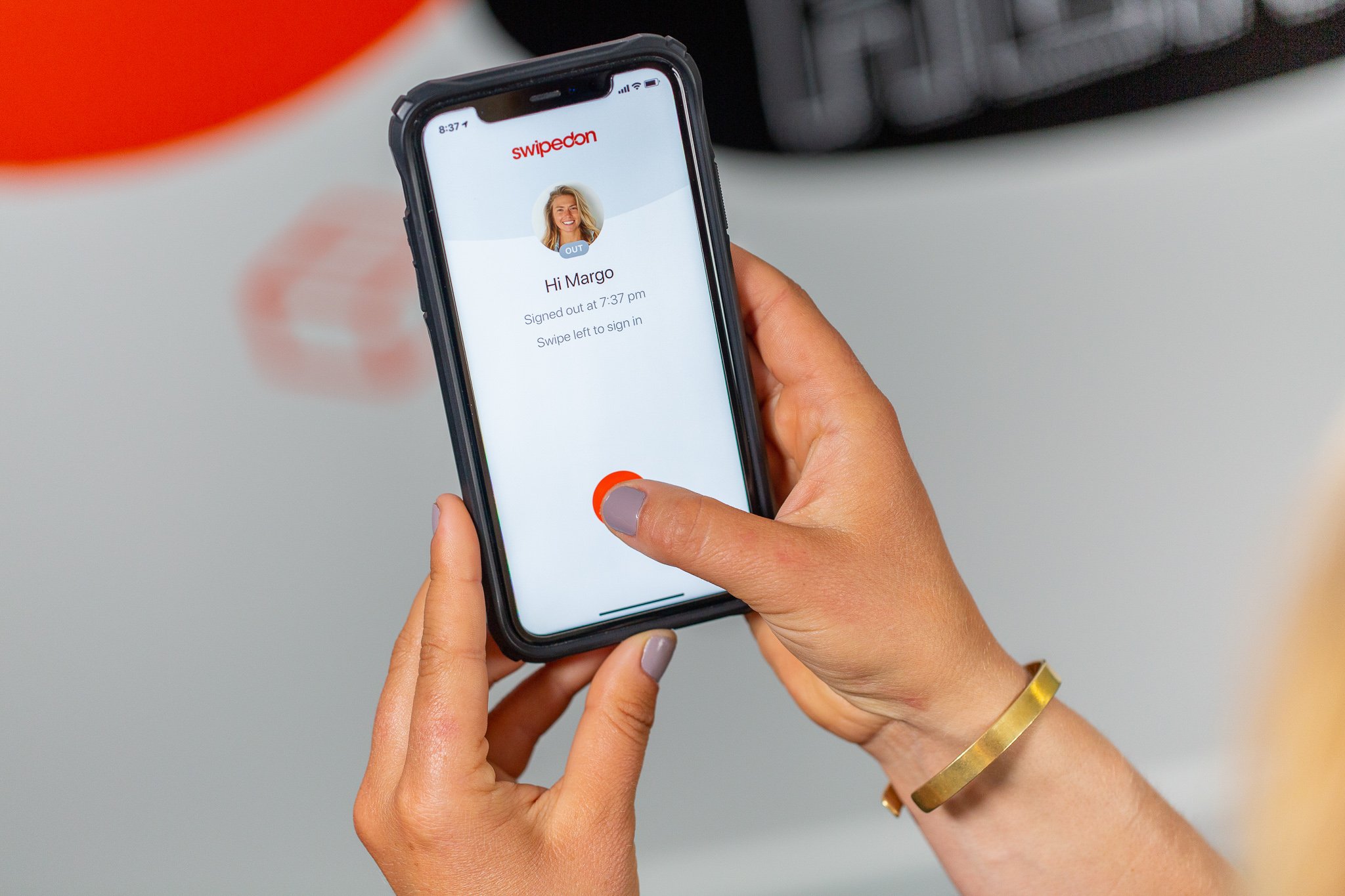 7. Be kind, be supportive
While it's a challenging time for business, it's important to be kind while navigating this new normal. Ensure you communicate to your visitors that their health and safety - along with that of your staff - is your highest priority. Practicing social distancing and denying entry to anyone who might pose a risk to the business is best for everyone. Reassure visitors and employees alike not to take offence at these measures.
Information is sourced directly from WHO and medRxiv report published on 13 March 2020.