5 Skills Every Receptionist Needs in 2022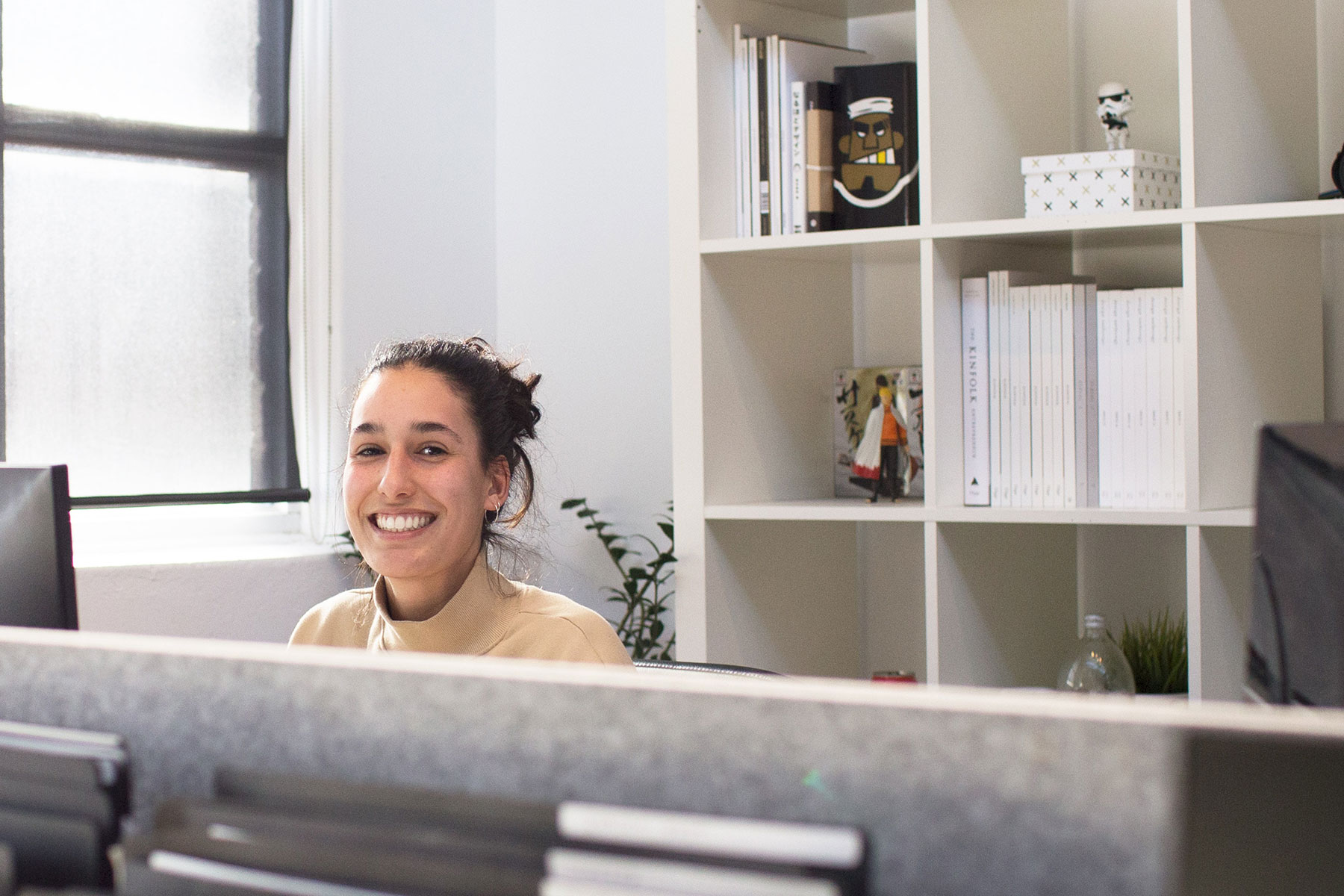 Receptionists are key front-of-office staff instrumental to many industries and organizations. They're one of the first staff visitors engage with and have a large part of the responsibility for upholding the company's reputation. While the hybrid workplace is flexible to working from home or working from the office, receptionists will still be crucial for providing good first impressions.
Often, these multi-tasking superheroes are tasked with many other major responsibilities around administration and security as well, like responding to incoming mail and ensuring no unauthorized visitors enter the building. In this article, we'll go through 5 of the top skills every receptionist needs and why they're important.
---
5 Skills every receptionist needs
---
In this video, SwipedOns head of growth Paul, guides you through the five skills every receptionist needs in 2022.
---
1. Strong Technology Skills
Receptionists often perform several administrative tasks, from receiving visitors and answering phone calls, to scheduling appointments for clients and customers. These administrative tasks often require the use of different hardware and software. Many receptionists are already expected to have previous experience using phone systems, printers, copiers, and familiarity with MS Word and Excel.
Knowing industry-specific software can be a big advantage as well, however. For example, knowing how to operate a visitor management system to streamline the process of signing in visitors, or having prior experience with applications like Calendly or Google Calendar to schedule meetings for key staff members can be very useful.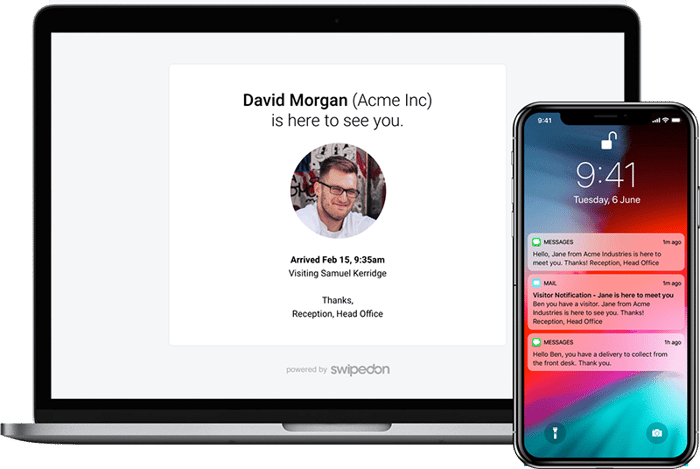 While it's hard to predict which technologies and tools will be necessary in the future, receptionists need to be adaptable and quickly able to learn how to use new software applications. If you or your team members lack strong technology skills, it's important to express a willingness to learn new things and be open to trying new tools.
2. Great Soft Skills and Emotional Intelligence
As the gatekeeper to your organization, you and other customer-facing staff must have great soft skills and emotional intelligence. Today's consumers and visitors can be tough to deal with, and one poor customer complaint can seriously damage your brand. In fact, 39% of customers will avoid a company for two years after one bad customer service experience.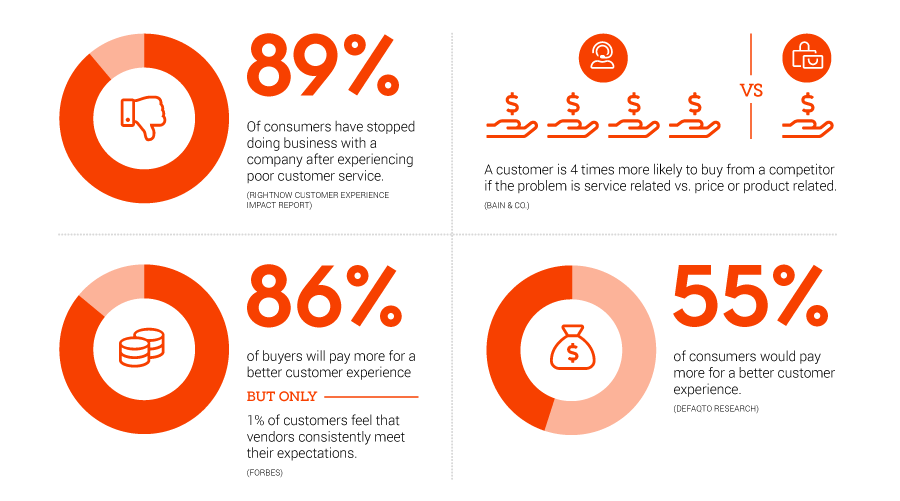 Data Source
While soft skills are often passed over for hard skills, it's important any customer-facing staff are empathetic, friendly-yet-firm, punctual, and possess key relationship-building skills. Not only will receptionists be dealing with guests, but they'll also be working with other staff members and contractors.
Heather Dallas from the BDJ team says finding receptionists with strong emotional intelligence requires a conscious effort during the interview process.
"Ask questions to give examples of evidence about their mind set and enthusiasm," she says. "You can train people in skills like time management, telephone manner and technical skills. It is essential they want to do the job and have good rapport skills such as emotional intelligence, empathy, building connections with people, putting themselves in patients' shoes, etc."
3. Fantastic Communication Skills
Receptionists are constantly interacting with guests who enter the facility, people who call in, and employees checking in and out. They're also responsible for handling basic customer service issues and responding to email inquiries online.
Juggling customer service activities and administrative tasks is no easy feat, especially when you're constantly being interrupted. That's why it's increasingly important for receptionists to have robust communication skills. To understand information quickly and accurately, receptionists should learn how to be a good listener, engage in active listening, provide clear and concise information, and be empathetic and respectful of others. You should also have excellent writing and editing skills for drafting and proofing professional emails.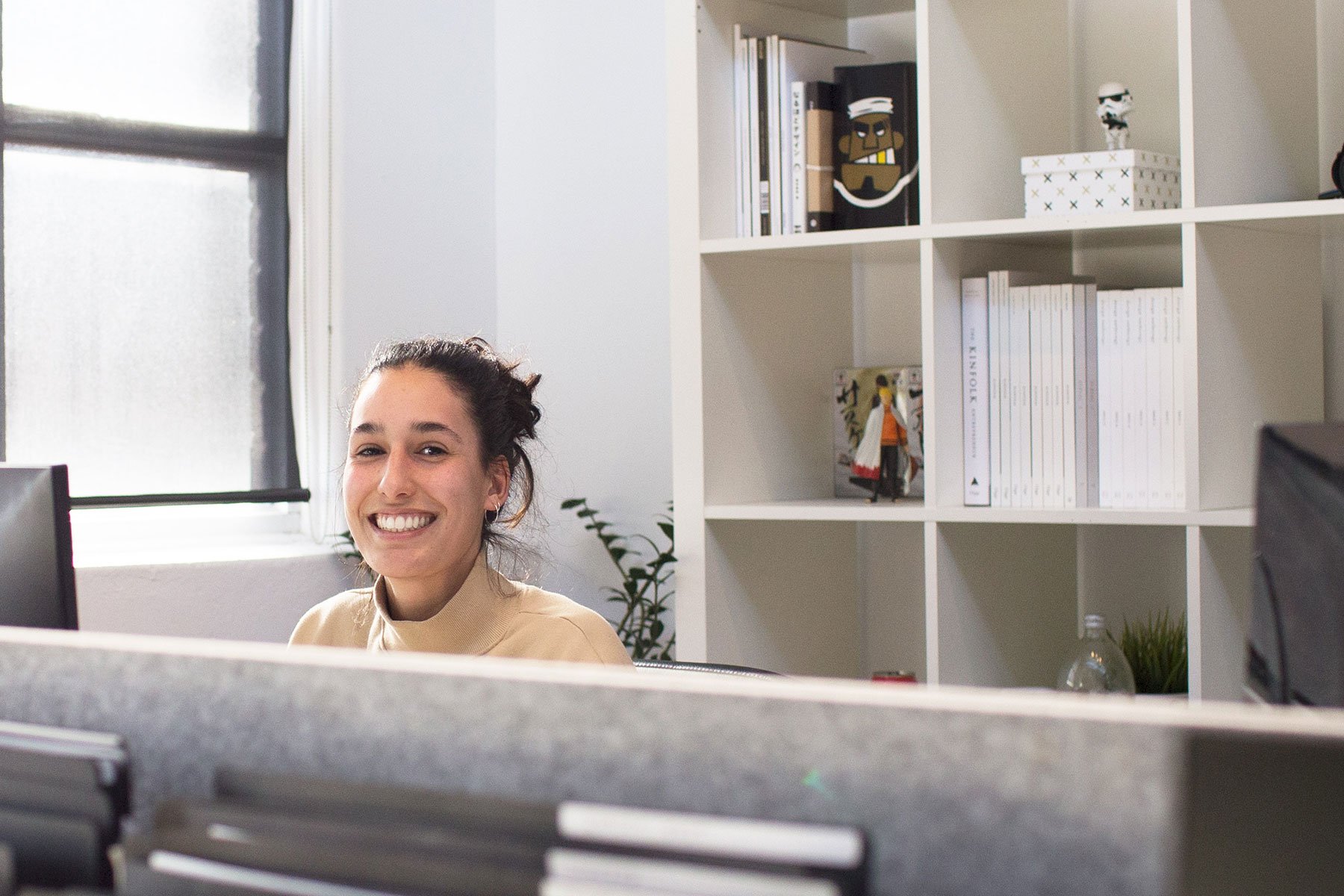 4. Excellent Time Management Skills
As mentioned above, receptionists have to complete many tasks within a day. Balancing all these responsibilities while being constantly interrupted can hurt productivity levels. If you and your team members feel as if you're not getting enough completed within the day, it's a good time to invest in time management skills.
Having good time management skills allows you to structure your work effectively to accomplish goals. A good way to start is to set short and long-term SMART goals. You can also work on managing your calendar and prioritize your time more effectively. If you're still struggling to finish all the tasks required, consider delegating (where possible) and scheduling your tasks beforehand. You should also avoid multitasking since it causes productivity to drop by 40%. We recommend leveraging software tools like a time tracker to manage your time more effectively or to use other SaaS tools that can help you keep organized.
5. Independent Approach to Work
Since receptionists are often isolated from the main office, they need to be independent workers. Having a team of receptionists can help boost morale and productivity. However, if you're the only receptionist at your company's front desk, you need to have high initiative and be ready to deliver your work, even when your manager or boss is not there.
Often, receptionists are not only responsible for administrative tasks and signing in visitors, but they also need to work on special projects or provide support for individual executives. It's these circumstances where the receptionist needs to adjust the original job description to fit the new requirements. While every business is different, receptionists that can think quickly on their feet, have great problem-solving skills, possess a positive attitude, and are always eager to learn, tend to perform well regardless of the changing business environment.
According to Jane Streat, Head of Client Services at Lexington Reception Services, "Being a receptionist is not an easy job. You have to think on your feet, be proactive and multitask. You need to know everything and everybody, and keep smiling even at the person who is shouting at you because he can't remember who he is there to see! But it is also a really rewarding job - no day is the same, you learn lots of different skills and there is opportunity to progress."
Receptionists play an extremely important role in an organization. They set the first impression for guests entering an organization, which can have a huge impact on the way clients view the business. Furthermore, they often provide key administrative support and can also lend a helping hand with special projects. While the role of the receptionist is evolving, the 5 key skills every receptionist should master include being technology-proficient, possessing emotional intelligence, having great communication, organizing time well, and adopting an independent approach to work.
If you're interested in helping yourself, your team or your receptionists upskill and be more efficient with their time, sign up for SwipedOn's 14-day free trial today.
Like what you read? Save it to Pinterest for later!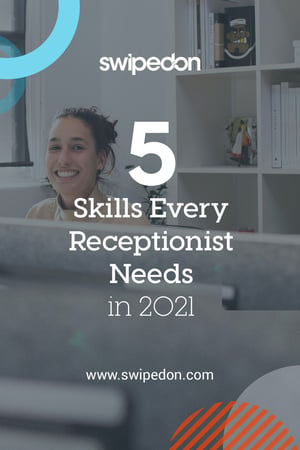 Hero photo by True Agency