4 Touchless Technologies to Increase Safety at Your Workplace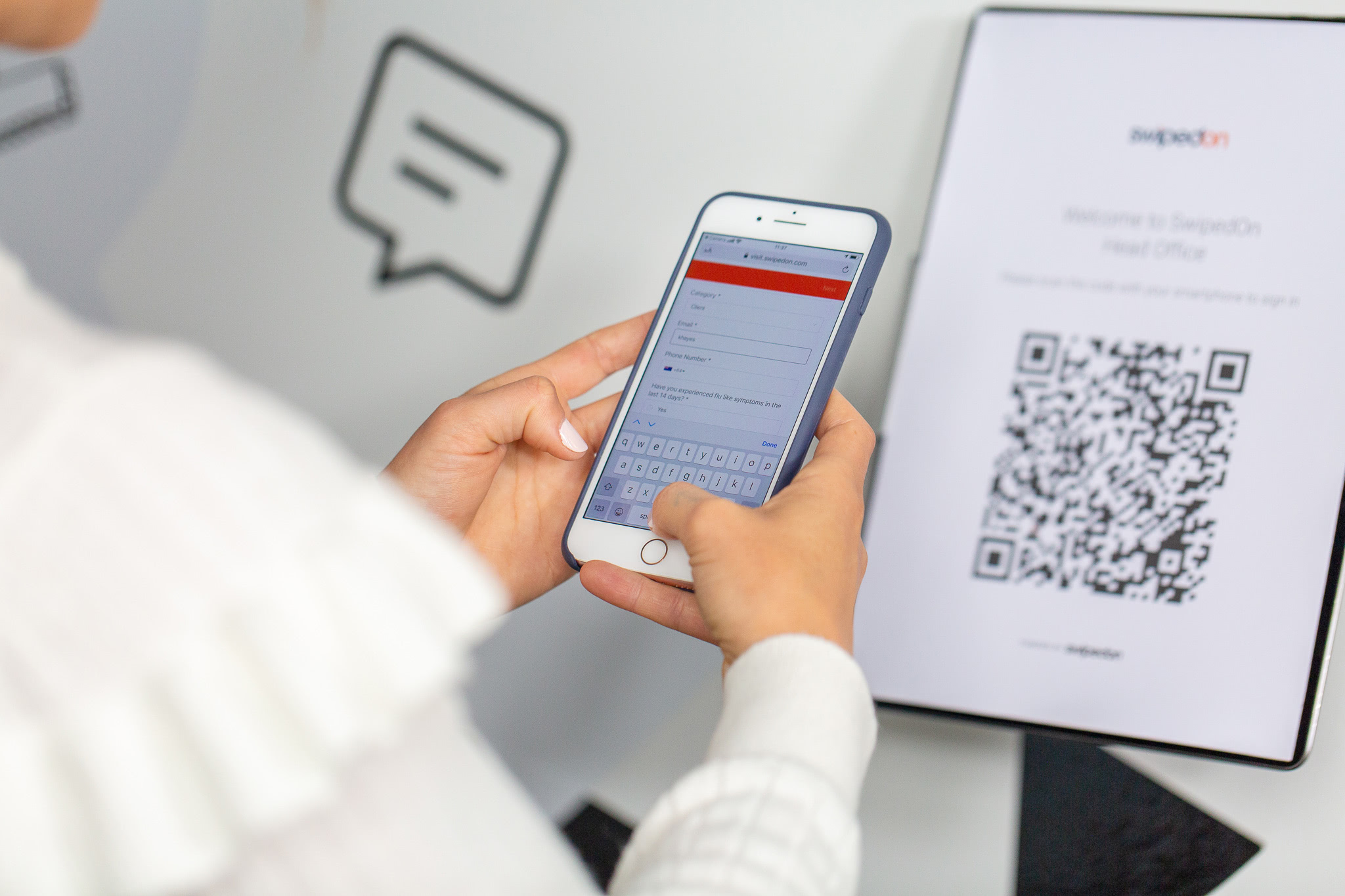 Mere months ago, businesses might have paid less attention to sickness related health and safety practices at the workplace. However, communal surfaces are now a major concern for businesses due to the COVID-19 pandemic. Business leaders are looking for ways to address this issue, one of which is with the use of touchless technologies.
In this guide, we'll go through four touchless technologies you should implement at your workplace to protect employees and visitors.
1. Use Touchless Soap Dispensers and Taps
Automatic soap dispensers are becoming increasingly popular, and for a good reason. When visitors and employees have to touch tap dispensers to clean their hands, it almost defeats the purpose of washing to begin with. People are more likely to utilize automatic dispensers as they are more sanitary, convenient, and easier to use compared to their manual counterparts.
It's important to ensure your sensor taps are installed and functioning correctly. Trying to use a touchless tap or soap dispenser, unaware that the sensor is defective, will turn people off and result in unwashed hands.
Aside from hygiene, touchless fixtures reduce costs by controlling water and soap usage at your workplace. There's no need to worry about running taps or visitors using excessive amounts of soap. You also save money by protecting your employees' wellbeing and minimizing productivity loss due to sick leaves.
2. Install Automatic Doors
Doorknobs are hotbeds for nasty viruses and bacteria. Pathogens can survive for as long as several days on door handles and other solid surfaces. Unaware of the harm this could cause, many businesses might not clean their door handles unless they see obvious stains or detect sticky residues.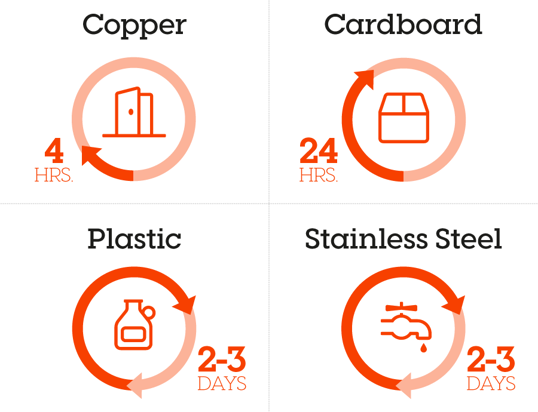 The amount of time pathogens survive on different types of surfaces (Data Source).
One way to address this is with automatic doors. Some companies combine auto doors with sensors or scanners for security purposes. For example, employees and visitors must scan their access cards to enter the building—a win-win for hygiene and security.
If automatic doors are out of your budget, consider doing regular disinfections to keep doorknobs (and other high-traffic surfaces) clean. Daily cleanings work best to protect your employees and visitors from dirty door handles. Keep in mind, however, disinfection fees can add up over time to the point where it may be cheaper to install auto doors.
3. Make Appointments Online
The days of making appointments in person are over… at least for the foreseeable future. Businesses want to minimize physical contact as much as possible in the wake of the COVID-19 virus. This means fewer office visits, group meetings, and events. If not already doing so, businesses should be transitioning to an online appointment system.
You can do this with online tools such as Google Forms or Typeform. Email also works fine, although it requires some manual work to manage appointments.
If it's necessary for your organization to have some visitors on-site, instruct them to book appointments ahead of time. This allows you to manage guests effectively while adhering to social distancing practices. Ideally, there should be less than five guests at a time for safety. Moreover, safety non-compliance may result in hefty fines, which is financially risky considering the current state of the economy.
Implementing an online appointment system doesn't mean every appointment and visitor should be accepted. Meeting requests must be validated as business-critical before an in-person appointment is finalized (e.g., signing a major contract).
If the reason for the appointment is not business-critical, like minor status updates, talk about it on the phone or video. Your team will also save time and energy from attending fewer meetings. In fact, businesses lost $399 billion to pointless meetings in 2019. That alone is valid grounds to streamline work appointments.
4. Introduce Touchless Sign-Ins
Today's touchless visitor sign-in technology allows businesses to minimize their front desk staff being exposed to health risks. This includes reducing the use of communal surfaces and using a touchless sign-in system. A touchless sign-in system can effectively manage visitors on arrival while saving your staff time and keeping them safe.
In the 20 second video below, see how your visitors can sign in using their smartphone, using a dynamic QR code displayed on the iPad hosted at your welcome desk.
In the 20 second video below, see how your visitors can sign in using their smartphone, using a static QR code displayed in a prominent position at your welcome desk.
SwipedOn's contactless sign-in uses QR codes, which can be set up throughout your lobby. These QR codes can be displayed digitally or printed on paper if you don't have sign-in tablets for visitors.
Once visitors scan your QR code, they will see a short form directly on their device requesting their details and vital health information. For example, have they experienced any flu-like symptoms recently? You can easily customize questions and agreements to suit your company's unique requirements.
After visitors fill in their information, the data is automatically passed to your team. Team members can then screen each visitor to prevent high-risk people from entering the building.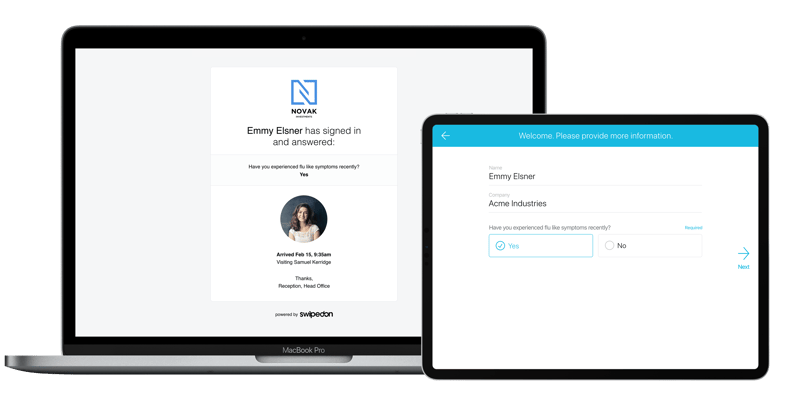 All of this happens behind the scenes so your team members don't have to meet visitors in person to manage their arrivals. Your guests' privacy is protected as their information remains confidential. SwipedOn also includes a contract tracing feature should you be required to disclose visitor information.
Keep Your Workplace Safe With Touchless Technologies
It's crucial to minimize physical contact to keep your workplace safe. Touchless technologies like QR codes, automatic washing fixtures, and touchless visitor management systems will help you achieve this goal.
SwipedOn's dedicated visitor management system comes with a range of features including contactless sign-ins and contact tracing to screen visitors. With SwipedOn, you can manage visitors and automate manual sign-in processes to keep your workplace safer and healthier.
Try out SwipedOn for free today to find out how we can help keep your company safe during this pandemic.
More from contactless sign in for the workplace, on the blog
Contactless Sign In: A Hygienic Way to Register Employees & Visitors in the Workplace
Introducing SwipedOn Pocket; the smartphone app for your employees
SwipedOn iOS 2.18.0: Discover contactless sign in & employee screening
How Visitor Management Systems Can Reduce Visitor Exposure to COVID-19