4 Ways to Manage Your Office Capacity During COVID-19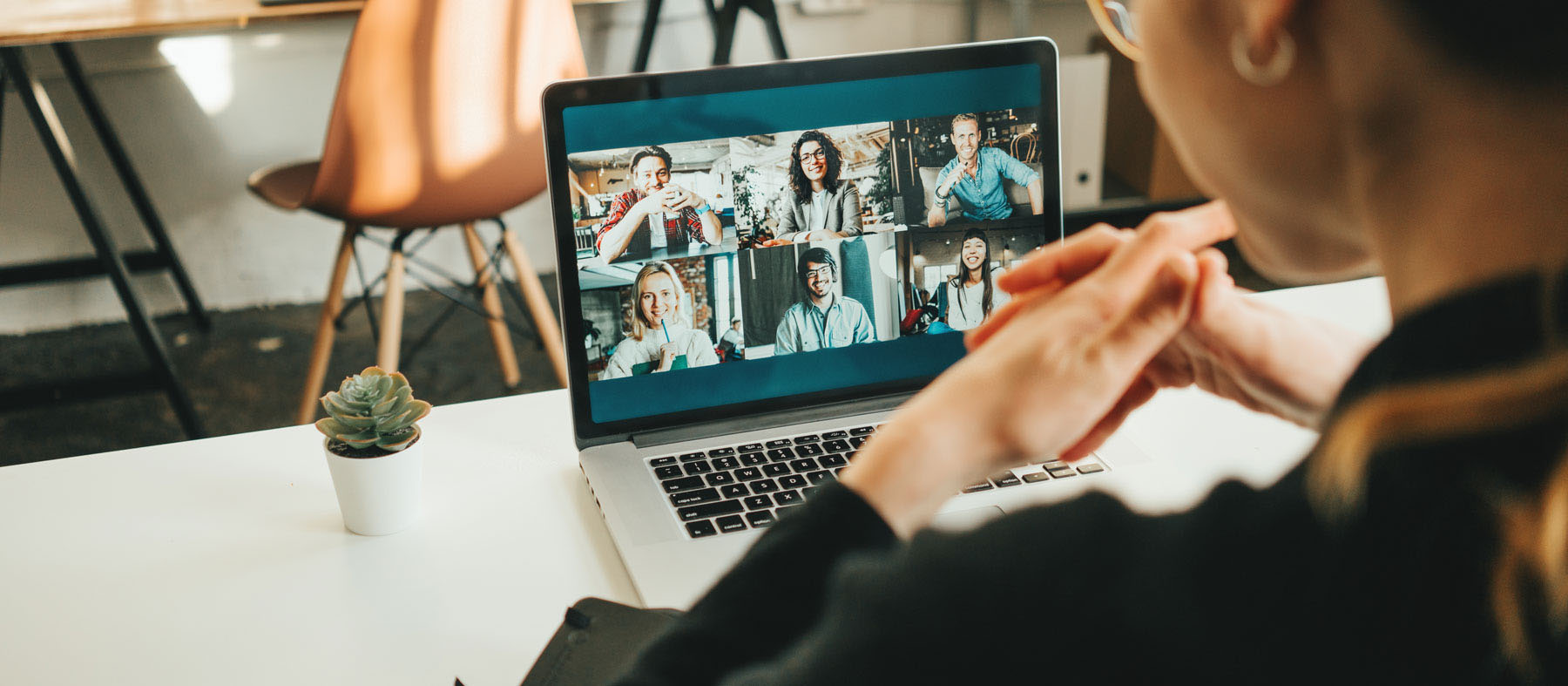 As the world continues to navigate COVID-19, it's clear that we won't be returning to life as we knew it pre-pandemic. This is especially true when it comes to the ways we work, which have been through a dramatic transformation after more than a year of working from home for many employees.
With at least a partial return to the office on the radar for many companies, flexible work arrangements and managing office capacity will become a top priority for employers.
Luckily, we can look to technology to help us solve potential problems. This article will show you how you can use software to help offer a hybrid work solution and manage your office capacity in the "new normal" of workplaces and spaces.
Flexible Work Models are Here to Stay
From early on in the pandemic, many of us could see the benefits that working remotely could offer: increased productivity levels for many employees, better work-life balance, saving money on commuting among others.
Since March 2020, studies have shown that many employees in developed countries want more flexible working solutions. Microsoft has even gone as far as calling it the "Next Great Disruption". Research by the tech giant found that 73% of employees want flexible work to remain in place as a permanent option.
Hybrid work is inevitable
Business leaders are on the brink of major updates to accommodate what employees want: the best of both worlds.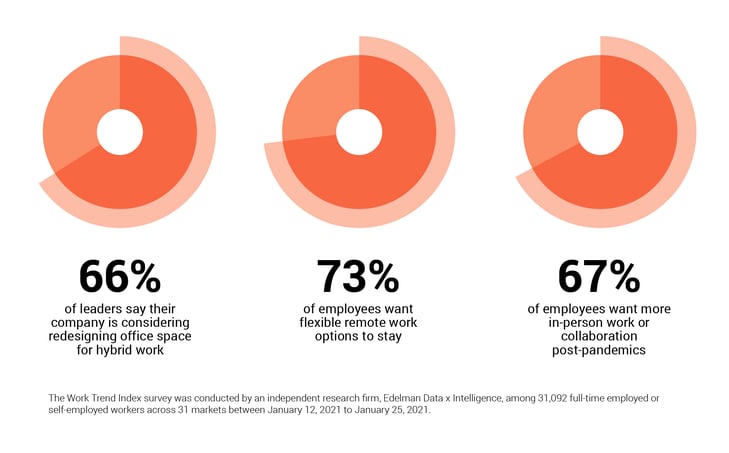 Data Source
The same research found that the majority of participating leaders said that their company is thinking about altering their office space to accommodate flexible working arrangements.
Of course, stepping into an unknown like this isn't easy. While some companies already had hybrid or remote models pre-pandemic, many did not.
So, what are the biggest challenges that businesses should be aware of?
Overcapacity
When everyone works in a single location, managing office capacity is easy. Front desk staff know exactly how many permanent employees they can expect in one location, and they can allocate enough space for freelancers and contractors.
However, when it comes to hybrid work, things aren't so predictable. Some days will be busier than others; July might be a period of low activity, but managing capacities in September or March is another story. When implementing a hybrid work solution It's critical to ensure you don't reduce available spaces so much that they are continuously overbooked.
Lack of Transparency
Trust is vital in any professional environment, and this need is amplified when it comes to implementing hybrid work models. If you are looking to roll out a flexible work strategy, you will likely need to look at your current employee contracts.
In addition to establishing internal protocols for hybrid work, it's important to think about how such agreements will affect teams and workflow. If employees aren't communicating with colleagues and managers, this can lead to project delays and frustration.
Those are the challenges, now let's look at the opportunities to streamline capacity management.
4 Ways to Manage Your Office Capacity

1. Invest in a Workplace Management System
Capitalizing on technology is essential for any business running in multiple locations. One platform that should be near the top of the list is a Workplace Management System (WMS).
When staff, clients, or suppliers come to the premises, businesses need to meet them with the highest levels of regulatory compliance and professionalism. A digital WMS streamlines visitors' arrival at your premises, provides a record of comings and goings for contact tracing purposes and frees up front desk staff for more important tasks.
2. Use Digital Employee In Out Boards
In/Out boards are the easiest way to gain an overview of who is and isn't in the office at any given time. When using a WMS like SwipedOn, employees can make use of our companion app; SwipedOn Pocket to show whether they're working remotely, at a meeting, or out for lunch with the swipe of a screen.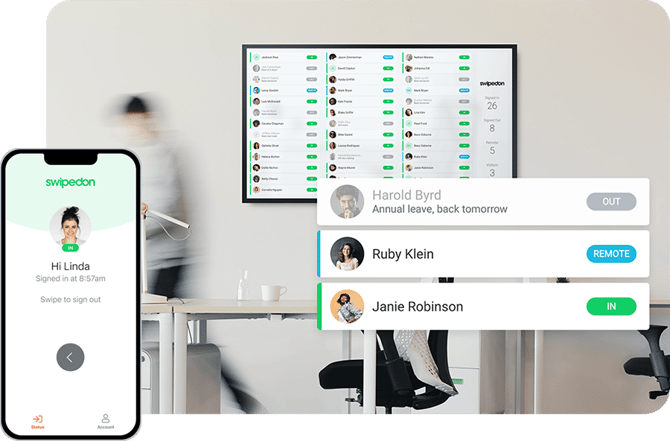 Besides helping to keep team members connected, having a Digital In Out board plays an essential role when it comes to evacuations and emergencies. Those in charge of the evacuation protocol can easily identify who is in the building—and where—and provide this vital information to first responders.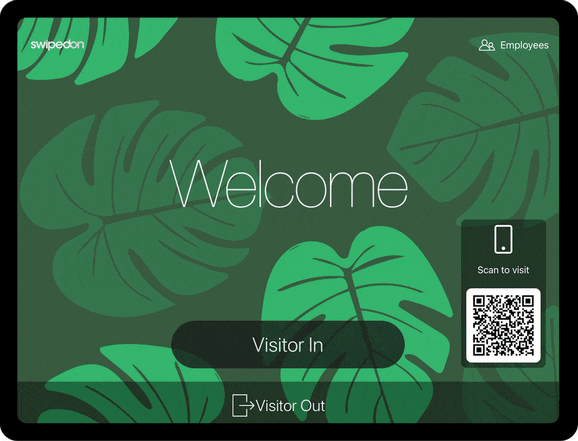 3. Promote Transparency Within Teams
Maintaining company culture while also offering a flexible work solution is by no means an easy feat but it's at the heart of successful hybrid models.
Keeping employees connected is one way to improve transparency within an organization. Regular communication through channels such as Slack can help keep everyone in the loop (as well as some healthy office banter), as can hosting monthly company-wide sessions to provide an update on how things are going and encouraging open dialog and regular team catch-ups (digitally or in-person).
4. Make Room for Flexibility
The simple fact is that companies need to embrace flexibility to retain culture, talent, and reputation. Research backs this up, a report published by McKinsey & Co. in May 2021 found that companies less likely to "experiment and iterate processes" are, unsurprisingly, the ones who are behind in implementing a hybrid work solution.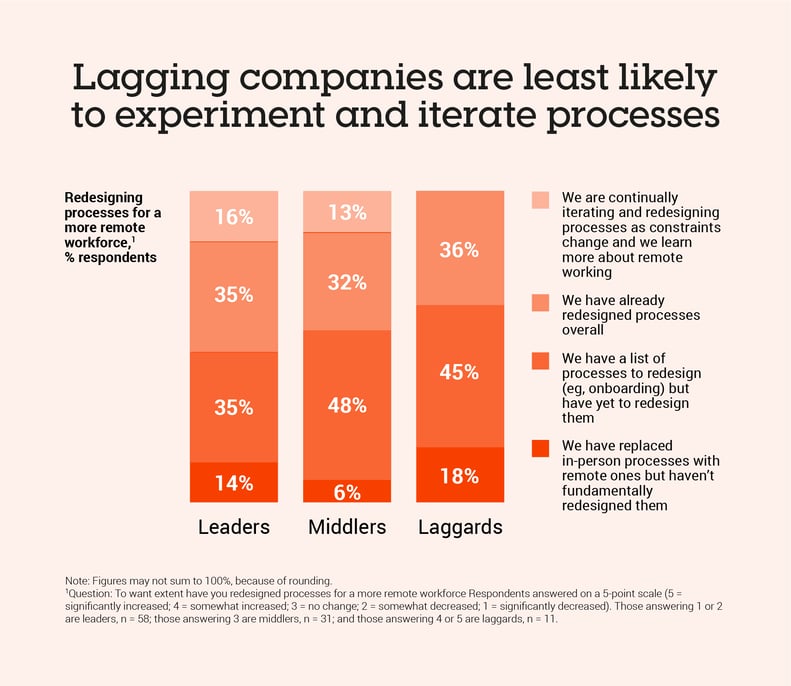 Data Source
A good hybrid work solution must also allow for staff to work in the office full time if that is their preference. Regardless of how many workers want a hybrid model, this is not the case for everyone.
Hybrid work is here to stay, and the time to adapt is now.
For many employees, COVID-19 was their first taste of full-time remote work. Now that they've experienced that flexibility, many will want to continue and adopt a lifestyle that better suits their needs.
Hybrid work won't replace employment in one location for many people, but for many who can perform their duties remotely, it will. For employers, implementing systems and processes to accommodate these needs—especially with their office spaces—is critical.