A Decade in Review: Celebrating 10 Years of SwipedOn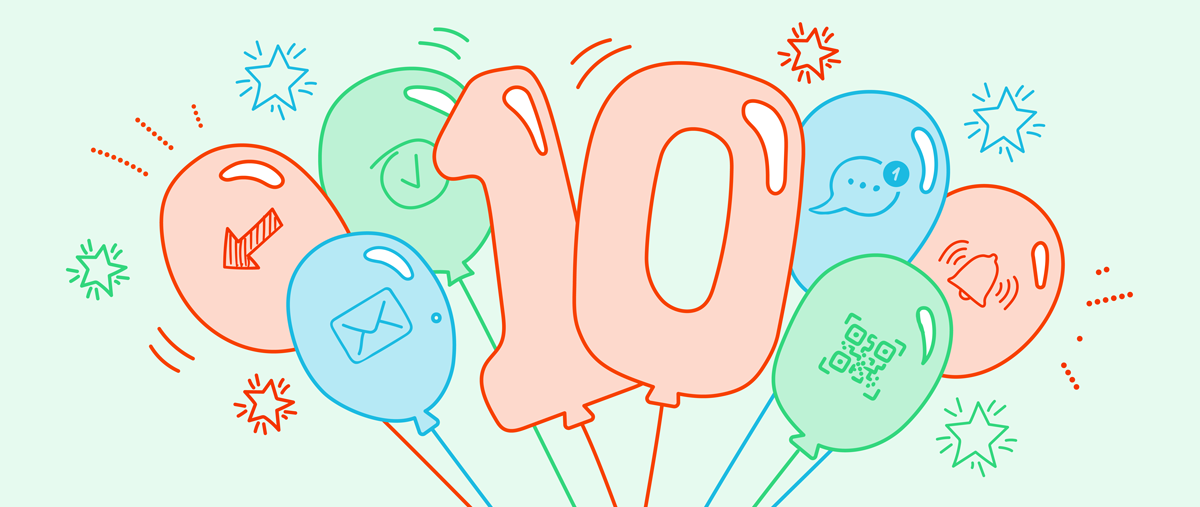 Did you know, workplace sign in apps existed before the pandemic? Here's proof.
This year, we're celebrating ten years of SwipedOn. Yes, a whole decade dedicated to signing people into places and spaces all over the world.
Born at sea, SwipedOn was first released via the App Store in January 2013. The intention? To make workplace sign in easy, secure and, to be quite frank, lush (how archaic are paper visitor books though?). Today, our trusty app is used in over 70 countries worldwide and continues to be a market leader in workplace sign in software. It's the easiest to use workplace sign in app on the market as voted by G2 users with security, compliance and customer centricity at its core. Not to mention, it is really, really, ridiculously good looking. 💅
As for the moments in between; we've navigated a pandemic, rolled out SwipedOn to iOS and Android, and built a smartphone app for employee sign in. All with one common goal - to make work life easy. With the help of our customers, we've planted over 7,500 trees and we've helped multiple charities through our giving back initiative. We've even captured the hearts of Tinder, albeit maybe not in a loving way. 💔 All of that powered by more than 6,000 ping pong matches, over 300 kgs of coffee and plenty of banter.
But how do we sum up the last ten years in one blog post? The most challenging round up post we've ever attempted and jam packed full of the good, the bad and the ugly… Here's what one decade in review for SwipedOn looks like.
10 Years: The TLDR
While SwipedOn grew from an idea to the world-renowned workplace sign in app it is today, we've witnessed the rise of social media, data privacy breaches, Brexit, the launch of SpaceX and a pandemic, to name a few notable moments from the past decade. And, with the emergence of the hybrid workplace model, SwipedOn has played an active roll in building the new era of workplace flexibility.

The early years of SwipedOn
An idea that founder and CEO Hadleigh Ford imagined with while he was working as a skipper on super yachts, SwipedOn was born at sea (swipe on board - do you get it?) After its first release to the App store in 2013, Hadleigh continued to work as a harbour pilot in the port city of Timaru on New Zealand's South Island, until he joined full time operations in Tauranga. We asked Hads to give us a brief overview of his time spent as a harbour pilot, because we think it's pretty darn cool having a CEO who used to drive boats.
"As a harbor pilot, my job was to bring large ships in and out of a New Zealand port safely and smoothly. That meant boarding the vessel at sea via a rope ladder, which could be pretty dodgy, especially during southern ocean storms in the dark of night. Once onboard, I'd take control of the vessel from the Captain and use local knowledge to navigate the ship safely around hazards - while allowing for varying vessel characteristics and weather conditions. Once in the harbor, I'd command the tugs to help get the ship berthed and tied up securely. It was important to keep everything running like clockwork, so that the ships and their crews could get in and out of the harbour without any problems. All in all, it was a pretty cool job!"
Not as cool as working at SwipedOn though, right Hads?
Timaru to Korea; shaping the future of SwipedOn
Over the following years, SwipedOn scaled operations from the South Pacific island of Aotearoa (aka New Zealand) to establish bases in South Africa, UK, USA, Australia and most recently South Korea, with the sole intention to provide its global customer base with world class customer support. A few notable highlights:
2016: we started planting one tree for every new customer (before it was trendy). We've now planted 7,500 trees globally in an effort to do our part as a business to mitigate climate change.
2017: A facelift to the brand saw the birth of the iconic orange logo and icon you see today.
2019: A letter landed in our inbox from Tinder. No, it wasn't a cute love letter asking us to be their valentine. It was a cease and desist. We're actually pretty honored that a big player in the tech industry noticed us. You'll be glad to know we didn't need to change a thing. Unless we start building out the dating side of the SwipedOn app (date your work mates has a ring to it…)
2020 was the year that went down in history. The COVID-19 pandemic struck and the entire roadmap was out the window for team SwipedOn. Our developers worked around the clock to deliver a contactless option for customers all over the world. At the time, it was about helping our customers keep their businesses operational, and providing a workplace sign in tool for essential services, such as manufacturing facilities.
Now? Easy workplace sign in for everyone.
Imagine a world where workplace sign in is easy, safe and secure for visitors and staff - and your back is covered when it comes to the nitty gritty compliance stuff. Looks good doesn't it? That's the world we live in here at SwipedOn, and we're on a mission to share that with every workplace on the planet, whether you use iOS or Android.
To date, we've helped over 8,000 workplaces across the world create a safe, easy and compliant sign in experience for employees and visitors. The hybrid workplace model has flexibility at its core and, while we're seeing a mass return of people to the office since the pandemic, we're also seeing many businesses embracing a more flexible approach to work where features like desk booking and remote employee sign in are more important than ever before. To be at the forefront of this change in working culture gives us all the feels.
The data decade
Let's talk about the elephant in the room.
While consumers have become savvy about how they are marketed to, people all over the world have become savvy about how and where their data is used. Data protection and data security have become a part of everyday conversations, meaning it's important for businesses to reassure their visitors and employees that their data is not going to be misused. Remember that little hiccup Facebook made circa 2021 when 533 million users' personal data was leaked online?
Yeah, that was awks.
It is now a societal norm for visitors and employees to ask how their data will be used and to be given an answer. Here at SwipedOn, we build a product which ensures this conversation doesn't end in an awkward silence. We are SOC 2 and ISO 27001 certified for your peace of mind. And, for your visitors' peace of mind, data can be set to be anonymised after a set period of time. So, if those savvy people rock up at your reception desk, you'll have an honest answer ready to go, even down to the where and for how long the data is stored.
The future is SwipedOn
As for the next decade? We expect to see the hybrid workplace, the age of compliance and digital sign in security continue on an upward trajectory, and we'll continue to support our customers with all the features they need to thrive in the modern workplace.
What's a birthday without a party?
It's just another day, that's what.
To help celebrate this huge milestone, we threw a surprise classic kiwi kids 10th birthday party at SwipedOn HQ month for the whole team, featuring cupcakes, cheerios, a piñata, an iconic lolly cake (it's a thing, Google it) and limited edition merch. As with all the big birthdays, we will be stretching the celebrations for more than just one day...
We'll leave you with a few of our favorite moments from the day. Happy birthday to us! 🎉