SwipedOn Wellness Week 2019 For Mental Health Awareness Week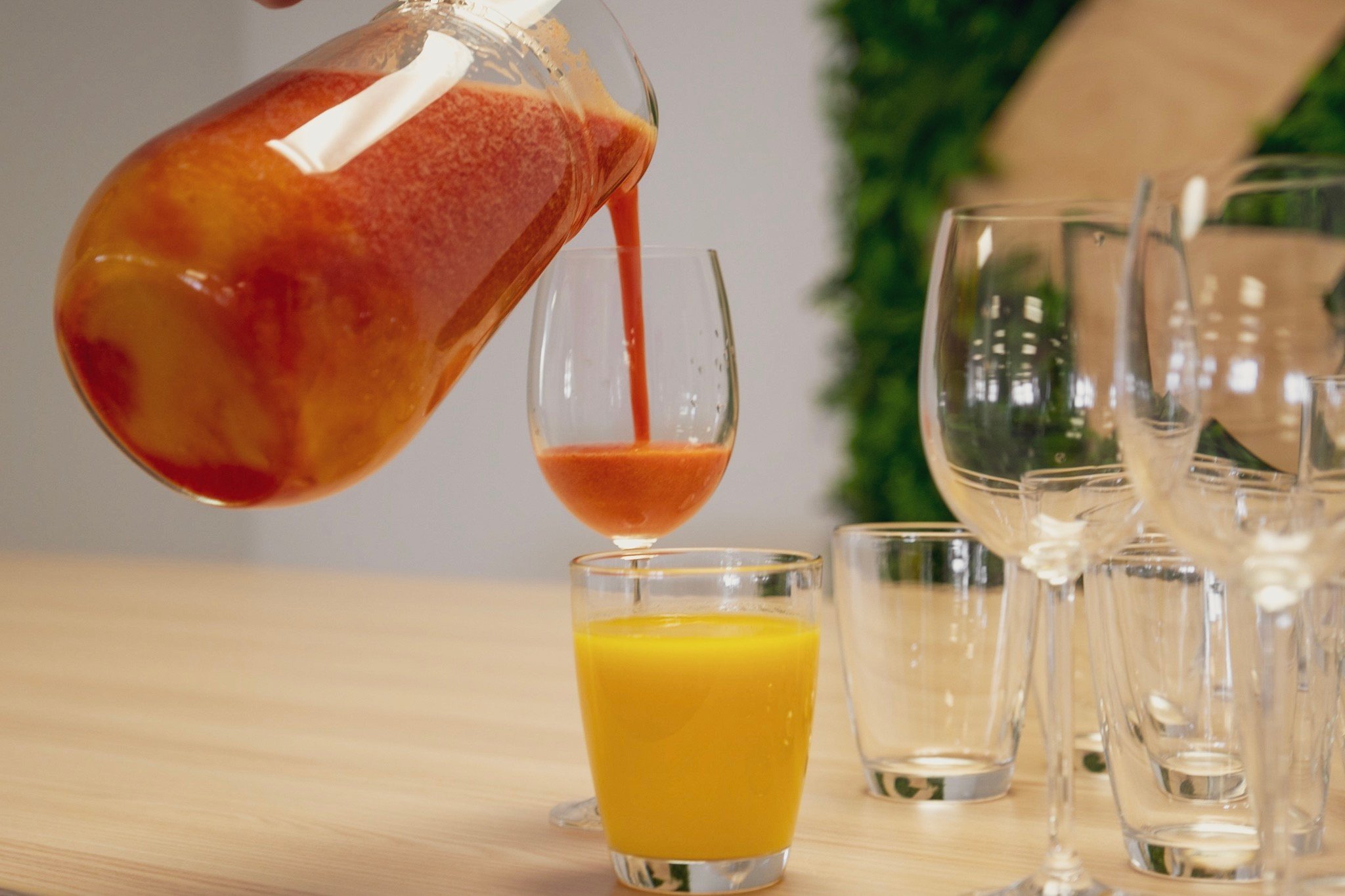 Yoga, meditation, reflexology, fresh fruit smoothies and saltwater therapy... SwipedOn Wellness Week 2019 just happened. And we're going to tell you all about it! Here at SwipedOn we're passionate about cultivating a motivating environment for our employees to work and a positive, fun culture to help boost productivity. While we appreciate that our employees look after their physical and mental wellbeing outside of work, we also understand that it's important to be aware of looking after our mental health within work hours too - especially when we get stressed and anxious - which can be a common occurrence in many workplaces around the world.
To help celebrate Mental Health Foundation New Zealand's Mental Health Awareness Week, we ran our first ever SwipedOn Wellness Week. We put together a daily schedule that would take no more than one hour out of everyone's working day to focus on exploring new ways of wellbeing. For some of our team, the activities were brand new experiences and we're stoked that those who felt comfortable gave it a go! It was important for us that all activities remained optional and no-one would feel pressured into doing something they were not comfortable with. Apart from a little gentle peer pressure on our CEO Hadleigh, when it came to the saltwater therapy... but we'll get to that later!
Here's the lowdown on how we created the inaugural SwipedOn Wellness Week 2019, plus the benefits of each exercise for wellbeing and mental health. Throughout this post, we've included resources to the local businesses we worked with along with useful links at the end of the post for.
Day 1
Coconut milk & tropical fruit smoothie, followed by an introduction to meditation with Andy Puddicombe's TED Talk: All It Takes Is 10 Mindful Minutes
At 10:30am we met in our board room to take a mindful 30 minutes out and introduce the team to Mental Health Awareness week. We explained why we wanted to create a SwipedOn Wellness Week for our employees, the agenda for the week and share a jug of tropical fruit smoothie while learning about the benefits of meditation via Headspace co-founder Andy Puddicombe's TED talk (below) followed up with a mini meditation led by Andy Puddicombe (available on YouTube).
Day 2
Raspberry & mango smoothie in the morning with yoga with Kate from Good Form Body Yoga in the afternoon
We whizzed up a raspberry and mango fruit smoothie for the team on day two, making it available for them to come and pick up from our communal area in the morning. In the afternoon, we turned our boardroom into a yoga studio and welcomed Kate from Good Form Body yoga, a local business based in Waihi Beach, who shared a 45 minute practice with the team. With the strong connection between yoga and mental and physical wellbeing, we thought this would be a great way to introduce yoga to those who might never have tried it before. The class was aimed at beginners with a focus on stress and anxiety relief.
Learn more about the benefits of yoga for mental health with The Yoga Journal here.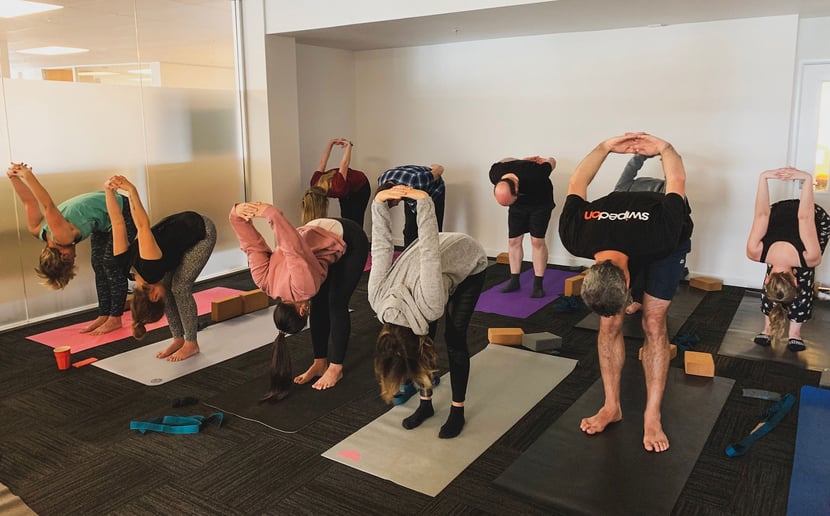 Day 3
Coconut milk & mixed berry smoothie with a short gratitude exercise
We kept it short and sweet on day 3 with some tasty smoothies and a short exercise ion gratitude. We asked everyone to write down what they are grateful for on post it notes. We then stuck all of these to some bunting which we can now display in the office. Not only are we able to now share with each other what we feel grateful for but we took the time out to actually consider what we are grateful for. Unless this is something you practice regularly, it can be a really insightful exercise which allows you to think from a new perspective.
Learn more about the benefits of gratitude here in this article from Forbes.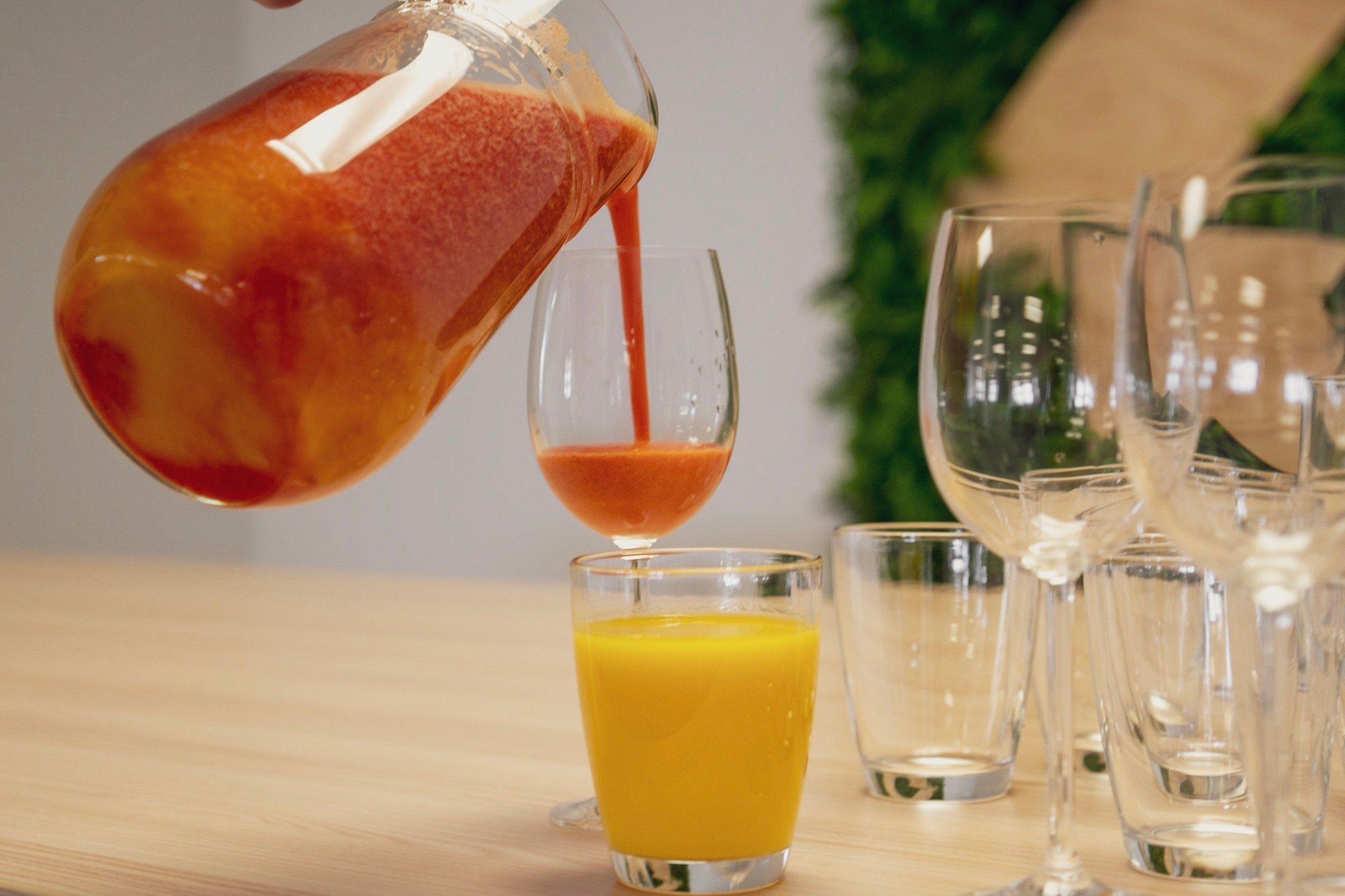 Day 4
Fresh orange, mango and raspberry smoothie followed by a Find Your Feet group session with Joss from Peace, Love & Plant Power
We invited Joss from Peace, Love and Plant Power - local business specialising in reiki, reflexology and rad little oil blends - to teach our team a little bit about reflexology along with highlighting pressure points in the body which can help relieve anxiety and stress. Everyone got the chance to smell the oils and choose whichever one they liked best.
We worked on our own feet and were asked to write down wherever we felt little niggles of pain, before Joss brought out her foot map for us to all look at, and figure out where those niggles correspond with on the foot map. After the group session, we turned our smallest meeting room - Titoki - into a treatment room, where Joss provided 30 minute reflexology treatments for those who wanted it.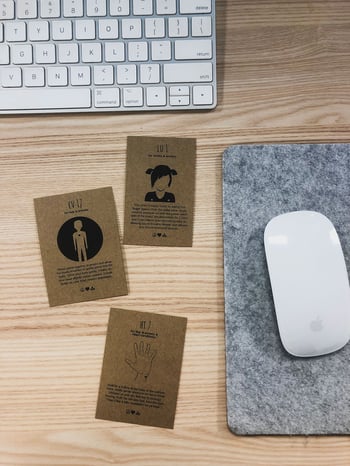 Day 5
Fluro Friday with our local OneWave Tribe + optional saltwater therapy, followed by a BBQ on the balcony for lunch
We wanted to end the week with something that everyone could enjoy and join in with and thought that bringing a Fluro Friday to the team would be the perfect way. Started by One Wave Is All It Takes over six years ago, Fluro Friday's have now spread to over 100 beaches worldwide. So, to celebrate, we wore fluorescent clothing, put a lei over everyone's head and held an anti-bad-vibes circle in the board room.
We learned about the history of OneWave, why we were wearing fluro - to make an invisible issue visible - and shared ways that help us free the funk. Then, it wouldn't be Fluro Friday without saltwater, so those who wanted to jumped into the ocean outside of SwipedOn HQ where we have a pretty conveniently placed jumping platform. If it was a scorcher of a day in summer we reckon we'd have more takers, but we were stoked that four jumped in. We can confirm it was refreshing... We then hosted a BBQ for the whole team for lunch with tasty, fresh and wholesome food.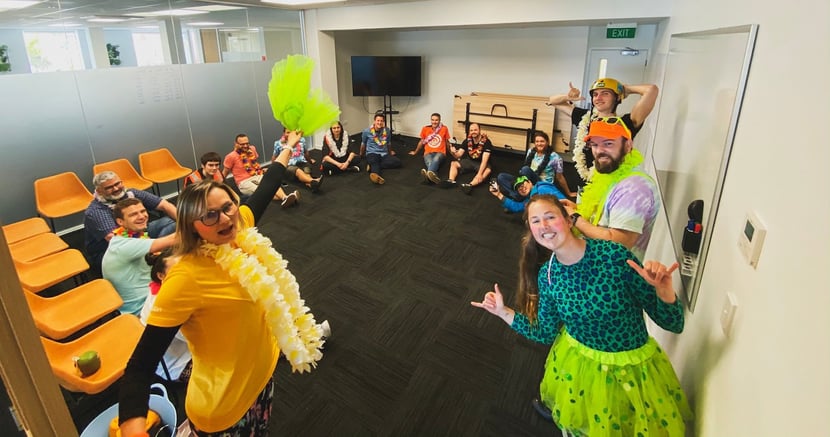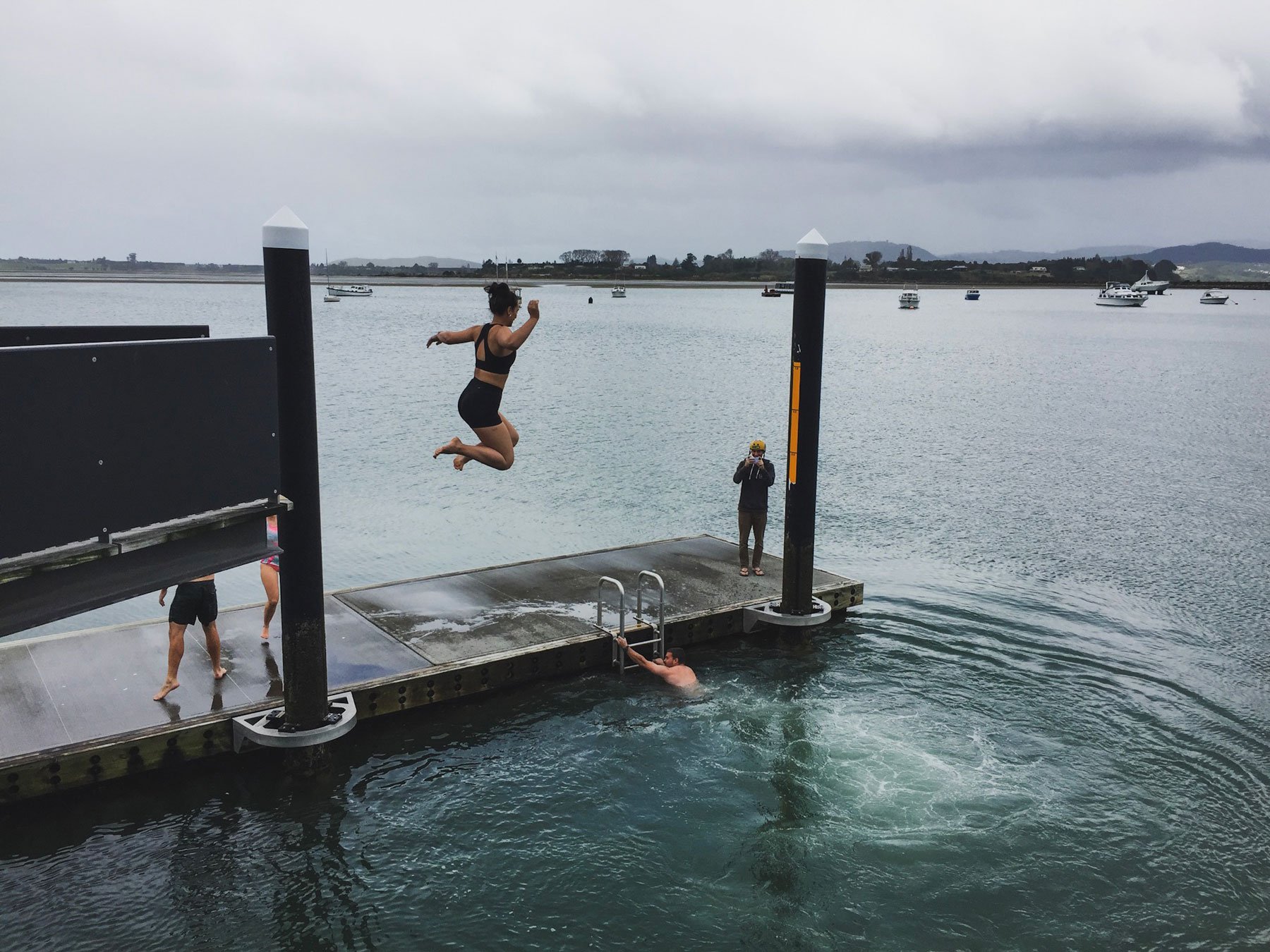 ---
Resources in New Zealand
Mental Health Foundation New Zealand
• Lifeline: 0800 543 354 (available 24/7)
• Suicide Crisis Helpline: 0508 828 865 (0508 TAUTOKO) (available 24/7)
• Youthline: 0800 376 633
• Kidsline: 0800 543 754 (available 24/7)
• Whatsup: 0800 942 8787 (Mon-Fri 1pm to 10pm. Sat-Sun 3pm-10pm)
• Depression helpline: 0800 111 757 (available 24/7)
• Rainbow Youth: (09) 376 4155
• Samaritans 0800 726 666
Learn more about workplace wellness