How to Protect Your Employees During and After a Crisis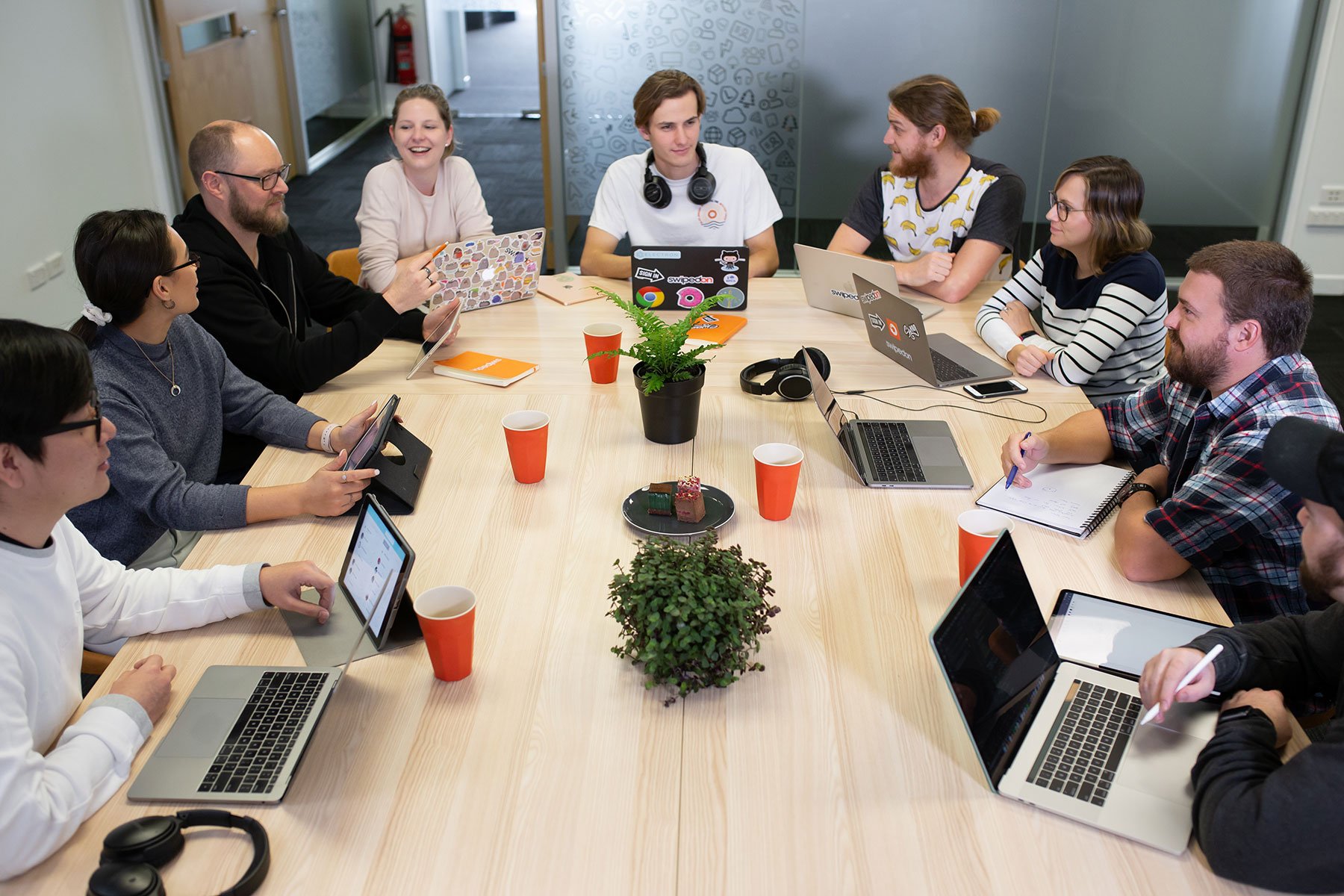 The COVID-19 crisis has forced many businesses to reevaluate the way they do things. From finding a way to manage staff safety, to reputation management and maintaining profits—it's a tightrope walk, and as we've seen, some companies have fared better than others.
No two companies are the same, and no crisis will have the same impact. However, there are steps you can take to ensure staff stay safe before, during, and after an event. From emergency funds to visitor sign-in apps, here are 5 ways you can protect your employees during, and after, a crisis.
1. Identify the Hazards
If your staff contract the coronavirus, your business will suffer. A big part of protecting employees during a crisis is identifying exactly where the dangers lie, and who they affect.
With the COVID-19 pandemic, precaution and protection measures have extended well beyond simply providing masks, social distancing and sanitizing work surfaces. Businesses have also needed to consider the physical and mental health of employees, visitors, contractors, and freelancers.
It's also important to be aware of risks coming into the company from outside, including keeping track of who enters and leaves the premises.
Contactless sign-in systems can be especially useful here: rather than relying on paper systems, a digital tracking system helps you monitor when high-risk individuals enter your building. Time stamping and alerts can help you contact trace and follow company protocol as necessary, while offering contactless sign-in for visitors and employees (via their own smartphone) can reduce the risk of the virus spreading through unnecessary contact.
2. Provide Extra Support to Vulnerable and Vital Workers
It's important to pay extra attention to vulnerable and essential workers. Provide extra support and compensation for workers putting their health at risk for your business. Prioritize these people when it comes to hazard pay and ensure they are well-equipped to get the job done, especially during the pandemic.
Failing to do so could result in negative press: Whole Foods was publicly shamed when it neglected to provide adequate care and equipment for its staff. On the flip side of the coin, Amgen, a pharma company, asked employees to work from home and sent them a $250 bonus, plus a $50-a-month allowance for internet and phone. They also promised to pay them their full salary, even if their work slowed down.
Supporting employees like this will help your workers feel valued and protected while reducing anxiety and other things that could be detrimental to mental and physical wellbeing.
---
Your reputation lives forever
Your reputation is important, today's organisations and individuals are at the mercy of the 24/7 internet media. Unflattering news, reviews, pictures, and even outright lies can be posted instantaneously and spread throughout the online world swiftly.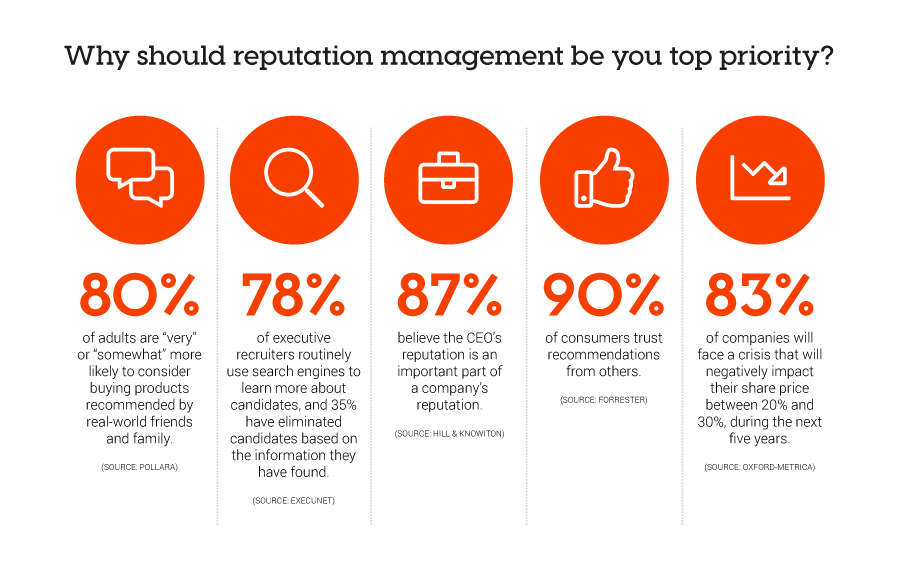 Why is online reputation management important to your business?
Today's consumers conduct extensive research on companies and products before making a purchase or decision. It is imperative that your reputation be in good standing. Here is some important information that you may find beneficial.
---
Fair compensation for employees putting in the extra work right now, and putting their health at risk, is the right thing to do. Furthermore, handling a crisis correctly is good for your bottom line.
3. Budget for Crisis Management
When there's a crisis, most businesses will instinctively think about their bottom line. Carefully managing income and expenditures could mean the difference between sinking and staying afloat.
If you haven't done so already, prioritize setting up a crisis fund. The first step is conducting an audit and working out your cash flow—as well as working out where you can pull back on spending if you're already in the midst of a crisis. Once you've run a full audit, you can then begin setting money aside. Remember, this budget is for crisis management and should only be accessed for this purpose.
4. Look Out for Stakeholders
In addition to being responsible for your employees, most businesses have a flow of visitors, contractors, and others entering their organization throughout the day. When a crisis strikes, you'll need to look out for the full range of people who interact with your company—and stakeholders (those with an interest in your business) are one group you should be paying attention to.
Communication is vital here: the message you share with stakeholders should be consistent across all your audiences.
"The last thing you want is the internal message being inconsistent with the external message, because then neither the internal or external stakeholders will trust you," says Mark Gregory, General Counsel of British multinational engineering company Rolls-Royce.
To ensure you have all of your bases covered regarding your stakeholders, do the following:
Identify your key stakeholders, and think about the different ways in which they'll be impacted by the crisis.
Create a communication plan.
Then, carefully craft your message, with clear actionable points explaining the steps you'll be taking to keep everyone safe.
5. Use Crises as an Opportunity to Learn and Grow
A crisis often causes hardship. It also offers a valuable opportunity for learning, positive change, and growth. The global COVID-19 pandemic is uncharted territory and we are experiencing a cultural shift because of it.
Businesses need to be proactive and act quickly—but there's also a need to pause and reevaluate current processes. It's an opportunity for businesses to transform their reputation for the better: taking the pandemic seriously and taking steps to protect their workforce and customers shows people you're responsible and able to handle a crisis.
Positive changes that have come from the COVID-19 crisis, for example, include:
Overall greater job flexibility for employees and contractors thanks to more telework opportunities.
A greater focus on employee mental health and wellbeing, as well as a greater range of options for support.
Better communication, with more options for flexible video conferencing.
More efficient processes are being put in place, including project management software, messaging apps, and visitor management systems that aid in keeping staff and visitors safe. For example, staff can avoid unnecessary touching of surfaces thanks to contactless sign-in. With SwipedOn, visitors can also answer optional

visitor screening

questions about recent travel and health. This is important now, as well as in the event of a

second wave

, or subsequent pandemics.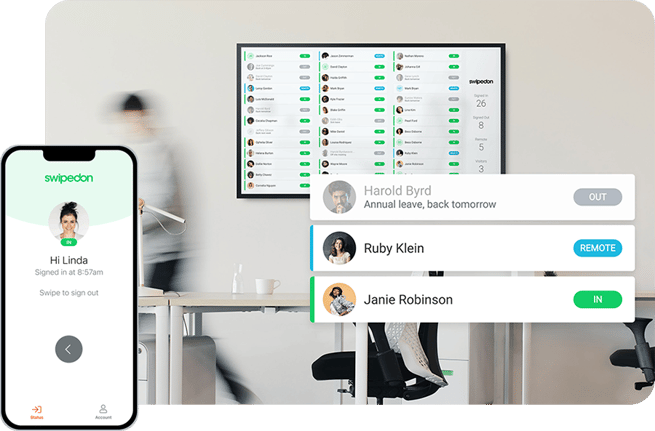 Equip your organization with the right screening tools, equipment, guidelines, and regulations to protect your workers and visitors. Sign up for SwipedOn's 14-day free trial today to see how a visitor management system can help keep your workplace safe during, and after, a crisis such as COVID-19.
More employee management tips on the blog
Ways to Help Your Employees Maintain Healthy Distancing at Work
Things Big Companies are Doing to Prioritize Staff during COVID-19