5 Ways to Create Safe Visitor Experiences When Your Business Reopens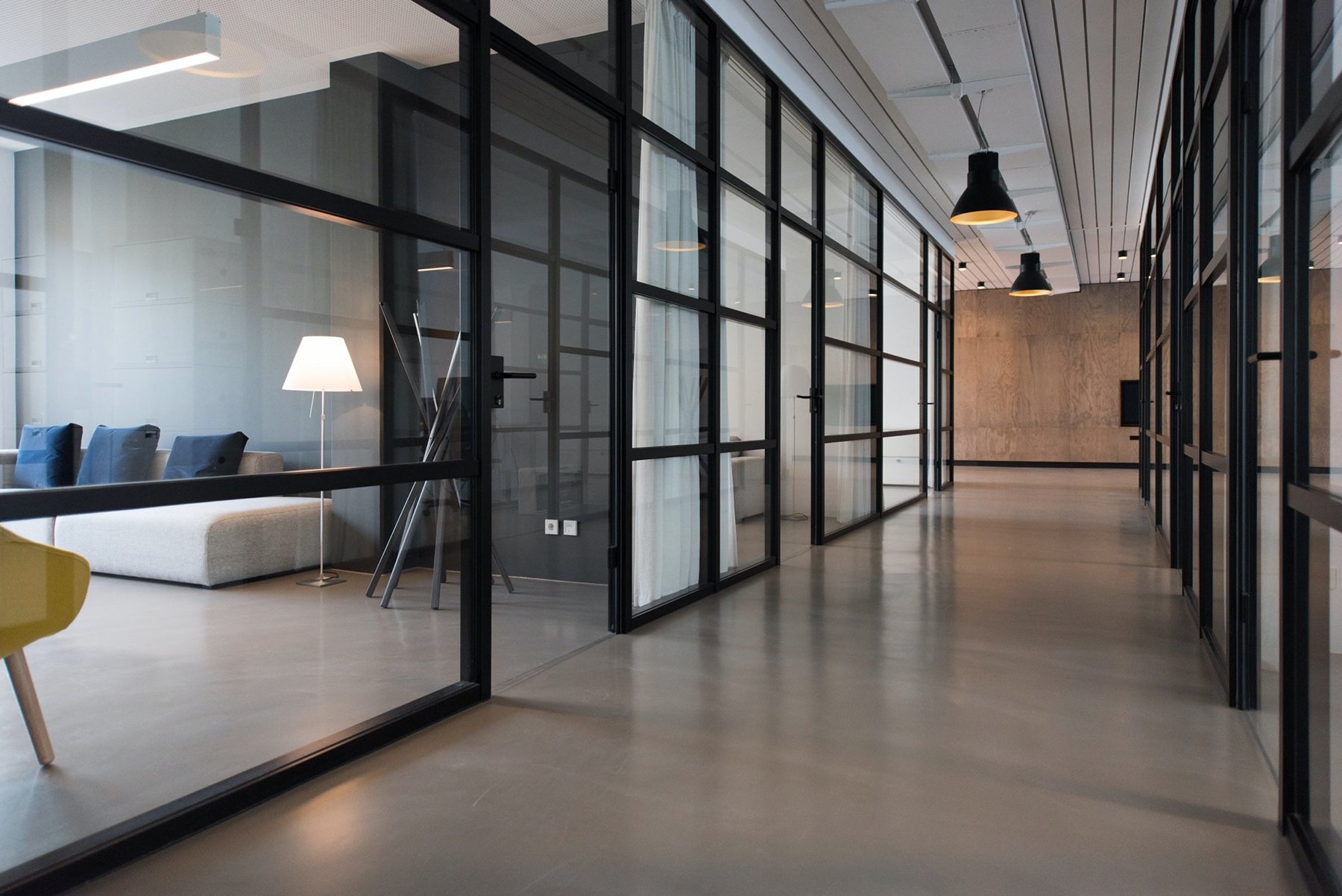 Businesses are starting to reopen after shutting their doors due to the COVID-19 pandemic. Several in the U.S. have drawn up plans to reopen gradually throughout the year. As of mid-May 2020, 53% of small businesses are also planning to restart operations soon. These numbers are optimistic, but public safety remains the number one priority.
Businesses need to take into consideration the risks of reopening. It's important to implement precautionary measures while maintaining a warm, welcome, and safe visitor experience.
In this article, we explore five ways to do just that for all visitors who walk through the door.
---
A visitor management system can help you run a safer sign-in process at your workplace, for both visitors and employees. Here's how:
---
1. Make Visits Appointment-Only
Businesses face multiple risks when they have visitors showing up out of the blue. The extra headcount is a health hazard as organizations struggle to observe social distancing. However, you'll still want to make visitors feel welcome and allow entry where possible.
One way to address this challenge is to make visits appointment-only. Send a meeting request to guests at least two days before their visit date. Once the visitor arrives, use a visitor management system to screen them at the front desk one more time for safety upon arrival.
This lets you manage your visitor schedule to ensure established protocols are being followed, including social distancing rules. A VMS allows you to monitor exactly how many people are arriving at one time. Employees can prepare in advance to accommodate visitors while keeping everyone safe.
It also helps to remind your employees to be firm when enforcing this policy, for visitors' safety as well as their own. Avoid unnecessary health risks, or worse, your company incurring hefty non-compliance fines.
2. Give Visitors Essential Information Before They Arrive
In the current situation, visitors need to pass health checks, sign forms, and perform other SOPs to gain entry. The risk here is that visitors may skip these checks to make their lives easier. They may even enter fake data to bypass lengthy forms.
You can prevent this by providing visitors detailed instructions before they arrive. Visitors are more willing to adhere to guidelines when they are well-informed, reducing the risk of exposure significantly.
Try to be as thorough as possible when sharing information. Let them know what forms or agreements they need to fill out before the visit. Provide clear instructions, including directions to your office, how your building looks, if there are designated COVID-19 entry points, and who to contact when they arrive. Share extra details to improve their visitor experience, like how to access your company's Wi-Fi. The more details you share, the better your visitor experience.
3. Enforce Strict Health Checks
Organizations might want to practice strict health checks to prepare for visitors. A visitor screening software can help minimize contact as much as possible between employees and visitors.
For example, SwipedOn allows contactless sign-ins. Visitors arriving to your reception area can simply scan a QR code and your team will be notified of their arrival. The system also informs visitors what to do while waiting. Checking in visitors becomes a streamlined, automated, and contactless process.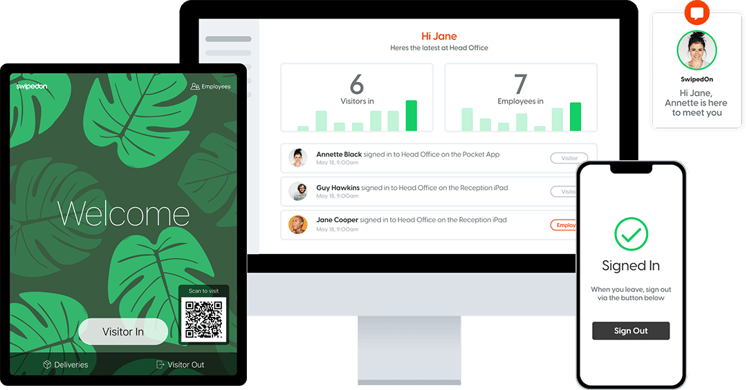 Regardless of your company's procedures, explain them in advance to visitors. Doing so provides guests assurance when coming to your office. Let's say your company practices temperature checks. Visitors who are uneasy with it can simply choose not to come. This saves tons of headaches from potential privacy violations, among a list of other concerns.
4. Practice Contact Tracing and Visitor Screening
Contact tracing is a must for safe visitor experiences. Manual contact tracing, however, is inefficient and risky to employees.
A VMS with contact tracing is helpful in this scenario. Visitors just need to scan your QR code to register. You can further bolster workplace safety with SwipedOn's COVID-19 visitor screening features. After scanning, visitors are presented with a series of questions to verify their health status. For example, have they recently experienced illness symptoms or been in contact with a person who has travelled overseas?
After the screening process has been completed, team members receive a complete overview of each visitor. They can review each visitor's identity, personal details, timestamps, and other essential data without seeing them in person. Visitor notifications can be sent via email, text, or in the SwipedOn app itself.
This minimizes face-to-face contact, which mitigates health risks and contributes a lot to curbing the pandemic. Social distancing reduces the rate of infection by 90% when done right.
If you need visitors to sign health declaration forms or NDAs, send them in advance so they have more time to fill out their forms, making them more willing to follow procedures.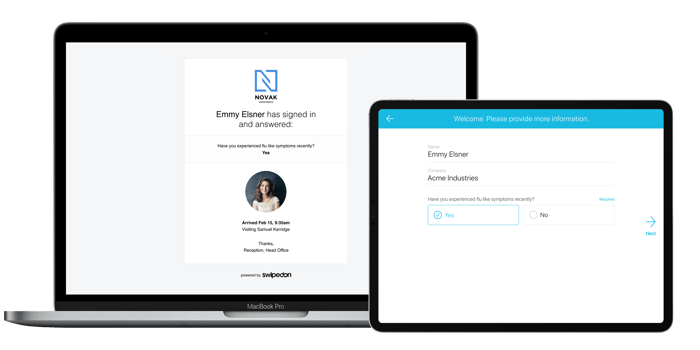 A sample health declaration form for visitors using the SwipedOn Visitor Screening feature.
5. Do Security the Welcoming Way
You don't have to make visitors feel unwanted just to comply with health regulations. You can be strict and welcoming at the same time. It's just a matter of having the right procedures in place.
You can use a visitor management system to create simple, user-friendly registration procedures. A tool like SwipedOn lets you easily generate digital forms and agreements for visitors. All they need to do is fill in their basic information and answer simple yes or no screening questions. The data is immediately sent to the designated team members for them to verify visitors.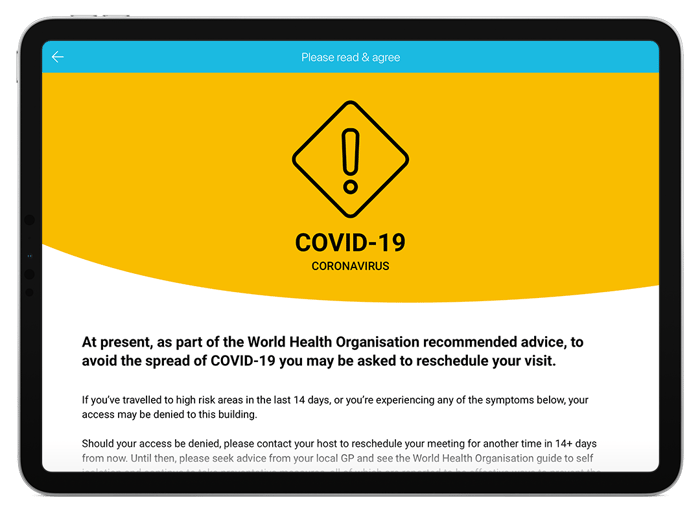 If a visitor is deemed high-risk, your staff can flag the individual and the system will decline entry to the visitor. This is done discreetly to protect the person's privacy. Your office is protected from health risks without exposing the identity of flagged individuals—a favorable outcome for both parties.
Keep Visitors Safe with SwipedOn's Visitor Management System
It's important to establish and maintain safe visitor experiences as businesses reopen during the COVID-19 pandemic. The above tips will help you minimize health risks in your organization.
A dedicated visitor management system effectively handles visitors and alleviates the pain of manual sign-in processes. A complete VMS like SwipedOn can help you improve the visitor experience while keeping visitors and staff safe.
Try out SwipedOn for free today to find out how we protect your company in times of crisis.
More from the blog
How to Reopen Your Office Effectively After COVID-19 Lockdown
5 Steps For Safely Reopening Your Workplace During The Global Pandemic
Back to Business: How a VMS Can Help You Resume Business Risk-Free