4 Ways to Modernize Your Front Desk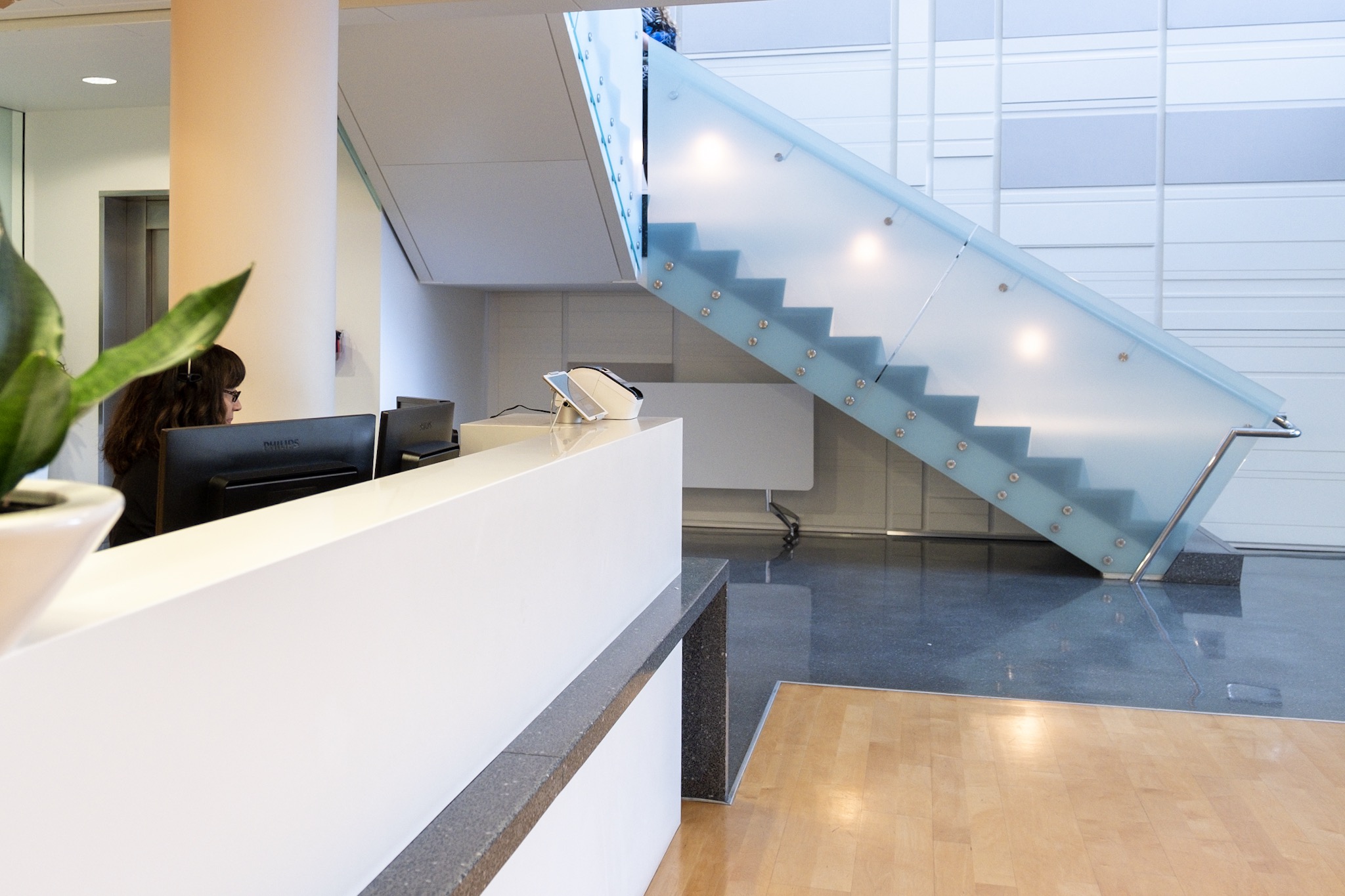 Before the Coronavirus outbreak, the most common questions concerning visitor management used to be "How do you modernize an office?" and "How do I make my reception area more welcoming to visitors?"
Today, however, the question on everyone's mind is "How do I protect my office from the risk of COVID-19 infection?" Fortunately, there are four solutions that answer all three of these questions.
In this article we discuss how implementing these functions at your front desk shows to visitors, clients, and employees that you are a modern, efficient business doing all you can to prevent the spread of COVID-19 in your workplace.
---
A visitor management system can help you automate the visitor and employee sign-in process at your workplace.
---
How to Create a Modern, Professional Reception Desk with an Automated Visitor Management System
The state of an office is often a reflection of the mental state of those who work in it. If your office is outdated, cluttered, and weighed down with manual processes, then you may be sending the wrong impression to visitors. Moreover, you may be endangering the health and safety of employees and visitors.
In the age of COVID-19, businesses can't afford to come off as outdated and ill-prepared when reopening post-COVID. Your front office employees play a significant role in setting the right tone when greeting and signing in clients and visitors.
With COVID-19 dictating how and when businesses reopen, there has never been a better case for modernizing your front desk and implementing the necessary technology to assure your clients, visitors, and employees know you're doing all you can to protect their health and safety. The vast majority of reception area check-ins require some form of visitor sign-in and verification. This process is often carried out with a physical logbook, which is not only dated and inefficient, but also enables the spread of COVID-19 in your building.
1. Contactless Sign In
A recent study conducted by the University College of Dublin shows the emerging need for touchless interaction technology in the workplace.
"Replacing button-based interaction with a gesture or interactive hand controller could handle such [COVID] cases and move the world forward," note the study's authors.
One of the most practical ways to both modernize your front desk and stop the spread of COVID-19 in the workplace is to provide a hygienic, contactless (touch-free) way to register anyone entering your building.
With SwipedOn's visitor management system, employees and guests can utilize QR code scanners and their own mobile devices to sign in using the contactless QR code sign in. This eliminates wasting time, employees, and money due to traditional logbook sign-ins and ineffective formalities. Contactless sign in also reduces the need for your front desk to review paper documents and manually verify visitor registration.
2. Digital Agreements
Today the word "modern" is seldom associated with manual paper processes. Every time your front desk staff hands a guest a paper visitor agreement, you're impressing upon that guest that you are not a modern business.
Just like paper logbooks, paper visitor agreements are not only inefficient, but they have to be stored in a physical place where they are vulnerable to theft. You might also not be in compliance with GDPR laws.
SwipedOn's visitor management system easily captures and securely stores visitor agreement records, non-disclosure agreements, and health and safety registrations.
3. Visitor Screening
A recent study, called COVID-19 Prevention and Protection Measures to Be Adopted in the Workplace, showed that "among the organizational, environmental and personal preventive measures, the control of the physical conditions, by detecting the temperature, and of flu-like symptoms of the workers, can be used as an effective preventive measure for any subsequent endemic SARS-CoV-2 (COVID-19/Coronavirus) waves."
SwipedOn's visitor screening for COVID-19 includes features to eliminate unnecessary contact with staff and enable self-serve sign-in for visitor screening. You will then be alerted if a high-risk person enters your workplace and can plan accordingly.
4. Employee In Out Board
If your employees are in and out of the building all day, you need a modern system of managing staff in-out that doesn't require extra time or effort to use and maintain. To keep things moving, implement an all-encompassing solution that includes a digital employee in-out board.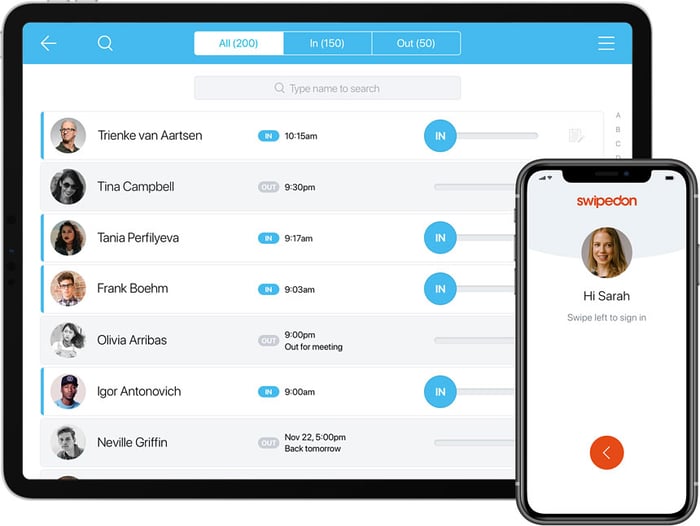 A good visitor management system not only checks in and screens visitors, but also has a fully-functioned employee in-out board that monitors staff movements through all entry and exit points in the building, no matter how numerous.
For additional safety, employees can sign in using the SwipedOn Pocket app on their smartphone. Learn more in this short 20 second video.
Bonus: Customised Sign In Screen
The COVID-19 pandemic has greatly impacted businesses worldwide. It has also realized the importance for organizations to update and modernize their front desk.
SwipedOn's visitor management system allows you to customize your sign-in iPad to fit your requirements. Furthermore, employees can have a contactless sign-in experience via a smartphone app.
It's time to modernize your front desk...
Modernizing your front desk may seem like just another job on your to-do list, but it's actually a critical part of reopening during the pandemic and assuring both employees and visitors that you are taking their health and safety seriously. Many states, like California and Illinois, now require businesses to meet certain health and safety requirements if employees are to return to work, including:
Implementing individual control measures and visitor screenings
Establishing disinfection protocols
Maintaining physical distancing guidelines
A visitor management system can help with all of these requirements by screening visitors and ensuring they, and your employees, read and agree to the proper protocols. If you're looking to modernize your front desk to protect the health and safety of your organization and visitors, while making a lasting (and welcomed) impression, contact us today and take SwipedOn for a 14-day free trial.