5 Unexpected Uses of Visitor Management Systems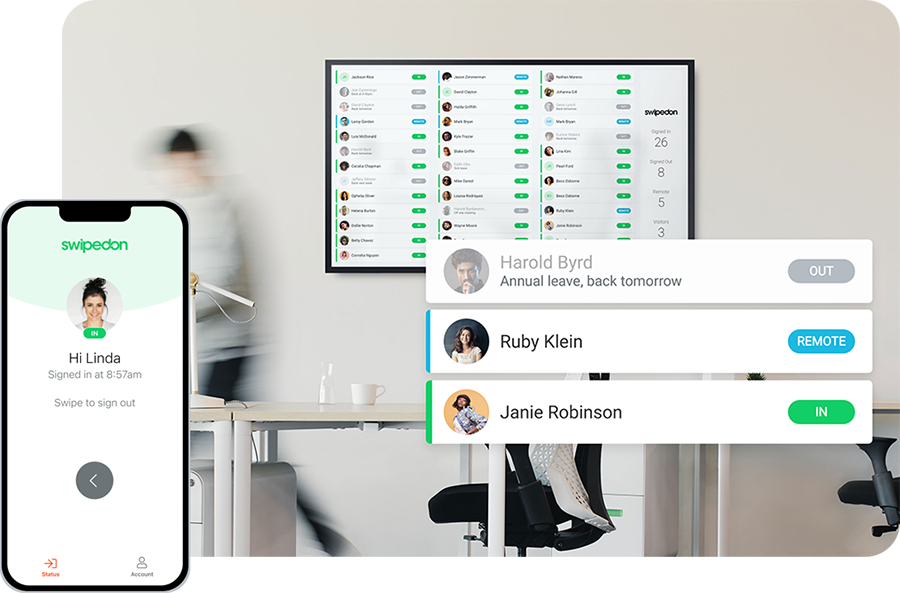 Visitor management systems are great tools to help your front desk team track visitors entering and exiting the building. Did you know they often include multiple applications that go beyond the simple sign-in-and-out process? These systems can track employees and contractors, boost overall workplace security, help your organization remain compliant with the law, and optimize your front desk team's ongoing performance. Below we'll show you how you can leverage these five unexpected uses of visitor management systems, and how these features can benefit any organization.
1. Track Employees and Contractors
A busy front office with visitors, contractors, and employees may signal growth and progress for an organization. However, for front desk receptionists, heavy traffic can be a challenging situation. It often results in queues, delays, and can even lead to incorrect reporting of visitors and employees signing in and out.
Although a visitor registration system can help visitors sign in quickly, it can also double as the ultimate in-and-out system for staff. With SwipedOn, employees simply swipe their name to the right to sign in, and to the left to sign out. The visitor management software also has the function to photograph employees during the sign in process, if there is not one currently on the system.
Alternatively they can use a mobile app called SwipedOn Pocket.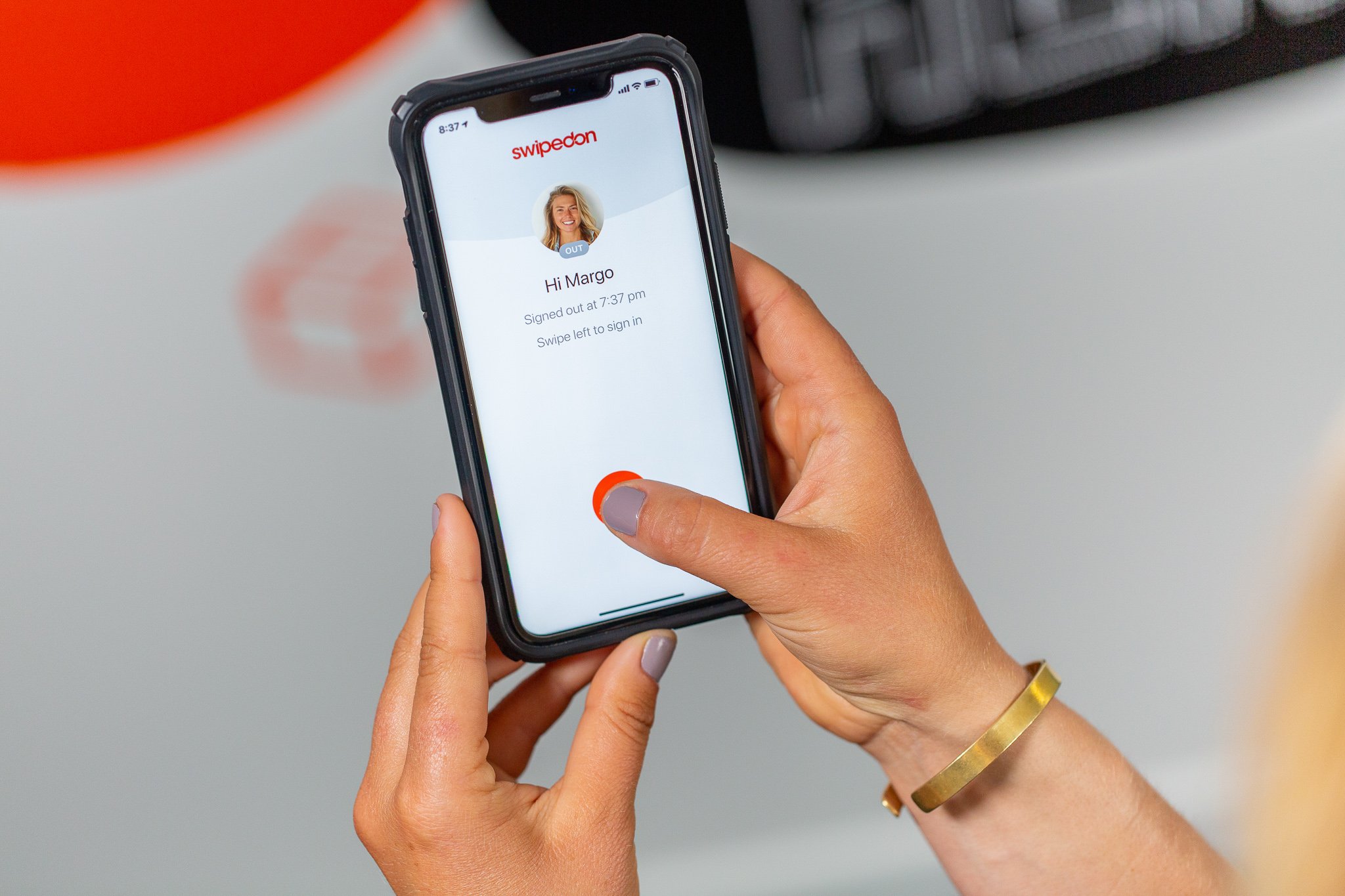 The office in-and-out board feature is an automated process that can reduce front desk workload as well as monitoring whether employees are in or out of the building which is crucial for the evacuation roll call procedure. Details include what time they signed out, emergency contact information, and any custom messages from the employee. The receptionist or manager also gains a full overview of employee movements in and out of the building, allowing them to generate daily, weekly, and monthly reports.
Visitor management systems can also sign in vendors and contractors who may have limited access and need to sign NDAs or waivers. The front desk can customize a contractor or vendor sign-in process so they can onboard appropriately before entering the premises.
2. Improve Workplace Security and Safety
Creating a safe and secure work environment for employees and visitors is vital for every company. Unfortunately, emergencies such as a fire, natural disasters, and even hazards due to negligence are genuine issues that may arise. In fact, from 2014 to 2016, the fire department responded to approximately 100,300 fires in non-residential buildings in the U.S.
In the event of an emergency, a visitor management system can quickly identify who is on the premises at any time. Front-desk staff can use their iPad and conduct a portable roll call in case of an immediate evacuation. The software also works in offline mode and is not dependent on the internet to continue functioning.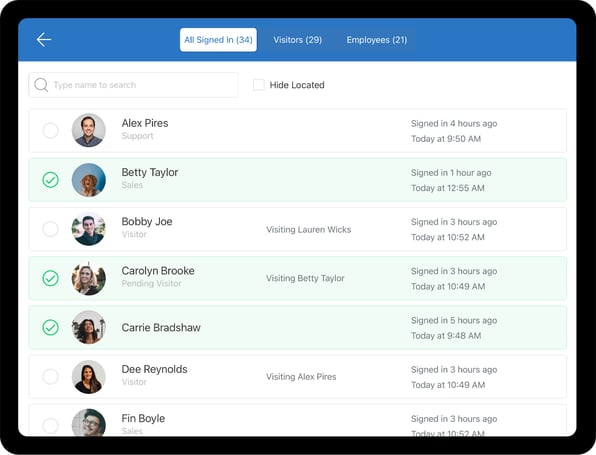 ---
In this video, senior mobile developer Jason, guides you through the SwipedOn evacuation feature
Want to see more? Subscribe to the SwipedOn YouTube channel: here
Visitor management systems can also prevent serious issues such as physical theft, intellectual property theft, and data theft. According to David Spencer from the NCC Group, a cybersecurity and software escrow organization, a large majority of security breaches occur in their security audits because their assessment team is able to slip past the front lobby.
"In many cases, it was the visitor sign-in policy that allowed us to gain access to the building, either by tailgating employees, re-using visitor passes or convincing reception that we were supposed to be there," writes Spencer.
A visitor management system allows you to enforce a strict sign-in policy, print visitor ID badges so staff can differentiate visitors from employees, and track the whereabouts of your employees and visitors with real-time analytics.
3. Visitor Screening
At a time of global medical uncertainty, such as the COVID-19 Coronavirus outbreak, you'll want more visibility than ever on who is entering and exiting your building. With the SwipedOn visitor screening feature, you can customise the visitor flow by asking a screening question of your choice. Depending on your question, you can then choose which answer triggers an alert notification to be sent.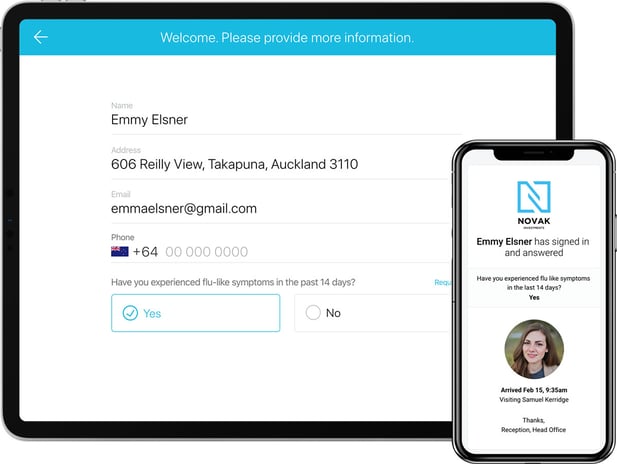 ---
In this video, Judea guides you through how the visitor screening tool works.
Want to see more? Subscribe to the SwipedOn YouTube channel: here
4. Remain Compliant with the Law
Did you know that the European General Data Protection Regulation (GDPR) rules also apply to in-person visitors? Visitor management systems not only help companies sign in visitors efficiently, but they can also ensure organizations abide by GDPR laws.
If your company is still using paper-based sign-in forms, it's hard to customize the sign-in process for different types of visitors. The lack of customization can result in requesting too much information from certain visitors. Furthermore, with paper sign-in forms, visitors may also gain access to another visitor's information. Either way, if your organization is guilty of allowing such practices, you could be in breach of GDPR laws.
With a visitor management system, you can categorize and customize different types of visitors to avoid unnecessarily collecting too much personal information. Visitor and employee data can be easily anonymized. You can also embed appropriate steps in the sign-in process to ensure that you are GDPR compliant. These include explaining the use of visitor data, asking for consent (and allowing all visitors to opt-out), and embedding any necessary NDAs or security clearances through the software.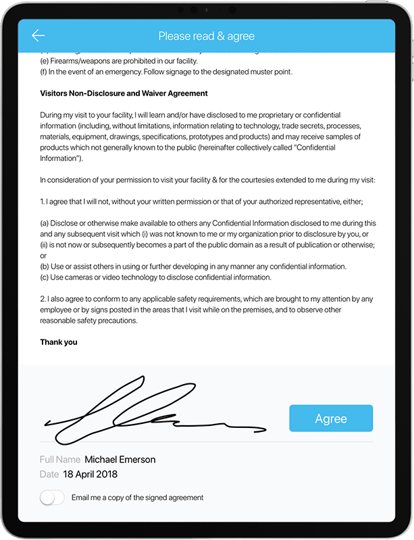 5. Optimize and Evaluate Ongoing Performance
Consistently evaluating current performance and striving to optimize it is a crucial trait of every successful company. Therefore, every organization should leverage feedback loops to improve performance, especially when it comes to welcoming visitors to the company.
With 68% of employees preferring accurate and consistent feedback, it's essential to ensure that receptionists are collecting data that can help them perform better in their roles. Unfortunately, paper-based systems and outdated software cannot provide front desk teams with accurate and rich data. On the other hand, visitor management systems can eliminate much of the human error out of the equation in order to accurately track data and performance, which significantly helps with ongoing feedback and evaluations.
Visitor management systems can also leverage data to predict visitor traffic. It can inform the front desk team when to expect high visitor traffic and prepare the team to be ready to receive and welcome visitors during busy hours. During low-peak hours or days, receptionists can plan ahead and more efficiently use their time attending to other administrative work.
With accurate visitor data, teams can continuously evaluate their performance and optimize appropriately. According to McKinsey & Company, precise data allows receptionist managers to provide daily feedback loops to team members, improving efficiency and productivity.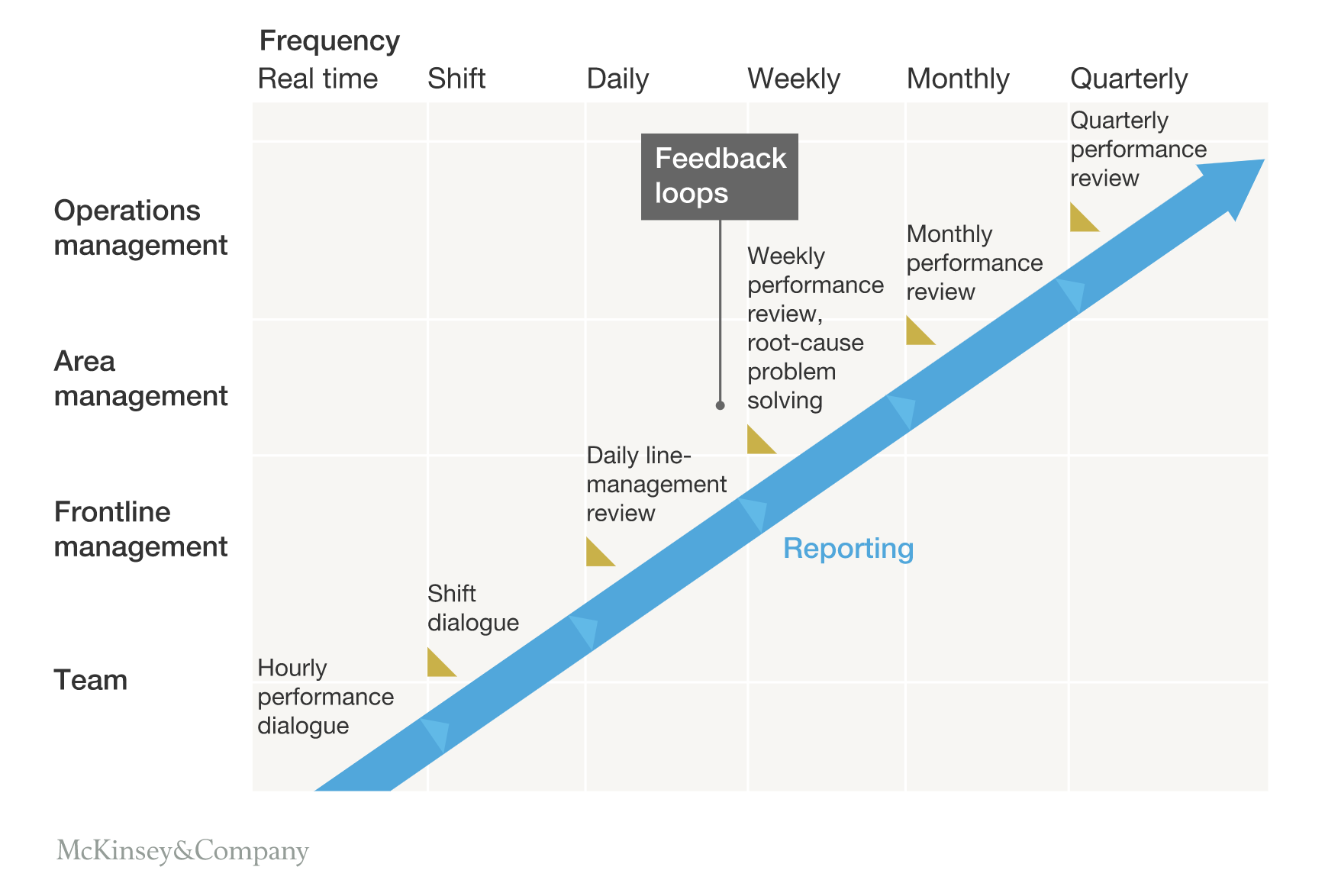 Overall, visitor management systems can boost productivity, efficiency, security, and leave a good first impression on your visitors. It also ensures you are in regulatory compliance. It's time to discard your traditional paper-based visitor log book and upgrade to an all-in-one visitor management system. If you're ready to streamline your visitor sign-in process and leverage these unexpected advantages of a visitor management system, then sign up for a 14-day free trial.