Product Update: Printing and Dashboard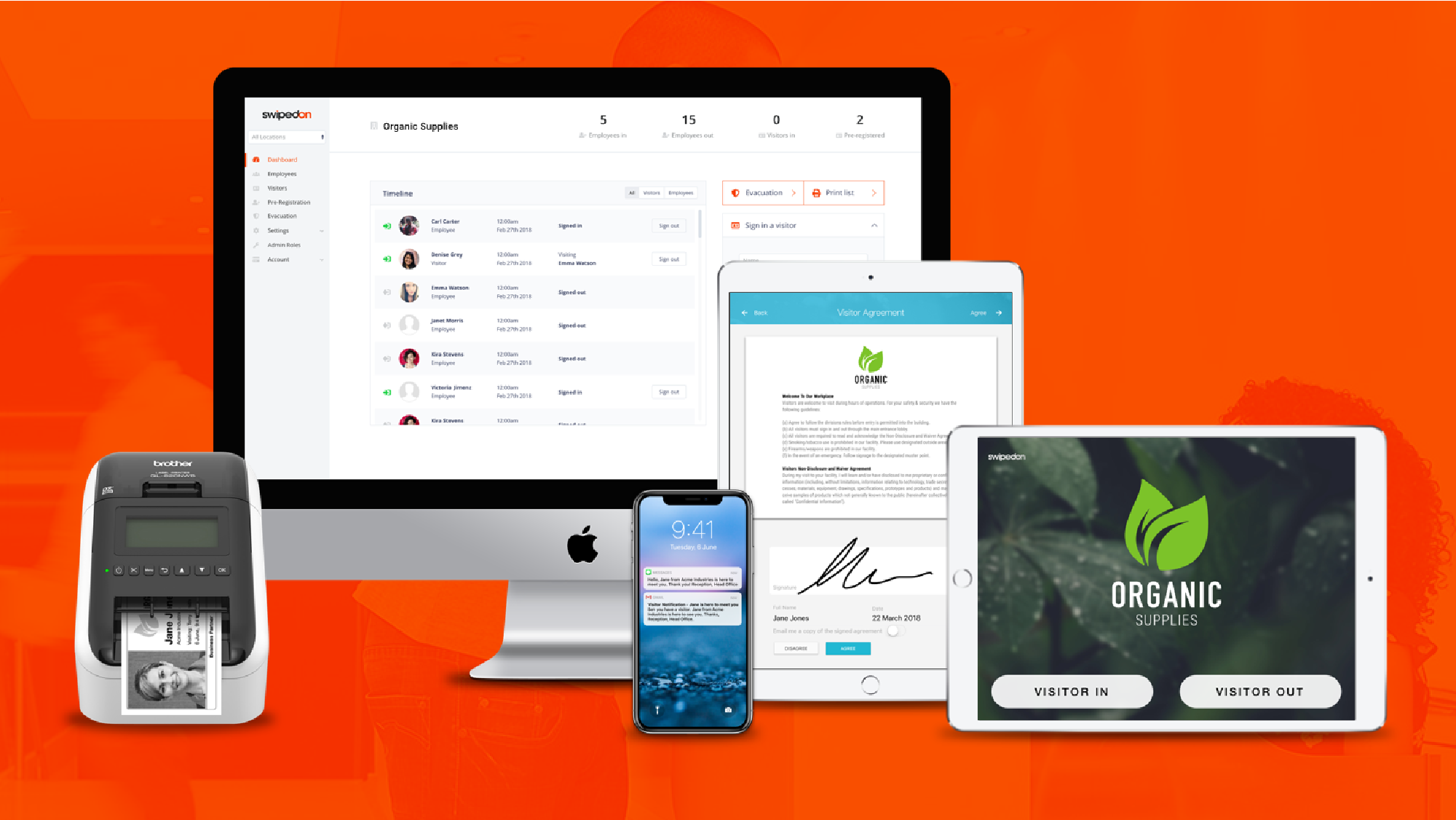 It's been a while since we've given you a SwipedOn product update - so here it is! Firstly, you may have noticed a few changes of late! Earlier this month we were proud to release our brand refresh. We've got a new website, a fresh look on the dashboard and a popping new app icon. Our Marketing Manager Paul, explains all about our bold new brand.
For me personally, as the Head of Product, the brand refresh signals a new phase of our product development. This year we have some aggressive product goals, centred around expanding and improving our core functionality and releasing many of the features our beloved client base have been asking for.
Here's a closer look at what's new:
new and improved dashboard
To kick things off, we have given our dashboard page a new look and added functionality. This is the first page you land on after login, so it makes sense that you have the most used functions at your fingertips.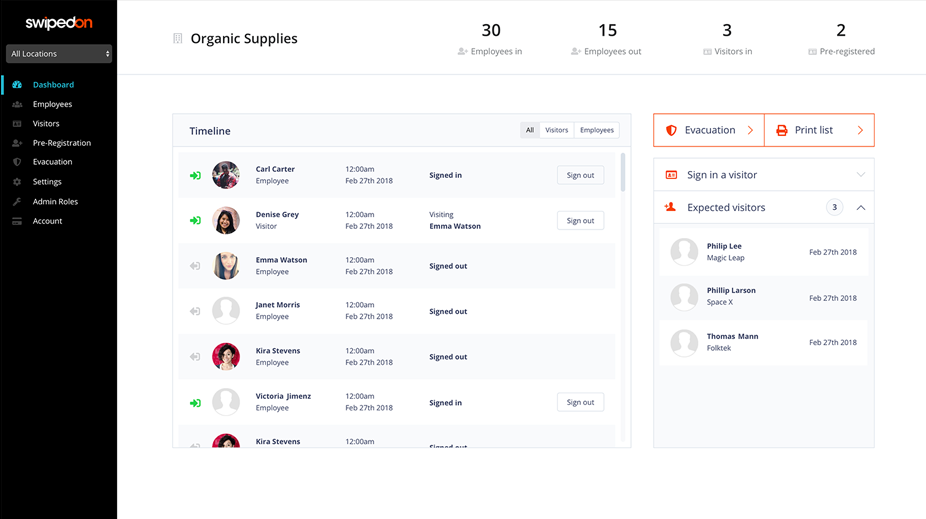 Timeline view: We've given our timeline a refresh and made it easier to use. We've also added a "sign out" button, so you can easily sign out visitors or employees without leaving this page. Be sure to use the quick filters at the top should you want to focus on a particular group, say visitors only.
Button improvements: We've made the 'evacuation' and 'print list' buttons a lot more prominent.
Visitor sign in: One thing that was missing on the dashboard was the ability to sign in a visitor. That's now changed, you can add a new visitor quickly from the dashboard.
Pre-registered visitors: You'll also notice you can view your next upcoming 25 pre-registered visitors by expanding the pre-registration box.
Quick links: We've made it super easy to go directly to the pages you use most. Simply click the visitor, employee or pre-registered counters in the header bar to navigate directly to those pages.
enhancements to printing
Next on the list was to give our ID label printing feature a complete overhaul. Printing was our number one support related item, so we knew improving it was a must. Working closely with Brother, we have produced an iPad printing UI that we feel is not only a lot more user friendly, but the most efficient within the market.
iPad specific printing is here: in our previous version, ID label printing settings were 'global' - meaning that all iPads in your account would try and print if you had the feature turned on in your dashboard. This caused issues in many cases where a particular iPad was not connected to a printer or solely used for employee in/out. In version 2.7.0 (or later) we've now solved this. Now, printing is not controlled from your Dashboard, but rather in each specific iPad. You simply need to connect to a printer and your printing ID labels. If you don't wish to print from a particular iPad - no problem, just do not connect to a printer!
Automatic detection of ID label type: another huge area of improvement is we now automatically detect which roll type you have installed in the printer and will scale the ID label to suit. No more mucking around changing the ID label type in the dashboard! As long as you are using one of the 8 supported roll types, you'll be able to change them in and out with no disruption to your printing. Not only do we support over 8 roll types, you can now use sample rolls that come with your QL-820NWB or QL-810W printers - so please feel free to use them!
Say hello to test print: we heard your feedback on having the ability to simply test if printing is working from within the printer setup menu. You now can! Go ahead, check it out to see how it works for you.
We've got plenty more updates coming your way, along with some exciting new product features we know you'll love... keep your eyes peeled for the following:
GDPR product improvements: we have GDPR looming and we are hard at work bringing you all the required functionality to ensure you stay compliant with the EU Data regulations. And for those of you that are outside of the EU, not to worry… we believe these features will be of benefit to you too. Find out more about what we're doing to become GDPR ready.
Portrait mode for iPad: we've had lots of feedback about having the ability to also allow SwipedOn in portrait mode on the iPad. Great news! It's coming very soon - so stay tuned!