Product Update: Visitor In and Out Gets a Makeover

Here's a closer look at what's new!
Meet Your New Visitor In and Out Pages
Following on from our last update, we're pleased to introduce a refreshed and cleaner design to our Visitor In and Visitor Out flows. The intuitive design means a more modern, professional look to better represent your brand, along with a refined user experience.
You'll notice we've introduced a wider, easier to read visitor agreement, with more signature space. No more trying to sign between the lines! We have also added an all new button display for visitor categories.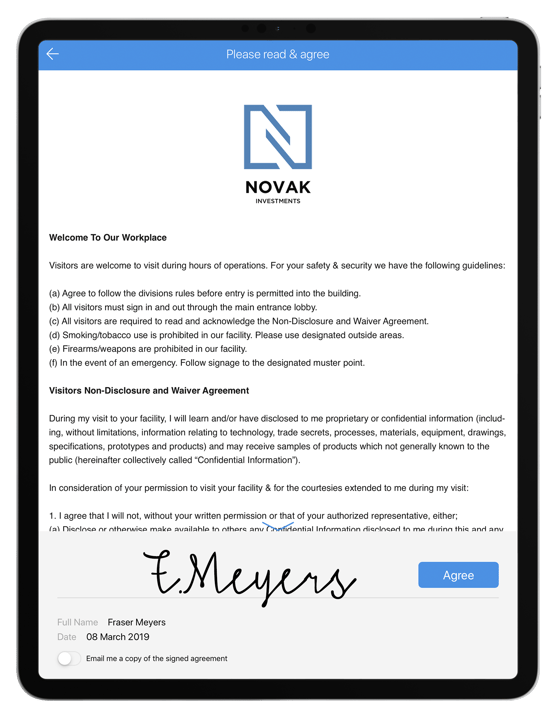 Hey, don't I know you?
Pre-registered visitors now get a better experience when signing in, with their pre-selected host shown front and centre. We've also made things easier for saved visitors, by giving the option to quickly re-select the host from their last visit.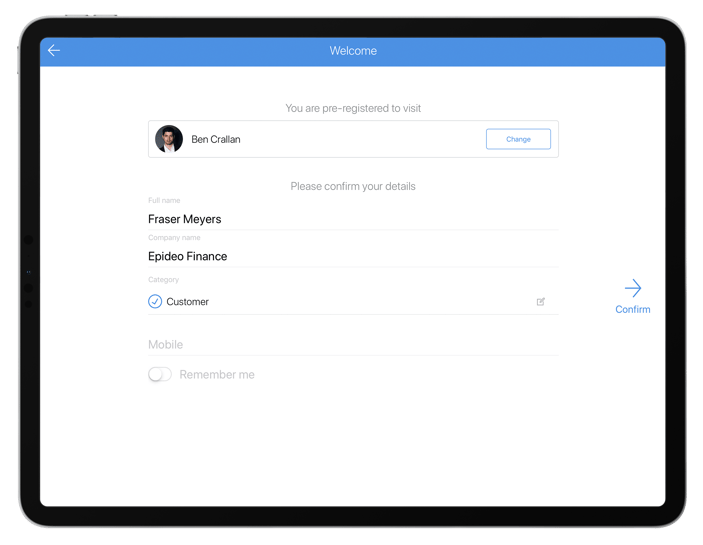 If you have a lot of regular saved visitors you'll know that their saved details are recalled every time - but maybe you don't always want that. Now you can set a visitor response to be cleared every time for saved visitors, which is perfect if you're issuing them a pass and need them to record the number for it each time. Or maybe you have visitors who arrive in pool cars, and they should enter their vehicle registration or carpark number afresh every time. You get the idea! Learn more about how to pre-register a visitor.
Host Selection Search
We've made it a lot easier to search for groups of employees. When searching for a host, visitors will now see results that match on the primary field as well as name. This means your visitors can now search by department, job title or anything else you set as a primary field.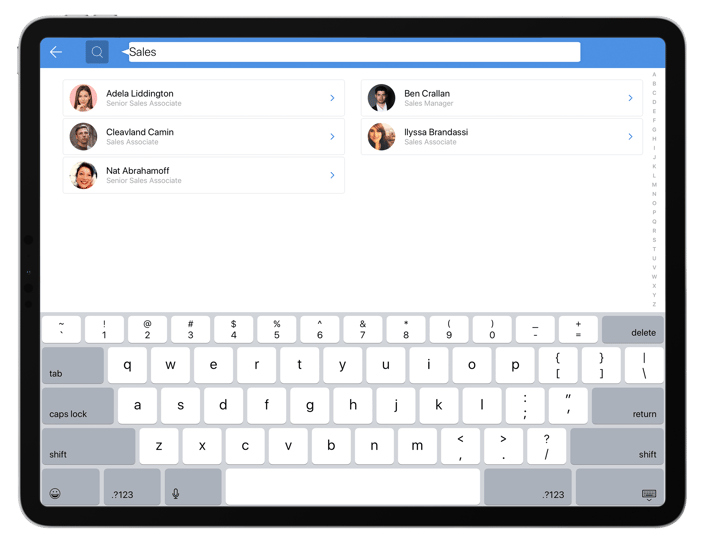 Employee In/Out Just Got a Whole lot Snazzier too
Based on feedback from the 2.10.0 release, we're pleased to bring you further updates and improved functionality to our employee pages.
Highlights include:
Let Visitors Know if a Host is Signed Out
Employee In and Out users - rejoice! Due to popular demand, we've added the ability for visitors to see if a selected host is signed out, along with making the host's sign-out message visible. This is ideal if, say, the selected host has had to pop out for 15 minutes, or is away sick for the day. Visitors can now easily be informed and decide if they need to wait or reschedule a meeting. This feature is automatically enabled as soon as you update your iPad. However, if you do not wish to use this setting, you can easily disable it from your web dashboard, here's how.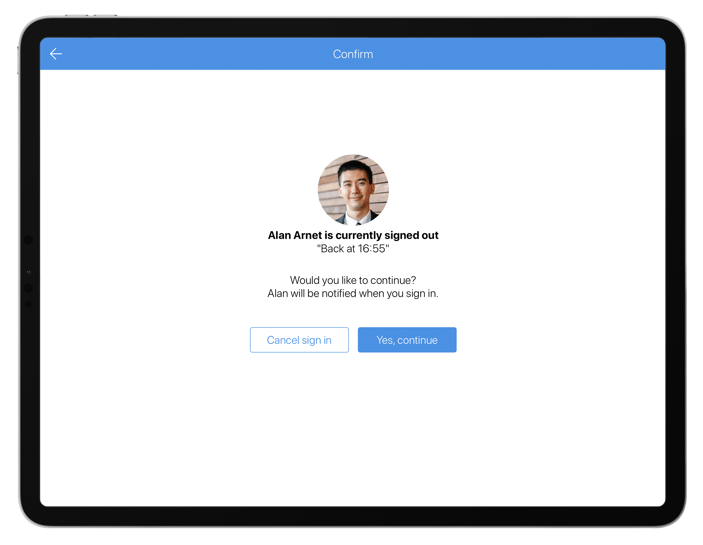 Capture & Upload Profile Photos in Real Time
Uploading employee profile photos just got a whole lot easier! Now you can quickly take and add a photo to an employee profile directly from the iPad. Simply flick a switch on the dashboard and you're good to go.
You may also notice that the photos displayed on the iPad appear a lot crisper - this is because we've made it so all photos are saved in a higher resolution. Learn how to take & set an employee profile photo.
Ensure your Roaming Employees are Home by Midnight
Roaming employees now have the option to return to their previous location at midnight. This makes sense if your employees regularly work at a second site and need to be switched back to their main place of work. No more having to remember to change location again the next morning, just sign in as normal! Any time a roaming employee changes locations they can choose to have their location changed back at the end of the day. To access this new feature, employee roaming must be enabled.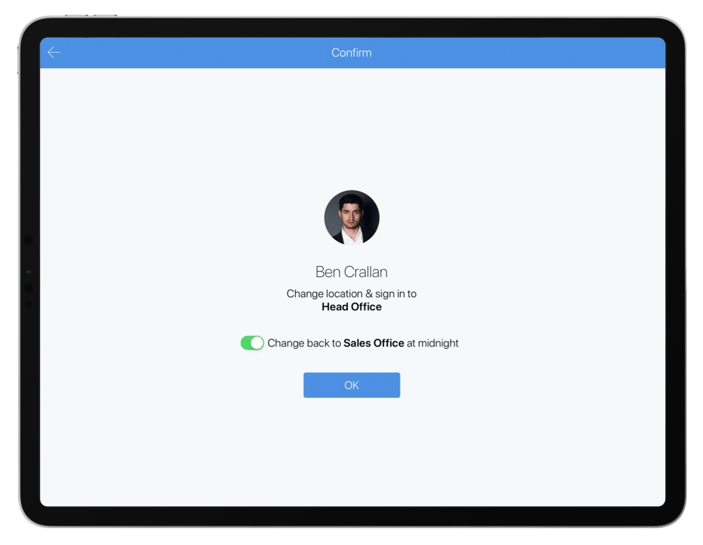 'Out' Messages Made Easier
We've improved the design of the out message screen, based on feedback that it wasn't the easiest to see how to confirm and save your selected messages. We agreed, and now you can't miss it. Don't forget, it's easy to make sign out messages mandatory.
SwipedOn 2.11.0 is available to download now!
Like what you see? Yep, so do we. A lot of your feedback and suggestions have gone into this release, so we hope you enjoy.
You can download SwipedOn 2.11.0 direct from your app store today. We value your input, so please let us know what you think via live chat on our website.