5 Ways a Sign In System Can Boost Your Logistics Business
The operational efficiency of most businesses depends on streamlined collaboration between different departments and employees and the logistics industry is no exception.
The international nature of logistics businesses and handling the flow of partners, contractors, and workers visiting a variety of facilities has meant that the challenge of maintaining streamlined processes has become even more complicated by the global COVID pandemic.
Due to this, we have seen an increasing number of logistics businesses are moving to digital systems which leverage innovative technology to improve their processes and replace inefficient practices with digital systems.
So how do these solutions make it easier for those in the transport and logistics industry to address key challenges and enhance their productivity?
Keep reading to discover five ways you can leverage these savvy tech tools and help you boost efficiency and thrive in an often-demanding industry.

1. Make Safety and Security a Priority
Along with the safety concerns every business has, those operating in the logistics industry also face numerous additional risks due to complicated supply and delivery chains. A compromise in safety or breach in security due to cutting corners could result in transportation delays or production stoppages which directly impact the bottom line.
The Census of Fatal Occupational Injuries reports an obvious increase in the number of fatal injuries to workers employed in transportation and warehousing. Therefore, whatever the nature of the risk, measures need to be taken to keep it under control and ensure the safety of your teams and facilities.
A digital sign in system allows for safe spacing at entry points and convenient documenting of visitors' details and protocol checks. It informs visitors of your organization's procedures, highlighting any details specific to that location. A digital visitor log monitors who is on-site, where, and for what reason in real-time so your organization's health and safety procedures are transparent and everyone is on board.
2. Streamline and Simplify Reporting
Workplace sign in systems also enable you to keep detailed records of all individuals that enter and exit your facilities, which is essential for accurate reporting and contact tracing.
A digital visitor log can be customized to best match your organization's requirements, allowing you to specify the details that need to be collected through both reception (visitor) and employee sign-in.
With all that data gathered and stored, you can easily view historical reports in various file formats, such as Excel, PDF, or Microsoft Word. They are searchable, so you can make the report more precise by applying custom filters like time, building, department, etc., and retrieve the information you need.
Having these records stored digitally empowers you to interpret large amounts of data quickly and efficiently so you can improve accountability, identify any weak links in your chain that may need optimization, and make effective decisions.
3. Implement ID Badges
Using your sign in software in conjunction with an ID badge printer has a number of benefits:
You have a record of each visitor's picture, name, and contact details— strengthening security protocols.
You know the purpose of the visit, which also serves as a guide to what information your system should require from visitors.
Automating the process as much as possible frees up front desk staff to take care of higher priority tasks.
"Complex sign-in can create a poor image to visitors visiting a site. The Swipedon process has sped up the time to register visitors and retain relevant information. Visitor capture provides an improved method of identification, allowing site representatives to view IDs while in the site and cross-reference with visitor identity.

SwipedOn customer, Kim King, the Pacific QHSE Manager of Bolloré Logistics

4. Drive Decisions with Data
Apart from enhancing security, a sign in system collects and stores relevant data that business owners can use to find precise, data-driven solutions to business problems.
A digital sign in system keeps track of the number of visitors, time, and areas of visits to a business facility. It can also provide data that is useful for recording employees' productivity. For example, staff punctuality and attendance of staff on different shifts, or the number of employees working remotely on a given day, contributing to establishing a transparent and straightforward company policy.
5. Optimize Your Emergency Response Plan
This report shows that in the UK alone, the trucking and manufacturing industry faces employee mortality rates at twice the frequency of other businesses.
People are the most valuable asset of every company, which makes emergency response plans critical. Building a contingency plan for a logistics business, however, requires accurate accountability of staff location and work operations.
With the SwipedOn sign in system you have complete oversight of staff and visitor whereabouts and our cloud-based technology means you can grab and go: pick up your SwipedOn iPad and use it as a portable roll call and a real-time record-keeper if you need to get out in a hurry.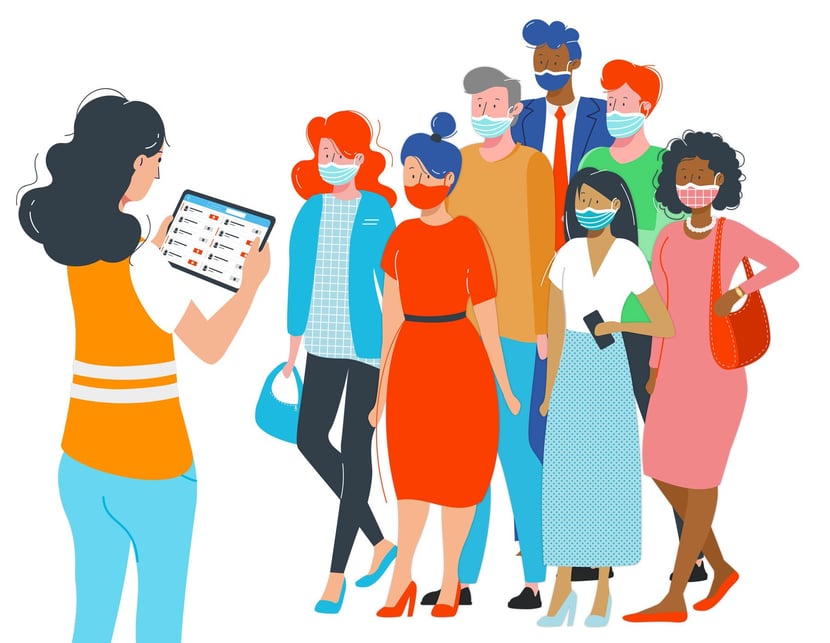 Sign in software goes beyond merely signing visitors in and out. It enhances the overall efficiency of transportation and logistics operations by streamlining reporting on all visitor and employee activities in your facilities. It also collects and stores data, which enables you to employ effective analytic tools to track productivity, make data-driven decisions, and implement smart solutions.
See how other businesses in the transportation and logistics industry have used the SwipedOn system to help streamline, secure and simplify their operations.