Prior to the COVID-19 pandemic, a digital visitor management system (VMS) wasn't considered a necessity. They were initially known for streamlining existing front-desk operations. However, as cities and communities began reopening during the pandemic, visitor management systems quickly became a vital tool for every organization. From schools to manufacturing facilities and aged care facilities, organizations began adopting visitor management systems to improve the way they check-in, track, and collect visitor and guest data.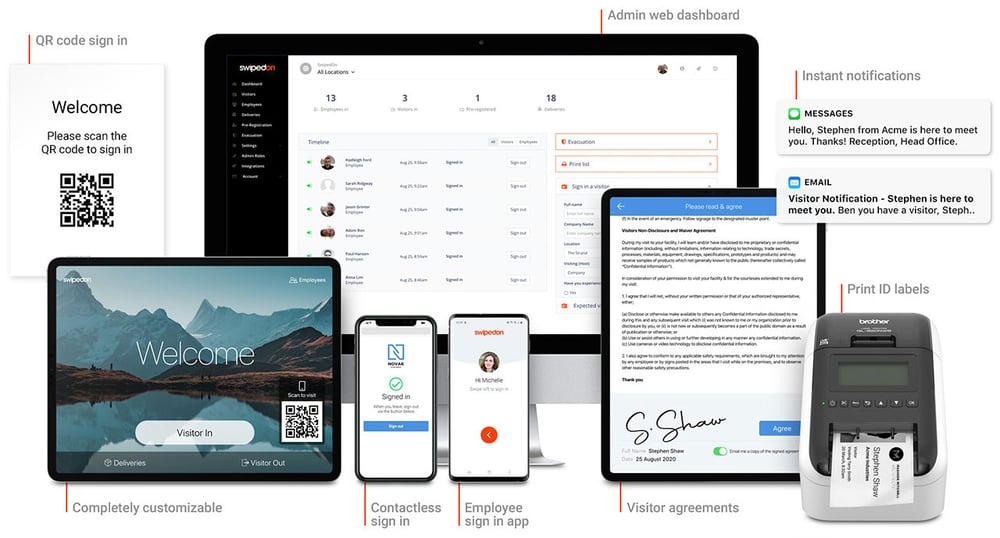 These systems are currently solving a major workplace safety issue because tracking key information and screening out potentially high-risk individuals protects staff and helps workplaces remain COVID-19 free. Despite these safety features, their superior benefits compared to the traditional logbook are key to their continued success and longevity in a post-COVID world.
In this article, we explore why visitor management software will continue to be important even after the global pandemic.
1. Broken Barriers to Adopting a VMS
While visitor management systems produce superior benefits to traditional logbooks, many companies resistant to change often pass over the opportunity because the system doesn't solve any obvious or pressing issues.
However, when COVID-19 hit and states began reopening from lockdown, building managers had no option but to look to visitor management systems. As traditional logbooks failed to ensure the safety of staff and the workplace, changes in demand for a visitor management system skyrocketed. Not only can visitor management software provide touchless sign-ins and health screening and evaluations, but they also aid contact tracing efforts.
"Initially we saw demand fall overnight, as the shock of COVID-19 reverberated around the globe. Companies quickly needed to understand their landscape and if their business models were even viable, so adding a visitor management system was certainly pushed to the back of the queue. However, as the dust has settled that mindset has changed significantly," said Hadleigh Ford, CEO here at SwipedOn.
Today, more and more companies are looking at how a visitor management system can help ensure business continuity as states and communities reopen and recover. With increasing pressure to ensure a safe workplace, COVID-19 removed and eliminated the initial barriers to implementing a visitor management system.
Indeed, the global pandemic has catalyzed the rapid adoption of visitor management software and helped businesses efficiently and effectively assess everyone's health and their level of risk before entering workplaces. The receptionist area and visitor management systems quickly became an organization's first line of defense to mitigate risk and ensure everyone's safety.
2. Clear VMS Advantages
Most businesses focus on the safety features as the most important aspects of a visitor management system during a global pandemic. However, while visitor management systems provide these benefits, including the ability to contact trace and screen high-risk individuals, they also provide significant advantages such as boosting building security, reducing costs, improving the visitor experience, and streamlining front desk operations.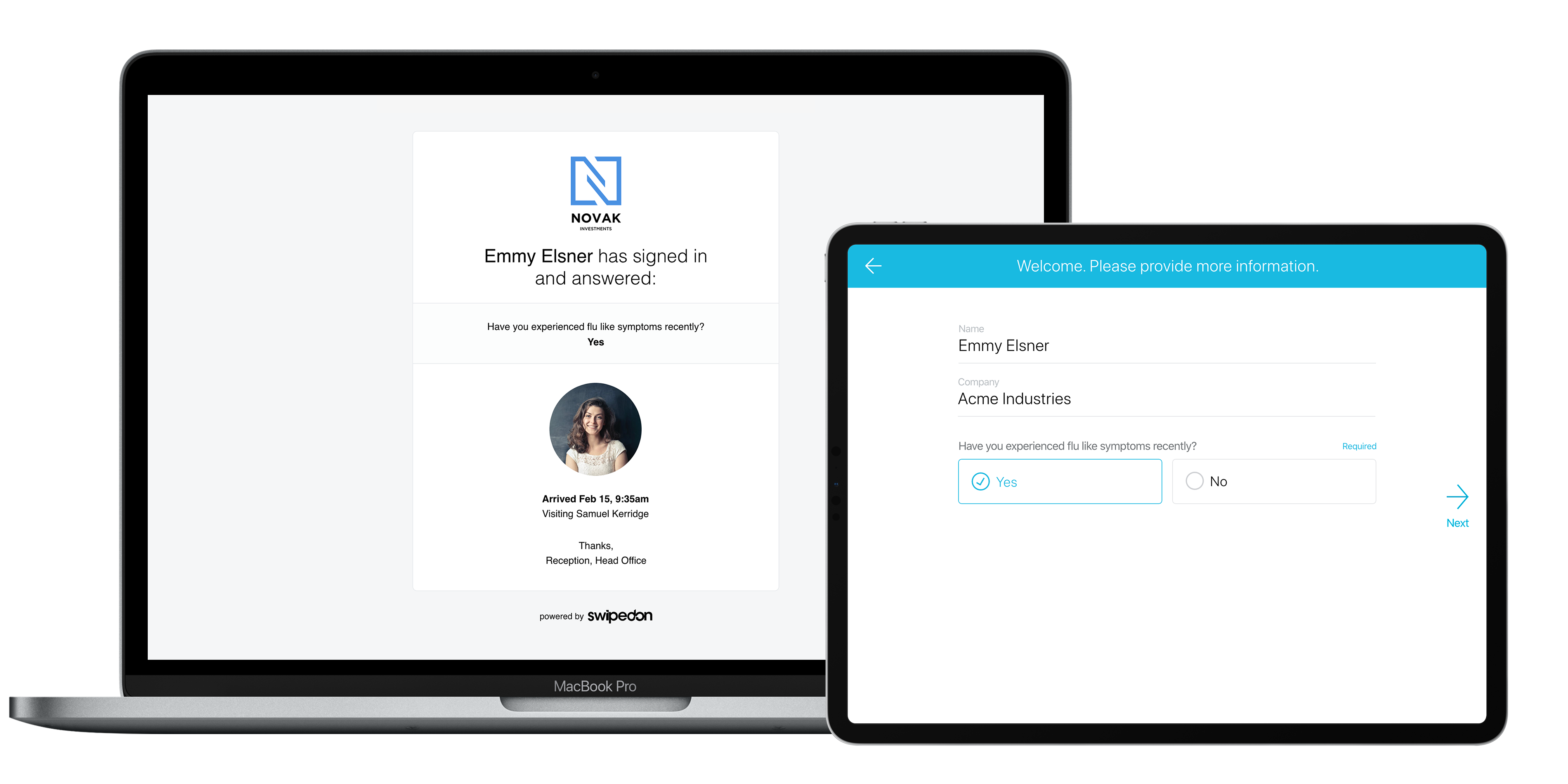 Building Security
A visitor management system can ensure the safety of your employees and property by allowing you to quickly register and identify visitors to your database. SwipedOn's visitor management system can also track visitor movements around your workplace. This way, any malicious intent is discouraged since visitors are aware their identity can be quickly traced.
Reducing Costs
Streamlining and boosting the efficiency of visitor registration reduces visitor processing costs over time. Visitors simply sign in using a tablet at reception, automating the sign-in process so your receptionist can focus more on other tasks. Furthermore, less paper is being used, which means fewer stationery-related costs for your organization.
Enhanced Visitor Experience
A digital visitor management system provides a fast and streamlined way for guests and employees to enter their details into the tablet. With SwipedOn's contactless feature, they can even scan a QR code to enter details via their own smart device instead of having to touch an unfamiliar screen, which makes visitors feel safer. These small changes can make a positive and significant difference to the visitor experience at your workplace.
Improve Front Desk Operations
According to Inc, when you reduce workplace distractions 75% of employees are more productive, 49% are happier at work, and 57% have increased levels of motivation. Installing a visitor management system is a great way to reduce the visitor sign-in burden and associated stress for your front desk staff. It allows more time for them to attend to more urgent matters, without jeopardizing the visitor experience. Once visitors sign in, your front desk staff can receive an instant notification, automatically providing the details of the registered visitor.
3. Change-Resistant Companies are Convinced
One of the greatest barriers to adopting visitor management systems for businesses is their resistance to the use of new technology. New technologies can appear to be a threat to the existing system and the way things are done, including possible disruptions to existing business operations. Introducing a new visitor management system also means teaching receptionists, employees, and visitors how to use the new system.
Inform employees about the advantages of implementing a digital VMS, especially given COVID-19, and additional features like contact tracing, screening, and touchless sign-ins — now essential must-haves to remain in business. Disrupting the existing visitor sign-in process is a small price to pay for businesses and employees that want to reopen and ensure workplace safety.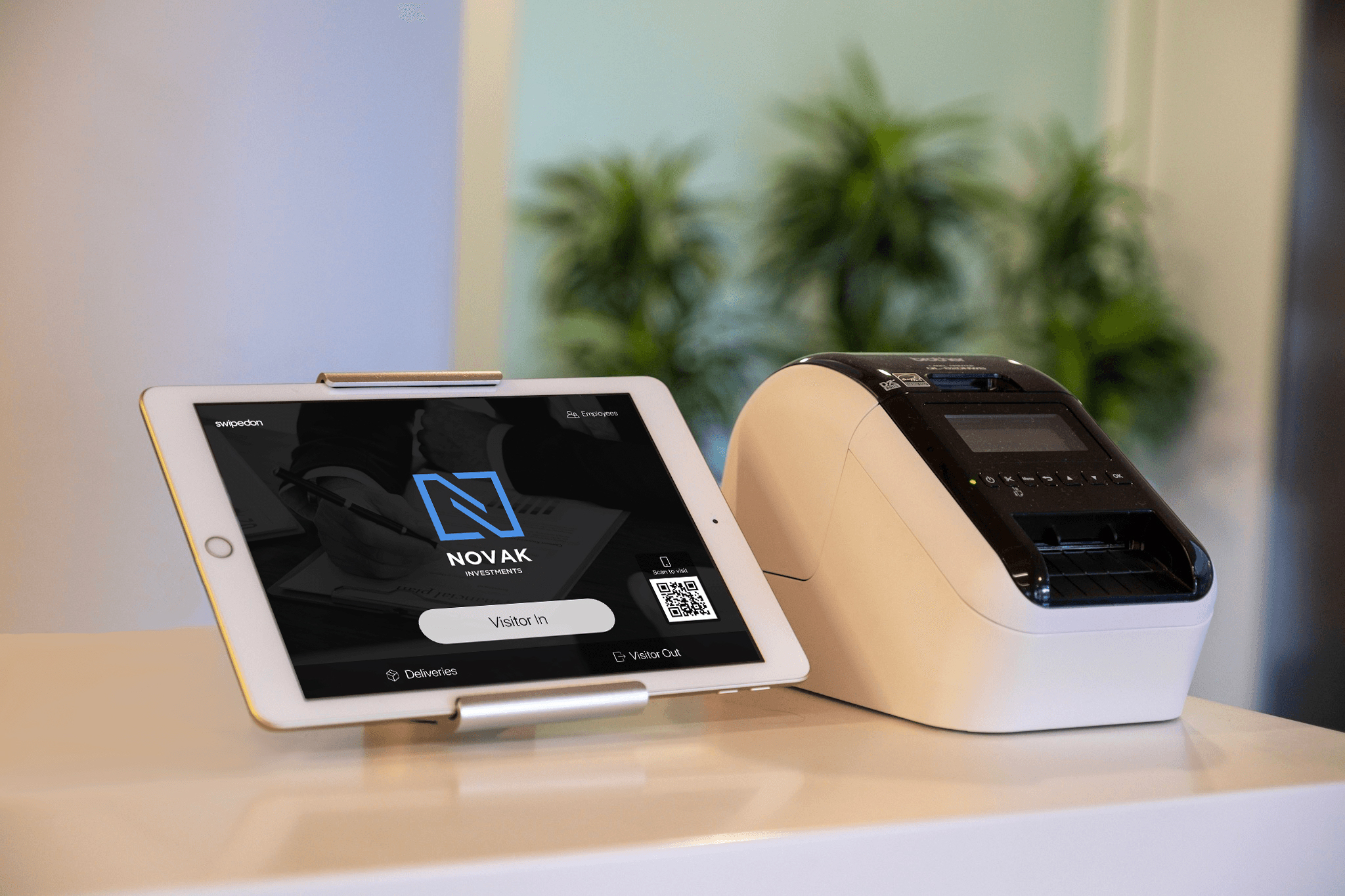 Bottom Line
While the installation and education process for cloud-based visitor management systems can take some time, it's actually straightforward and the benefits outweigh the initial setup costs. Reception staff appreciate the extra time and reduced burden, security is enhanced, and visitors can quickly and easily sign-in, while the created efficiencies reduce costs in the long run.
As of August 14, 2020, there are over 20 million cases of COVID-19. While states are flip-flopping between locking down and reopening, the economy can't remain at a standstill forever. Businesses will need to reopen and employees need to go back to work. The pandemic has created a sudden demand for cloud-based visitor management systems—and because of their many benefits, it's certain that they will continue to thrive in the post-pandemic future.
If your organization is interested in experiencing all the benefits of a visitor management system, sign up for SwipedOn's 14-day free trial today.