How a Contactless Visitor Management System Reduces Spread of COVID-19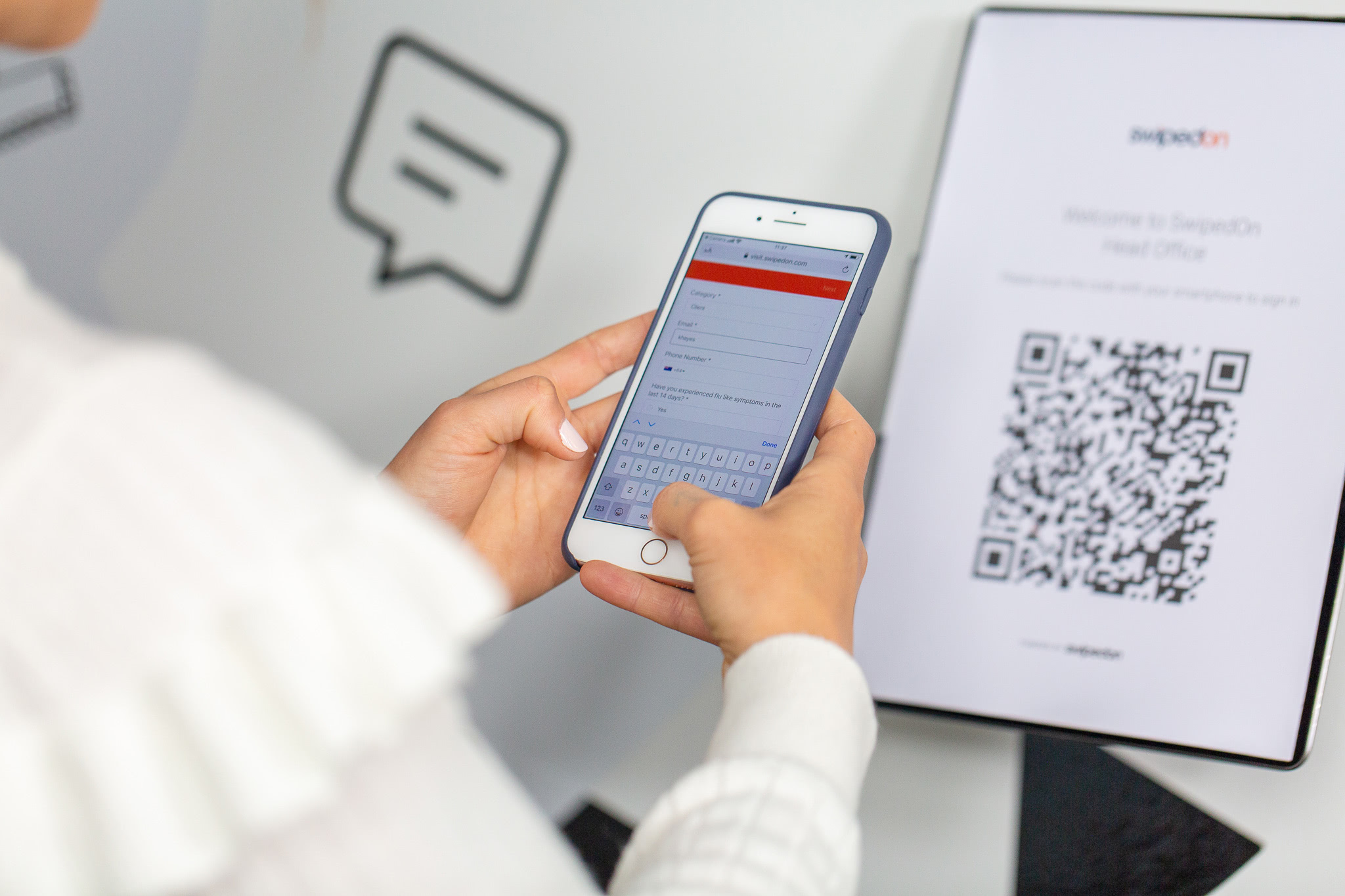 With over 13.5 million global cases of COVID-19, it's hard to argue with the fact that the virus has been spreading quickly through countries, cities, states, and communities worldwide. Although countries like Australia, the United States, and India implemented lockdowns to ensure social distancing, many states and cities are reopening to kickstart the economy. The challenge many organizations face is the daunting task of keeping their employees and visitors safe as the pandemic surges on.
If your organization is reopening doors to staff, customers, and visitors, precautionary steps must be taken to protect everyone by minimizing any potential exposure to COVID-19. Below, we'll show you how installing a visitor management system can provide numerous benefits that can help minimize the spread of COVID-19 within your community and organization.
1. Contactless Sign-In
According to the NIH, Scientists found that SARS-CoV-2, the virus that causes COVID-19, can be detected in aerosols for up to three hours and on plastic and stainless steel surfaces for up to three days. That's why disinfecting frequently touched objects and surfaces, like a visitor sign-in book or digital tablet is necessary.
Continually cleaning and disinfecting your visitor sign-in book or tablet is a time-consuming process, however, and can also damage the book or tablet. To minimize potential exposure, save time, and protect company equipment, we recommend you opt for a contactless visitor sign-in option.
SwipedOn's contactless sign-in option is a touch-free method of registering visitors to the workplace. This hygienic approach allows visitors, customers, and contractors to sign in by simply scanning a QR code using the camera on their smart phone. After scanning, your visitors can then complete the sign-in registration form on their phone through a browser app.
In the event that you don't have an iPad at the ready, you can print the QR code and place it at reception. The contactless sign-in feature ensures that everyone in the reception area can maintain social distancing to reduce close contact, and stay safe. Minimizing the spread of COVID-19 at the reception area not only impacts those at the front-desk positively, but your entire organization and community as well.
---
In the video below, see a demonstration of contactless sign in for visitors using the QR code with SwipedOn.
Want to see more? Subscribe to the SwipedOn YouTube channel: here
---
SwipedOn has developed a dedicated app called SwipedOn Pocket for employees to sign in via a contactless experience. Learn more in the video below where iOS developer Jason guides you through contactless employee sign in using the SwipedOn Pocket app.
Want to see more? Subscribe to the SwipedOn YouTube channel: here
---
2. Screen Visitors and Include a Coronavirus Workplace Policy
Before staff, contractors, customers, and visitors enter your facility, it's vital that you screen them to prevent potentially infectious individuals from entering.
With SwipedOn, you can include a list of questions that determine whether the individual is a safety risk to your organization. The Society for Human Resource Management gives some excellent examples of questions you can ask to screen visitors, including:
If they have experienced any cold or flu-like symptoms within the last 14 days (fever, dry cough, tiredness, shortness of breath, respiratory issues)
Whether they've traveled to an area with a recent major outbreak
If they've been in close contact with someone who' s traveled to those areas within 14 days
If they've been in close contact with someone with COVID-19 or symptoms
According to the CDC, studies show that infected individuals may also be asymptomatic (infected but not showing any symptoms). It's also for this reason that you should implement detailed health questionnaires and insist that everyone entering the facility maintain social distancing and wear a face mask.
You can inform employees and visitors of these workplace policies via a digital agreement. SwipedOn's digital agreement feature allows your visitors to read, review, and sign your organization's non-disclosure agreement, which can be customized to include other agreement points such as those involving health and safety matters. This can be extremely useful and also aid your existing regulatory compliance system. Furthermore, digitizing health agreements ensures that your paperwork is easily filed and stored away in the right location.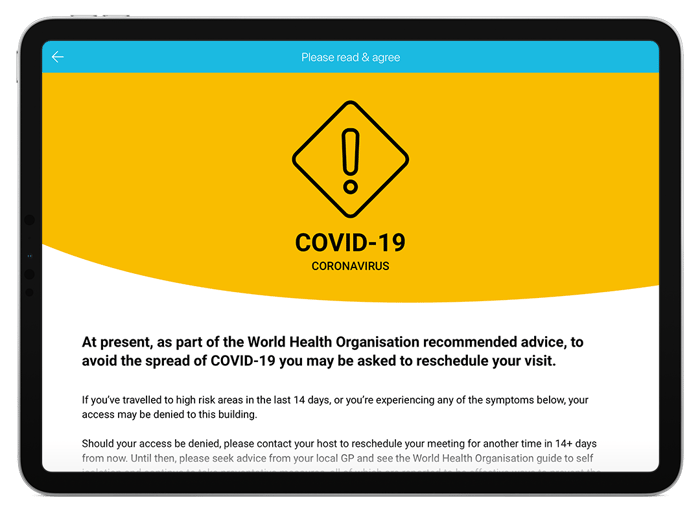 3. Implement a Contact Tracing Strategy
According to the World Health Organization (WHO), contact tracing is a vital process that helps reduce the spread of COVID-19 because it helps identify and manage individuals that have potentially been exposed to the virus. Following up with everyone that has been around an infected person and ensuring they self-isolate for 14 days from exposure can break the chain of transmission.
In a McKinsey article written by Molly Bode, Matt Craven, Markus Leopoldseder, Paul Rutten, and Matt Wilson, they explain why contact tracing is a necessary step in minimizing the spread of COVID-19, especially as our states and communities begin reopening again.
"Contact tracing enables a targeted approach: rather than imposing a blanket society-wide lockdown, authorities are able to isolate those potentially infected. Lockdowns are necessarily applied where the authorities do not know who has COVID-19," they write. "A highly effective program of testing, tracing, isolation of cases, and quarantining contacts can achieve similar benefits as a lockdown while allowing the cast majority of the population the freedom to conduct day-to-day activities. In a world where herd immunity and a vaccine are still far off, even a moderately effective contact-tracing program is an important tool for enabling countries to reopen society."
SwipedOn's visitor management system doubles as a screening tool that can simplify contact tracing thanks to easy access to accurate visitor records. These records time-stamp the exact time a person registers and include key information like their name and the date. If they answered your company's health screening questionnaire and signed a health NDA agreement, this information will also be included with their profile. You can use this data to alert others in the organization, the health authorities, and to take the appropriate actions.
4. Alert Others in the Organization
The key to minimizing the spread of COVID-19 is to ensure that individuals in close contact with an infected person are aware of their exposure and self-isolate immediately. Visitor screening allows you to alert others in the organization if a high-risk individual is entering or has entered the workplace. In the event that a high-risk or known infected individual has entered your workplace, you can immediately carry out contact tracing. Simply contact employees and visitors who signed in on that day, ask them to get tested, and request that they stay home and self-isolate for 14 days.
Unfortunately, COVID-19 cases are continuously on the rise.
CNBC reported that in early July, in the United States alone, there was a record single-day spike of 60,000 new coronavirus cases within a 24-hour period. These statistics show that the coronavirus will still be around for a while, with clear community transmission running rampant in many countries around the world. As countries, states, and cities begin reopening, one of the best things you can do for your organization and community is to implement precautionary measures to minimize the spread of COVID-19.
As we have seen over the course of the COVID-19 pandemic, reopening businesses while minimizing the spread of the virus can be a challenge. In addition to following specific regulations and each organization establishing its own safety protocol, businesses are also having to adapt to fluctuations in people's ability and willingness to follow guidelines for the sake of the general public. A visitor management system can help your organization minimize the spread of COVID-19 by providing a contactless sign-in, screening visitors and employees, utilizing health policy digital agreements in the workplace, and contact tracing to keep employees informed and safe.