Debunking 6 Common Myths About Visitor Management Systems
Visitor management systems (VMS) have become common in workplaces over the past decade. Unfortunately, many people do not yet understand their benefits, and many businesses are not taking advantage of everything these workplace sign in systems have to offer.
Some business leaders may feel visitor management systems only benefit large corporations or will make the guest sign-in experience impersonal. Others worry a VMS is a big investment or is reserved only for companies with serious security concerns.
How a company can benefit from a visitor management system depends a lot on their knowledge of what a VMS can do, however, since almost all companies that receive visitors can benefit from one. The first step to understanding how your company can benefit from a VMS is to debunk these 6 common VMS myths.
MYTH #1: Visitor Management Systems Lack a Human Touch
Businesses want their guests and employees to have a positive front desk experience and worry that digitizing processes removes the human touch.
The truth is, a digital sign-in solution can help guests quickly connect to the human touch of your organization and brand, and the visitor experience. It only takes 7 seconds to make a first impression. Visitor management systems replace and automate tedious manual processes, and create a seamless guest experience to make your first impression count. With a tailored touch screen or contactless sign in, VMS technology is efficient, agile, and designed with a human connection in mind while enhancing your front desk.
Self-registration allows the front desk staff to focus on attending to visitors who need extra attention, other important tasks, and maintaining a pleasant front desk experience. Screening questions and forms can be signed digitally for a seamless and paperless sign-in, and the host can be instantly alerted when the guest arrives.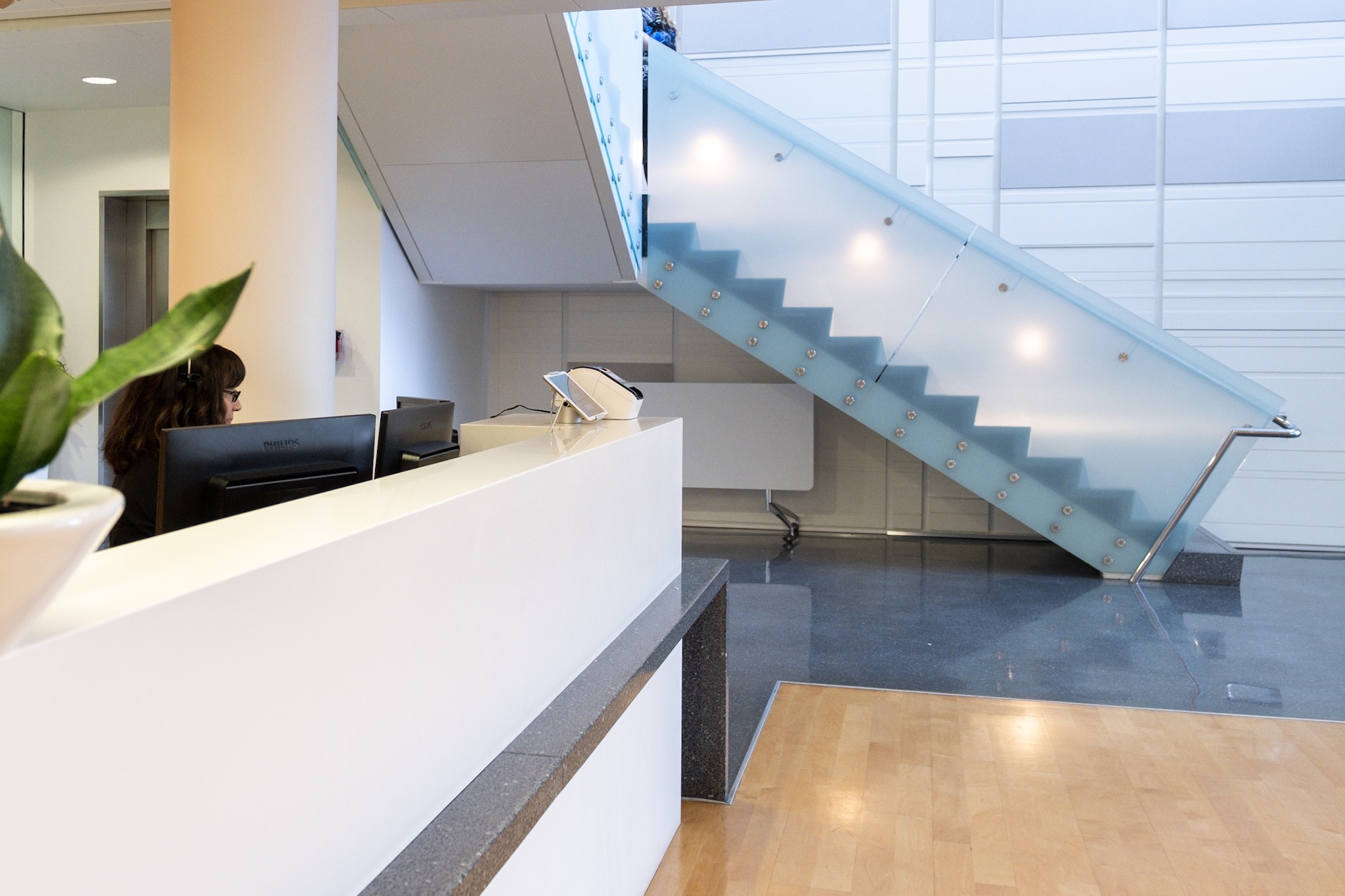 MYTH #2: Visitor Management Solutions Only Help with Security
It's true that visitor management systems are used as a powerful security tool. A VMS can minimize physical security threats like office theft or minimize data security breaches. Visitor management systems do so much more and benefit many other business functions across the entire organization.
Here are additional ways your organization can benefit from a visitor management system:
Conduct contract tracing and health screenings to protect your workplace from the risk of infectious diseases.
Facilitate digital agreements and NDAs easily to enforce regulatory compliance and replace risky tedious paperwork.
Tailor your welcome to your audience with customizable branding.
Streamline staff sign-in with a digital in-out board and track all employee movements on a singular dashboard.
Instantly print professional-looking badges via WiFi, Bluetooth, or Ethernet.
Pre-register and remember guests for a quick registration and great first impression.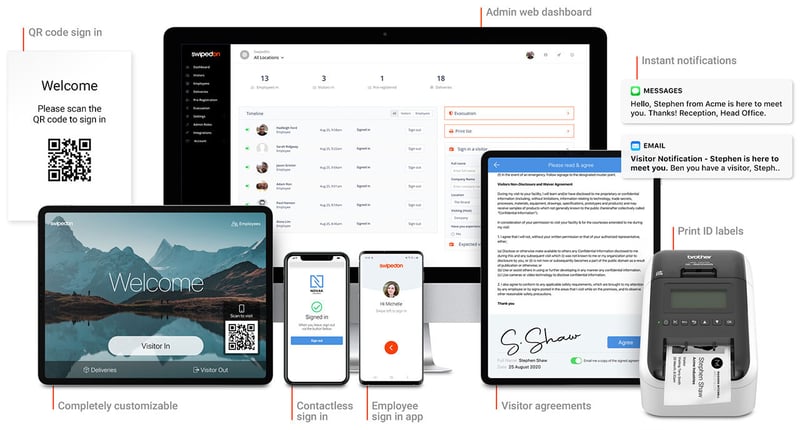 Businesses that leverage their VMS capabilities across the entire organization can expect to see a high ROI. Understanding the suite of capabilities included in a VMS is the first step to leveraging them to their fullest potential.
MYTH #3: Visitor Management Systems Take Away Someone's Job
Businesses may worry that a VMS could eliminate valuable receptionist staff and feed into the growing unemployment crisis in the U.S. In truth, visitor management systems can become more beneficial when paired with a live receptionist. Instead of businesses seeing a VMS as a replacement for a human role, they can view it as a tool to optimize workflows and support a dynamic front desk experience. Receptionists juggle countless daily responsibilities, so automating mundane tasks will free them up to prioritize the most pressing tasks.
Self-service registration means front desk staff can focus on creating a comfortable experience by answering questions, attending to calls, and offering refreshments. As businesses update cleaning measures per CDC guidelines, a contactless VMS can even help reduce the spread of COVID-19. Employees can also benefit from a contactless sign in by using SwipedOn Pocket.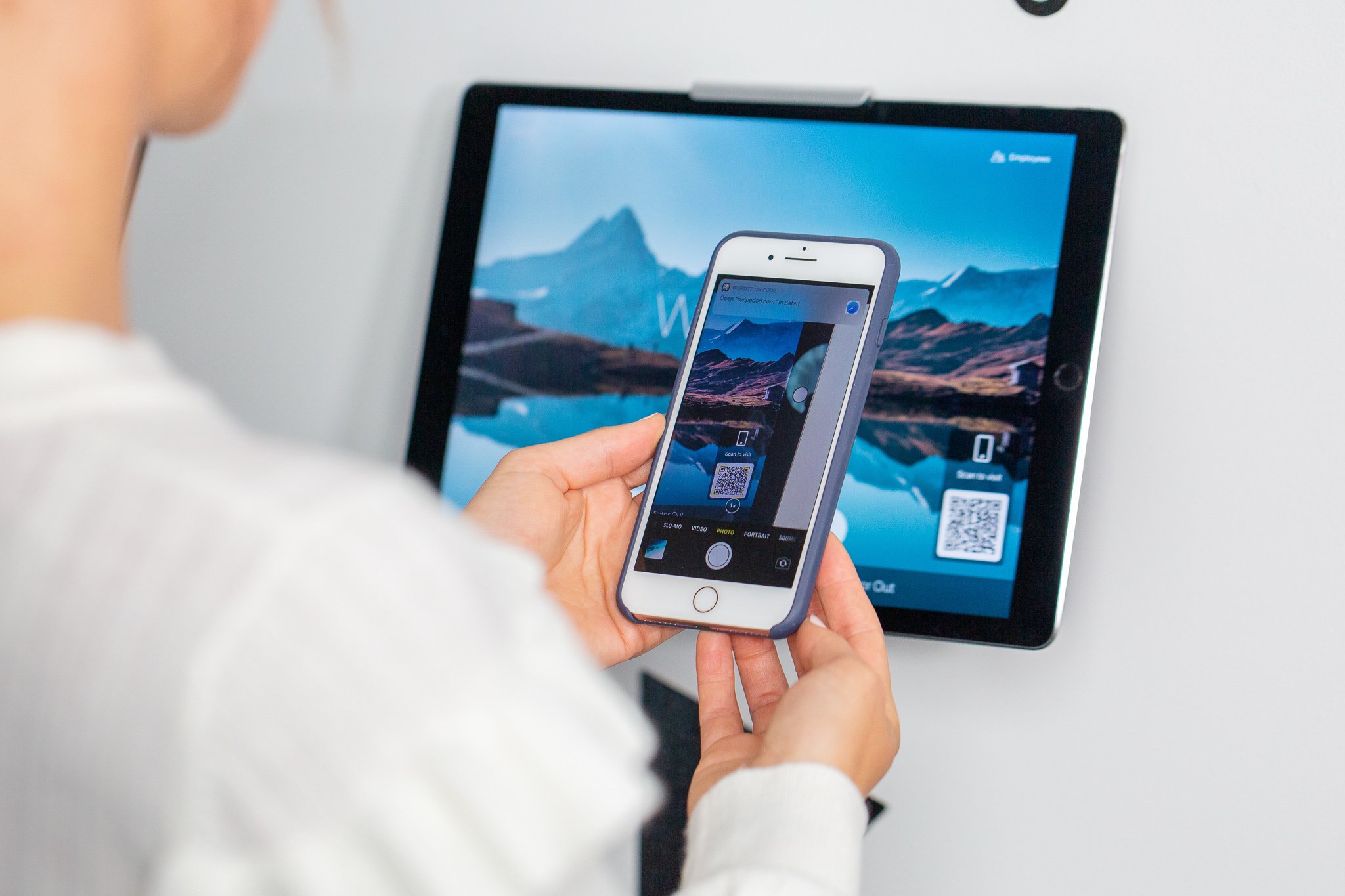 MYTH #4: Upgrading to a VMS is Only for Large Businesses
Smaller businesses that maintain a manual visitor logbook may see a digital VMS as a luxury reserved for larger enterprises. The reality is that quality visitor management systems are scalable for all businesses.
As more organizations embrace digital transformation, paper logbooks are becoming outdated. Visitors are becoming more accustomed to modernized front desks and may look down upon companies who maintain pen-and-paper processes. A VMS minimizes and even eliminates paper processes that can negatively impact the front desk experience, and your organization in the long term.
Additionally, visitor management systems pay off in ways that make them a smart investment for companies of all sizes. As mentioned above, custom branding and contactless sign in help create a lasting first impression. This frictionless, tailored experience may lead to hiring better talent, impressing critical business partners, and result in happier employees that drive your business forward.
Digital in/out boards help employees register quickly when they arrive at the office, relieving them of inconvenient bottlenecks and allowing them more time for productive activities.
MYTH #5: A Digital Sign-In Poses a Larger Security Threat
Anytime personal information is collected, it's right to question how it is being used and stored. Visitor management systems are a safer way to ensure your employee, customer, and visitor data is protected, encrypted, and secure.
Paper visitor logs are at risk from threats like office theft, damage, or human error. Paper files can get misplaced and accidentally be left in plain view, leaving them open to harmful security threats. Digital forms safely capture and store visitor details in the cloud so no one can view them. Visitor movements and files can be easily accessed as needed without bothering with paper files.
With built-in compliance, companies can also rely on the VMS infrastructure to protect and secure sensitive data. As new compliance regulations are rolled out, a VMS ensures your business is always protected. Have a full audit trail and reporting functions to ensure all visitors are signing forms and agreeing to any data privacy policies. Document digital agreements securely in the cloud for easy reporting and auditing purposes.
With the right visitor management system, your business can comply with privacy and security regulations while helping visitors feel safe and welcome.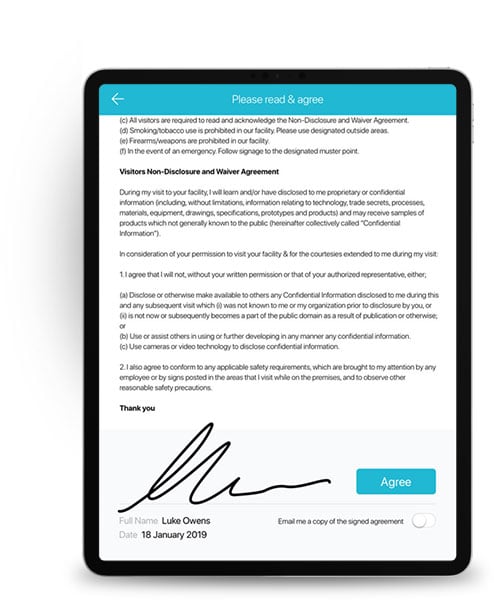 MYTH #6: All Visitor Management Systems Are Created Equal
Not all VMS are created equal. To benefit from the full capabilities a VMS offers, businesses need a leading visitor registration system with the full scope of capabilities. SwipedOn offers an all-in-one visitor management solution for businesses of all sizes. With a simple design, world-class support, and built-in compliance, businesses can overcome their misconceptions of visitor management systems and begin leveraging SwipedOn to streamline front desk operations.