How Does a Visitor Management System Actually Work?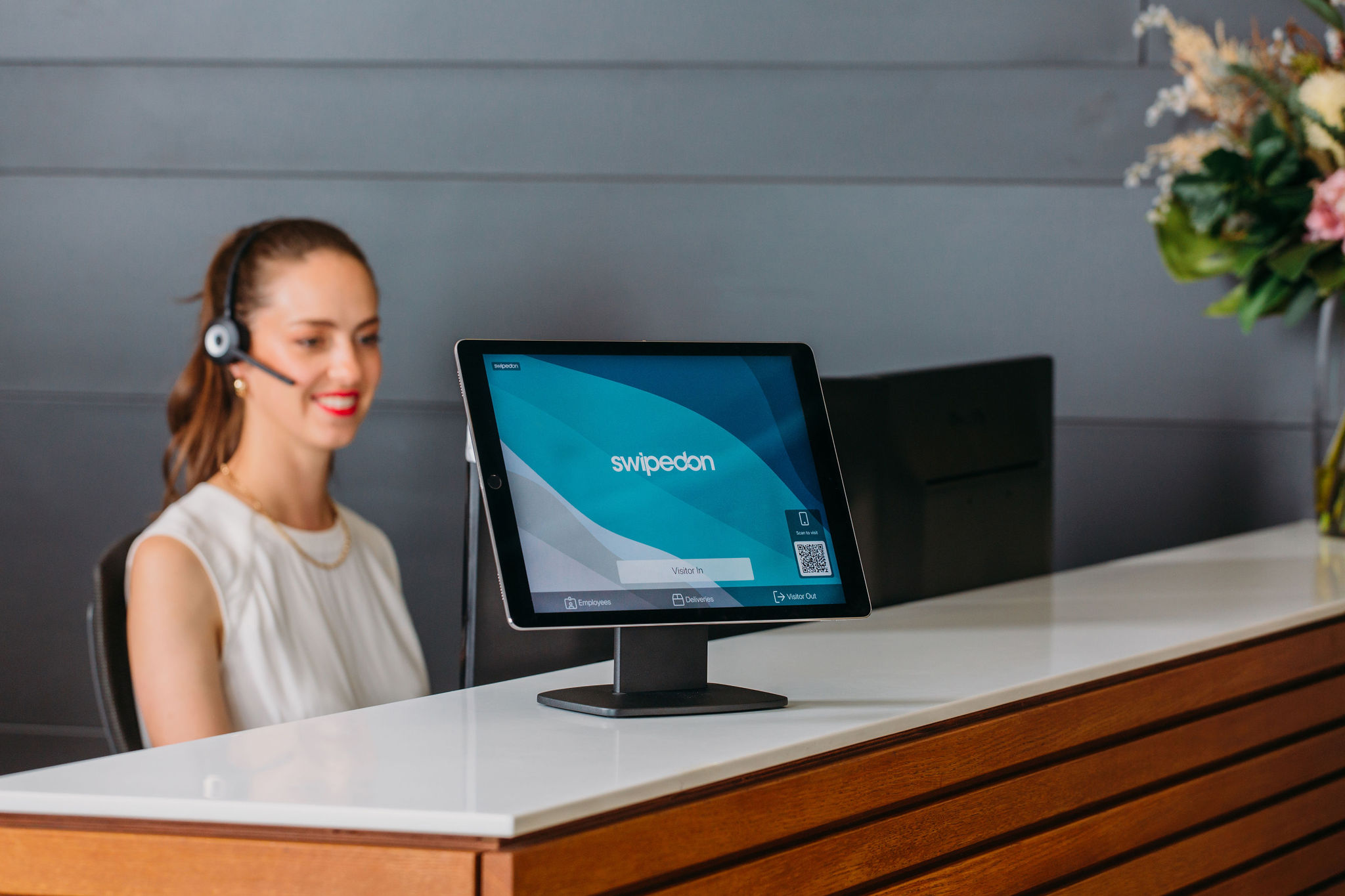 An increasingly important way to create a competitive edge for your business is by creating a superior customer experience. A study conducted by IDC revealed that 30.9% of businesses consider customer experience to be a top priority for their company.
It can be easy to make the mistake of only extending these experiences to the customers or guests deemed to be of high value. Potential hires, temporary employees, and other visitors have as much of an impact on the business as paying customers and should be treated with the same importance. To elevate the customer experience for everyone, you'll need to re-evaluate visitor management practices.
What is a Visitor Management System?
If your workplace is anything like ours, you'll welcome many people onto your premises on a daily basis. From employees to contractors to delivery personnel. Having systems in place to track the people who come and go is essential for health and safety, security and compliance. A workplace sign in system - also known as a visitor management system (VMS) - is a SaaS platform which helps businesses do just that. While many modern businesses have feature rich software to enable more effective and efficient visitor management, this was not always the case.
Visitor Management Through the Ages...
Here are some of the legacy systems that businesses have used in the past to track visitors. If your business is still relying on these methods, it's probably time to re-evaluate. 😬
1. Paper Books
Every business needs to keep a record of people visiting their premises for compliance and safety purposes. These records have to be stored for different lengths of time depending on the regulations in various jurisdictions. In the past, businesses used paper books to keep records of past, present, and future visitors.
However, these record books are prone to damage, are difficult to replicate if lost or damaged, and present significant challenges for users who are looking for specific visitors or details. This method can still be seen in nostalgia-inducing themed resorts or hotels but most businesses have digitised their records for greater ease and convenience (not to mention for security and data privacy purposes).
2. Spreadsheets
When businesses digitise their visitor records, they don't always choose the systems most optimised for their use case. Spreadsheets are a common way to digitise visitor management records for businesses reluctant to spend on specialised software. Even if they represent a better way of keeping records compared to traditional paper books, there are significant challenges associated with spreadsheet-based record management.
Spreadsheets are often time-consuming and cumbersome to maintain while being prone to human error. Visitor information can easily be shared with multiple stakeholders such as reception staff, hosts, and more—however, this can lead to multiple versions of the same document being shared with different team members, each of which shows slightly different versions of the truth.
3. ID Badges without Photos
Visitor management goes beyond record keeping. It involves the identification and verification of each visitor to ensure the safety and security of everyone who works at the office. This is commonly done using ID badges. Businesses that don't have photos or additional identifiers on an ID badge make it difficult for hosts to verify if the guest is who they claim to be. Additionally, ID badges are often left behind by guests and can be inconvenient to access in times of emergency.
Common Features of a Digital Visitor Management System
A digital visitor management system offers a suite of features that enable businesses to know at a glance who is (or has been) on their premises. Visitor sign in, employee in/out boards, and even head counts in the event of an emergency are all simplified and compliant. Other features are also useful, such as desk booking and contact tracing.
1. Contactless Sign-In
Sign-in processes can sometimes be seen as cumbersome and unnecessary by guests but they are important for businesses that are required to keep visitor records. It is, therefore, in the best interest of companies to make sure that this process is as smooth and unobtrusive as possible. Contactless sign-in allows visitors to enter using their smartphone without the need to download and install additional software.
2. Overviews of Who Is and Isn't in the Office
As more businesses transition to hybrid work models, people need to know who is and isn't in the office at any point. Meetings, guest arrivals, and more can be managed easily with in/out boards that are built directly into visitor management systems. Visitors can be kept updated with the work status and location of the employee they are there to visit, with minimal fuss.
3. Additional Services
Businesses today operate differently from their counterparts in the past. Remote working, hybrid work, and hot desking are more popular than ever. Businesses can use modern visitor management systems to check attendance, allow employees to book desks, manage office facilities, and much more from a single, unified platform.
4. Cloud Software
Employees can be working from different locations and from different devices at any time. Businesses must use systems that can adapt to the device and operating system of each employee seamlessly without a loss of features or additional complexity. Cloud software allows employees to access modern visitor management systems and all necessary features from a device capable of running a browser anywhere.
5. Regulatory Compliance
Different jurisdictions have unique regulatory requirements on the type and level of detail businesses need to have in their visitor records, how that information is to be stored, and the length of time they need to keep these records. The SwipedOn visitor management system helps businesses stay compliant with local regulations even if they operate across multiple locations with differing compliance requirements.
The TLDR
Managing visitors is an important part of any business with a physical presence, but without the right tools, collecting and disseminating information about visitors and deliveries can be challenging. There are security, compliance, customer service, convenience, and operational elements to modern visitor management that all must be considered. Cloud-based software makes it easy for crowd data, attendance information, and pending visitor data to be shared with members of the organisation in an easy and convenient way. By using a visitor management system, businesses can keep their premises secure, ensure regulatory compliance is maintained, and improve customer service.