Beyond the Front Desk: How Visitor Management Systems Impact Different Business Departments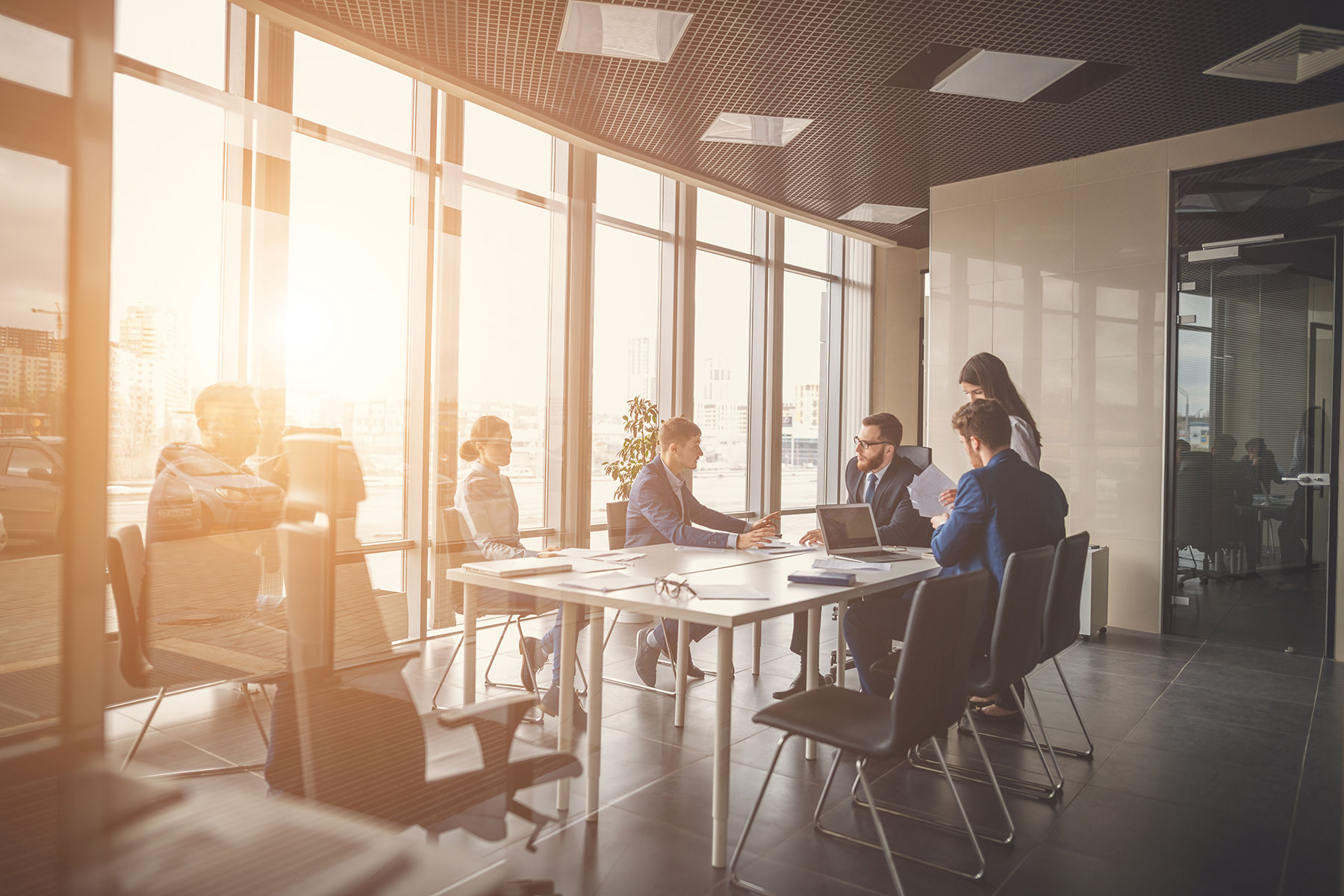 It's easy to dismiss a visitor management system (VMS) as a mundane tool to document people entering and exiting your organization. This might have been true years ago when visitor management involved signing in and out via a paper logbook.
However, as visitor management technologies evolved and became more sophisticated, businesses started to recognize the far-reaching positive impact they can have on their business's day-to-day operations. Today, almost every department in an organization can benefit from a smart VMS digital solution.
From IT to HR, here is how visitor management systems support an organization's different teams and functions.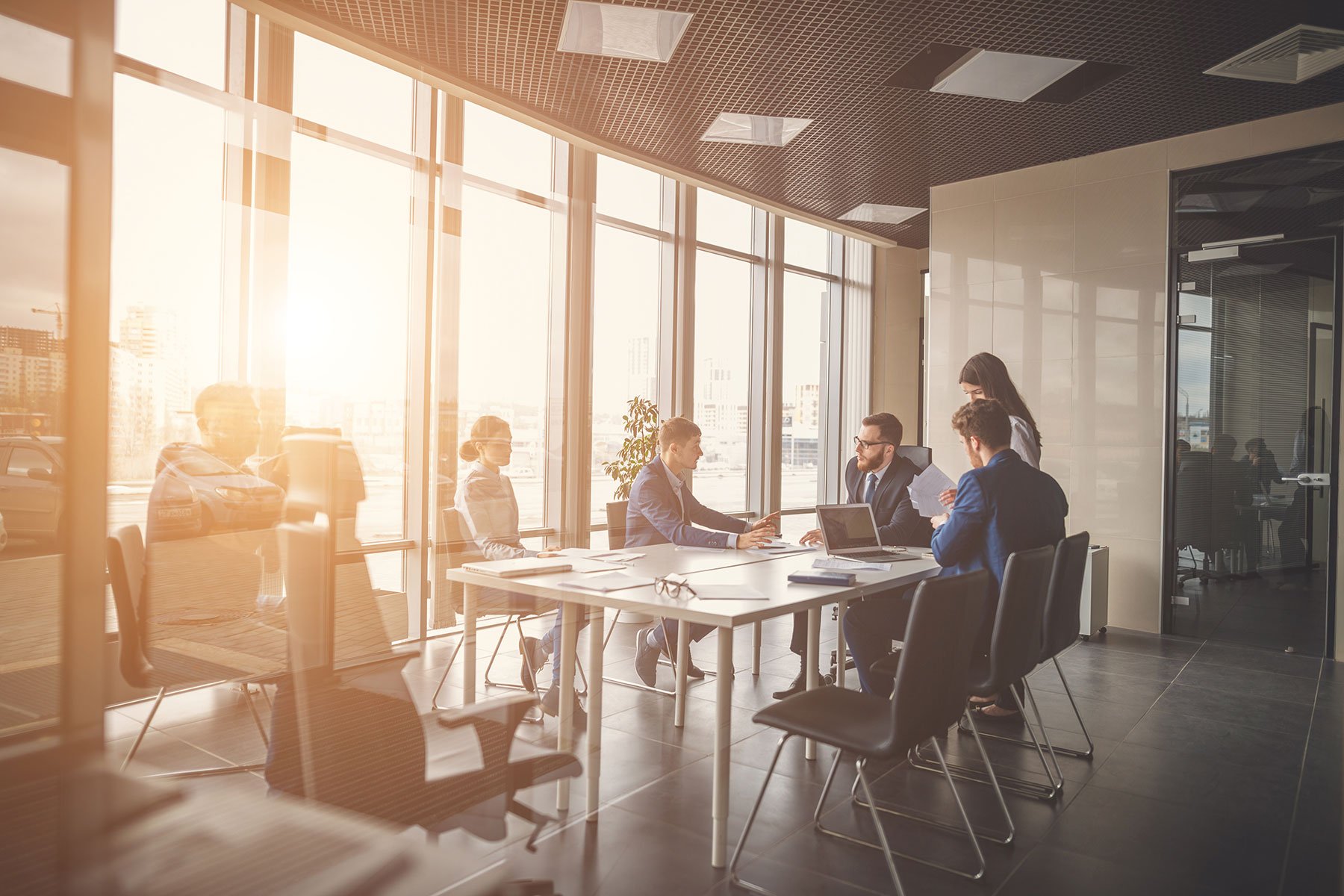 IT Department: Enhanced Data Security
Improved physical security equals stronger data security.
As explained by IT security expert Michael Cobb: "Physical security is often overlooked - and its importance underestimated - in favor of more technical threats such as hacking, malware, and cyberespionage. However, breaches of physical security can be carried out with brute force and little or no technical knowledge on the part of an attacker."
While most data breaches are the result of cyberattacks, physical threats such as unauthorized entry and theft pose a real danger to businesses' data security.
According to Verizon's 2020 Data Breach Investigations Report, 4% of data breaches involved physical actions from the perpetrators. This includes a variety of data theft executions such as copying files by physically tapping into servers, copying files from an employee's computer, or stealing the actual devices.
The report shows a slight decline in the number of data breaches associated with physical theft, but the decline is partly due to the lockdowns in many workspaces prompted by the COVID-19 pandemic. Despite the downtrend, stolen data is still bad news.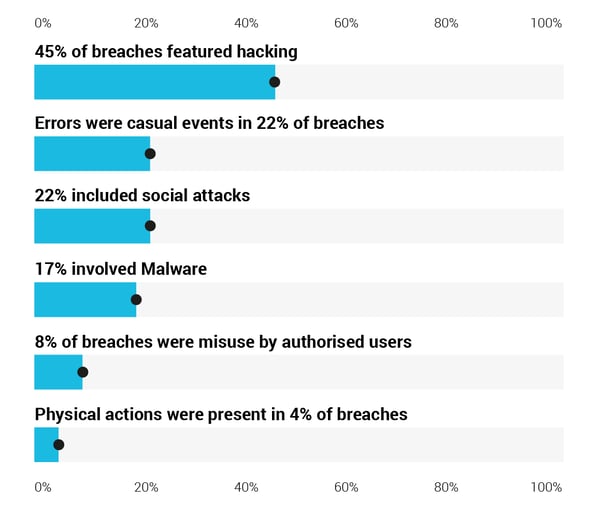 With a robust VMS, all employees are empowered to safeguard data security by strengthening two key areas of data protection: access control and monitoring suspicious physical activities.
Access control: Through a visitor management system, visitors may be required to consent to a binding agreement outlining access protocols to observe while on the premises. This allows managers to restrict unauthorized access to areas where data theft can occur.
Suspicious activities monitoring: Printable badges, which are now a staple VMS feature, mean employees will be able to identify visitors and other external entities and report malicious activities to security if necessary.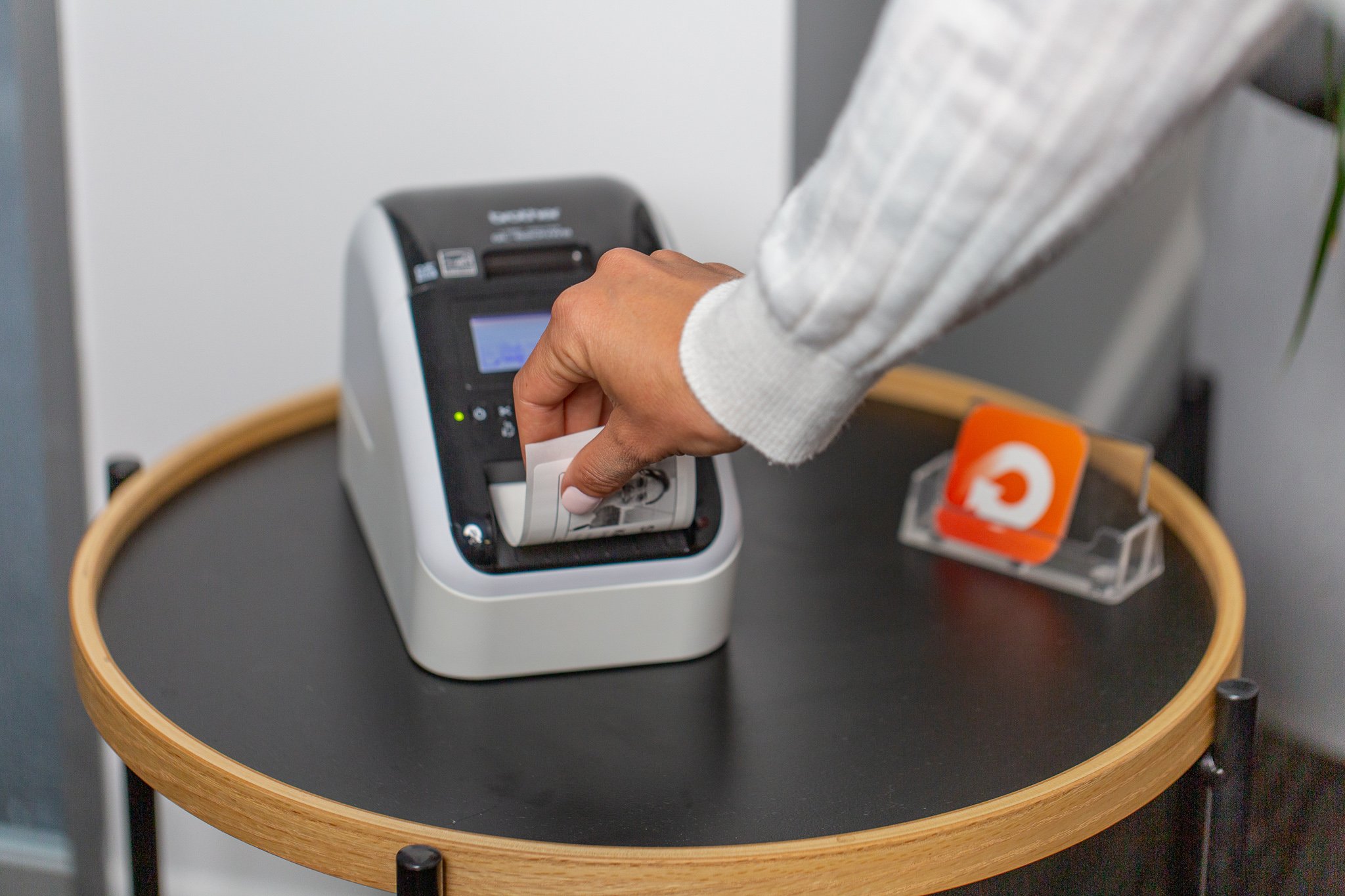 A security-focused VMS solution allows IT departments to focus on cybersecurity while equipping everyone else to contribute to boosting your office's physical security.
Compliance Team: Adherence to Data Privacy Laws
The GDPR was implemented three years ago. When it was first introduced, one of the biggest misconceptions was that it is only applicable to data collected online.
This is incorrect. The GDPR applies to all channels and platforms, whether in print or digital. However, some businesses and compliance officers are still confused and several organizations may be unintentionally violating the law because of the visitor login system they're using.
One of the easiest ways to comply with the GDPR, and other data privacy laws that might be mandated, is to switch to a comprehensive VMS with built-in compliance features. For instance, here's a quick look at how SwipedOn is aligned with GDPR requirements: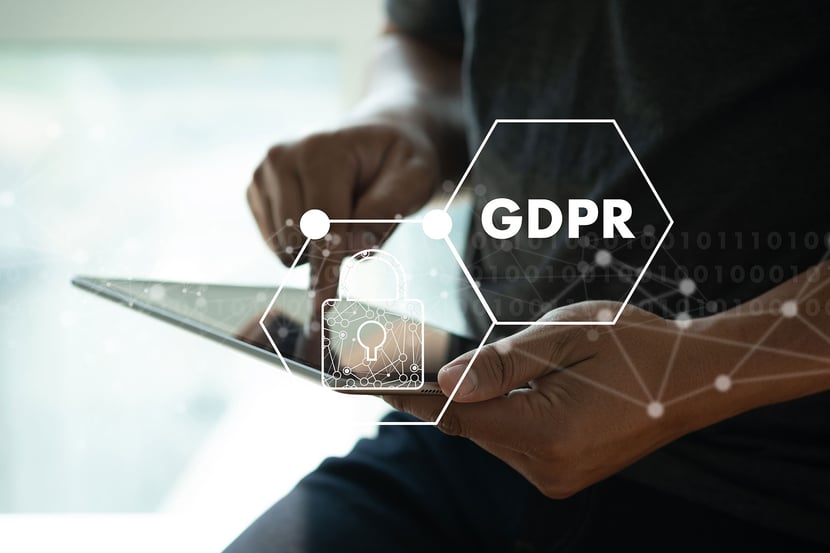 Recently, compliance with data privacy laws is underscored due to the health disclosures associated with COVID-19 contact tracing. When returning to office-based work, adopting a digital VMS with preconfigured data protection safeguards ensures compliance while collecting the information needed to keep an office COVID-free.
HSSE Team: Emergency and Evacuation Management
HSSE stands for health, safety, security, and the environment. Similar departments may have other names and may not cover all these areas. However, there's one critical task that all HSSE teams of all shapes and forms need to perform: emergency and evacuation management.
The only thing worse than a disaster is being unprepared when disaster strikes. An emergency evacuation plan can spell the difference between life and death.
So what does a visitor management system have to do with disasters?
According to Eastern Kentucky University, all emergency evacuation plans "should result in a headcount and check of all personnel after implementation."
As most advanced digital visitor management systems use a portable device such as an iPad to log the entry and exit of employees and visitors, the HSSE team automatically has a complete and accurate list of all individuals present in an office during an evacuation. This data portability allows managers to perform a roll call at the designated evacuation area and offline.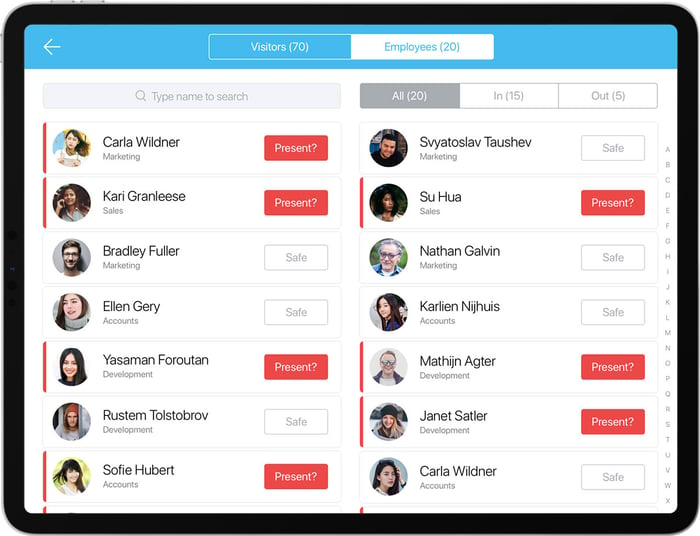 However, even before an emergency evacuation, a VMS contributes to the overall safety of the workplace. A digital copy of HSSE protocols can be added to the VMS system, which guests will be required to review when logging in. Proper visitor briefing of HSSE rules is especially important in high-risk locations such as construction sites, chemical factories, and food facilities.
HR Team: Creating a Good First Impression Among Top Candidates
Did you know that the first smartphone is five years older than the oldest Gen Z? That said, it comes as no surprise that technology is a critical element when younger members of the workforce evaluate whether they should accept or decline a job offer. 91% of Gen Z say that advanced technology will make them more interested in joining a company.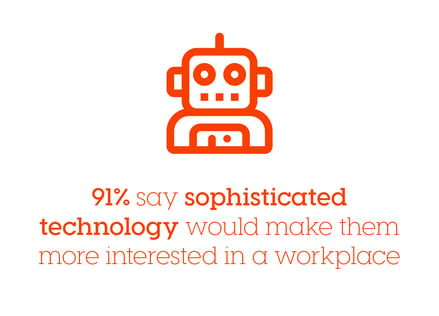 Data Source
The same is true for millennials. According to a PwC report: "It's hardly surprising then that millennials have specific expectations about how technology is used in the workplace. Millennials expect the technologies that empower their personal lives to also drive communication and innovation in the workplace. 59% said that an employer's provision of state-of-the-art technology was important to them when considering a job, but they habitually use workplace technology alongside their own. Over half of those questioned routinely make use of their own technology at work, and 78% said that access to the technology they like to use makes them more effective at work."
Imagine a scenario where highly qualified Gen Z and millennial candidates come for an interview and are asked to go through an outdated and inefficient visitor login process.
Compare this to a visitor check-in experience that uses a digital VMS with the following advantages:
Personalized and branded user interface
A user experience that candidates are already familiar with
Quick login process using pre-entered details from the HR department for confirmed appointments
Short waiting time with instant push notification sent to the appropriate HR staff
Given the talent shortage affecting several industries and how competitive the job market is, every aspect of the hiring and recruitment process is important - including a positive visitor experience for candidates.
More than Just a Warm Welcome
Visitor management has come a long way from its paper book origins to the advanced smart technology that it is today. With the right digital solution and implementation, visitor management systems can augment, strengthen, and improve almost every aspect of a business's day-to-day operations, giving more ROI for tech investments.
Speaking of ROI, more and more businesses around the world are benefiting from SwipedOn's visitor management solution. From a streamlined visitor login process to tighter office security, SwipedOn's feature-laden platform easily integrates into your organization. Our team is ready to take your questions about how we can help.